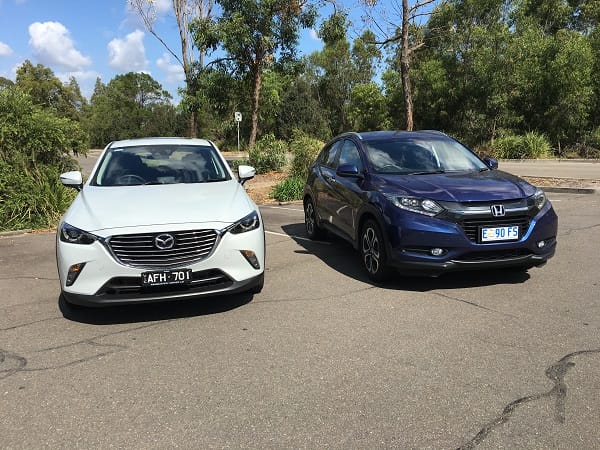 The small SUV car market has boomed in Australia, with these versatile vehicles becoming popular amongst families, young adventurous couples and travelling retirees. With this ever growing popularity comes the inevitable flooding of the market with a variety of options from every manufacture. This can make these waters a little tricky to navigate for potential buyers so this week, we are comparing two excellent options in the small SUV market – the Honda HR-V and the Mazda CX-3.
Engine and Driving Capabilities
The Honda VTi-L is powered by and 1.8L four cylinder petrol engine producing 105 kW @ 6500 rpm and 172 Nm @ 4300 rpm. Once the VTi-L is going smoothly on the freeway, performance is efficient and impressive. However, from a standing start, the power can lag a little and perhaps can be considered a little revvy. The fuel consumption has been around 7.5L/100km throughout our testing week. What is a noticeable improvement is the dampened road noise and more grounded, responsive handling.

The Mazda CX-3 Akari FWD is powered by a 2.0L four cylinder petrol engine with i-stop technology paired with a 6-speed automatic transmission. It produces 109kW of power @ 6,000rpm and 192Nm of torque @ 2,800rpm. The torque kicking in at a lower range than the HRV is noticeable. Arguably, it is a more powerful engine and it shows, providing a more equal distribution of power and responsive acceleration. The fuel consumption of our tested vehicle was a stable 7.7L/100km.
Exterior Design & Features
The driving force behind the Mazda CX-3 design is the 'KODO – Soul of Motion' concept which embodies athletic presence and simplistic elegance. Mazda has somehow managed to make a usually large SUV body seem compact and nimble. The Akari features chrome exhaust, automatic LED headlights, a sunroof and is available in eight colours including Meteor Grey and Dynamic Blue.

Honda's HRV design is influenced by their notion of 'Dynamic Cross Solid' emphasising a sleek coupe design on top and a strong, solid lower body. The VTi-L also has a sunroof, automatic LED headlights with auto-level function, silver roof rails and is available in seven colours with my pick of the bunch actually being the Taffeta White.
Interior Design & Features
Once inside the Mazda CX3 Akari the first thing you notice is the distinctive suede/leather combination and personally, I like it. The next thing to hit you is the substantial amount of dash, clad in a harsh plastic – something that juxtaposes the otherwise plush interior. It kind of feels like design wise, the Mazda CX-3 has a split personality. What is a pretty cool feature is a HUD screen which is fairly unique in this segment. The seating position is more comfortable than the Honda HRV, however legroom can be a little on the small side for taller people and it should be kept in mind that this is a small SUV. The Mazda CX-3 also has the more user-friendly steering wheel layout which houses all the buttons for the extensive driver dash.

The interior of the Honda HRV VTi-L is refined, smart and stylish with leather appointed seats and a considerable amount less harsh plastic on the dash than the CX-3. Again, leg room could cause concern for taller occupants if they forget that, despite the deceptive exterior size, it is not a full-size SUV. The driver display changes colours depending on how economically you are driving. Both the Mazda and Honda have keyless entry and push button start.
Infotainment
The Mazda CX-3 features a 7-inch colour touch screen that is mounted on the dash, an interesting design choice which you will ever like or not – personally I don't and much prefer the Honda's VTi-L's built-in design. The CX-3 Akari features satellite navigation, AM/FM radio, Bluetooth connectivity, single CD player and MP3 compatibility and internet radio integration with Pandora, Stitcher and Aha. The audio system has 6 speakers and also is connected through AUX and USB inputs.

The Honda HRV VTi-L also features a 7-inch colour touchscreen with customisable wallpaper, MP4 movie player capabilities, and Siri eyes-free mode. There is also FM/AM radio, single CD player, MP3 compatibility and Bluetooth connectivity. There are also 2 USB ports and a HDMI input. While the Honda's infotainment system is more advanced and has more features, it is not as user friendly.
Safety & Security
The Honda HR-V has not yet been ANCAP tested but does boast a long list of safety features including ABS, Lane Departure Warning, Forward Collision Warning, EBD, EBA, ESS, HAS, TCS, VSA and the Honda LaneWatch system. Now the LaneWatch system is not something I personally have been a fan of in the past, however it grew on me this week, especially when I figured out pressing the end button on the right indicator stalk could turn it on and off. The VTi-L also features front and rear parking sensors and a multi-angle reverse camera which is very clear and accurate.
The Mazda CX-3 range achieved a 5 star ANCAP rating and the Akari boasts Blind Spot Monitoring and Lane Departure Warning, ABS, DSC, EBD, EBA, ESS, HLA and TSC. It also features a reverse camera with parking sensors and Rear Cross Traffic Alert.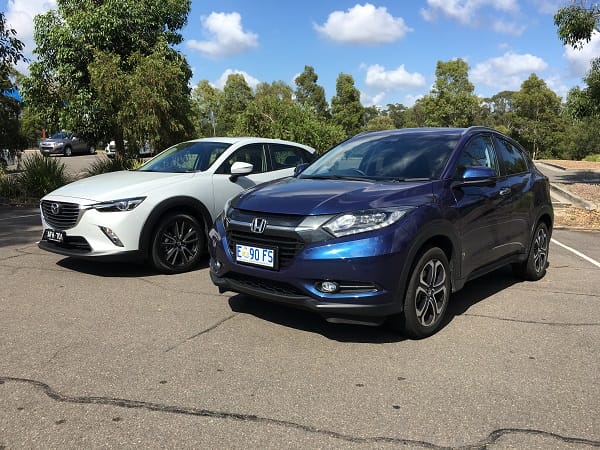 Pricing & Warranty
The Maxda CX-3 Akari FWD automatic has a MLP if $33,290 and Mazda's 3 year, unlimited kilometre warranty.
The Honda HR-V VTi-L has a MLP of $32,990 and comes with Honda's 3 year, 100,000km warranty.
To conclude, we can't really pick a favourite between the two here at AnyAuto. The Mazda CX-3 provides a more favourable driving experience, yet the interior design of the Honda is preferable. Both cars feature excellent safety technologies, similarly priced and both provide value for money. Realistically, the real differences come down to personal preference and choosing one or the other here would be ill-advised as it would be personal opinion. For those in the market for a smaller SUV, it would be wise to take both for a test drive and I am confident a clear winner will appear based on personal preferences and each person's own importance and value placed on driving dynamics, design and technology.