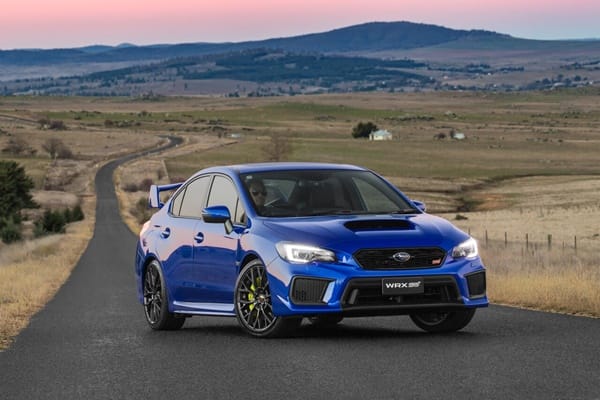 Since Subaru peeled off the WRX (World Rally eXperimental) from the rest of the Impreza range, it has stood alone and unique in the Subaru Range. STI (Subaru Technica International) is at the top of the heap, and the Spec R is the best equipped of the 3 STI models.
Subaru have steadfastly refused to turbo the BRZ for fear of cannibalizing WRX, but I think that's just them being a bit difficult.
All 3 STImodels have a delightful 6 speed manual matched to a 221kw/407Nm, flat four, turbo petrol, engine.
This "boxer" engine has that familiar chuffing sound we have come to love.
It heralds the arrival at dinner parties, and creates a spooky echo in secluded forest rallies. You can hear it screaming a mile off.
There is an electronic throttle "drive by wire" system, which feels cutting edge. Yet, there is a fabulously old-school hydraulic power steering set-up. I love it.
You can feel the road under you, and the wheels can transmit each, and every, undulation of the surface.
The space saver wheel in the boot means you don't have to rubbish around with those stupid inflation kits which rarely seem to work.
The 245/35/R19 89W Yokohama Advan Sport V105 tyres fitted to 19X8.5J 19" rims make the muscular sedan look even meaner.
The AWD hot-hatch (even though it is actually a sedan) has 6pot Brembos at the front, with 2pots around the back. Instead of the ubiquitou boring old red callipers, they've been given the customary Subaru spit-and-polish with a coat of bright fluorescent yellow.
Me likee.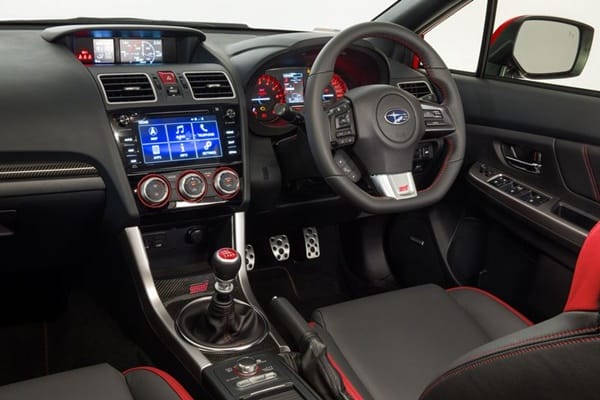 STI doesn't come with EyeSight assist, sadly. However, there is still a full suite of safety features like blind spot, and front view monitor, High beam Assist, Lane Change assist, side view monitor, and Rear Cross Traffic Alert.
7 airbags, including one for the driver's knee, give STI a 5 star rating when tested some years ago.
Standard cruise control, and SI-drive make a Sunday arvo cruise fun. Si-drive, usually reserved for the automatic gearbox models, give extra pep to performance, as if STI needed it.
It changes the way the torque is delivered. Standard mode is slightly thriftier, but if you care not for the petrol sitch, stick it in Sport Sharp "S#", and feel the burn.
If you do this while at lower revs, you feel an instant, and very satisfying, surge.
The bespoke guards back and front, STI badging, and huge high-set rear spoiler, let people know you mean business. It says, "you can bugger orf, I have nothing to apologise for."
I was surprised at how many heads still turn, even though this car has been around for ages. WRX started around 25 years ago, and has strong sales ever since. This model feels like it's been around since the Howard administration, but in reality, was released around 2012.
Rally championship gongs have come thick and fast.
The Torsen rear LSD helps the symmetrical AWD shunt power to wheels back and/or front, while keep a balance on either side. They say it helps keep the rubber on the road, but I think it is just to have boasting rights at the pub.
The centre diff has a driver selectable mode switch, but we didn't fool with it.
0-100 is a brisk 5.2 seconds, which in the days of twin-turbo V6 and V8, is pretty damned good.
The interior design of Subarus has had some unfriendly critique, but rarely from loving owners. The new Impreza has sorted all that out, but WRX is still stuck with the older look.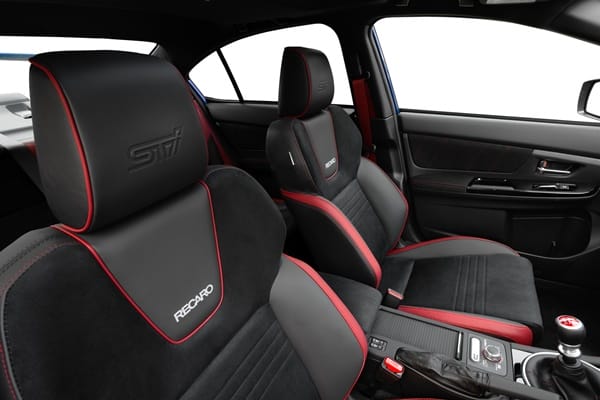 Some don't like it, but I think it looks fab, not drab.
STI shoppers are not buying a car based on how posh the cabin looks, in fact, they probably don't even notice. I know I sure don't give a rats.
I have come to understand that all WRX owners are of a particular ilk. Nowadays, 221kw isn't that remarkable, and the ride tends towards firm, but STI maintains that air of disrespectable respectability.
The Recaro seats in the Spec R are very firm, but surprisingly comfortable. I was able to get the driving position perfect.
In fact, the WRX STI fits like a glove.
You can then easily reach all instruments without having to over reach.
The 7" touch screen infotainment system lacks CarPlay.
This is an unforgivable oversight on a car costing $57,690 (plus on-roads). Friends have upgraded their system with after-market units, while managing to keep the steering wheel controls active.
The looks good, and responds fast, and includes Satnav.
You have the ability to use Siri for full hands free voice control, but only of the associated apps.
Sound, thanks to a Harmon-Karon speakers, sub-woofer, and amplifier set-up, is awesome. We tired some of our favourite music streamed via Bluetooth, and the bass was fabulous. It feels like Scotty transports the vibrations directly into your chest.
This is essential to doof-doof-loving, jaunty-capped, STIdrivers.
I found the voice command system to be a trifle temperamental, but that would probably improve with practice. There is no DAB radio, which is disappointing.
I particularly like the reversing camera. It displays different angles on both the main LCD screen, and the smaller 5.9" sitting on the dashboard above. It's genius.
A central LCD displays driver information between the main gauges. It's a simple, but sensible layout. I'd expect nothing less.
The drive, is now, and has always been engaging, even enthralling.
WRX aficionados come in all sizes. They all want the same thing: a slick manual, a 4pot turbo with the cylinder lying down, just the way they should.
The 2.5 in the STI is a slightly older engine, and differs from the unit in the standard Scoob.
None the less, it feels punchy when it needs to, and cruises blissfully at any other time. The extra oomph from the SI drive is a welcome. It remaps the power so that punch kicks in a little earlier.
Engine is the familiar boxer, Turbo Petrol, 2.5L, DOHC, Dual AVCS. Economy is hwy 8.7, urban 15.4, comb 11.2 Peak torque at 4,000 RPM, and power at 6,000, gets a bunch of rubber turning in a way only an AWD can.
Getting stuck in, will get a tiny amount of torque steering going, but completely manageable. Please note that sticking the boot in will see the fuel figures head north alarmingly. Subaru claim 15.4 in town, but only if you're not driving like a woman-possessed.
Otherwise you can expect a claimed 11.2 combined, and 8.7 on the highway.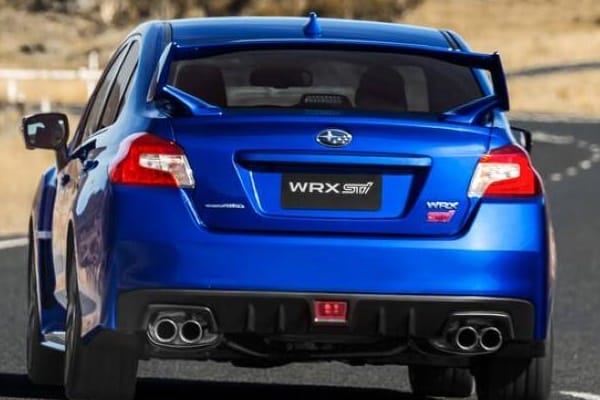 Oh, and it drinks only the good stuff, 98ron if you please.
As I said before, the ride is firm, but not so hideously uncomfortable that bones are shattered.
The steering has nice balance, and is light enough to be able to park without needing biceps like Atlas.
Conclusion:
Subaru WRX is a favourite, and STI more so.
I love the experience. To my surprise, people still notice it. Even the boy at the Maccers drive through almost fell out his window trying to see if it was the real McCoy, or a just a WRX ring-in.
If Bond producers were serious, they'd stick their protagonist in a Scoob, for effect.
A practical 4 door sedan all the time, and a slightly mental smack in the face when you want it, it is the right balance between needs, wants, and desires.
The boot is big enough to pack a few bags for a weekend away, and the shape is pleasing, in a butch kind of way.
The cabin feels comfortable, with a nice ambience. There are sporty touches, and bespoke Recaros at add gravitas to late night boozy brags.
STI has street presence in spades.
It has stiff competition. The hatch-brigade snap at STI's heels. Ford's fab Focus RS, and Honda's snarling Type-R are laudable in their own right. But, when it comes down to signing your life away, the Subaru is the easiest to live with. . Priced from $57,690 plus on-roads
2018 Subaru WRX STI Spec R AWD
Summary
The Subaru WRX STI Spec R has stiff competition. The hatch-brigade snap at STI's heels. Ford's fab Focus RS, and Honda's snarling Type-R are laudable in their own right. But, when it comes down to signing your life away, the Subaru is the easiest to live with