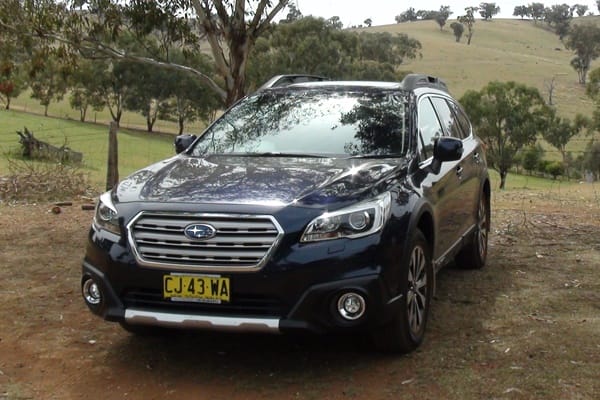 Subaru can justifiably lay claim to the fact that they started the AWD SUV revolution way back in the last century. It was in the 70's with the Subaru Leone AWD wagon. This has now seen, in Australia, the SUV segment account for some 45% of all passenger vehicle sales and Subaru has maintained its presence in that market.
We are testing the latest version of the Subaru Outback in 2.5i Premium form. While it forsakes the current high body design trend for its traditional wagon style, the Outback is every bit as capable as its SUV counterparts and, for the most part, way more capable than many.
The 2.0D Outback was the winner in the OzRoamer AWD SUV $45,000 – $60,000 segment in 2016, and while the Subaru Outback remains relevant and has been updated, the market has moved so fast the Outback now has a few weaknesses, that I'm sure will be addressed in the upcoming model revamp.
In late 2014, Subaru launched its fifth generation All-Wheel Drive Outback Sports Utility Vehicle (SUV). In early 2016, Subaru updated the Outback with more safety features including their EyeSight® system, giving us the version we have today.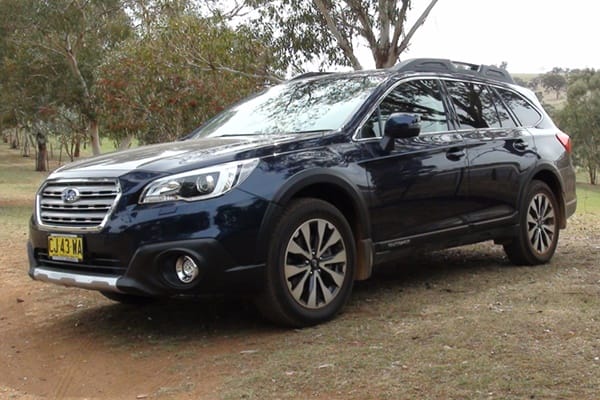 I like the style of the Outback wagon. It has a presence about it and while many call it sedate, I call it subtle. The bold bonnet and chrome surround grill exude purpose without being overbearing. The sweeping headlight surrounds follow the same clever lines as in the bonnet. The front fog lights now have integrated halogen Daytime Running Lights (DRLs) and the low beam lights are LED's too.
From the side, there is a high and again subtle hip line, 18 inch alloy wheels and roof rails. The colour coded mirrors and door handles blend into the body work. From the rear, the wagon doesn't have the slab back appearance that can prevail in other wagons, which is refreshing and modern.
The wheel arches add a bolder, more muscular appearance. It's very much a look that says I am good but I don't have to brag about it.
Internally, the Subaru Outback again exudes subtle style and luxury beyond its price. The interior is elegant, with soft touch surfaces and user friendly ergonomics that convey a luxurious impression for the occupants.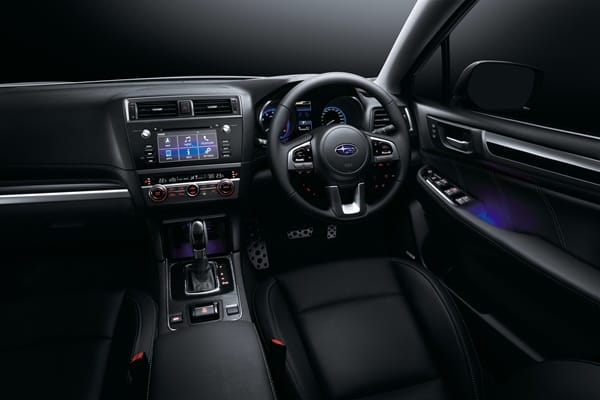 The electronically adjustable heated leather driver's seat is really very comfortable, enjoys plenty of seat travel and with the height and reach adjustable leather steering wheel, it is simple to arrange a desired driving position. For my ageing back there is also an electronic lumbar support.
Even with the sunroof there is adequate head room for taller drivers.  The driver's foot rest for the left foot is comfortably positioned. Wider opening doors and higher seats allow easier access.
While not everyone tests out the horn, I unfortunately had the need to use it and found it lacking in authority!
The dash in front of the driver is the familiar two dial style with a practical and informative dual multi-function display in-between. The centre stack has been redesigned and carries the subtle and stylish theme.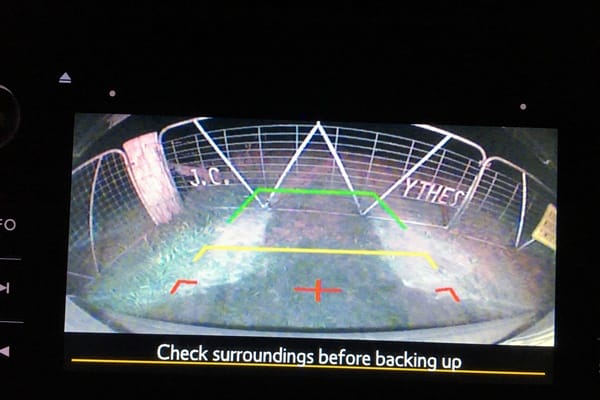 It contains a feature-packed infotainment system with a wide array of functions plus speech recognition which again, is easy to use. This screen also houses the reversing camera display.
However, this is one area where the fast paced development of technology has seen Subaru waiting for the next upgrade, hopefully. Many vehicles now have Android Auto and Apple Car Play as standard features, and the more vehicles that do, the more noticeable those cars that don't have these features are.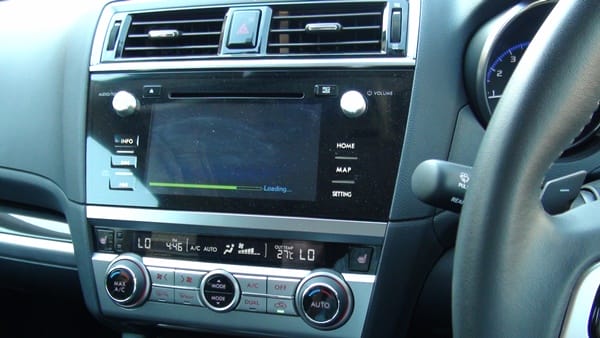 The Outback 2.5i Premium comes with factory fitted satellite navigation which is subject to the new Subaru Map Update Program. Also included is the Three Year Map Update Guarantee – a complimentary yearly map update during the program period, subject to the vehicle having its scheduled services performed through an authorised Subaru Service Centre.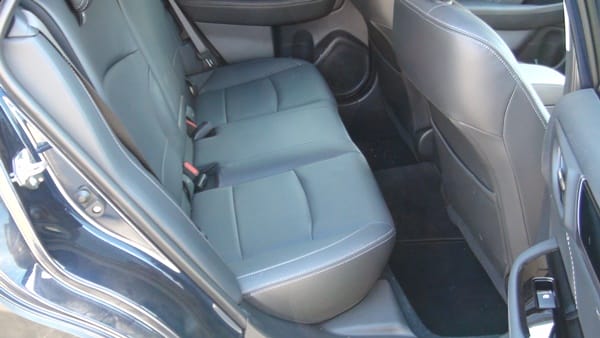 Rear seats have a cool recline function and are comfortable but suited more for two occupants rather than three. There is adequate head, shoulder, knee and leg room for normal sized passengers. There are two a/c vents in the rear but no USB ports.
Storage front and back is plentiful with door bottle holders, cup holders centre console and a handy spot below the centre stack that holds wallet, phones keys etc.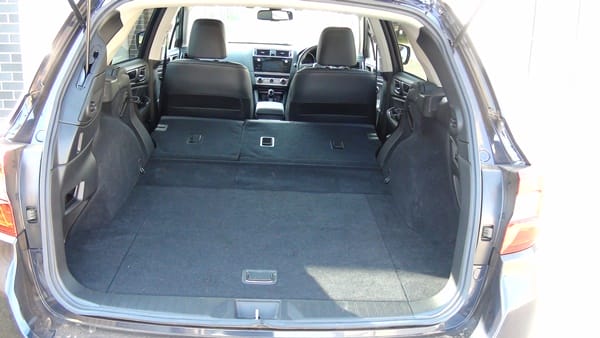 The automatic boot lid is a nice touch and the boot space with automatic 60/40 split fold down seats provides a relatively large and versatile cargo space. Adjustable roof rails are another clever idea as is the rear door-space step that makes roof loading and unloading of the integrated crossbars easier.
Other features include Bluetooth/MP3/WMA/AUX/CD/voice command, compatible six-speaker audio touchscreen system, climate control air conditioning – dual zone with rear vents – electric parking brake, dual map lights, rain sensing auto windscreen wipers, light sensing headlights with auto on/off, DataDot security technology and a cool front wiper de-icer.
Safety has always been a feature of Subaru with their model range having a 5 star ANCAP safety rating for a number of years now but the latest Outback has taken safety to another level.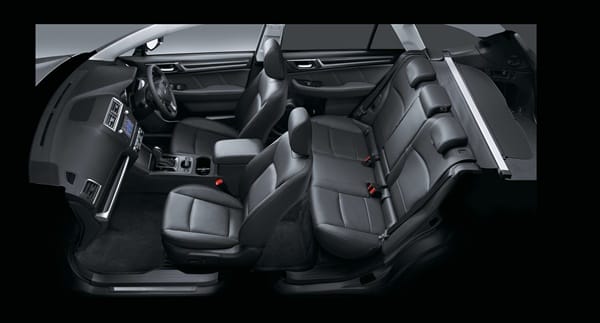 There is the usual airbags complement including: curtain airbags – full length, driver's knee airbag, dual front airbags, and dual front side airbags.
In practice, the Outback has a myriad of electronic safety features that beep and ding at you when you wander over lane lines or when a car or object is too close in front. Sometimes, it beeps or dings at you and you have no idea why.
Every new CVT Outback is also equipped with the award-winning EyeSight® driver assist system, which can help reduce fatigue, avoid accidents or reduce impact.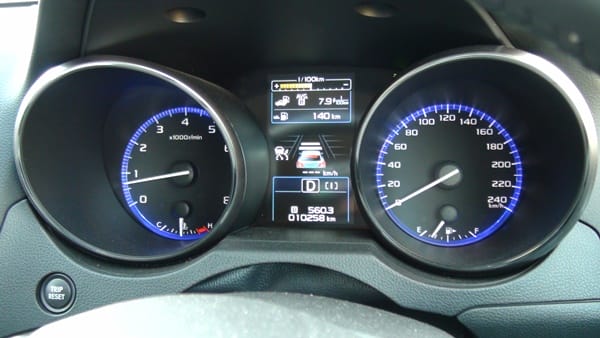 Key Functions of EyeSight® driver assist system include Adaptive Cruise Control, Pre-Collision Braking, Pre-Collision Braking Assist, Pre-Collision Steering Assist, Lane Departure Warning, and Front Vehicle Start Alert.
Highlights of the current third-generation EyeSight® in Outback include:
Colour recognition – can see and interpret brake lights
Pre-Collision Steering Assist – augmented collision prevention, using Vehicle Dynamics Control (VDC). If the possibility of collision with a vehicle or obstacle in front occurs, VDC activates to assist the driver in potentially avoiding it.
The stereo camera achieves better active safety and less driver load. EyeSight® features four levels of inter-vehicle distance setting. The display of the driver's own car appears when Adaptive Cruise Control (ACC) is turned on. Thankfully for some who find it a little touchy, the driver can choose not to activate the ACC. The system features a large 5-inch LCD display.
External sensor and 3D image processing performance mean the system can easily recognise lateral and distant vehicles, stabilizing control in all speed zones and improving pedestrian pre-collision detection.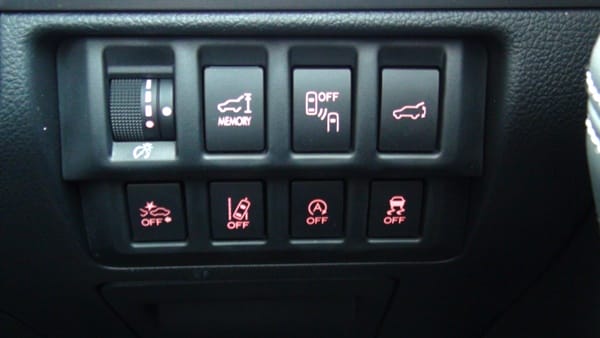 And in further proof of Subaru's safety commitment, Vision Assist features are also added to Outback, comprising: Blind Spot Monitoring, Lane Change Assist, Auto dimming rear view mirror, High Beam Assist and Rear Cross Traffic Alert which detects passing vehicles when reversing from parking spaces.
Another safety development is the addition of an Emergency Stop Signal (ESS), which detects an emergency brake situation and flashes the hazard lights automatically, to warn following vehicles.
One feature I liked is the unintended start prevention. This activates if an obstacle is detected in front of the vehicle, restricting sudden movement by unintended depression of the accelerator, providing a warning display and sound.
Vehicle Dynamics Control (VDC) constantly monitors vehicle movement. It flexibly controls the Antilock Brake System (ABS), Traction Control System (TCS, engine and brake LSD control), and VDC (engine and brake control for side slip prevention).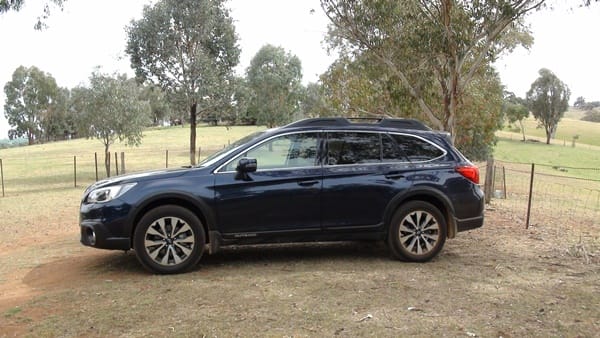 VDC is also tuned for towing with the genuine Subaru towbar. ATV is introduced to improve cornering performance and vehicle steering response. While cornering, brake is applied to inside wheels, while distributing less torque to them; but more torque to outside wheels.
All that theory is good to know, but it's on and off the road where the Subaru Outback shines. On road, the Outback is a relaxed, capable family wagon which transports its passengers in safety and comfort.
Subaru's combination of its Boxer engine, low centre of gravity and AWD powertrain creates stability and on-road handling that is amongst the best for this class of vehicle.
Off road, the Outback is ideally suited to the adventurous family. Driving on forest trails, beach driving, trips to the snow, around the farm etc. are all easily accomplished. If the mood takes the driver, more adventurous off road driving can be undertaken with extreme care. The limiting factors are the approach and departure angles.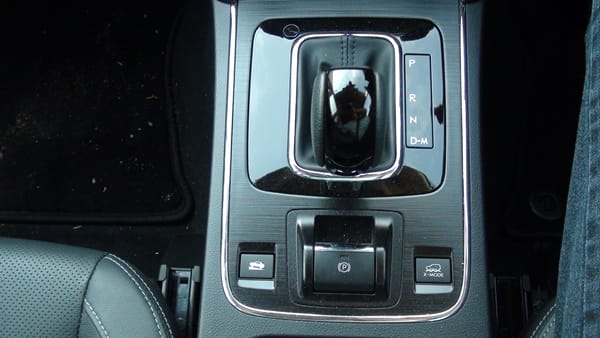 Subaru's active torque split Symmetrical All Wheel drive system has been perfected over a number of years now and works a treat. It provides active safety and a degree of off road capability and is enhanced with the X-Mode feature that enhances driver safety and confidence on steep hills off-road, where the optimum ride height of 213mm is also a significant advantage.
The petrol engine is a 2.5-litre horizontally opposed 4 cylinder Boxer engine that produces maximum power output of 129kW @ 5800rpm and maximum torque of 235Nm @ 4000rpm. This is line ball with the Audi Q2 1.4t petrol and the Honda CRV 1.5T VTI. If you want more there is the 3.6L version available.
The power and torque peaks relatively high but the delivery is smooth and provides enough real world power. The Outback has a 6 speed Lineartronic™ CVT that is matched well enough to the engine characteristics to extract the best efficiency. There is also a two mode Si-Drive system. Fuel economy is ok and on test we achieved around 10L/100K with a mix of urban, freeway and off road driving.
Towing isn't a really strong point but more than adequate compared to others in the segment,  with a limit of 1500kg and 150kg tow ball weight for the 2.5i Premium. This is however enough for a small camper trailer, a seadoo or bike trailer which suits the adventurous lifestyle aspirations of buyers.
Every new Subaru is eligible for the Capped Price Servicing program, which applies throughout the vehicle's lifetime – not just the three-year warranty period. It includes all items required as part of the standard scheduled service, as set out in the Maintenance Schedule of Subaru's Warranty and Service Handbooks. These include labour, genuine parts, factory specified oils and fluids, and even the environmental levy and supplies charge, which includes items such as oil and waste recycling.
Subaru, once the leader in warranty offering, is now behind its competitors with a 3 year unlimited km warranty. Compare this to Kia's 7 year unlimited km warranty and Hyundai and Honda with their 5 year unlimited warranty. It is however the same as Audi Q2. It's lucky not much ever goes wrong with them.
The Outback is one of those vehicles that grows on you the more you drive it. This is because the subtle luxuries and safety features are not intrusive but become apparent as time progresses. That is the essence of great design. On and off road, the ride, handling and quietness is amongst the best in class.
The Subaru Outback should definitely be near the top of your list for a AWD SUV wagon that has the level of luxury and sophistication of many European vehicles that cost many thousands more. It is comfortable and enjoyable to drive and its subtle features, both safety and luxury, reveal themselves as you live with the vehicle longer.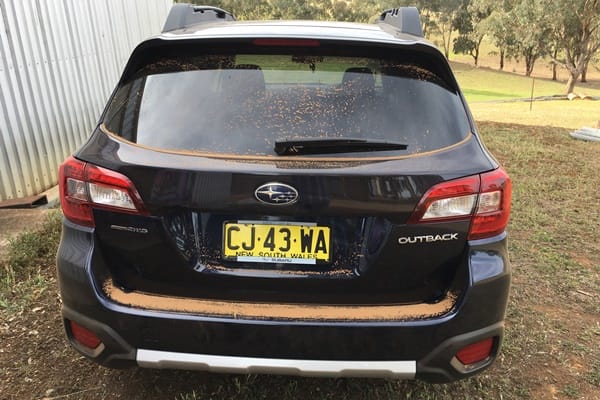 What is good?
Build Quality
AWD Capability
Subtle sophistication
 What is not so good?
No Android Auto or Apple Car Play
No Head Up Display
Would like a little more power and torque
What are the alternatives?
Audi Q2 2.0 DT Quattro
Kia Sportage GT Line
Hyundai Tucson Highlander
Mazda CX5 Akera AWD 
Model: Subaru Outback 2.5i Premium
Model Price:   $46,788 RDAP
Engine:  2.5i 4 Cyl Boxer
Drivetrain: 6 Sp CVT Symmetrical AWD
Power:  129kW @ 5800rpm
Torque:  235Nm @ 4000 rpm
Safety:  5 Star ANCAP
CO2 Emissions:  167 g/km
Economy: (ADR comb) 9.0 L/100km
Tow Capacity: Max 1500 kg
Tow Ball Rating: 150 kg
Servicing:  Capped Price 3 yrs. /lifetime
Warranty 3yr/unlimited km with full roadside assist
Overall AnyAuto Rating     82/100
Behind the Wheel 9
Comfort 9
Equipment 9
Performance 7
Ride & Handling 9
Practicality 9
Fit for Purpose 9
Towing Ability   6
Off Road Ability 6
Value for Money 9
Subaru Outback 2.5i Premium AWD SUV
Summary
The Subaru Outback should definitely be near the top of your list for a AWD SUV wagon that has the level of luxury and sophistication of many European vehicles that cost many thousands more.