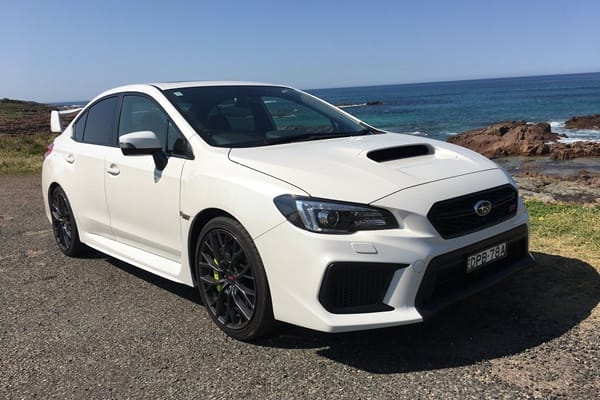 Subaru WRX STI – what is the fuss about?
Subaru has created a cult following for its WRX series cars. Or more importantly, Subaru's customers have created the cult. I thought I would take the latest version of the WRX STI for a drive and see what the fuss is about. The WRX first appeared in 1992 and from about 1994 became a cult success. Many rally championships later and the WRX has continued its success.
For a number of years it was a competition between the WRX and the Mitsubishi Lancer Evolution. There were fierce discussions about which was the best with the WRX attracting a legion of worldwide fanatics.
But is it really worth all the fuss? Well I wanted to find out and the recent update to the WRX range gave me the opportunity.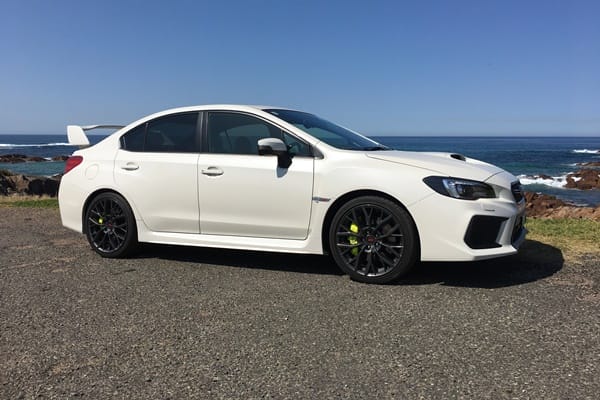 There are five models in the range: the WRX, WRX Premium, WRX STI, WRX STI Premium and the WRX STI Spec R. We tested the manual WRX STI Premium, which meant that some of the enhancements that are CVT specific we missed out on.
The first thing I noticed was that it looks like a mean beast. The WRX STI has sharp lines, a low mean, stance and prominent grill, bonnet bulge and air intake. At the front there are steering responsive LED headlights, with LED DRL's, cool 19 inch alloy wheels with yellow brake calipers and it's pretty hard to miss that large boot spoiler.
Somehow, this Impreza on steroids looks composed and integrated. Unlike a lot of similar cars, everything looks coordinated. So it's a tick for the looks!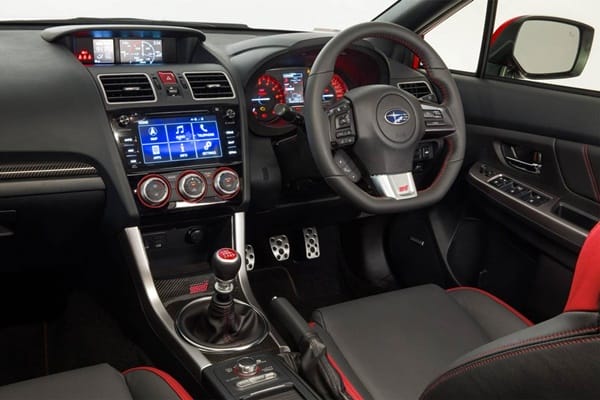 Inside there have been some improvements as well. The whole interior has a more coordinated feel about it. There is black everywhere mixed with the colour of the red seat belts and dash. The driver focus is evident. It still is a little plastic though, which considering the interior of the recently launched XV, is a little disappointing. Obviously the all-new model will change that, when it arrives.
The driver is spoilt. I spent a long time in the car over the week and have to say that the seats and driving position were extremely comfortable. Usually in this type of vehicle I am wanting to get out after an hour, but not so in the WRX STI.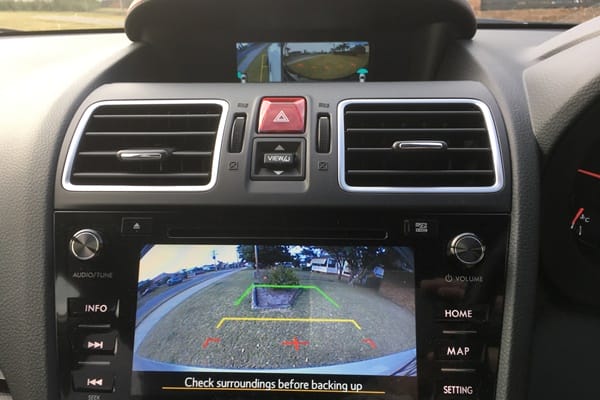 The centre stack has been upgraded to a 5.9 inch screen which is better but unfortunately it still doesn't contain Android or Apple Car Play, which these days is a negative. Having said that, the audio system belts out songs with abandon.
Despite the massive rear wing, visibility isn't hampered. You can see clearly through and all-round visibility is aided by the clever camera system.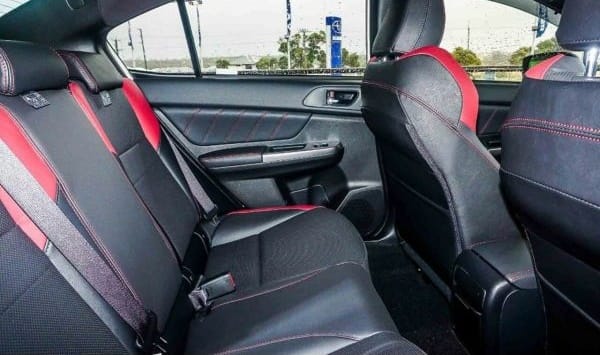 The rear seats are cramped. Let's say that the WRX STI Premium is best suited for two front passengers and occasional rear seat occupants. Seats are comfortable though. The boot area is large enough for plenty of luggage. The sedan format obviously loses the benefit of the hatch, but overall it is more than adequate.
Ok, let's talk numbers. The WRX STI Premium is powered by the familiar 2.5L Turbocharged horizontally-opposed Boxer 4-cylinder, petrol engine. This engine produces 221kW of power at 6000rpm and 407Nm of torque at 4000rpm. It will race from 0-100km/h in a claimed 5.2 seconds, which is quick, not super-fast. Subaru doesn't advertise a top speed and we certainly didn't have an opportunity to find out. These numbers aren't too bad!
The Subaru WRX STI Premium also drives the wheels with Subaru's brilliant Symmetrical All Wheel Drive System and transmits the power and torque through a six speed manual transmission. The STI also has a Multi-mode Driver's Control Centre Differential (DCCD) and the availability to vary the delivery through the three mode Subaru Intelligent Drive (SI-Drive). These both make quite a bit of difference when utilised but I have to admit after playing with them, I just left the DCCD in auto mode and the SI-Drive in intelligent mode. I am a lazy driver.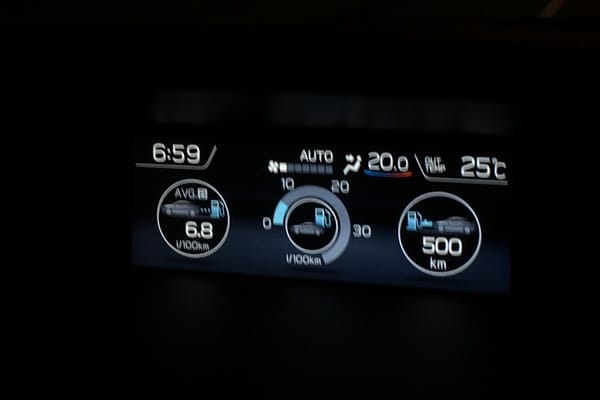 Around town, if you use the heavy right foot the fuel economy isn't great at about 15-16 L/100Km but we actually managed to get it down to around 8.4L/100km (which is the same as the ADR figures) and even lower to about 6.8L/100K on some stretches of freeway.
The front suspension is MacPherson struts inverted, lower L-arms, coil springs, stabiliser bar and the rear suspension is Double wishbone, coil springs, stabiliser bar. This set up provides a firm yet somewhat compliant ride for the STI. The revised suspension has optimized roll rigidity, suspension coils and shock absorbers, for both excellent control, stability, and flat ride comfort
I mention all this because one fear I had before driving the WRX STI Premium was that it would be set up for outright performance. Like the Lancer Evolution, which was brilliant, fast and fun, but totally a pig to drive every day. It was unliveable without a kidney belt.
The pleasantly surprising thing about the WRX STI Premium is just how easy it is to live with every day. Yes you can blast away and tune the settings for maximum performance, but if you're just driving around town or on the freeway it is a lot of fun without the pig like qualities in ride. Note that there is a little torque steer under heavy acceleration.
So it will go fast, handle great with the revised suspension but how does it stop. Subaru have got that covered with STI spec Yellow Brembo 6-pot front + 2-pot rear brake callipers and cross-drilled brake rotors – for even greater braking performance. Yes, the WRX STI Premium stops effortlessly.
This is all a BIG tick for the STI.
The current WRX hasn't swapped over to the new Subaru Global Platform yet, that is featured on the Impreza and XV. This is an outstanding platform, transforming those vehicles. How good will the WRX be on the new platform?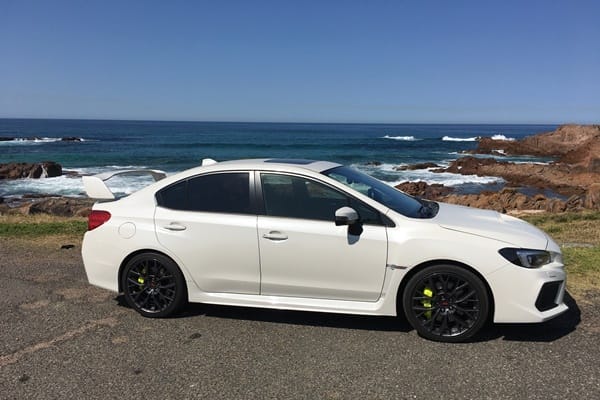 Unfortunately the manual versions miss out on some of the EyeSight® Driver Assist safety features and a few other features, but to be honest you don't miss them. One benefit in my mind is that you miss out on the adaptive cruise control, which I dislike intensely if you can't turn it off. The manual STI has normal cruise control. The WRXX STI Premium carries a 5 star ANCAP Safety rating.
WRX STI Premium spec vehicles include features such as:
8-way power seat with dual memory and electric lumbar support for the driver's seat – and heated driver and front passenger seat.
Steering responsive LED headlights, with LED Daytime Running Lights, LED Fog lights.
5.9-inch Multi-Function Display – upgraded from 4.3-inch – wider with higher definition, making viewing and reading data easier
Roof carrier brackets
Heated door mirrors
dusk sensing headlights and rain sensing windscreen wipers,
the Front View Camera
19 inch alloy wheels, 245/35 R19 89W – Yokohama Advan Sport V105 tyres
Sunroof and leather trim.
So what is all the fuss over the WRX for? Surely it is just a hotted up sedan. Well, to say that is selling the WRX STI Premium short. There isn't actually much to compare it to. It is no longer a hot hatch, with only the sedan version, and it isn't a sporty coupe with all the limitations associated with that.
The WRX will take four in relative comfort and is perfect for two on trips. It will allow the driver to choose what style of driving they want, from silly fast to comfort. It pumps out reasonable power and torque figures and is very quick from 0-100kmh at 5.2 seconds.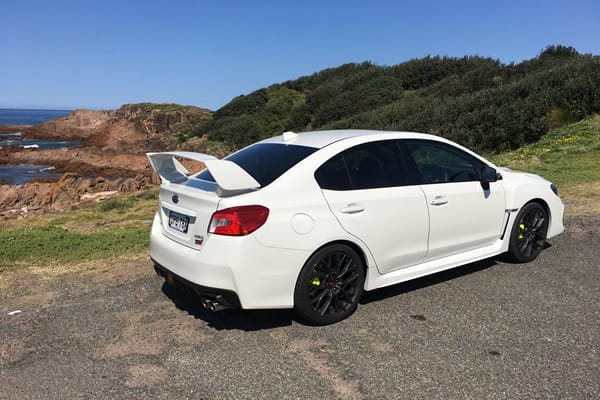 Easy to live with and drive on a daily basis and comfortable for longer trips, it also is reasonably economical and has a five star ANCAP safety rating. It has street cred oozing from every good looking part of its body and has a legion of worldwide fans. All this for around $62,000 for the WRX STI Premium.
I can see what the fuss is all about!
What is good?
Prodigious performance
Value for money
Daily driving experience
 What is not so good?
Still a little too much plastic
Restricted space in rear seats
People pre-judge you for driving
What are the alternatives?
Hyundai i30 N
Audi A3 S Sedan
Golf GTI R
Ford Focus RS
 Model: Subaru WRX STI Premium
Model Price:   $61,663 RDAP
Engine:  2.5L Turbocharged Boxer.
Drivetrain: 6 Speed MT
Power:  221 kW @6000 rpm
Torque:  407 Nm @ 4000 rpm
Safety:  5 Star ANCAP
CO2 Emissions:  242 g/km
Economy: (ADR comb) 10.4 L/100km
0 – 100Kmh: 5.2 sec
Top Speed: TBA
Servicing:  Capped price
Warranty 3yr/unlimited km with full roadside assist
Overall AnyAuto Rating      85/100
Behind the Wheel 8
Comfort 8
Equipment 7
Performance 9
Ride & Handling 9
Practicality 8
Fit for Purpose 9
Fun Factor   9
Street Cred 9
Value for Money 9