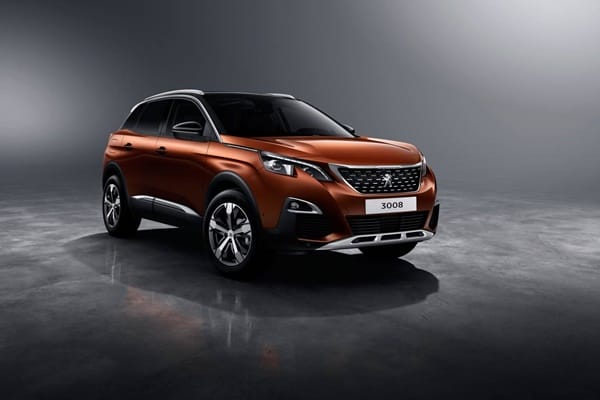 Apart from many other claims to fame, Peugeot is the oldest existing car maker in the world.
Let that sink in for a bit.
There have been hits and misses in their model line-up, and in the way the brand was sold and marketed in Australia.
Peugeot says that is set to change.
Distribution has been taken over by Inchcape, the force behind the rise of Subaru. Inchcape boss, Nick Senior, told us of changes to take place immediately.
There are 3 New Peugeot models between now and the end of the year, plus a new Citroen C3.
Inchcape will re-align sister brand, Citroen, which will see all dealerships selling both Peugeot and Citroen.
The new joint operation will be known as PCA, or, Peugeot Citroen Australia.
The dealership network will be reviewed, and from next year, the DS brand will be revisited.
Citroen spun the DS sub-brand off as a premium arm to be operated separately.
It didn't work, at least not in Australia.
In fact, all 3 brands have seen disappointing sales under the stewardship of Sime Darby, the previous distributor. Inchcape faces a hard slog in their efforts for reinvigorate their 3 French brands.
Inchcape wouldn't be drawn on numbers, but if the launch of the all new 3008 SUV is anything to go by, the future may considerably brighter for the Lion and the Chevron..
Mr. Senior spoke of the "premiumization" of the Australian market. Buyers are preferring to spend more, with entry levels of a model accounting for fewer and fewer sales year on year.
So, on to the 3008.
The base model has been dropped from the range. There are now 4 models: Active, Allure, GT-Line, and GT. So, I guess that really means the Active is now the base model, right?
The GT's 2.0L turbo diesel puts out 133kw and 400Nm, with all other models getting a 1.6L petrol turbo with 121kw/240Nm.
0-100 Acceleration is a leisurely 9.9 seconds for the 1.6, and 8.9 seconds for the Diesel 2.0L.
These SUVs are not intended to be performance vehicles of the "rich and famous". No, they are aimed at the lifestyles of the "active and interesting".
The top 2 models get a lot of kit: Blind spot monitor, active lane departure assist, high Beam Assist, auto emergency braking, Active cruise control, driver attention alert, and a camera to read speed signs, to name but a few.
All models get a rear camera.
Outside:
The looks of the outgoing model were an acquired taste. The new 3008 is a different proposition, and a return to form.
There is enough French flair to please those wanting something a bit different, but not so much as to appear weird.
The roof appears to float above the glass surrounding the cabin. There are splashes of chrome, LED lighting, including the signature cats-claw tail lights, and 17" or 18" wheels depending on the model.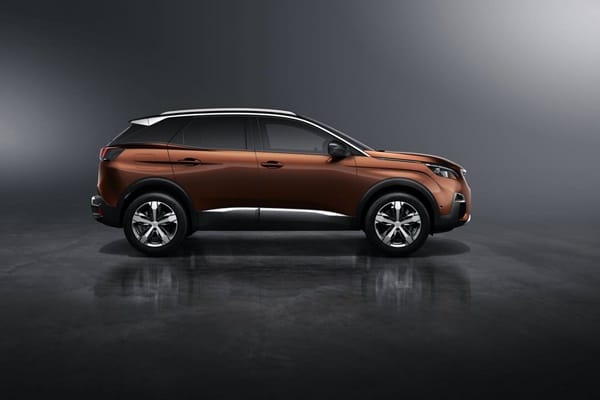 The grille has a star-field effect, with headlights that are sculptured to follow the lines of the bodywork.
In short, the face and body are handsome, very handsome. The exact opposite of the last gen 3008, this model is all the better for it too.
Inside:
Oo-la-la. Monsieur le designer has gone berserk. Let's start with the dash, the most striking feature of the cabin.
It is gorgeous. A pert 8" tablet touch screen floats above the centre console. Another LCD replaces the driver's dials, and is 12.3" wide.
You can configure it in any number of ways. The readout can be made to look like conventional dials, or more like the readout in an Airbus.
The vents sit just below the tablet.
A deep line then runs across the dash, dividing the instrument/vent section, from the control/glovebox section. It is covered in a fabric similar to keyboard fabric on a Surface Tablet.
Some models will also have an Alcantara option.
Below the stylish 8" Tablet sits an equally stylish line of "piano keys".
I had a road-to-Damascus moment when I realised I wasn't going to have to contend with an I-drive-type controller. No, the French have given us proper buttons, thank you very much.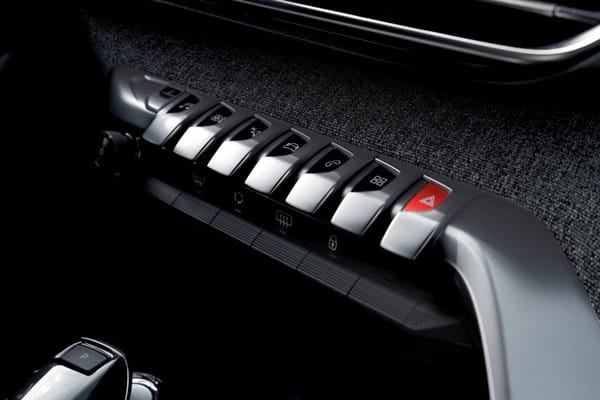 They have symbols which will take a little getting used to, but that won't take a driver very long. You can directly select whatever function you want without having to twist a knob, then press select, then press an option, then press select again.
The audio sounds rich and warm, and, yes ladies and gents, there is CarPlay/Android Auto.
Not content with a schmick sound system, natty dashboard, and groovy controls, M. le Designer placed his crowning glory right at the driver's left hand. His pièce de résistance is the delicious joystick gear lever.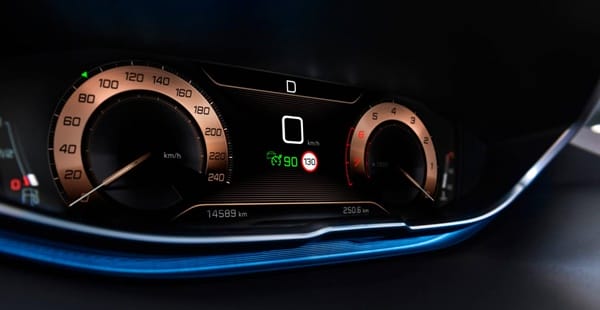 You see, Peugeot have this thing called an i-cockpit. Well, it's not really a thing as much as it is a design ethos.
It is a small steering wheel with the driver's instrument panel viewed above the wheel, not though it, as is more usual.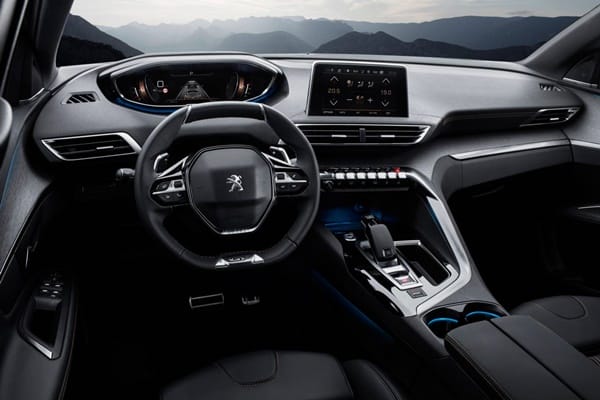 PCA says it means the eye don't have to leave the road because they don't have to look so far down. A traditional Heads Up Display (HUD) has readouts displayed either in a glass panel, or on the windscreen.
These methods place speed, Satnav directions, and speed limits, directly in the vision of the driver looking straight at the roadway.
Buyers will make up their own minds, but I can't get used to it.
Even the entry level model has smart looking upholstery.
The materials look and feel premium. In fact there is plenty of backing to PCA's claim of the 3008 being a "premium" SUV.
An electric tailgate leads to a generous 520L boot space (under luggage cover). Rear seats can be lowered by two levers within easy reach of anyone standing outside, whether at the rear hatch, or the back doors.
There is 1670L of fully flat space with seats down.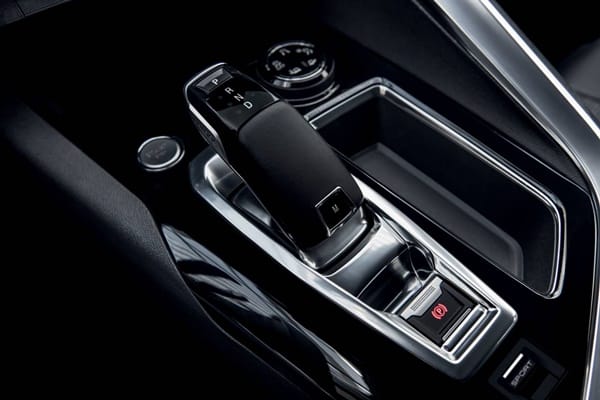 There is no manual gearbox. Both Euro 6 engines are paired to a silky 6 speed auto.
Keeping in mind there are 10 speed transmissions around now, I'd like to see an extra cog or two here. It helps with both acceleration with a lower first and second gear, and better cruising with high top gears.
Once upon a time, we made much comment on gearboxes that constantly hunted for the right gear rather than holding gears going in either direction. Now, our thinking demands a subtler approach.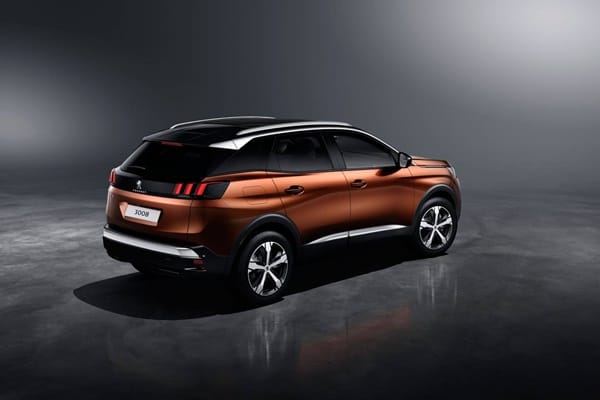 The car looks great, is comfortable, and has design touches that lift it out of the ordinary.
We can't talk about the way it drives as yet. Look for our drive impressions later in the week.
Price: Active $$36,990 Allure $39,490 GT-Line $43,490 GT $49,490
Engine: 2.0L turbo diesel 133kw/400Nm, or 121kw/240Nm 1.6L turbo petrol
Transmission: 6 Speed Auto