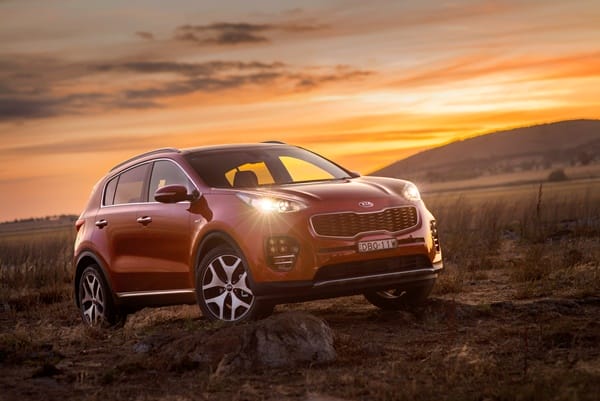 In a market that is becoming increasingly popular with consumers, competitive from manufacturers and homogenised by designers, Kia has launched the all new Sportage. A previous award winner on a number of occasions the third generation Sportage that was launched in 2010 was a revelation at the time. The all new fourth generation model is more a continuation of evolution but a large step taken.
Key points are that there are three models Si, SLi and Platinum. The Si and SLi are offered with a 2.0L petrol engine and the very competent 2.0 l 'R' diesel. The Platinum is offered with a new 2.4 L Thetford petrol engine and the 'R' diesel engine. All models feature a six-speed automatic gearbox driving the front wheels only in the 2.0-litre petrol Si and SLi models and linked to Kia's proven on-demand AWD system in all diesel models (Si, SLi and Platinum) and the 2.4-litre GDI petrol in the Platinum range. The Platinum has as a no cost extra the 'GT' line specification.  For the first time the diesel is offered in all models.
One of the other key features is the commendable decision to offer reversing cameras across the range, a safety feature that should be on all cars. Kudos Kia!!! With 17, 18 and 19 inch alloy wheels every model not only has alloy wheels but a full size alloy spare as well.
Additionally the Platinum will feature the Smart Parking Assist System (SPAS) which will assist drivers into parallel or 90-degree parking spaces by measuring the available space, controlling steering and offering input instructions on the LCD display.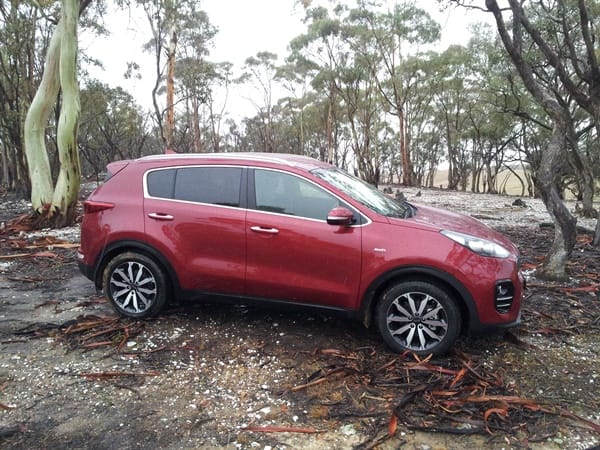 Pricing starts at $28,990 for the 2.0-litre petrol Si and tops out at $45,990 for the Platinum diesel. Notably the level of standard features and inclusions in these prices means that not only has Kia stepped up the quality and quietness but also the value proposition at the same time. Another big tick for Kia.
Like a lot of us as we get a bit older the fourth generation Sportage has grown. The wheel base is longer by 30mm, and overall length by 40mm. This may not seem like much but internally, the extra room is very noticeable, especially for rear occupants.  Overall height is the same. With wider wheel arches it takes on a more muscular appearance but tapers towards the rear. It definitely has enough differentiation in its design, mainly from the bold muscle bound front and grill which amongst onlookers tends to polarise opinion.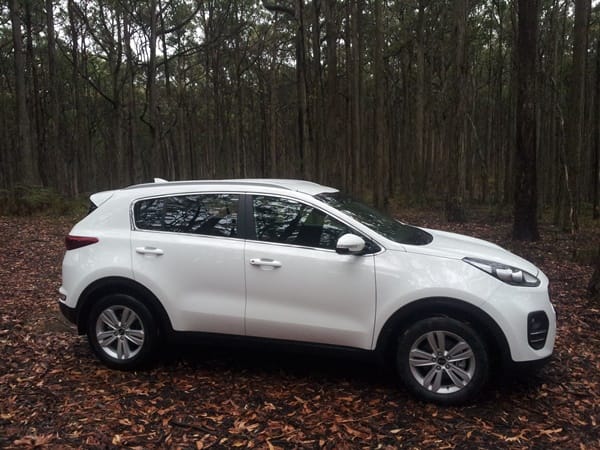 From the side the appearance is longer and sleeker than the previous model with longer front overhang and tapering rear spoiler. The good thing is that consumers will be buying a vehicle that will differentiate itself from the crowded segment.
One very noticeable feature on the Platinum is the quad fog light cluster. Opinion is still out as to the appeal but it certainly is noticeable.
So first impressions from outside is positive. I like the design and look.
Inside the story gets better. The first impression is one of a spacious and integrated interior with soft feel dash and quality ambiance. There is plenty of headroom, even in the Platinum with the sunroof. As this is a family wagon the rear seats are extremely important and as mentioned the extra wheelbase is noticeable here. Even with the front seat fully slid back the rear occupants have plenty of head, shoulder, hip, knee and leg room, more so than many of its competitors. Rear seats can also recline through 37 degrees, which adds to the versatility. The seats are better and sculptured more for two rather than three. The seats will fold almost flat to enhance load area.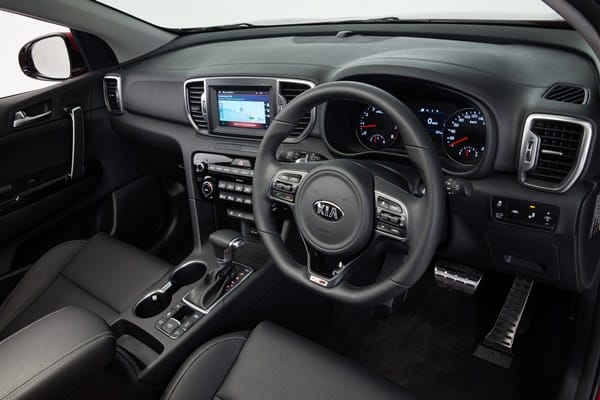 All seating is comfortable with the SLi and Platinum having leather and electric adjustment for the driver with lumbar support. The height and reach adjustable steering wheel is thick rimmed, small diameter and on the GT Platinum flat bottomed. It feels great in the hands and contributes to the feeling of sporting (for an AWD SUV) handling.
In front of the driver is a typical Kia dash with two large round dials and a MFD display between. All models get a 7-inch touchscreen infotainment screen featuring reversing camera display with dynamic parking lines, while satellite navigation is standard for SLi and Platinum. All infotainment systems feature Bluetooth hands-free connectivity and aux-in and USB ports for smartphones and MP3 music players.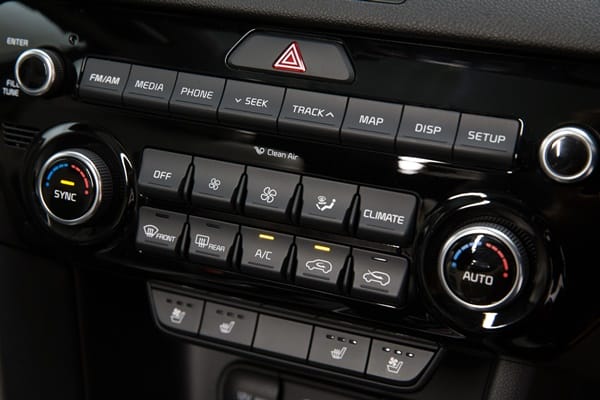 Below are rows of buttons for everything from audio, air conditioning and on the Platinum seat warmers etc. The overall look is completely integrated, even if I feel that aesthetics took precedence over function in a couple of instances. The centre console is different from the Si and SLi compared to the Platinum. This has to do with electronic handbrake on the Platinum and it allows a more functional layout.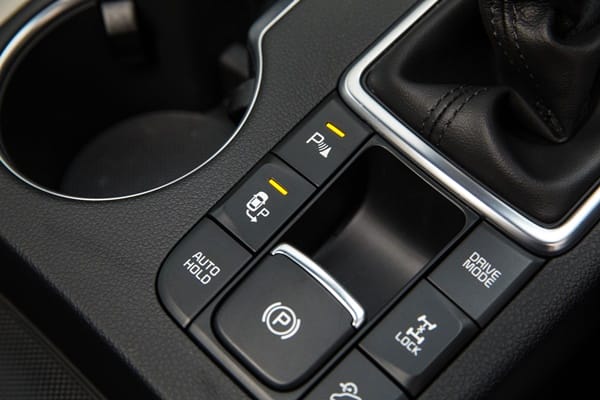 There is plenty of storage areas for cups, bottles, sunglasses and other incidentals. Visibility is improved especially through the 'Á' and 'Ç' pillars. 
Safety is a feature and the Sportage sets some benchmarks. The all-new Sportage scored a maximum possible five-star safety rating in the Euro NCAP crash performance tests. It is yet to be tested by ANCAP but you can reasonably expect it will achieve a 5 star rating here as well.
Improvements in integral body strength increases not only safety but helps with reducing NVH levels as well. A total of six airbags are standard, with airbags for driver and front passenger, first row side airbags, and first and second row curtain airbags Two ISOFIX child-seat tethers and three anchor points are fitted as standard to the second row of seats, to safely secure younger passengers.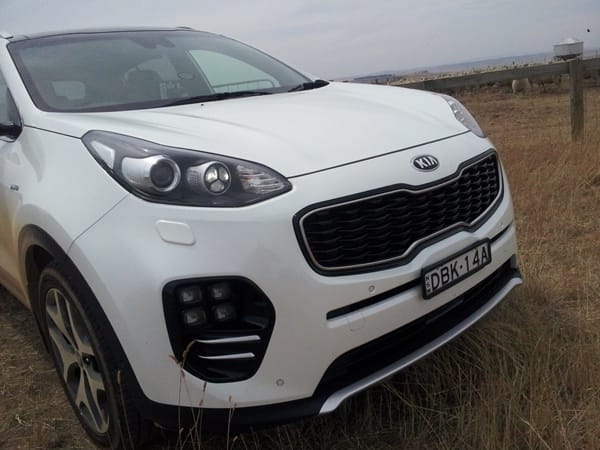 Pedestrian safety is further improved with a lower leading edge on the bonnet and a larger impact absorption area, which has been revised with greater use of highly-absorbent safety foam and synthetic rubber, further helping to protect pedestrians in the event of a collision.
The Sportage is also available with a range of active safety systems to minimise the chances of a pedestrian collision. Kia's Vehicle Stability Management (VSM) system helps ensure stability under braking and cornering through careful management of the vehicle's optional Electronic Stability Control (ESC) and electric motor-driven power steering. Both systems come into play as soon as the Sportage's many sensors detect a loss of traction, helping the driver to remain safely in control of the vehicle.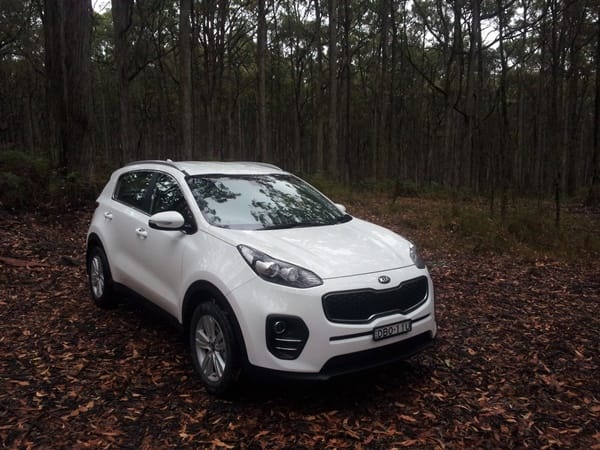 Buyers of the new Sportage will also benefit from some of the most up-to-date active hazard-avoidance technologies to ensure occupants' safety at all times.
For Australian buyers the Platinum models will come standard with Autonomous Emergency Braking (AEB) and Forward Collision Warning System (FCWS), Lane Departure Warning System (LDWS), Blind Spot Detection (BSD) and Lane Change Assist (LCA) and High Beam Assist (HBA).
On the launch we drove a mixture of petrol and diesel engines, 2WD and AWD and all three model variants. The pick without doubt is the diesel powered SLI. Usually I am a fan of top spec models however the ride was a little harsher with revised suspension and thinner rubber on 19 inch alloys. It also had inexplicably more wind noise. So the SLi it is. That is not a bad thing as it is packed full of features, has the awesome diesel engine and 6 speed transmission combination which allows torque fuelled performance with outstanding economy.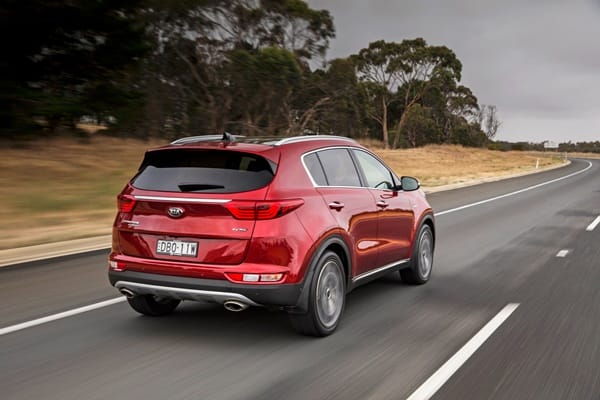 So to the overall first drive impressions. The fourth generation Sportage is better in all aspects than the previous model and that is saying something. As a mid sixed AWD SUV it is quiet, smooth to drive, has a quality spacious interior ambiance and enough design to differentiate itself from the mass offerings in the market. Definitely worth a look.
We will bring you more detailed reviews of each variant in the coming weeks as we are able to have a longer road test in them.
Pricing MLP from
Si 2.0-litre petrol                                              $28,990
Si 2.0-litre diesel                                             $33,990
SLi 2.0-litre petrol                                            $33,990
SLi 2.0-litre diesel                                           $38,990
Platinum 2.4-litre petrol                                               $43,490
Platinum 2.0-litre diesel                                              $45,990
Capped Price Service
| | | | | | | | | |
| --- | --- | --- | --- | --- | --- | --- | --- | --- |
| Model | 15,000 | 30,000 | 45,000 | 60,000 | 75,000 | 90,000 | 105,000 | Total |
| Sportage2.0Ltr CRDI | $419 | $499 | $480 | $726 | $471 | $600 | $500 | $3,695 |
| Sportage2.0Ltr Petrol MPI 2WD | $306 | $383 | $361 | $711 | $345 | $470 | $366 | $2,942 |
| Sportage 2.4Ltr Petrol GDI 4WD | $339 | $417 | $396 | $747 | $382 | $508 | $405 | $3,194 |