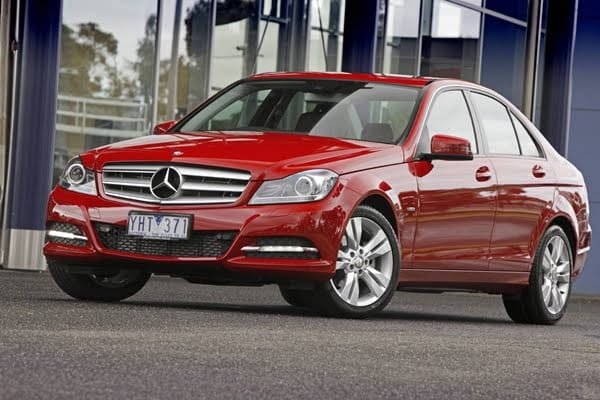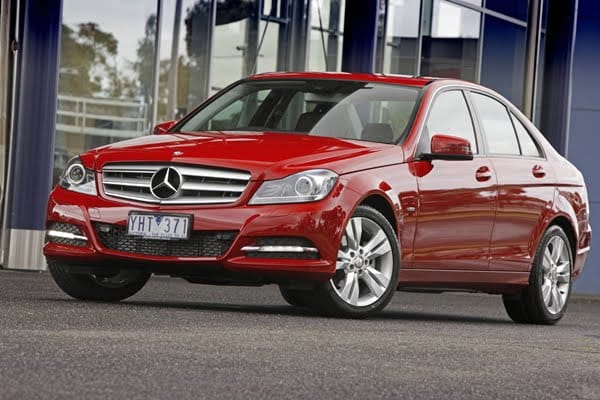 The C-Class is the highest-selling model series, and therefore of particular importance for Mercedes-Benz. The current series has found well over one million buyers worldwide since its launch in March 2007. Since the market launch of the first C-Class in 1982 (then known as the 190 model), Mercedes-Benz has sold more than 8.5 million vehicles in total in this segment. In 2010, too, the C-Class was repeatedly topping the registration statistics. Since 2008 the saloon has been the unbeaten world market leader in its segment.
Recently Mercedes-Benz has replaced the supercharged petrol engines in its C200 BlueEfficiency models with new, direct-injection, CGI (which means Charged Gasoline Injection) turbocharged engines, for which it is making some impressive claims. A total of more than 2000 new components distinguish the latest generation of the Mercedes-Benz C-Class from its predecessor. Is it good enough to continue world dominance in this segment of the market?
Let's check it out:
Behind the wheel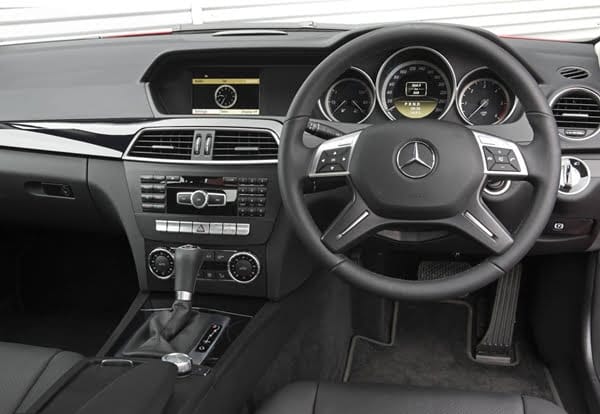 The driving position has plenty of adjustment – for both the seat and steering wheel and visibility is good – although the wide windscreen pillars can get in the way, particularly when pulling out of cross street.
The colour screen that shows details of what's on the stereo, satellite navigation, and phone is easy to read and is perfectly suited in their driver's field of vision. The interior is stylish with an uncluttered look but it doesn't quite have the inviting feel of the BMW 3-Series and some of the materials used are a little disappointing for a car at entry level starts at around $57K
Performance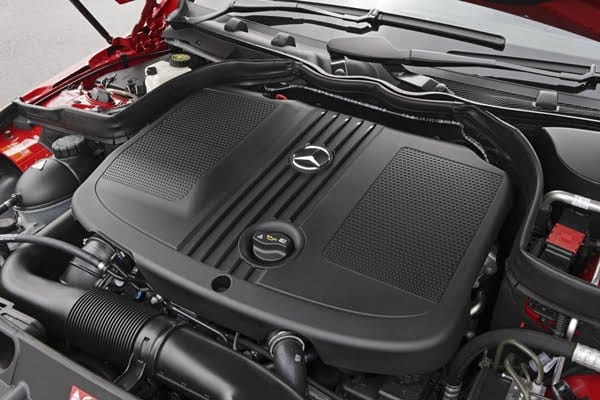 As mentioned earlier, CGI is a fancy term that stands for Charged Gasoline Injection – referring the sort of engine employed in the C200. It's a four-cylinder power plant that uses a turbocharger, rendering a power output characteristic of a vehicle with a slightly larger engine capacity. The engine produces 135kW and 270 Nm of torque and Mercedes claim that it will manage the 0-100km/h sprint in 8.2 seconds. The top speed figure for the C200 CGI according to Mercedes is 237km/h, thanks to faster, smoother adjustment of valve timing, says the maker.
So Mercedes are saying all the right things and living up to their words as the engine is punchy low down and surprisingly responsive for a 1.8-litre four cylinder which is smooth revving and well matched to the seven-speed gearbox. It's no rocket ship but it is a great a great cruiser, smooth and refined with plenty of power in reserve – although on fast, twisty roads, it needs to be worked hard to get the best from it and It will still return good fuel economy (7.2l/100km).
So how do they achieve this great fuel economy over the old model, here it is: A new aluminium bonnet, Lighter laminated windscreen, Firewall insulation with varying material thicknesses, Full under body panelling with a smooth surface, Partially shrouded radiator grille, Sealed headlight mountings, Lightweight rims with aerodynamic design, Lowered suspension, Streamlined side-mirror housings, Energy-saving power-steering pump, Final drive with low-friction bearings and differential gears, Longer final-drive ratio, drag co-efficient of 0.26
Handling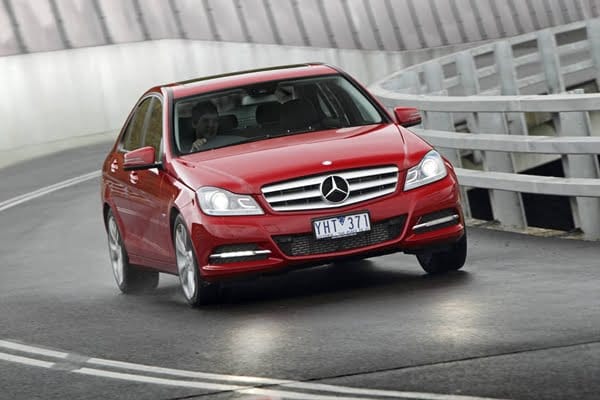 A supple ride and light controls make these versions excellent long distance cruisers and it makes good use of the front suspension of MacPherson struts and the rear independent multi-link system. You know how well this cars chassis and suspension are engineered when you throw it at a corner and find it corrugated and potholed, the steering remains unruffled and the suspension absorbs the harshest corrugations without transmitting anything into the cabin. Probably not quite as good as a 3 Series BMW.
Comfort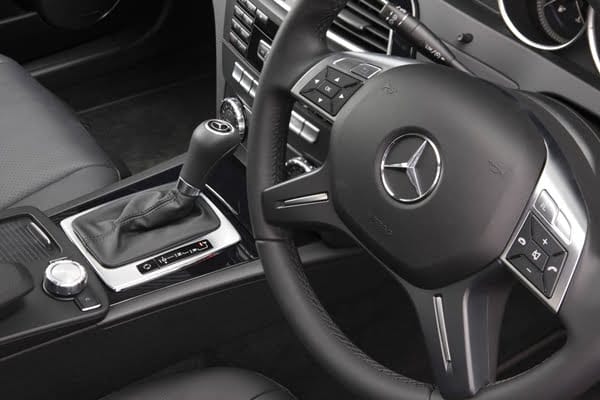 The perforated Artico artificial leather upholstery feels both premium and hard-wearing, while the partially-electric front seats have plenty of adjustability. Considering C-Class Benz is not a huge car, it has quiet adequate legroom in the rear for two adults for hours on end. However, the slanting roof means that taller passengers may find headroom an issue plus while there is a centre seat with a three-point seatbelt, it's only suitable for occasional use as its narrow and there's little foot room.
Passengers in the back can control the temperature thanks to rear heater controls while on the move the Mercedes is quiet, although there can be some tyre noise on the motorway.
Practicality
For a sedan, practicality is pretty good. The large boot (which is bigger than the BMW 3-Series) is more than capable of carrying a couple of suitcases and is fairly close to the ground, which makes loading easy. Inside the cabin, there are a number of storage areas, such as the roomy air-conditioned glove box, door bins and an armrest that doubles as a cubbyhole. So there's more space in the cabin that the last model, with both front and rear passengers benefiting from increased head and legroom.
However, taller occupants will find their heads brushing the ceiling if the car is fitted with the optional panoramic glass. Elsewhere the C-class interior is well laid out and solidly constructed, although the quality of the plastics isn't quite up to the standards set by rivals from BMW.
Equipment
A leather steering wheel and gearshift, part-electric front seats, electric windows, automatic air conditioning, trip computer, electric and heated mirrors, hill start assist, Isofix points, ESP, seven airbags, Bluetooth connectivity and a CD stereo as standard, automatic wipers, adaptive brake lights (which become more intense the harder you brake), wood interior trim and a multifunction screen display. Audio 20 with 5-inch colour display, in-dash 6-disc CD changer, AM/FM, dual-tuner and Bluetooth connectivity, ARTICO man-made leather upholstery, Cruise control with SPEEDTRONIC, 17-inch 5 spoke alloy wheels
New Standard Equipment
New four-cylinder direct-injection petrol engines, BlueEfficiency badging, "Avantgarde" and "Elegance" design line badges included on the centre console, Shift programme: the auto transmission always reverts to "Economy" mode on starting, Audible central locking verification: this function can be activated by the driver through an on/off switch in the cluster menu, Redesigned interior mirror. The stability control off-switch has been moved to the cluster menu.
New Extra-cost Options
New paint colour: metallic brown, Intelligent bi-xenon light system with active light function, dynamic range adjustment, headlight cleaning system and LED daytime running lights, Reversing camera option available in conjunction with Parktronic and Command, Heatable front seats. Manual sun blinds for rear doors.
Safety
Mercedes-Benz is a pioneer in this area and the C-Class features a number of innovations that are also available on the larger E-Class and S-Class models, including nine airbags on our test vehicle as standard and the option of the company's PRE-SAFE system which prepares the car for a crash by linking up the brake assist and electronic stability programme and tensions the seatbelts, adjusts the driver's seat position and closes the sunroof. No surprise therefore that the C-Class gained a maximum five star rating in the Euro NCAP crash tests and upholds Mercedes reputation for safety. Equipment also includes an anti-whiplash head restraint system and electronic stability control.
Summary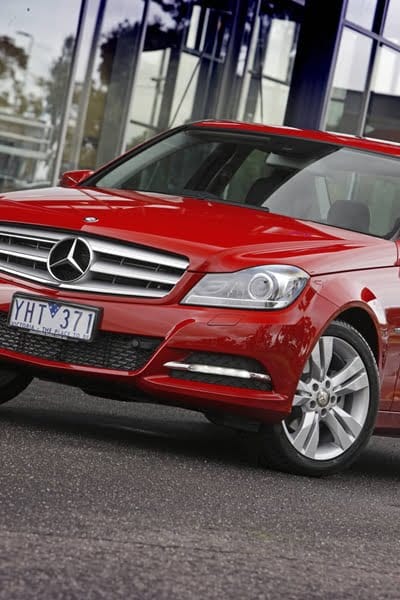 By its own admission, Mercedes-Benz's standards have fallen in recent years and reliability hasn't lived up to the company's reputation. This C-Class is designed to address that and has had extensive development. It certainly feels well-built as a result but the proof as to whether this has been successful will come with reports from buyers.
Style is crucial among executive sedan buyers and it's no surprise that the C-Class is sleeker and sharper than before – with a hint of BMW 3-Series about it. Mercedes wants this generation of its sedan to appeal to younger buyers and this is evident in the neatly designed and unfussy interior.
Good to drive, extremely comfortable and safer than ever, the Mercedes has a strong image and reputation behind it along with an excellent choice of petrol and diesel engines. As we said in previous road tests, the C-Class impresses with its on-road behaviour, and this model is on par with all its stalemates.
Dynamically there is little to differentiate this model from others, especially considering that it still utilises the 17-inch rim/tyre combination. The only difference in the Blue model is the "on-demand" power steering. The hydraulic pump is only called into duty when turning. When travelling in a straight line, a by-pass valve ensures that the pump is not driven and therefore does not unnecessarily draw power from the engine. Weighting of the steering action was found to be not ideal for all our team, some finding it too light, lacking in meatiness and feel.
Is it as good as the BMW320-series? I don't want to sit on the fence here, but I am going to have to say NO and Yes, the 3er ran rings around the C in drive dynamics and left it trailing in – feedback to input, progression, steering, traction, the BMW simply ticked off all the boxes ahead of the Merc in those areas except it was also less forgiving in its character, less compliant on the whole and certainly less comfortable in the day to day environment plus it couldn't match the Mercedes in the engine department, the non-turbo is no match for the brilliant Mercedes 2 litre 4-cylinder engine mated too the 7-speed Automatic.
What is good and not so good?
What is good?
Genuine good-value
Brilliant smooth, economical engine
Safety- Mercedes invented it
Surprisingly quick
Styling
What's not so good?
Chassis doesn't set the standard for on-road balance
Rear headroom is a little tight
Some Fittings look a bit cheap
Drive train: Four-cylinder, 20 valve DOHC turbocharged 2 litre
Petrol engine. Rear Wheel Drive $57,990
Power and Torque 135kW, 270 Nm
Safety 5 Star
CO2 Emissions g/km 171 g/km
Green Vehicle Guide Rating 4
Fuel Economy L/100km (ADR comb) 7.3 L/100km
Tow Capacity N/A
Tow Ball Rating N/A
Warranty 3 yrs., Unlimited km, Parts and Labor
Alternative BMW 3 series
Alternative Lexus IS250
Alternative Audi A4
AnyAuto Ratings 83/100
Behind the Wheel 8
Practicality 8
Comfort 8
Fit for Purpose 9
Equipment 8
Value for Money 8
Performance 8
Build Quality 9
Ride & Handling 8
Environment 8