We do not want to overstate the case for the 2011 Kia Sportage, the company's cheeky, little crossover. The fact that there is a possible 6 months delay with your order says plenty about how good this little diesel is.
It's not slow, it's not badly built, it's not expensive, and in fact I truly believe the Japanese could learn a lot from the Koreans right now, especially in the diesel engine department. But, let's face it, the name Kia still has the lingering reputation as being for the guy who buys his pants from the "seconds/factory- cheap arse " pile.
But forget all that for now. Kia is floating high on the rising corporate tide with sister ship Hyundai. It is delivering truly competitive product for the first time in its history. And, perhaps more importantly, Kia is beginning to build some of the most compelling-looking stuff on the market. Is it good?
Let's find out:
Behind the wheel
You get that high riding position which should deliver decent visibility, but that's blunted by the hefty A-pillars that can be intrusive when you are pulling into a roundabout. There's not a great view out of the back either because the rear window is relatively small.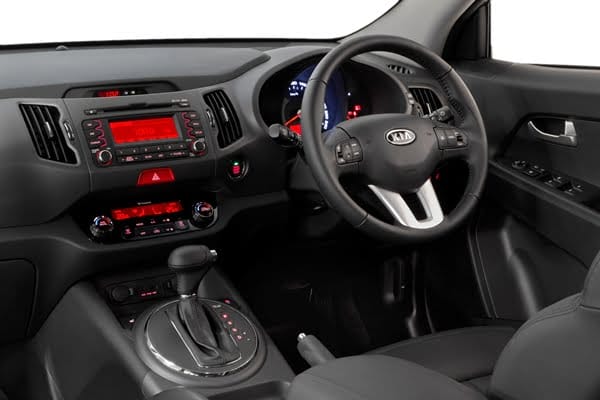 The controls are nicely laid out and you can master their functions within minutes, but the quality of the plastics on the dashboard leave a lot to be desired. The fit and finish is good not great, with the odd sharp edge exposed. Overall if you are spending around $40k RRP (Platinum) you would happy enough with the fit and finish, but not overwhelmed.
Performance
The new line-up is available with the 2.0-litre R series diesel which is good for 135kW and 392Nm and coupled to the new 6-speed automatic, the performance is class leading, offering enough performance for most, and should make a competent tow car.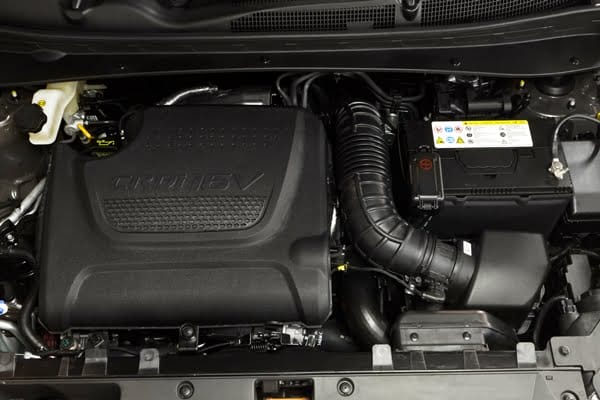 Handling
The 2011 Sportage weighs 60kg less than the old model and has a more advanced chassis, which makes for sure-footed handling, with responsive steering. The ride is good, soaking up bumps, mainly because of the Australian suspension and handling package which has been optimised locally for a unique Australian Market. The reason is that when comparing Kia markets around the world and in particular speed limits and road conditions, Australia is unique. The development of a compact SUV with ride quality, responsive steering and dynamics that satisfied the type of quality demanded by Australian vehicle buyers was a challenge the Kia Australia dynamic (ride and handling) team, including Product Development Specialist Graeme Gambold, spent five months resolving.
Steering is a bit vague and if you enter a corner with too much speed and the Sportage struggles to stay on line but all in all the Australian speck suspension works very well. The brakes are excellent The Sportage's all-wheel drive system has an electronically controlled single high-ratio transmission that delivers 100% of engine torque to the front wheels when driving normally in good conditions but the torque can be redistributed up to a maximum of 60:40 front-to-rears to help cornering stability if it gets slippery. For off-road driving, owners can manually select lock mode, which gives a 50:50 torque, enhancing traction. There's also a hill descent system that's useful in muddy, rough terrain. This ensures the car maintains a steady speed when descending steep slopes so that the driver does not need to touch the brakes, which might result in a loss of traction. There's also hill start assist that prevents you from rolling when setting off uphill, eliminating the possibility of wheel spin.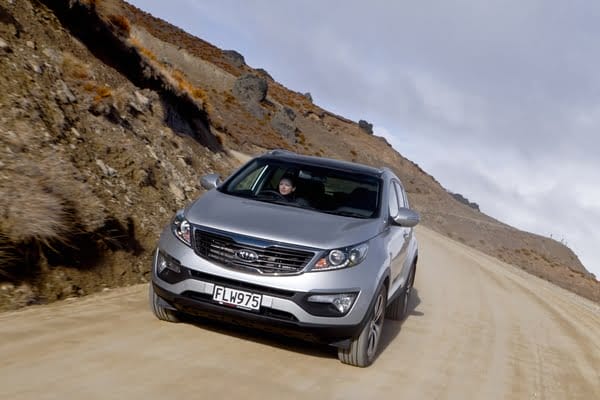 Comfort
This is where the new Sportage makes sense. The seats are comfortable albeit short on side support, but the driving position is good. Like any other 4×4 it's set quite high and thankfully, with rake-and-reach adjustable steering it's easy to find the right set-up, regardless of your size and shape. As far as the ride is concerned the Sportage delivers a game of two halves. On the motorway, it feels relaxed and planted and around town there are few complaints, but on undulating back roads the suspension eliminates most of the bounce, but at times feels a bit wallowy. It's also a tad unsettled on notchy roads and things can feel firm and jittery. It's not unbearable, but it can irritate after a while and your kids might start looking a bit green after an hour or so. Around corners the body lean can be excessive so you do have to rein in your speed on turn-in. There's an absence of road and wind noise, which is very welcome.
Practicality
It's hugely practical because there's plenty of space. There's loads of head- and legroom and the boot is wonderfully cavernous. You can fold the seats down with a satisfying click of a button and if Kia had managed to get the rears to fold down to create a completely flat load bay; we would say this car is top of the tree for practicality. Total loading area is 1,547 litres, which is smaller than that offered in the Hyundai ix35, but larger than that in the Suzuki Grand Vitara and the Honda CR-V.

There are some nice touches that suggest Kia has been thinking about its target market: special bottle holders in the door panels are big enough to hold a bottle of wine, which is fantastic when you don't want them rolling about after a trip from the supermarket. There are also plenty of cubbies and a decent sized storage unit in the central console. The Sportage will tow a healthy 1600Kg braked with a tow ball weight of 200kg which makes it ideal for towing mid-range campers and caravans etc. In fact the diesel makes a perfect mid-sized tow vehicle. Many people would be better off with one of these than a bigger 4WD.
Equipment
There's loads of it and if you are disappointed you are expecting way too much. At present Kia is offering the car in three specs and if you need fruit in your auto you can go nutso with the Sportage. In a full-specked car (platinum) features full leather upholstery with heated front and rear seats, dual-zone climate control18inch alloys and an audio system that incorporates a radio, a CD player and MP3, USB and iPod connectivity. Bluetooth isn't standard which is totally bewildering in this car. A rear-view safety camera which transmits an image to an LCD colour display integrated into the auto-dimming rear-view mirror is also fitted, and there are also reversing sensors to complete the package. Front fog lights and cornering lights ensure good visibility in all conditions, day or night, and the windscreen wipers come on automatically in bad weather. The new Sportage is also fitted with LED daytime running lights in the higher spec models. Steering wheel-mounted controls, electric folding door mirrors and a trip computer add to driver convenience. The Platinum also offers rear privacy glass and 18-inch alloys. Roof rails are standard and there's body-coloured door mirrors with LED indicator strips. Entry level Si gets plenty of kit including 17-inch alloys, aircon, all-round electric windows, electric door mirrors, cruise control, and iPod cables. SLi models, adds roof rails, 17-inch alloy wheels a luggage net, vanity mirror illumination, adjustable driver's seat lumbar support and a trip computer.
Safety
New safety features include ESC with a new Rollover Sensor, Hill start Assist Control (to prevent roll-back when starting on an incline and roll-forward when reversing up a slope in reverse with the manual transmission) and Downhill Brake Control (to limit speed during a steep descent).

Kia has thrown everything it's got at the Sportage to give potential customers peace of mind. There's Electronic Stability Control (ESC) that automatically brakes one or more wheels, reduces engine torque – or does both – to stabilise the car if the car has gone out control. There's also a roll-over sensor that detects when the car might be in danger of rolling over and deploys the side and curtain airbags and seat-belt pre-tensioners so that occupants are fully protected should the worst happen. There are also whiplash-countering headrests, front, side and curtain airbags and ISOFIX child-seat mounting in the rear seats. Security-wise, it's a similar story: the Sportage offers an immobiliser and alarm, door deadlocks, child safety rear door locks, speed-sensing auto-door locking and impact-sensing auto-door unlocking. The 18-inch alloys also come with locking wheel nuts. All this safety kit has clearly helped as the Sportage was given the maximum five stars in the Euro NCAP tests.
Summary
The Kia Sportage is an attractive SUV which is well-equipped and offers good performance, without the big bills once associated with 4×4s. The model spearheads Kia's ambition to be a desirable model under Chief Design Officer Peter Schreyer began work on the new Sportage a little over three years ago, they identified that the then largely unheard-of crossover type vehicle – combining much of the stance and attitude of a compact SUV, but with sleeker looks and a greener conscience – would play an increasingly important role in buying patterns of the future. The car they have created is a five-door, five-seat crossover with the style to attract people who might otherwise have looked at a Nissan, Peugeot or Volkswagen. It has been designed to meet the requirements of young families – or the young at heart – who lead busy, primarily urban-centric, lifestyles. The high shoulder and low roof lines meet in striking reverse-angle C-pillars that improve the view out for rear passengers. The ribbed roof, chunky door handles, LED day-time running lights and large wing mirrors are as much signs of new Sportage's street-wise urban toughness as its capability in difficult conditions.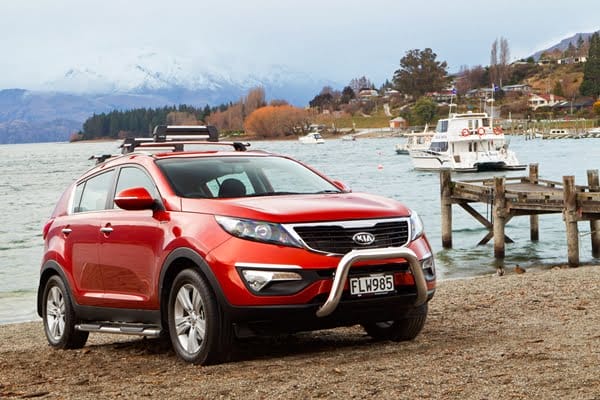 The spacious five-seat cabin is as dynamic as the exterior and is dominated by a multi-tier dashboard that narrows as it sweeps in from the sides towards the middle, leading into an eye-catching centre console. The design deliberately emphasises the width of new Sportage and also gives occupants a feeling of protection and safety. It's all change for the Kia Sportage. The rugged small 4×4 styling is out and in comes a sharp, modern look that's far more in keeping with the competition, Volkswagen, Nissan and Hyundai ix35. The last comparison is an important one, as, underneath, the ix35 and Sportage is essentially the same car and are built at the same factory in Slovakia. There's a lot going for the new Sportage. Firstly, the engines are a massive improvement over what was previously available and are now among the cleanest you can buy in this type of vehicle. The Sportage does a good enough job out on the road, too with decent steering and a well-controlled body
Inside, it looks smart and is functional to use. The materials that have been chosen for the dash and console are good quality and not far from what you'd expect to find in a Volkswagen. As you'd expect from Kia, the Sportage delivers when it comes to value for money. It's comprehensively equipped, appears well screwed together and has one of the best warranties on the market (5 years/Unlimited Kilometres). It's an attractive option for any family looking for a roomy, economical and well equipped car.
Would I buy one?
Yes no question about it, the Kia Sportage 2.0-litre R diesel Platinum is brilliant for the money.
What is good and not so good?
What is Good?
Stylish and upmarket looks,
High quality feel to the interior,
Australian Tuned suspension
What's not so good?
No Bluetooth
Visibility through 'C' pillar atrocious
No reach adjustment for Steering