With the new Amarok, Volkswagen Commercial Vehicles is presenting a debut of the world's most advanced production ute for the Australian market. The highly advanced TDI engine of the Amarok – a boosted direct injection engine – will set new standards when it comes to fuel economy and emissions.
The ute's active and passive safety systems and convenience features all reach passenger vehicle levels. Yet the Amarok is extremely rugged.
Many of the technologies implemented in the Amarok are being used for the first time in the mid-size ute segment. They include Bi-Turbo charging of the engine and an optional permanent 4MOTION all-wheel drive with Torsen differential, which is one of three driveline options of the new model. In terms of its space, load area width and height and cargo loading abilities, the new Amarok is a class leader.
The ute from Volkswagen begins its Australian career as a Dual Cab with a four-door body that offers impressive space for five adults. The two-door Single Cab version that permits a longer load area will follow at a later date. In both concept and style, the Amarok is clearly influenced by the new Volkswagen Design DNA. This is reflected in its typical emphasis of horizontal lines, in the well-defined interplay of body surfaces and high precision of its workmanship.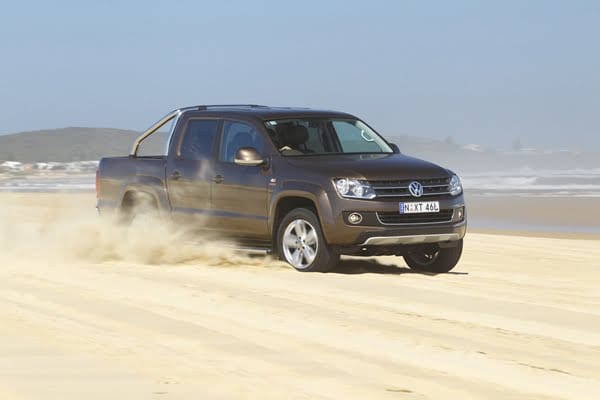 Specifically, one of its most prominent identifying features is the visual unit formed by the horizontal headlights and radiator grille with its louvers and decorative trim accents. Extending back from the vehicle's front face is a surface that develops over the wing contour to the side windows and encloses them in an arch. The cleanly sculpted curvatures of the ute's side body panels and engine bonnet give the Amarok the typical rugged look of a ute. At the rear, the prominent Volkswagen logo catches the eye on the tailgate. It is framed by the ute's taillights whose distinctive signature is their characteristic night design. The high standards of the entire development team are expressed in details like these, details that showcase the Amarok as a genuine Volkswagen and set it apart from the competition with its quality and high-class design.
Strong, cultivated and fuel-efficient: the pioneering TDI engine
On the powertrain side, Volkswagen Commercial Vehicles is introducing a technological achievement at the Amarok's market launch: With 120 kW in power and 2.0 litre displacement, the TDI400 features common rail direct injection with twostage control bi-turbo charging and generates a maximum torque of 400 Newton-metres at a low 1,500 rpm. This superior performance contrasts with a remarkably low combined fuel consumption of just 7.7 litres diesel per 100 kilometres (Amarok 2WD). The 4MOTION variants have similarly impressive consumption figures of 7.9 litres per 100km/h.
Dynamic and safe on any terrain
Amarok customers can choose from three different driveline versions: permanent all-wheel drive, selectable four-wheel drive (both 4MOTION), and rear-wheel drive (2WD). The latter represents the entry-level version and should appeal to customers who are mainly interested in the ute's body styling and versatility.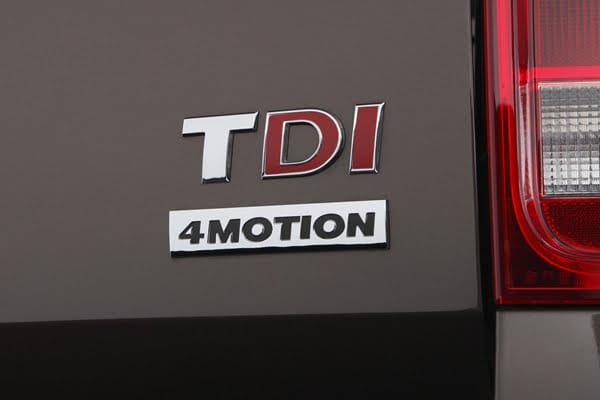 The Amarok 4MOTION with selectable four-wheel drive and a red "4" in the signature is the ideal choice for journeys over all terrains. When engaged at the press of a button, it produces solid power transfer to the axles. For the most difficult jobs, there is also reduced off-road gearing that makes complicated off-road passages easy to master. Even 100 percent inclines with a slope angle of 45 degrees are no obstacle. At the same time, the progressively tuned Heavy Duty spring package with three main and two auxiliary spring packs assures a high overload safety factor and uniform comfort in all load situations.
The Amarok 4MOTION with a black "4" is optional on the Amarok Ultimate with permanent all-wheel drive and greater comfort. It exploits the advantages of all-wheel drive for superior vehicle dynamics on paved roads too. Its Torsen differential is a rarity in its class. It distributes drive forces variably between the front and rear axles; in the default setting, power is distributed 40:60. This results in excellent vehicle dynamics combined with high traction.
All drivelines also have an electronic differential lock that utilises automatic braking intervention; this system improves traction on all types of road surfaces. Moreover, a rear differential lock is standard for rugged Amarok driving conditions on all 4MOTION variants and is an option on the Amarok 2WD variants.
Equipment lines: from work truck to lifestyle ute
The Amarok is launched on the market in four equipment lines. The entry model relies on mechanical and extremely tough components: electric windows, remote central locking and electrically adjustable door mirrors are all standard. The interior comes with rubber f loor covering to ref lect the heavyduty credentials.Standard comfort features include Climatic air-conditioning, driver and front passenger seats with height adjustment as well as interior grab handles. The bumpers, door handles and mirrors are unpainted, and this makes them ideal for heavy duty use. Other standard features: variable folding rear bench seat, locking glove box and load area lighting. A special feature: the radio antenna is integrated in the door mirrors. The Amarok comes in 2WD rear-wheel drive and optional selectable 4MOTION four-wheel drive.
One grade higher in standard features is the Amarok Trendline. On this version, the front bumper, door handles and mirror housings are painted in body colour. The rear bumper comes with an integrated step. In addition, multi-functional display, cruise control and front fog lights are all standard equipment. 16-inch alloy wheels emphasise the Amarok's strong image. The cabin of the Amarok Trendline comes with carpet f loor covering as well as drawers under the front seats. This version is available in selectable 4MOTION four-wheel drive.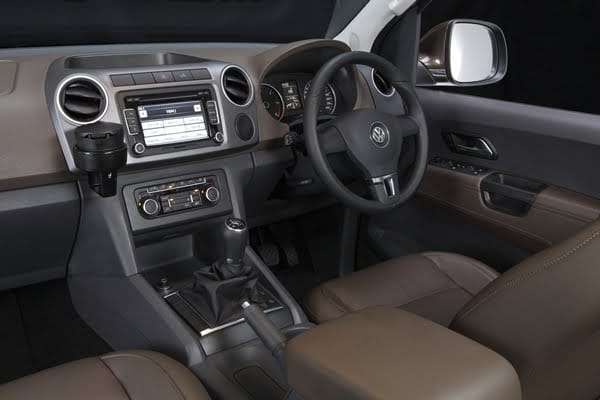 The Amarok Highline offers exclusive features. Building on the Trendline equipment line, the Highline has upgrades such as a rear bumper with chrome details, part-chrome mirror housings, various chrome accents outside and inside the vehicle and wing f lares in body colour that create space for 18-inch alloy wheels.
In addition, this equipment line is characterised by a colour contrasting instrument panel (depending on vehicle configuration), an automatic climate control system (Climatronic) that offers exceptional comfort, a higher performance sound system and high-quality fabric seat covers. Other impressive features include an alarm with back-up horn, privacy glass in the rear, leather gearshift knobs and handbrake lever as well as a leather steering wheel. The Amarok Highline comes in selectable 4MOTION four-wheel drive.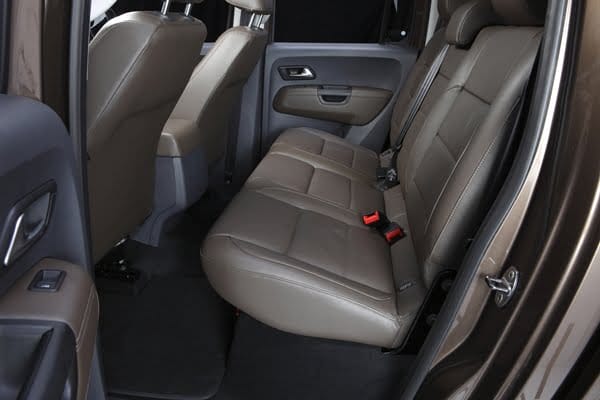 The Amarok Ultimate is the most exclusive equipment level. Some distinguishing features above the Amarok Highline are leather seats, 19-inch alloy wheels, side steps, stainless steel sports bars and 'Ultimate' badging. The Amarok Ultimate comes in both optional permanent all-wheel drive 4MOTION and selectable 4MOTION four-wheel drive. In addition to the ute's numerous standard features, an extensive accessories program is being offered for the Amarok as well – accessories range from a styling bar to side steps, cargo cover, the versatile MultiConnect mounting system and a selection of alloy wheels.
Largest interior and load width in its class
The vehicle's exceptional interior dimensions make it the most spacious in its class. The vehicle's finely tuned ergonomics are typical of Volkswagen Commercial Vehicles and the Amarok. Easy entry, a generous seating layout and lots of head room characterise the workspace behind the wheel. Ample leg room on the rear bench also makes the Amarok a full-f ledged five-seater. When only two persons are aboard, the fold-up rear seat and folding backrest increase interior cargo space.
Important: The load area of the Amarok Dual Cab serves up the largest dimensions in its class as well. It measures 1,555 mm long by 1,620 mm wide, yielding an impressive load area of 2.52 m2. And that's not all. Also "Best in class" is the ute's maximum load width of 1,222 mm between wheel wells. For the first time on a mid-size ute, this makes it possible to load Aussie and Euro pallets sideways, a space-saving feature. It is easy to transport sports equipment like quads as well as bulky machinery, thanks to its large dimensions, load sill height of 780 mm and payload capacity of up to 1.15 metric tonnes. Four lashing eyes at the corners of the load area protect cargo during the drive. When towing a trailer, the ute can handle up to 2,800 kg of trailer load with 280kg of downball weight.
The Amarok sets new safety standards in ute segment
The safety package of the Amarok sets new standards in its class. Along with driver and front passenger airbags, there are also head/thorax airbags – still rare in this segment. Also included, of course, are height-adjustable head restraints and three-point safety belts at all seating positions. In front, the belts have belt tensioners and on the driver's side a visual and acoustic belt warning system.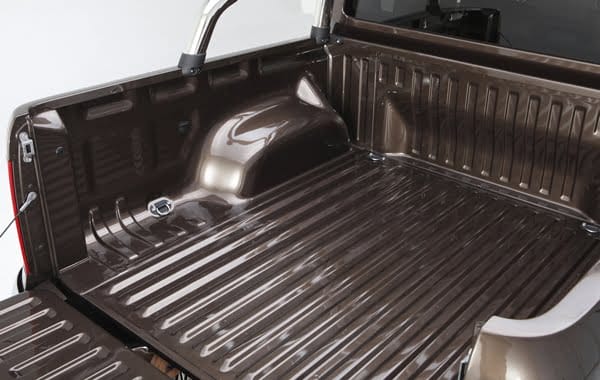 Numerous other features guarantee a high level of active safety as well. For example, the Electronic Stability Program (ESP) with Brake Assist is standard equipment. Another feature contributing to safety is "Off-Road Mode" – activated by the press of a button – which is enabled up to a vehicle speed of 130 km/h. In this mode, the ESP system, electronic differential locks (EDL), antislip regulation (ASR) and anti-lock braking system (ABS) are all tuned for challenging off-road conditions.
The ABS system can reduce braking distance both off-road and on gravel road surfaces, often significantly depending on the road composition. When "Off-Road Mode" is activated while the ute is driven at less than 30 km/h, Hill Descent Assist is also activated; it holds driving speed constant on steep descents by means of targeted brake actuations. For the first time in this class, when Hill Descent Assist is activated the driver can individually adapt the vehicle's speed to a driving situation by accelerating or braking, including in the neutral gear position.