The Subaru WRX STi Auto and the Subaru WRX have been revamped for 2011. Both the WRX STi and WRX have the turbo boxer motor and 5 star safety that Subaru is knwon for.
They're bold, mean and agile – meet Subaru's newest turbocharged twins, the WRX ($39,990 Manufacturer's List Price) and WRX STI Auto ($59,990 Manufacturer's List Price), sporting new metal jackets and muscular engineering. Both high performance Symmetrical All-Wheel Drive variants are available as aggressive wide body sedans, as well as the established hatch body. And for the first time WRX STI offers an automatic choice – the fine-tuned five-speed paddle-shift until now only available in Japanese domestic market A-line versions. But is the STI models worth the Extra $20K plus big ones.
In the recent past Subaru has copped criticism from punters and media , for going limp d**k in the looks department, The first sign of Subaru messing around, unnecessarily, with the WRX styling was the bug-eyed second-generation version released back in 2002. Traditional customers, and Subaru's WRX clientele are among the most loyal, baulked at this soft look. To its credit the company swiftly made a styling change after only a year with designer Peter Stevens (he also refined the McLaren F1 road car's final styling) managing to fix the STI's buggy hideousness, with an all new aggressive body kit, across both models, finally it looks the goods.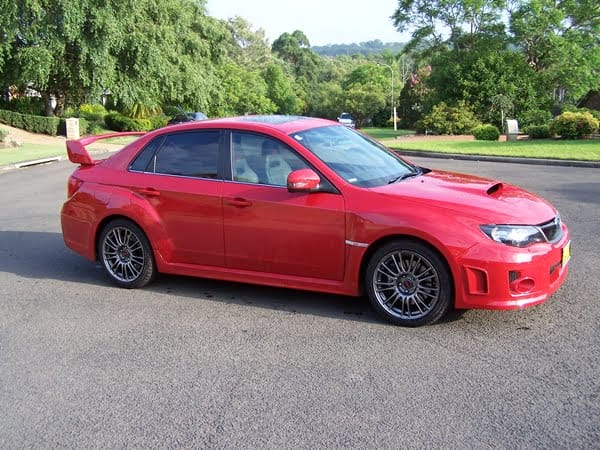 New Designs in the 2011 REX
Both the Subaru Impreza WRX 5-door model and 4-door model will now feature a wide-body design for 2011 similar to that of the WRX STI, underscoring the high-performance character of both models. The new design is based on a "wide and low" concept and gives both cars an aggressive street presence. The design also maintains a consistent flow from front to rear bumper, creating a distinctive identity and a sense of stability in the vehicles.
In front, the 2011 WRX models feature sharpened bumper corners and wider, blacked-out fog lamp nacelles to accentuate the "wide and low" profile. A jutting lip spoiler with three-dimensional detailing emphasizes the cars' sporty intent. The newly designed front grille with black base and blacked-out Subaru wing highlights the headlights' shape to give the entire front end a more powerful appearance, accentuated by larger grille and bumper intake openings.
For the 2011 Subaru Impreza WRX 4-door model, the wider bumpers are stretched out on the side more than the tail lamps, accentuating a look of stability. The new design details contribute to an improved drag coefficient.
Behind the wheel
Inside, the peculiar Subaru design philosophy is present in all its inconsistencies, an underwhelming design aesthetic assembled at levels of peerless quality. The flat-slabbed fascia, out dated display illumination (especially those STI-themed dials with their 1980's oriental red hue) and lack of leather cladding or contrasting trim bits will always appear embarrassingly stark and mismatched to drivers more familiar with German performance sedans.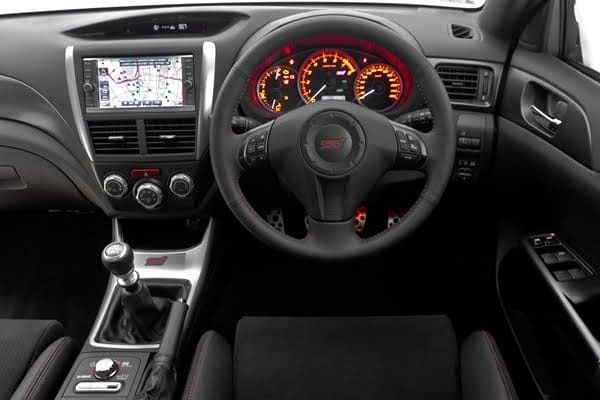 Despite the plain design (and even plainer materials), the sum of parts that constitute an STI's cabin architecture are very well put together. Both Subaru test cars I have driven possessed a similarly hard-wearing cabin construction, where no clips or bits working themselves loose even with robust use. So, Pretty? No. Tough? Yes.
Beyond its lack of style (and solid of assembly) the REX's increased boot space is great, the compact layout of the double-wishbone rear suspension helps to minimize intrusion into the cargo area, providing a wide and deep luggage compartment. In the 4-door, which is longer than the 5-door, the boot can accommodate plenty of luggage. A 60/40-split folding rear seat further boosts cargo capacity and convenience in both models and the 4-door also features a rear seat fold-down centre armrest.
All Subaru Impreza WRX models are equipped with standard aluminium-alloy pedal covers and driver's footrest. Performance-design front seats integrate the backrest and head restraint into a single structure. As a sporty accent, the instrument panel electroluminescent gauges use indicator needles that sweep the gauge faces upon engine start up.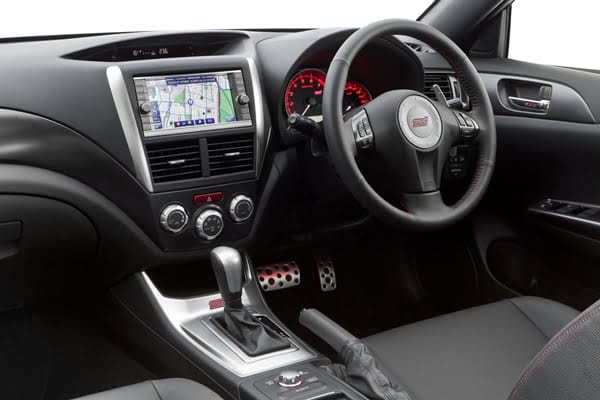 The standard tilt and telescopic steering wheel is a three-spoke, leather-wrapped design and features control switches for Bluetooth® hands-free phone function. A new AM/FM stereo with single-disc CD player features Bluetooth audio streaming and hands-free calling, iPod control capability, a USB port, 3.5mm aux. input jack. An available navigation system integrates a vehicle information centre and Bluetooth hands-free calling is an option on the WRX.
Performance
The 2011 Subaru Impreza WRX uses the Continuous AWD version of Symmetrical All-Wheel Drive. A viscous coupling locking centre differential nominally distributes torque 50:50. Should slippage occur, this system transfers more power to the wheels with the best traction.
The 2011 Subaru Impreza WRX STI automatic variants adopt the famed Japan domestic market A-Line engine that produces 221 Kilowatts of power at 6200 rpm and 350 Newton metres of torque between 3000-6000 rpm. The optional five-speed paddle shift automatic transmission is the fastest in the Subaru line-up. It includes "blipping" control, which allows drivers to change quickly, for example, from fifth to third simply by operating the paddle shift twice in quick succession. Temporary manual mode can even be used when "D" has been selected with the shifter.
 The centre differential has a 45:55 front/rear torque distribution, continuously variable to suit driving conditions and offer optimum balance.
The Vehicle Dynamics Control (VDC) stability and traction control system is standard. Incline Start Assist, featured on all Impreza models equipped with a manual transmission, can momentarily prevent the vehicle from rolling backward when being driven away from a stop on an incline.
A crucial point when evaluating the STI auto is to decide what kind of STI driver you are. To my mind there have always been two – near diametrically opposite – STI buyers: those who have a petulant boost addiction, and those who find this fabled nameplate's cornering poise its most credible feature. If you find yourself grouped with the latter, the auto enables one to keep both hands on wheel during 'enthusiastic' driving (enhanced control) and remember: it is impossible to spin-lock an automatic performance car downshifting for a tight second-gear corner – which should save you a whole lot of ego bruising at track days.
Beyond the automatic transmission slightly inhibiting the STI's outright pace (counter-balanced by a more harmonious all-round driving experience) it has the additional task of acting as a replacement for Subaru's much vaunted Driver Controlled Centre Differential (DCCD). The DCCD system enables one to adjust the front/rear torque bias to posture a more rearward biased 'pointy' turn-in characteristic or slightly safer even-split centre-differential lock-up for spirited driving on treacherous, low traction surfaces such as gravel.
With the STI auto doing without DCCD, the five-speed transmission is burdened by torque distribution duties in addition to shifting ratios. Set to run at a default 45/55 front/rear split, torque distribution pendulums as the transmission's electronic control module sees fit. STI purists will justifiably question whether a car that foregoes adjustable differential control should not be carrying the plainer WRX badge instead. The proof though, is in the driving…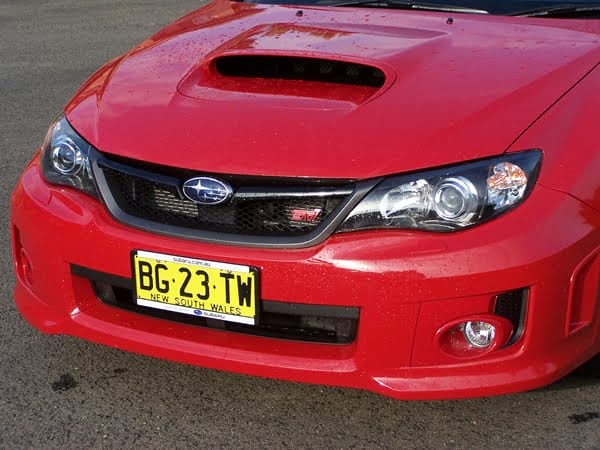 Engines and performance
Subaru WRX Manual V's Subaru WRX STI Auto
Engine Type Horizontally opposed, turbocharged (same)
Engine Size 2.5L (same)
Cylinders TURBO 4 (same)
Max. Torque 343 Nm/4000 rpm / 407Nm @ 4000/Auto 350 Nm/3000-6000rpm
Max. Power 195 kW/6000 rpm / 221kW @ 6000rpm
Bore & Stroke 99.5 x 79.0mm / 99.5x79mm
Compression Ratio 8.4:1 / 8.2:1
Valve Gear DOHC / DOHC 16 valve, Dual Active Valve Control
Handling
One area where the auto STI is not overshadowed by the manual WRX is chassis set-up. With wheels independently suspended at each corner (sophisticated double wishbones at the rear), the Subaru chassis has become a near perfect blend of grip and suspension travel. The new WRX and STI's suspension has been upgraded from its hatchback predecessor.
Anti-roll bars are thicker all round and the new STI auto rides 5mm lower than the WRX. Sporting a new wheel design (that shaves 2kg per corner rolling slightly wider 245/40 tyres, add to the level of feedback and control exploitable by the driver. Ride quality, for something wearing low-profile rubber on 18″ wheels (and capable of significant speeds) is simply brilliant.
The steering is still a touch on the light side (as with all Imprezas) despite the presence of a steering damper to reduce kickback on broken surfaces. Push the STI to the edge of its mechanical grip (fully seduced by the boxer growl and accompanying 195 kW / 221kW power peak) and terminal understeer is the last thing you'll experience before ploughing into some roadside scenery and having to phone your insurance company.
With the firmer suspension and wider tyres grip limits are frightfully high though and as a package, the new four-door STI and WRX is courageously faithful to the Impreza legacy of unparalleled A-to-B cross country ability. The increase in tyre size does make it tramline occasionally over very badly rutted Sydney tar roads.
Comfort
The sports style front seats in both of these cars are fantastic especially the superbly crafted bucket driver's seat in the STi, which are some of the most comfortable in the business, even after several hours behind the wheel.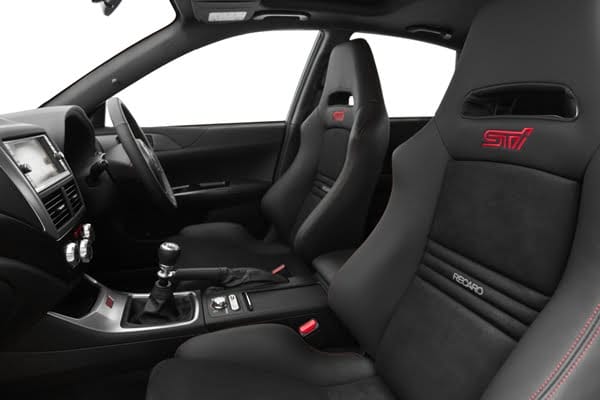 You'll notice there are only two pedals instead of three in the STi. Indeed, after nearly two decades of indecently rapid Imprezas, the latest STI is the first available on the local market with an auto transmission .Before your delete your Subaru screensaver and replace it with the Lancer Evo X, consider two issues. First, the six-speed manual transmission has not been replaced; it continues alongside the option of a five-speed self-shifter. Second, perhaps an automatic STI is not quite as wrong in execution as it sounds in principle. If all the AMG's and most modern M5's (not to mention most Porsches and all Ferraris) make do with only two pedals, perhaps heel-and-toe double-declutching is something that belongs to the vestiges of 20th century performance motoring?
Practicality
This Impreza is far more refined inside than its predecessor. Tilt & reach adjustable steering provides a comfortable driving position, PLUS lots of rear seat accommodation offers surprising legroom, as the Subaru WRX and STI are basically mid-sizers. All grades are significantly quieter on the move than their predecessors. With five aboard the sedan wins over the Impreza hatch on storage space (420L vs. 300L). Both Subaru the WRX and WRX STI have a 10-speaker in-dash CD audio system now with Bluetooth and AUX jack. The optional satellite navigation screen is centrally mounted.
Equipment
There is plenty of fruit and options with both these vehicles, so much that it would be better to ask your Subaru for a brochure or surf the net. I have listed to changes over the previous model.
Equipment changes in the 2011 WRX models;
Wide body sedan and hatch design, new STI exhaust system – four tailpipes, New lightweight 17-inch alloy wheels with gun metal grey finish, New bumpers, Wider front and rear track , Wider tyres , Rear suspension upgraded , Bluetooth wireless technology compatibility
Equipment changes in the 2011 WRX STI
Introduction of wide body sedan , Automatic option – STI-tuned five-speed paddle-shift , A-line engine for auto – ideally set-up for sport performance , Large aerodynamic rear spoiler on sedan, Sporty new bumpers and grille , Suspension totally revised for better cornering performance, handling and stability , 5 mm lower – adding to sporty appearance , New stainless steel exhaust tip design unique to model , New wheels – lighter standard ENKEI 18-inch alloy wheels , New finish on BBS 18-inch alloys on WRX STI spec.R , Darker instrument panel and door trim, Bluetooth wireless technology-enabled audio system , USB jack in centre console – non SatNav cars
SAFETY
The Impreza models are built around the Ring-Shaped Reinforcement Frame body structure with front and rear crumple zones. This design has been proven in Subaru models for over a decade to provide outstanding crash protection. Side-curtain airbags are standard on all Subaru models, as is a 4-wheel disc Anti-lock Brake System (ABS) with Electronic Brake-force Distribution (EBD) and Brake Assist.
Plus Brake Assist , Child seat anchor points, Dual front airbags , Four wheel disc brakes (ventilated front, solid rear) , Front seatbelts with pretensioners and load limiters. Double pretensioners on driver's seatbelt , Front adjustable seatbelt anchorage , Hill Start Assist , Rear door child lock , Seatbelt indicator lights – front seats , Shock absorbing brake and clutch pedals , Side intrusion bars , Symmetrical All-Wheel Drive , Three-point A/ELR rear centre seatbelt , Vehicle Dynamics Control (electronic stability control system)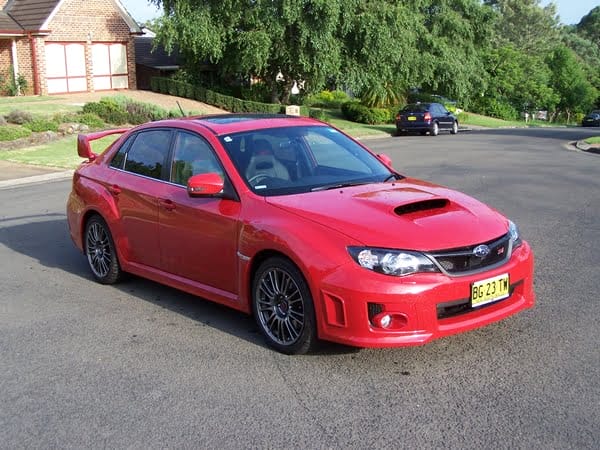 Summary
I spent a week with the STI automatic and WRX manual. Naturally the idea of an automatic STI may appear diametrically opposed to the demands of each and every layer of driver involvement promised by the hallowed doof doof crew, but there is no denying it is an awful lot more relaxing to drive in traffic – where a car such as this, truthfully, will turn heads.
If you are confronted by the responsibilities of a family, convincing your partner of the practical virtues of owning something STI-badged is plainly a lot easier when it is of the dual pedal variety and a trouble-free urban commuter. Yes, you'll struggle to go much further than 300km on a 60l tank of fuel, and yes, it perpetually attracts attention, but the driving dynamics have greatly benefited from its subtle 2010 suspension upgrade.
It may be a convenient truth, but the world is moving away from the manual transmission. You cannot even buy a Ferrari with a chromed H-gate any longer. As mentioned in the start of this piece, other notable performance nameplates (especially of the four-door variety) have prioritised dual-pedal driving convenience; think AMG, M-division and Porsche's Panamera range.
Subaru then, is entirely justified in offering its STI in automatic form. To my mind this is the first step to what should surely be the start of a development timetable to supply a proper dual-clutch version of the STI. So are they back to their to their brilliant best, YES,YES,YES. Would I buy the WRX over the STi? Yes, without doubt, you could do some serious mods for ($20,000) that type of money, and until Subaru do come out with a proper dual-clutch version I can't justify that expense for an additional 7 Nm of torque in the STi auto.
What is good and not so good?
Good
· Fantastic new looks;
· Staggering to drive;
· Bullet proof build;
Exceptional value
Not so good
· Dated interior
· Visibility through 'C' pillar
· I don't have one