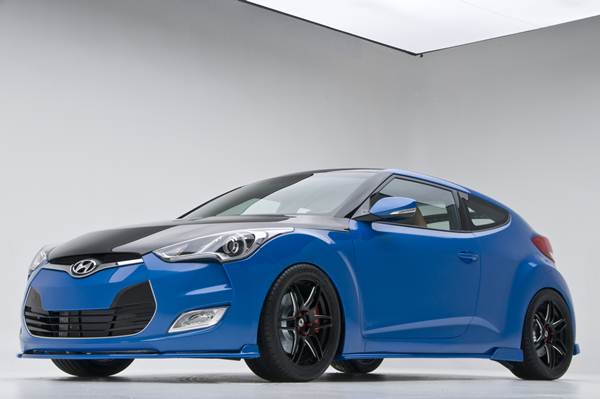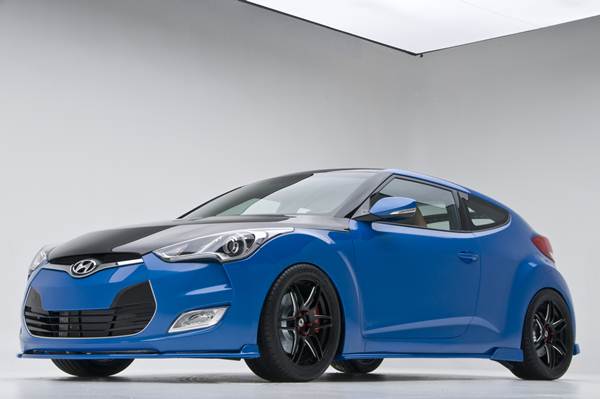 Hyundai's Veloster will be available in the future with a 1.6 litre turbo engine. This will join the already confirmed naturally aspirated 1.6-litre petrol engine in the innovative Hyundai Veloster coupe line-up.
Hyundai Motor Company Australia plans to launch the naturally aspirated Veloster in early 2012, whilst timing of the turbo model variants is yet to be confirmed.
To showcase Veloster's potential, Hyundai Motor America is showcasing the all-new three door Veloster at the Specialty Equipment Market Association (SEMA) Show which is being held in Las Vegas from the 1st to 4th November. Hyundai has united with some of the biggest names in the North American aftermarket industry to build five one-of-a-kind Veloster show cars for the Hyundai display at SEMA.
The lineup of Hyundai vehicles includes:
ARK Performance Veloster
PM Lifestyle Veloster
Rhys Millen Racing 2WD Global Rally Cross Veloster
ARK Performance Veloster
To showcase the performance capabilities and aftermarket potential of its three-door coupe, Hyundai teamed up with ARK Performance to transform Veloster into a sleek rally car. The ARK Performance Veloster will be unveiled with a custom twin-scroll turbocharger increasing its horsepower to 157 kW and a bright green and flat gray paint scheme to give enthusiasts a glimpse at Veloster's potential. The Veloster will showcase mechanical, interior and exterior modifications including an open wheel concept with aggressive fenders and Nitto tires. ARK will also develop Veloster specific parts to showcase the tunability of the engine and vehicle exterior.
PM Lifestyle Veloster
Hyundai partnered with PM Lifestyle, a leader in creative innovation and digital media distribution in the automotive industry, and the Universal Technical Institute (UTI) to develop a powerful and interactive custom Veloster for this year's SEMA Show. The bold, blue Veloster with a carbon-fibre hood, Konig Deception wheels and custom leather interior will make its debut on the SEMA Show floor and then take off on a three-year show tour with UTI, making appearances at over 120 autocross, supercross and school demonstration events. With an anticipated performance of 122 kW, PM Lifestyle's custom Veloster will showcase many special modifications, making it a guaranteed highlight at this year's SEMA Show.
Rhys Millen Racing 2WD Global Rally Cross Veloster
Rhys Millen Racing (RMR) will also showcase his Two-Wheel Drive Veloster Rally Car. This production-based two-wheel drive racer has custom lightweight RMR body panels, improved aerodynamics, and rally-inspired suspension tuning for the rally enthusiast. The car features Hyundai's 2.0-litre turbocharged four-cylinder engine and delivers 224 kW and 406Nm.