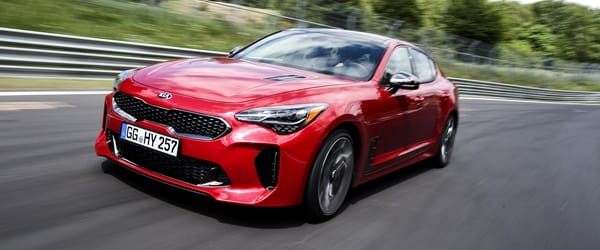 Kia has created a lot of excitement around the Kia Stinger. It has performance pundits perplexed and now has them in a frenzy. Kia will launch with a stinger price.
Kia has set the market alight with a price for the 3.3L bi-turbo V6 range, starting below $50,000 RRP for the entry level model through to $59,990 RRP for the range topping GT model. Car nuts will be wondering what they could buy for the price that will give the same performance.
The Kia Stinger 3.3 L bi-turbo V6 range produces 272 kW of power and an impressive 510 Nm of torque will race from 0-100kmh in 4.9 seconds with launch control and sprint the standing quarter in 13 seconds. Lets put that into perspective. We recently tested three sports cars. The Lexus LC500 that was 4.7 seconds 0-100km but cost in excess of $200,000. The Audi S5 Coupe that again was 4.7 seconds for the 0-100km sprint but cost in excess of $130,000 and the Holden SS Ute 6.2l V8 that sprinted the 0-100km in about 5 seconds and cost around the $55,000 mark.
These comparisons show just how exciting the Kia Stinger really is!
"It was critical for us to bring this car to as wide an audience as possible … something I believe we have achieved with the pricing we have been able to settle on," Kia Motors Australia Chief Operating Officer, Damien Meredith said.
"From the outset it was a goal to get a bi-turbo V6 into the market under $50,000. We have done that with room to spare."
Mr Meredith said the decision to announce 3.3-litre pricing ahead of the Stinger's October arrival was to provide confidence to the substantial number of buyers who have shown faith in putting down a deposit without knowing a final price.
"Almost all of the confirmed orders are for the 3.3-litre, so it makes sense to provide those customers with as much clarity as we can while they wait to take possession of their new cars."
Pricing for the 2.0-litre model is in the final stages of being settled and will be released as soon as it has been finalised.