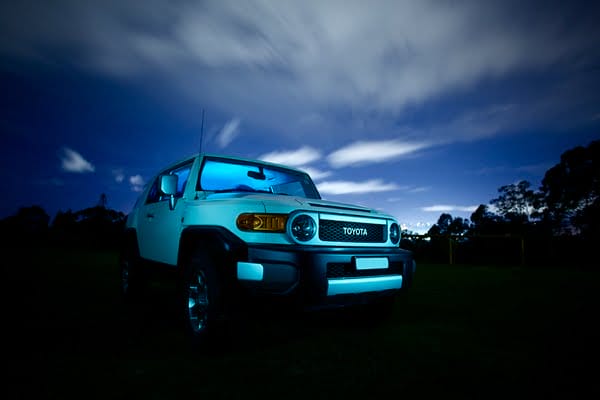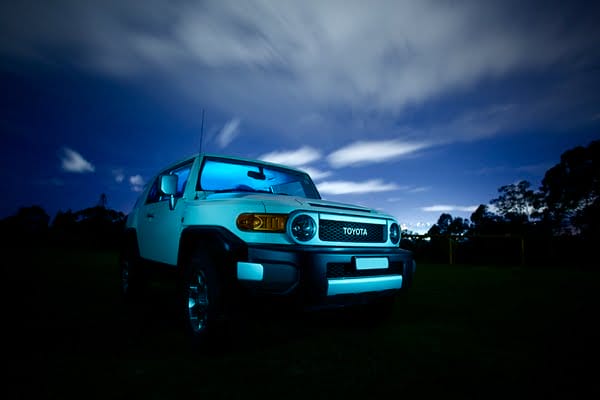 Finally, the chance to drive an FJ Cruiser had come around. Not for want of trying. I had spoken to a delightful fellow from the Toyota web site. They went to a lot of expense advertising this new release but their follow up was shocking. Apparently after I registered my interest on the FJ Cruiser web site someone from my area was going to call me and book me in for a test-drive ….Im still waiting for that call. I don't know if you've seen the footage of the two guys in helicopter with an FJ Cruiser hanging precariously underneath, dumped in the middle of nowhere trying to find their way back to civilization. We were to receive updated emails of their adventure ….. they must still be out there because I haven't received an update . Anyway I'll get off my soapbox.
The day had arrived to pick up the FJ Cruiser for my test drive. Now I had seen these from a distance (the yellow stands out) and flicked up the web pages that showed professionals and amateurs alike putting the 4WD through its paces. I had spoken to colleagues who had taken the 4WD for their own test-drives, so, in a nutshell, anticipation was high. As the keys were handed over and a quick run down of the vehicles capabilities were explained to me, I proceeded to walk out the door to the waiting beast.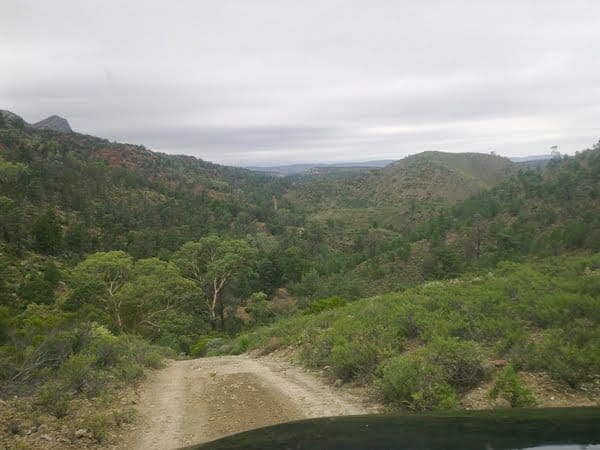 I can only say I must have looked like a kid in a lolly shop. Finally I was there. Grinning ear to ear. Standing only two feet away from the 4WD, palms sweating .Now I don't know if any of you have noticed but if you look at the vehicle front on and crouch to take a look at the under carriage, in my small mind it resembles a storm troopers helmet from Star Wars fame. Just a thought.
The retro look is definitely what stands out. Looking at it for the first time there are characteristics that are a flow on from the FJ40, the classic grill the straight up and down windshield the flat but curved "at the edge" roof line and of course the classic round head lights. What a fantastic way to celebrate a history of a 4WD in rebirthing it with today's mod cons, plastic being the main component.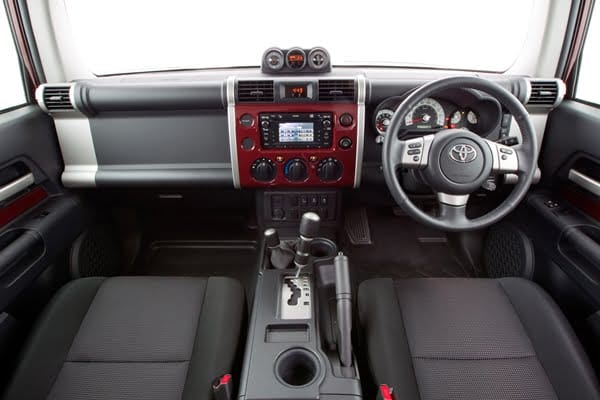 Entering the cabin you do notice the rubber appearance and feel of the bucket seats, but wow, they are comfortable and water proof. The dash is again classic FJ40, terrific instruments, easy to read and the sound system blue tooth compatible is fantastic. Within minutes I had my Iphone hooked, synced- in and music ready to go . Of course as a phone call comes in the music goes silent and you can talk to your caller through the sound system, all at your fingertips.
Vision from inside the vehicle as you are driving is a bit of a challenge at first because of the front pillar but after a while you hardly notice that its there and also with the larger panel behind the passengers heads there is a bit of a black spot but again after a while this is something you get used to.
The rear seats are very comfortable even for a lanky fellow like me, but climbing into the back was bit tricky, a bit of a tight squeeze. Exiting the 4WD from the rear seats is interesting and the suicide doors are something that it takes time to get used to but they are practical and give the 4WD the appearance of being a two door instead of four door. When I showed the suicide doors to onlookers everyone was impressed and surprised. I was scratching my head a bit wondering where I would put UHF but I'm sure the aftermarket crew have got that figured out already.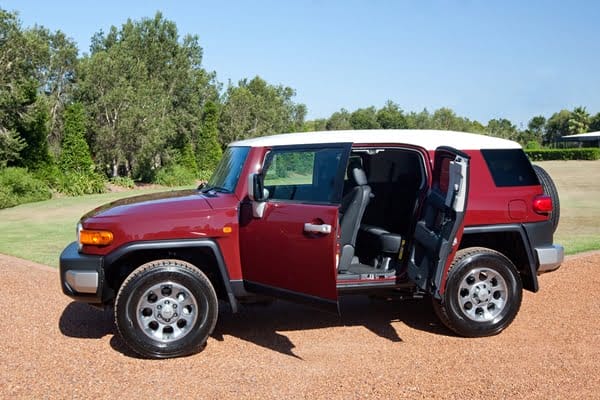 I can waffle on about motor, torque, fuel economy, suspension but to put it simply I would say that this 4WD has a very similar set up to the Toyota Prado and from experience they are a vehicle that will go anywhere and with aftermarket additives they are a reliable 4WD touring vehicle. I would recommend that the FJ Cruiser with aftermarket accessories would be unstoppable and when Toyota bring this beast out in a diesel. …look out!!!
Overall the experience of getting to drive around in the FJ Cruiser was great and I highly recommend this 4WD to anyone wanting a vehicle that is reliable. It had no problem with sand driving, the dirt tracks and hill climbs were easy to drive, and on the highway cruising was a dream.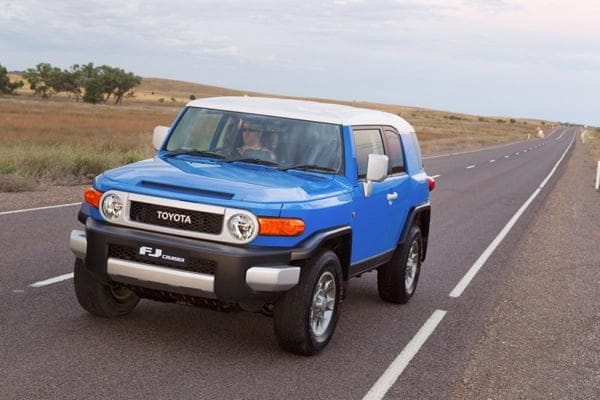 If I was asked were there any faults. I can only point out two .One being that if I was to accessorize this 4WD for touring I would have to move the power steering pump from its current position so as to fit a second battery, this was a glitch with the 100 Series V8 s as well and of course its only available in petrol. When the diesel is introduced I will be a very happy man.
So get in touch with Toyota ASAP and book yourself a test drive .You won't be disappointed