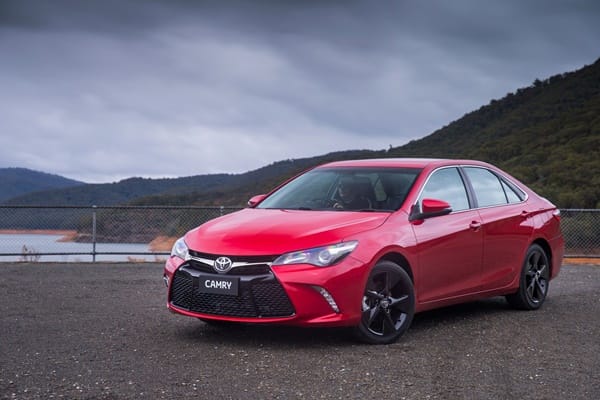 Toyota's Camry is on the verge of achieving two significant milestones – 22 consecutive years as Australia's best-selling mid-size car and all-time sales of 700,000 locally built four-cylinder cars.  New Year fireworks will coincide with Camry continuing an unbroken run that began in 1994 as the most popular car in its segment among Australian motorists.
The 700,000 landmark is odds-on to occur before Christmas: Camry began December within just 1,000 sales of the target while average monthly sales this year are more than 2,000 cars.
Toyota Australia executive director sales and marketing Tony Cramb said the milestones demonstrated the extent to which Camry is an indelible part of the local automotive culture.
"Toyota will continue to build on Camry's success with advances in quality, safety, comfort, value and driving enjoyment, ensuring it remains one of Australia's favourite cars for many years to come," Mr Cramb said.
Camry sales and market share have risen this year on the back of a new-look range introduced in May, featuring more expressive styling and a sports version developed in Australia specifically for local drivers.
Toyota's dealers have sold 22,333 Camry sedans in the first 11 months of this year, 13.5 per cent higher than for the same period last year. This is already higher than the 22,044 full-year tally sold in 2014.
Camry now accounts for just over half the cars sold in its segment, up from 44.5 per cent in 2014. The nearest direct rival has sold just 4,817 cars for a share of 10.8 per cent.
Three-quarters of Camry sales are the 133kW/135kW petrol variants with 16,895 sales to the end of November compared with 14,940 at the same stage last year.
Camry is Australia's best-selling hybrid car. Sales of the 151kW hybrid variants have risen almost 15 per cent this year to 5,438 units and remain on track to record the best result since 2012.
The sale of the 700,000th locally built four-cylinder Camry in December comes after 29 years, which translates into Australians buying an average of more than 24,100 cars per year.
Four-cylinder Camry was introduced to the local market in 1987 with Australia becoming the first Toyota affiliate outside Japan to build it.
The Camry nameplate had been introduced to Australia four years earlier as an import in liftback guise, winning several 'best car' awards.
To the end of November, Australians have bought 699,083 examples of the Melbourne-produced four-cylinder Camry – 663,630 petrol and 35,453 hybrid cars.
In addition, Toyota has also sold a further 178,946 locally built and imported V6 versions, bringing total Camry sales in Australia to more than 878,000 cars. A similar number has been exported, mainly to the Middle East.
Camry made history in 2010 with the introduction of Australia's first locally built hybrid car, offering seamless power delivery and exceptional fuel economy.
Camry attracts the maximum five-star safety rating. All models feature seven airbags, a reversing camera, vehicle stability and traction control, and anti-skid brakes with brake assist and electronic brake-force distribution.
New Camry petrol and hybrid models are covered by Toyota Service Advantage with the cost of services capped at $140 for each of up to five services in the first four years or 75,000km*.