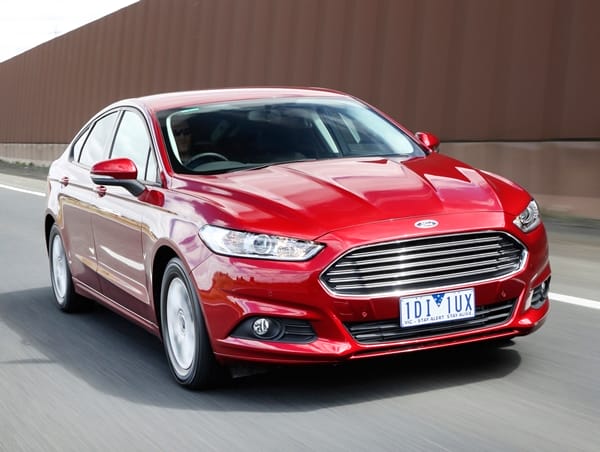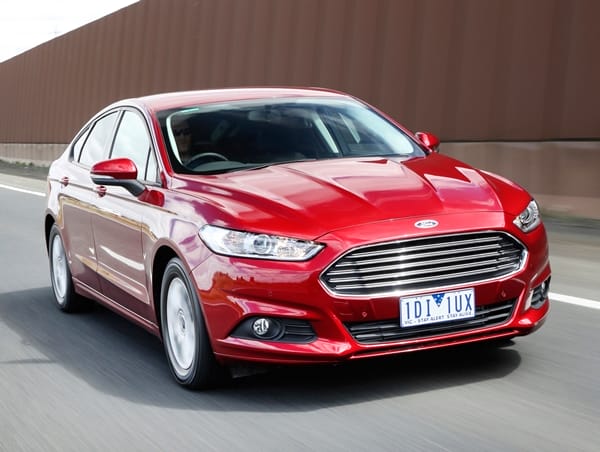 The all-new Ford Mondeo leverages innovative driver assist technologies, an advanced chassis structure, and high quality interior to deliver superior comfort and refinement.
The all-new Mondeo introduces a new integral link rear suspension for improved ride comfort and interior noise reductions. Mondeo also offers Ford's new SYNC2 voice control connectivity system with a high-resolution 8-inch touchscreen for easy operation of phone, entertainment, climate and the standard satellite navigation system.
Technologies including Ford's first adaptive LED headlamps, Inflatable Rear Seatbelts and Enhanced Active Park Assist featuring Perpendicular Parking to contribute to a simplified driving experience.
"The Mondeo uses Ford's latest innovation and proven technologies like EcoBoost, to deliver the most refined and user-friendly Mondeo driving experience yet," said David Katic, Ford General Marketing Manager. "From systems that guide drivers hands-free out of parking spaces at the start of journeys to inflatable rear seatbelts to enhance safety for outer rear seat passengers, the Mondeo is focused on the occupant from start to finish."
Lighting the way with advanced technology
On high series, the all-new Mondeo's adaptive LED headlamps combine the daylight-mimicking light clarity of full-LED headlamps with Ford's Adaptive Front Lighting System, which adjusts the headlight beam angle and intensity to match driving environment. The system can choose one of seven settings according to vehicle speed, ambient light conditions, steering angle, distance to the vehicle in front and windscreen wiper activation.
The all-new Mondeo will feature an advanced version of Enhanced Active Park Assist featuring Perpendicular Parking, which enables drivers to detect suitably-sized parallel parking spaces and reverse hands-free into spaces parallel to the road and side-to-side with other cars.
This advanced parking feature will be supported by both Park-Out Assist, which helps drivers to exit parallel parking spaces; and Side Parking Aid, which delivers an on-screen visual representation and audible warning of obstacles detected to the sides of the vehicles, as well as to the front and rear.
Control climate and more with voice commands
The SYNC2 system offered by Mondeo enables drivers to control key in-car systems using simple, natural voice commands and a high-resolution 8-inch colour touch screen. Connectivity is delivered via Bluetooth®, USB and SD card ports.
A driver can use the commands like "I'm hungry" to find local restaurants and the system will list a range of restaurants. The vehicle's satellite navigation, via the SYNC2 system, is then able to direct the driver to the restaurant's location.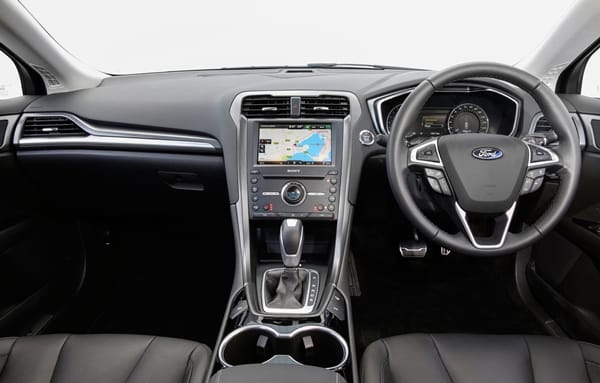 Entering a navigation address is also simplified. Rather than reciting the address in stages, users can say the full address at once, and can select music from a connected MP3 device by asking SYNC2 to play an artist or track. Cover art is also displayed on screen with compatible players.
Customers can place hands-free phone calls with the command "Call ", without first having to give the command "Phone", while the system is in audio, navigation or another mode.
SYNC2 also features Ford's Emergency Assistance, which directly connects the vehicle occupants to local emergency services operators after an accident where the airbags have been deployed and/or the fuel cutoff switch has been activated, provided the phone is paired and within range.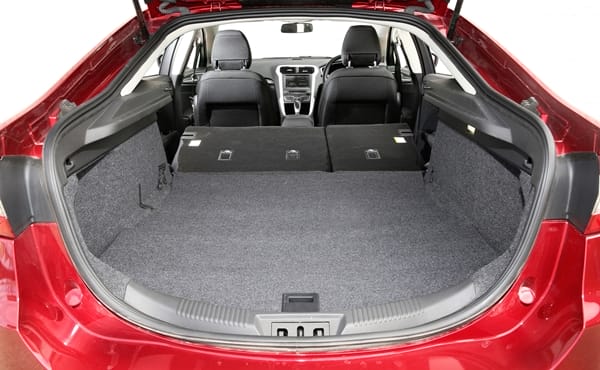 SYNC2 has been developed to provide simple and intuitive commands for drivers to use, and it seamlessly switches between touch screen and voice commands. Drivers will be able to control more in-car systems than ever before, while keeping their eyes on the road and their hands on the wheel.
Mondeo drivers can also control interior climate using voice commands including "Max AC" to cool down quickly, or more specific commands such as "Temperature 20 degrees".
The all-new Mondeo's heating, ventilation and air conditioning system has been fine-tuned for quieter operation. The system also helps optimise interior comfort with automatic climate control able to maintain less than one degree variation even in extreme climates, and adaptive fans that maintain a constant airflow as vehicle speed changes. Rear cabin occupants benefit from dedicated air-vents.
In addition, all-new Mondeo features an air-quality sensor that automatically switches on air recirculation when pollution is detected, and a humidity sensor that enables pre-emptive measures against flash-fogging of window interiors. Cooling from 55 degrees C to 18 degrees C in 15 minutes, it is among the best in its class.
New chassis for improved refinement
The all-new Mondeo is the first model for Europe and Australia to be built on Ford's new global CD-segment platform, debuting Ford's new integral link rear suspension configuration for improved refinement alongside more dynamic performance.
The new suspension design delivers the compliance required for greater comfort, while retaining lateral stiffness for enhanced steering and handling. It also allows the wheel to move rearwards on impact with bumps. This delivers improved impact absorption for a smoother ride and reduced noise levels. Self-levelling rear suspension is offered for the wagon model, maintaining optimal ride height for comfort and handling regardless of load.
Integral link rear suspension contributes to road noise reductions of around 3 decibels in the rear and 2 decibels in the front, supported by additional sound deadening material within the underbody shields, wheel arch liners and front and rear doors to block tyre noise. The number of holes within the all-new Mondeo body shell also has been reduced to minimise noise transfer.
Wind noise is reduced to levels previously only experienced in the premium segment through optimised window pillar and door mirror shape, enhanced door and window seals, and improved interior noise absorption. A wind noise level of 21.1 sone – a metric for loudness – is an 8 per cent improvement over the previous generation Mondeo. The thickness of the rear window glass is increased by 0.4 millimetres, helping reduce passing traffic noise for rear seat passengers.
More seals have been added between the bonnet and front wings, and the engine bay sound insulation changed from glass fibre to foam, contributing to a reduction of between 1.5 and 2 decibels for powertrain noise transmitted to the cabin.
Further fine tuning of handling and ride comfort is delivered with active systems including Torque Vectoring Control, Pull-Drift Compensation, Active Nibble Compensation, and Torque Steer Compensation.
The introduction of Electric Power Assisted Steering on Mondeo for the first time also enables steering weight to adapt and match the "Comfort," "Normal" and "Sport" chassis settings of Ford's Continuous Control Damping on the high-series. Drivers will notice a greater difference between the chassis characteristics delivered by the three settings.
The all-new Mondeo has been tuned specifically to meet the needs as a driver's car. Ford initially went through five designs just for the rear suspensions bushes – with each taking two months – before engineers were satisfied. A lot of emphasis was also placed on tuning steering to deliver a smooth and fluid feel.
Quality and convenience
Inside, Mondeo drivers are greeted by a large and clean digital-analogue instrument cluster and a wrap-around centre console design that features soft-touch instrument panel surfaces and flock-lined centre front storage area and glovebox. The customisable colour display delivers animated notifications for features such as Lane Keeping Aid on Trend and the high series Titanium models.
The sleek, wrap-around centre console design delivers a sporty, cockpit-like feel, and the centre console features a symmetrical design that is accessible to both the driver and the front seat passenger – as is the large, open flow-through storage bin in front of the gear selector.
A soft-touch instrument panel and flock-lined central front storage area and glovebox are representative of the high material quality and craftsmanship throughout. Chrome surrounds and accents also are delivered for the air-vents and soft-touch controls.
Smart-design front seats feature a thinner seat back – enabling rear seat passengers to enjoy additional legroom without sacrificing comfort for driver and front passenger. Rear cabin occupants benefit from the light airy feel offered by a full-length panoramic glass roof in the Mondeo Titanium wagon, while the Titanium hatch has a fixed full-length panoramic glass roof and power tailgate.