Toyota 70 Series – We heard from Sean Hanley a few weeks ago about when the 70 Series LandCruiser's were coming and last week Toyota announced the arrival date and pricing.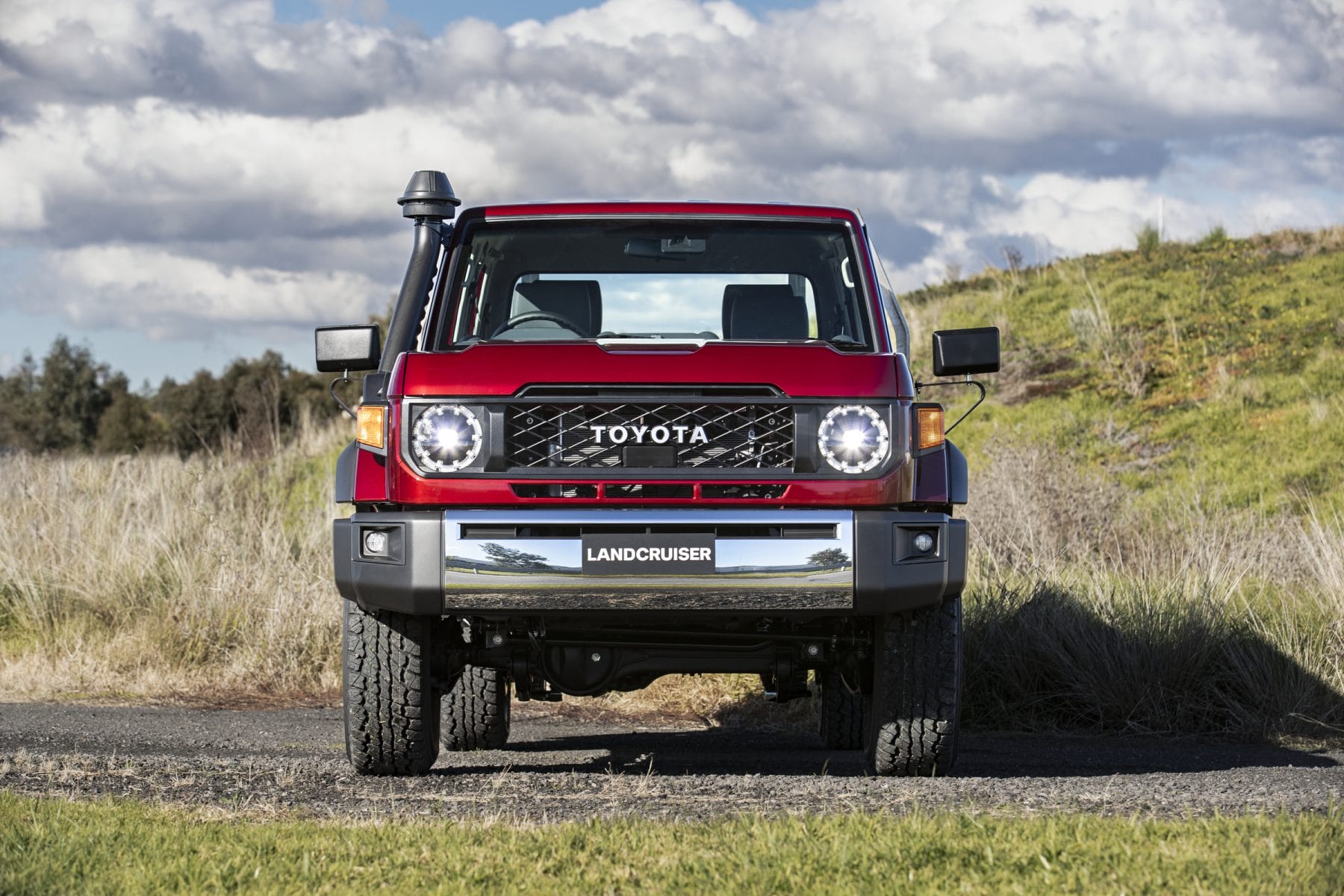 After a long wait and closing off the order book, the updated model is finally arriving in November.
Pricing starts from $75,600 plus the usual costs for the 76 Series WorkMate wagon.
Again, the news is that these vehicles are now available with the 2.8L 4 Cylinder turbo diesel engine from the HiLux and Prado and an automatic transmission.
There have been modifications to this engine to allow for the heavy duty use it will receive in the 70 series vehicles.
Now a 4-cylinder engine in the 70 series may sound like sacrilege to many enthusiasts. But the figures show that it may not be as crazy as it sounds.
Both have 150kW of power around the 3,000rpm mark. However, the 4 cylinder trumps the older V8 for peak torque. It has 500Nm available from 1,600 rpm through to 2,800rpm. Contrast this to the V8 which has 430 Nm available but from a lower 1,200 rpm through to 3,200rpm. This wider torque band is what the V8 enthusiasts love.
I think that immediate availability and the prospect of an AT will sway many buyers to opt for the new engine rather than wait for the V8.
Time will tell
This is a Motoring Minute.
I'm Rob Fraser
Everything you need to know about the LandCruiser 70 Series can be FOUND HERE
TO LISTEN TO THE 70 SERIES RADIO REVIEW CLICK BELOW
Full 70 Series details
Upgraded LandCruiser 70 Series range arrives in local showrooms priced from $75,600 plus on-roads1
Four-cylinder 2.8-litre engine mated to automatic transmission available across the line-up
New exterior styling and equipment upgrades complement upgrades to 70 Series range 
Toyota Australia has announced pricing and specification for the upgraded LandCruiser 70 Series range, with the venerable workhorse arriving in Australian showrooms in November priced from $75,600 plus on-road costs1 for the 76 Series WorkMate wagon.
Along with enhancements to exterior styling, comfort and convenience features, and safety technology, the 70 Series introduces a six-speed automatic transmission for the first time, teamed to the tried-and-tested 1GD four-cylinder 2.8-litre turbo-diesel engine which has also been upgraded to suit the hardcore usage required of a 70 Series engine.
Toyota Australia Vice President Sales, Marketing and Franchise Operations Sean Hanley said the changes to the new LandCruiser 70 Series would make it even more appealing to customers looking for a rugged 4×4 designed for both work and play.
"For generations the LandCruiser 70 Series has provided support for countless Australians in the toughest conditions the country has to offer, thanks to its rugged durability, strong towing and unparalleled off-road performance," Mr Hanley said.
"Introducing the new automatic transmission, four-cylinder powertrain to the LandCruiser 70 Series range will broaden its appeal even further, making it more accessible to a wider cross-section of customers than ever before.
"Along with the upgrades to safety, convenience and styling, there has never been a better time to own a LandCruiser 70 Series."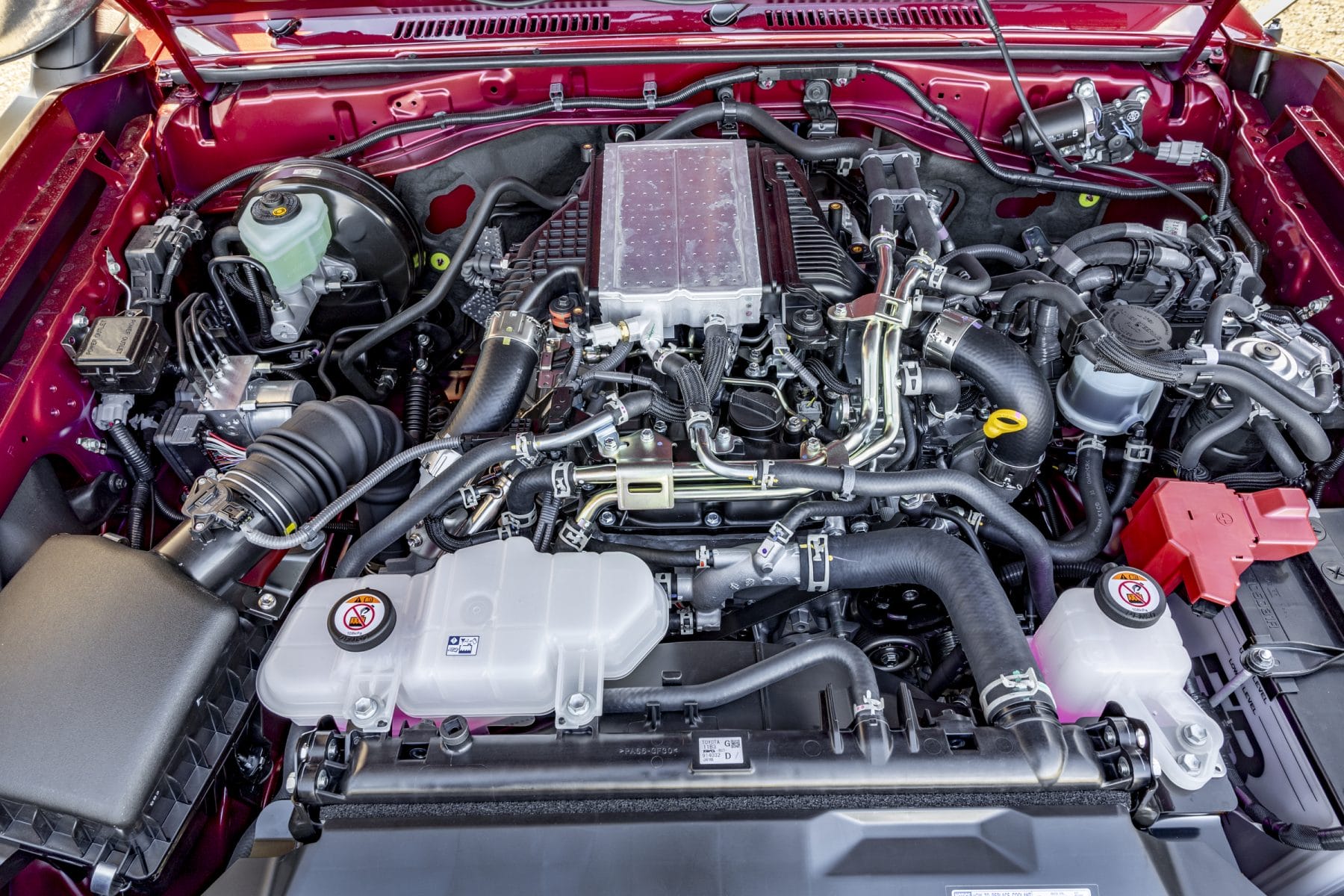 70 Series Model upgrades
The heavily reworked LandCruiser 70 Series range enhances convenience and technology for all owners while also introducing new active safety features to the line-up, offering the new four-cylinder engine option will also help to make the 70 Series range more accessible by helping to satisfy overwhelming customer demand for the fan-favourite commercial vehicle range.
The adoption of the four-cylinder engine comes with a number of mechanical upgrades for the 2.8-litre turbo-diesel powertrain to improve cooling and reliability in heavy-usage scenarios, starting by increasing the diameter of the cooling fan and adding an isolation crank pulley to reduce the load on the engine's serpentine belt.
A newly designed oil pan, strainer and oil level sensor have been introduced to improve oil delivery in off-camber and hilly situations, while the orientation of the oil filter has been adjusted to suit the new vehicle.
Noise, vibration and harshness levels have also been reduced by introducing a balance shaft.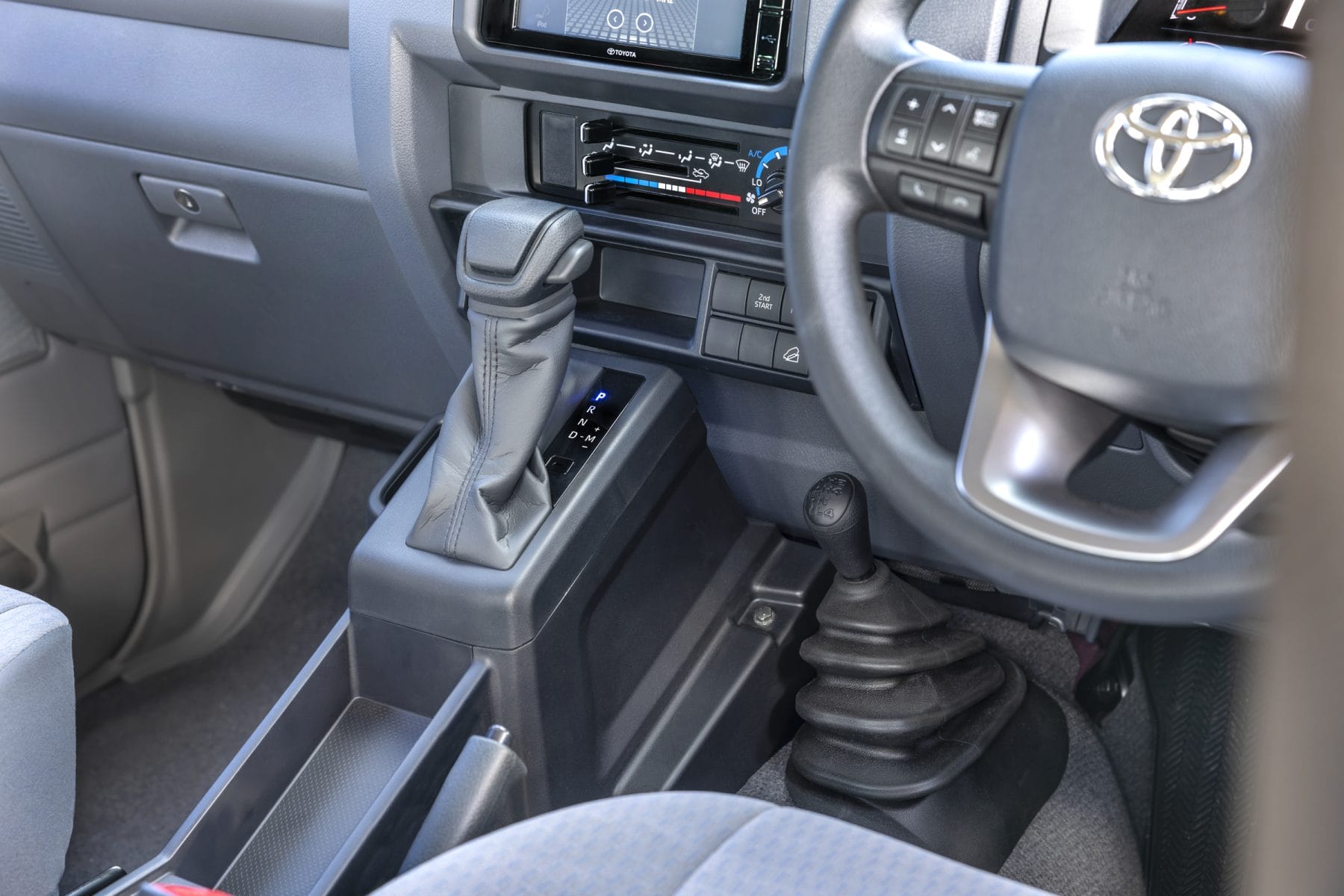 Automatic Transmission
Like the 1GD engine, the accompanying six-speed automatic transmission has also been upgraded for use in the 70 Series, with a deeper oil pan, optimised oil strainer intake position and newly added oil catch tank.
The automatic transmission features a power/haul mode to best make use of the 70 Series' full 3,500kg braked towing capacity2, while a second start switch can help pull the vehicle out of sticky situations.
A transmission guard adds extra underbody protection for the oil pan, while the breather hose has been raised to a height of 900mm to assist water crossing performance.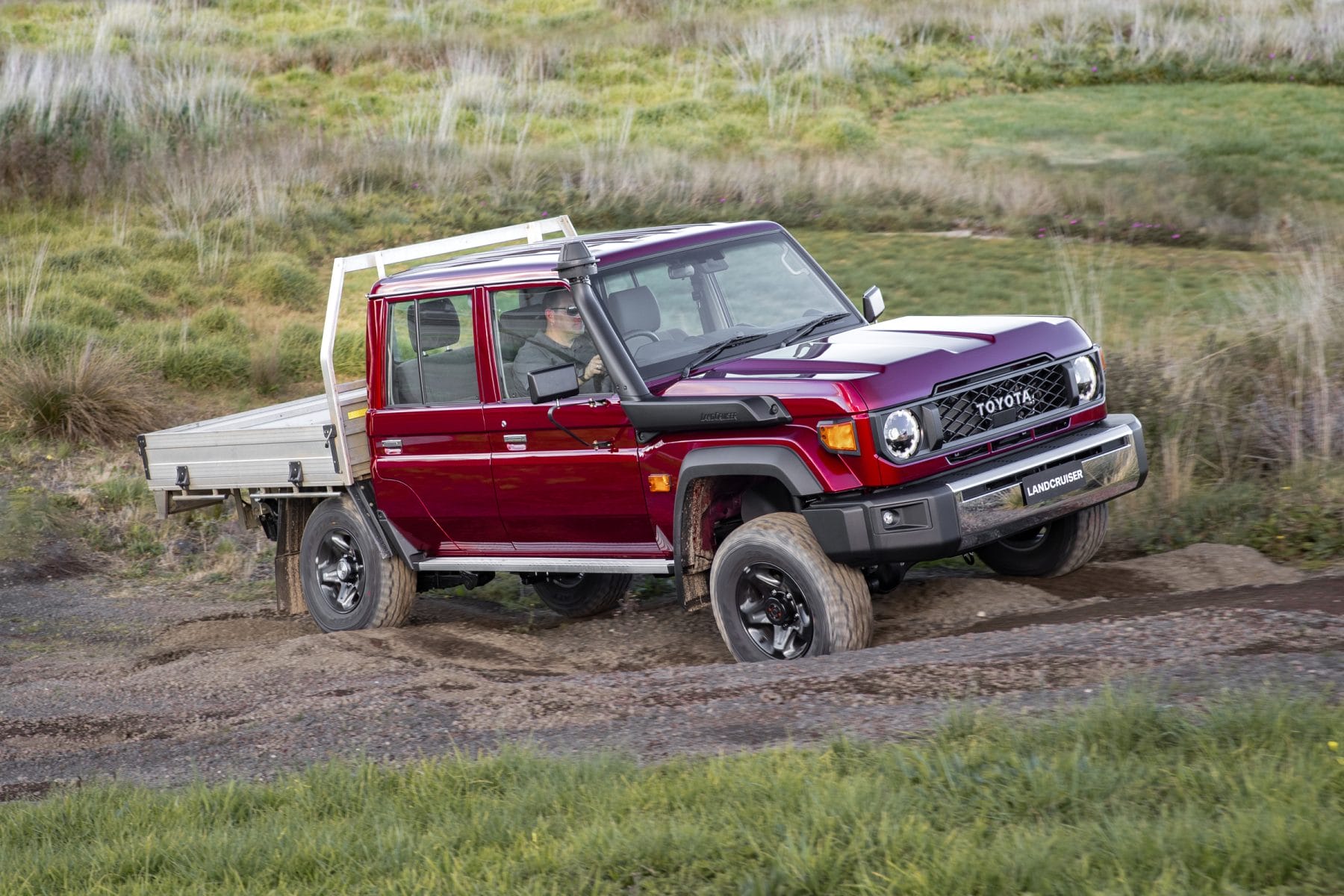 Exterior changes
The new LandCruiser 70 Series is easily identifiable by its redesigned front end which introduces a range of heritage-inspired design touches including new circular LED headlamps with Automatic High Beam3, which can automatically detect other cars on the road and turn the high beams on and off to suit.
A new black mesh grille melds with the heritage-inspired bonnet and turn signals, while dark grey alloy wheels and overfenders provide a tough visage on 76 and 79 Series GX and GXL grades. 76 Series wagon variants are now available with the new Eclipse Black hue, joining the six existing colours.4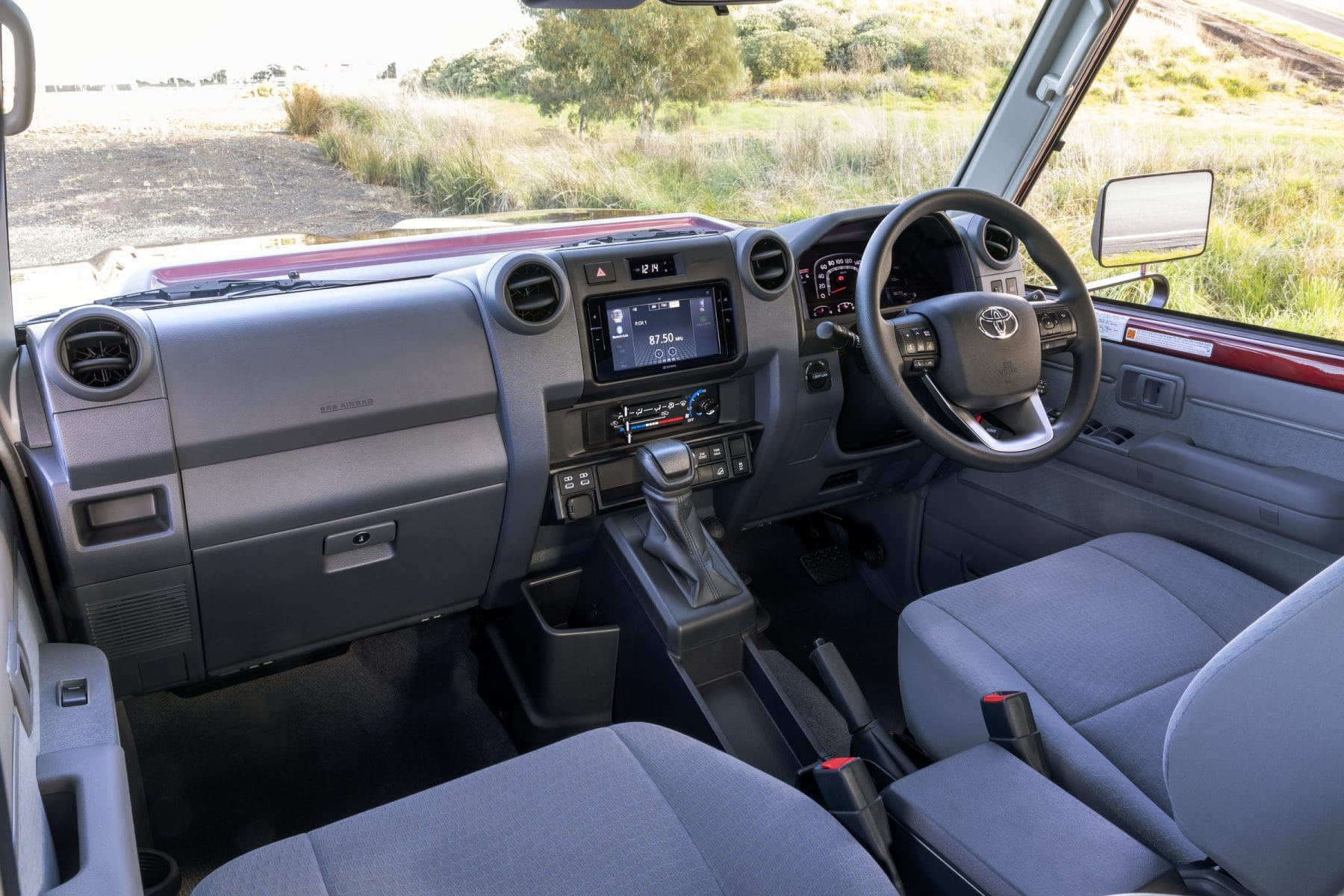 Interior changes
Inside, the redesigned LandCruiser 70 Series range adds a larger 6.7-inch touchscreen multimedia system with voice recognition5 and wired Apple CarPlay®6 and Android Auto™7 compatibility, a 4.2-inch digital instrument cluster display and a new-look speedometer and tachometer whose design harks back to LandCruisers of yesteryear.
New control buttons for multimedia, active safety features and voice recognition have been added on the steering wheel, and the fitment of the automatic transmission has seen the centre console redesigned with greater amenity including a centre storage box.
GXL grades gain two new USB-C ports which replace the existing 12V socket, while the 76 Series gains a reversing camera for easier parking ability around town.
Toyota has expanded the LandCruiser 70 Series' suite of Toyota Safety Sense active safety features to now include Downhill Assist Control3, Road Sign Assist3 and Lane Departure Alert3, joining the existing Pre-Collision System3 which is designed to provide autonomous emergency braking in a range of driving scenarios.
The new 1GD four-cylinder powertrain will be offered on all LandCruiser 70 Series grades, and is tuned to produce a strong 150kW from 3,000-3,400rpm with 500Nm of torque available across a wide 1,600-2,800rpm rev band.
Meanwhile, the venerable 1VD 4.5-litre turbodiesel V8 engine will continue to be sold alongside the 1GD on all variants bar the 76 Series WorkMate, producing 151kW at 3,400rpm and 430Nm of torque from a low 1,200rpm all the way through to 3,200rpm.
With solid front and rear axles, sturdy ladder-frame chassis, a payload of up to 1,380kg8 depending on variant, and a low-range transfer case with locking front and rear differentials on GX and GXL, the LandCruiser 70 Series remains the ultimate choice for hard everyday work or exploring Australia's vast backyard.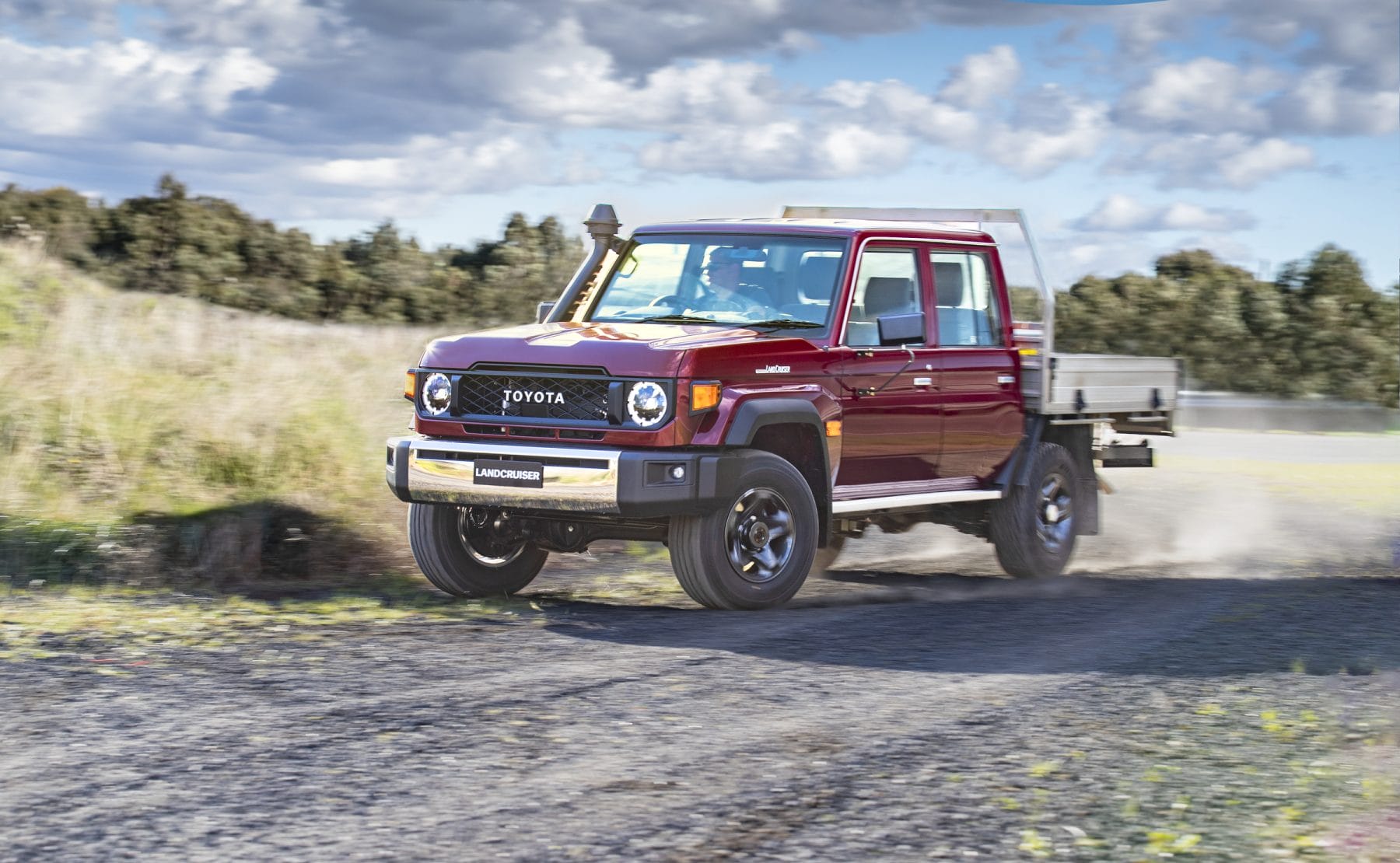 LandCruiser 70 Series pricing1
| | | |
| --- | --- | --- |
| | 1GD-FTV | 1VD-FTV |
| 76 Series Wagon WorkMate | $75,600 | – |
| 76 Series Wagon GXL | $79,800 | $83,900 |
| 78 Series Troop Carrier WorkMate | $79,200 | $83,300 |
| 78 Series Troop Carrier GXL | $82,500 | $86,600 |
| 79 Series single cab chassis WorkMate | $76,800 | $80,900 |
| 79 Series single cab chassis GX* | $78,800 | $82,900 |
| 79 Series single cab chassis GXL | $80,900 | $85,000 |
| 79 Series double cab chassis WorkMate* | $79,300 | $83,400 |
| 79 Series double cab chassis GXL | $83,500 | $87,600 |
Options:
Premium paint: $675
*Front and rear differential locks: $1500
Notes
1 Manufacturer's list price provided for media purposes only. Statutory charges or other on-road costs not included.
2 Towing capacity subject to regulatory requirements, and vehicle & equipment design limitations. Ask your dealer for more information, including Toyota Genuine Towbar capacity and availability.
3 Driver assist feature. Only operates under certain conditions. Check your Owner's Manual for explanation of limitations. Please drive safely.
4 Toyota Australia reserves the right to vary or discontinue the current interior and exterior colours, trims and colour/trim/model combinations. Colours and trims displayed are a guide only and may vary from actual colours due to printing/display process. See your Toyota dealer to confirm availability when ordering your vehicle.
5 Compatibility & functionality varies depending on device.
6 CarPlay® is a trademark of Apple, Inc. registered in the U.S. and other countries.
7 Android Auto™ is a trademark of Google LLC.
8 Weights/mass/volumes/dimensions are approximate and subject to individual vehicle variances, and should be confirmed before fitting any accessories, towing or otherwise relying on this value.
Radio Segments Motoring Minute
Motoring Minute is heard around Australia every day on over 50 radio channels through the Torque Radio network.
Motoring Minute has an average daily audience of over 550,000 listeners. They are also syndicated through various news sites around Australia.
Additionally Motoring Minute is also broadcast as part of Overdrive Radio Program. This can be found weekly on the Community Radio Network across Australia.