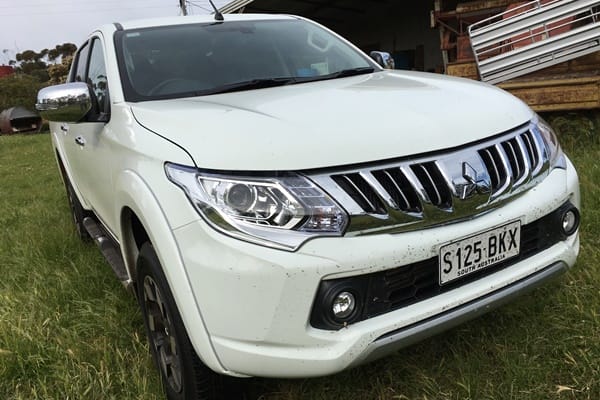 Over the last few weeks we have had a Mitsubishi Triton 4X4 Exceed Dual Cab Ute for test. The Triton has been a favourite of ours and the update launched in early 2015 brought with it many improvements.
We had the opportunity to head to the farm with the Dual Cab for a few days, so we packed the tray with our gear and headed out.
The drive to the farm is about four hours and the benefit of the Australian suspension tuning really showed in peak hour traffic heading through Windsor and Richmond through the Bells Line of Road. I have mentioned before that I believe the Triton has about the best balanced ride and handling of the Dual Cab Utes for the competing requirements of on road driving, towing and off road and sand driving.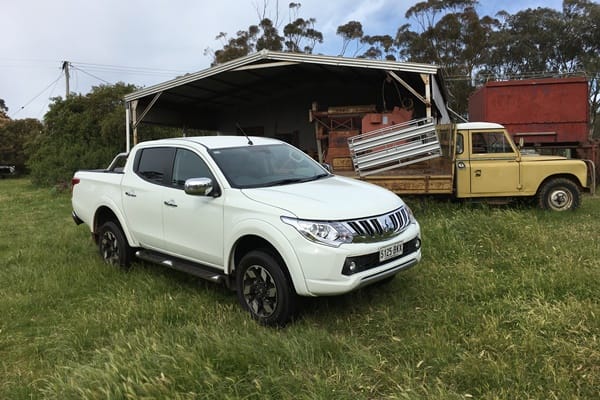 The Triton cruised easily at the speed limit on cruise control, with a smooth ride. Stopping for a coffee at McDonalds at Lithgow, we were stopped by a couple of guys that were looking at what new Ute to buy. About 20 minutes and 45 questions later and a cold cup of coffee they left more than impressed with the attributes of the Triton and had pretty much decided that their new Ute would be the same as we were driving.
On the farm we loaded the Ute with bales of hay, threw a couple of recalcitrant sheep in the back, hooked up a water trailer and generally pottered around the farm.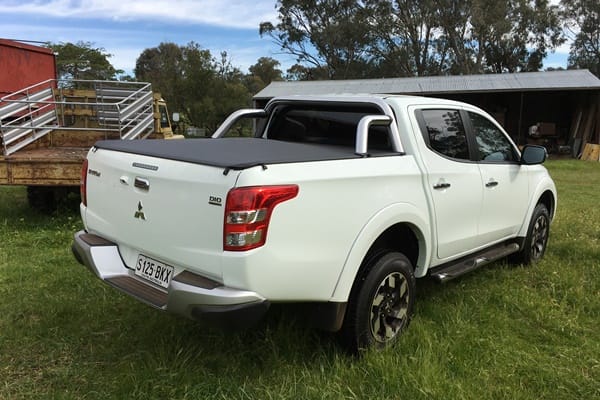 The Mitsubishi Triton is powered by a 2.4L turbo diesel engine that produces 133kW @ 3,500rpm of power and 430Nm @ 2,500rpm of torque. Importantly though is that the majority of that torque comes in at around 1500 rpm and another hit at 1750rpm and  the delivery makes for relaxed and economical driving.
The Triton has a dual range Super Select 4WD II system, which offers four driving modes including locked 4WD mode, driving through a smooth 5 speed automatic transmission.
This combination allowed the Triton to perform all the tasks asked of it as a work Ute around the farm. The Super Select 4WD ll system allowed us to shift in and out of 4WD as needed while driving.
The low delivery of torque means that whether there is a full load, or towing a trailer, or just rounding up the sheep up one of the very steep hills, the Triton just keeps on going without fuss.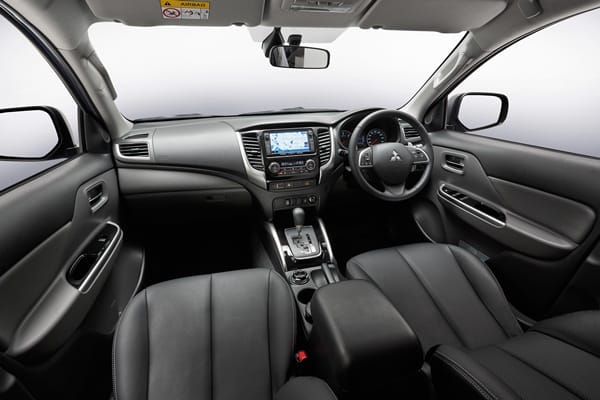 The thing that struck my mate on the farm was just how comfortable the Triton was in suspension compliance, interior features and low noise. I think he might be looking at one as well. He sees most Utes and 4WD's there but he was impressed by the overall balance and value for money.
After the few days at the farm we headed the Triton Exceed back to Sydney to face city traffic again and reflected on the fact that the Triton is equally at home in both places.