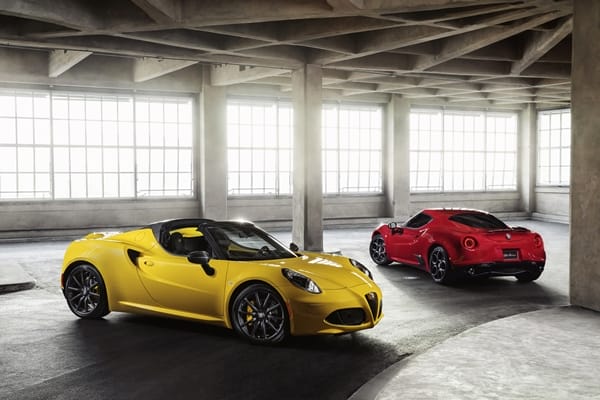 FCA Australia has confirmed arrival timing for the Alfa Romeo 4C Spider, with the stunning Italian supercar due to arrive Down Under in November 2015.
With the exhilarating Alfa Romeo 4C having already launched to rave reviews, FCA is thrilled to confirm the open-top 4C Spider will join its hard-topped sibling in Australia.
The announcement comes at an exciting time for Alfa Romeo globally, with the brand set for a global relaunch in Milan, Italy, on June 24, where company Chairman and CEO Sergio Marchionne will unveil the next vehicle in Alfa Romeo's new model line-up – the result of a staggering five-billion-Euro investment in design and engineering for the brand.
The all-new 2015 Alfa Romeo 4C Spider adds open-air freedom to the many features already adored on the 4C coupe: handcrafted in Modena, Italy; groundbreaking and seductive Italian style; state-of-the-art Formula 1-inspired carbonfibre monocoque chassis that enables an incredible power-to-weight ratio; advanced technologies, including the all-aluminum 1750 turbocharged and intercooled engine with direct-injection and variable-valve timing that enable supercar-level performance.
"The all-new 4C Spider builds on Alfa Romeo's proud heritage of motorsport success and cutting-edge technology, offering an open-air driving experience that is pure excitement," said FCA Australia President and CEO Pat Dougherty.
"A true convertible supercar, the 4C Spider delivers open-topped thrills without rival."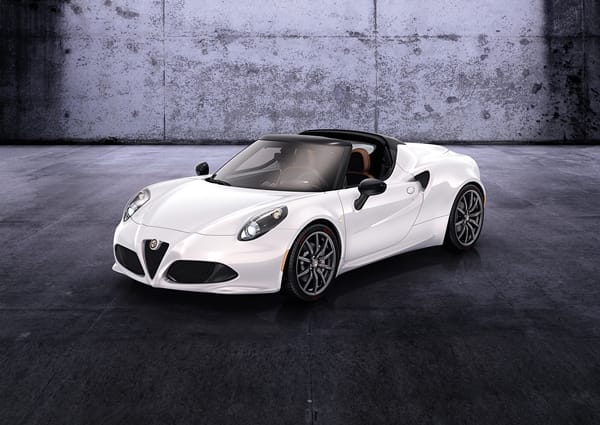 Performance-focused cockpit
The all-new Alfa Romeo 4C Spider's cockpit is inspired from racing; purpose built with only the essential driving components stylistically integrated. The Alfa Romeo 4C Spider features two composite-framed sport seats with standard leather and an exposed carbonfibre monocoque that exemplifies its race-inspired technologies.
Furthermore, a driver-oriented cockpit with flat-bottom, leather performance steering wheel with paddle-shifters and aluminum pedals speak to the brand's racing spirit.
Heart and soul — the aluminum 1750 turbocharged engine with direct injection
The engine is the "beating heart" of any Alfa Romeo, and for the all-new 4C Spider, it beats to an innovative, all-aluminum 1750 turbocharged and intercooled engine with dual (intake and exhaust) continuous variable-valve timing that delivers 177kW and 350Nm.
To ensure exceptional performance and drivability on the racetrack or city streets, the 1750 turbocharged engine features cutting-edge technologies. High-pressure direct-injection (2,900 psi / 200 bar) with multi-hole fuel injectors provide a more even spray. To increase performance, while reducing oil consumption and emissions, the cylinder head inlet ducts have an optimized design, while cylinder liners are made from thin cast-iron. The addition of an electric thermostat helps the 1750 turbo engine reduce warm-up times and tailpipe emissions.
Minimizing vibration at higher engine speeds, the engine's crankshaft features eight counterweights. Last, intake and exhaust systems are optimized for Alfa Romeo 4C Spider's mid-engine layout. "4C" and the Legacy of Alfa Romeo
The Alfa Romeo 4C Spider name recalls the brand's great sporting tradition. The acronyms 8C and 6C in the 1930s and 1940s distinguished racing and road cars fitted with powerful eight- and six-cylinder engines. Like the award-winning 4C, the all-new Alfa Romeo 4C Spider model's designation continues this impressive tradition.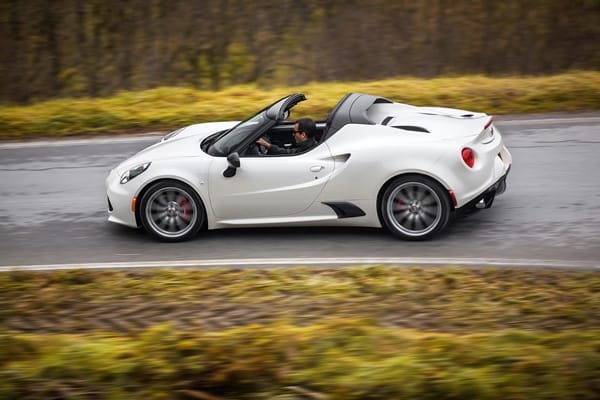 With seating for two, panoramic views and the soundtrack of an Italian performance-tuned engine and exhaust, Spiders are among the most exhilarating experiences in motoring – and represent the very core of Alfa Romeo's DNA and heritage.
The 4C Spider draws from a bloodline that includes some of the most purpose-built performance models, which illustrate lightness and efficiency with undeniable Alfa Romeo style – the aluminum-bodied 8C 2900 B Touring (1938); the 1900 C52 "Flying Saucer" (1952), and most notably – the legendary 33 Stradale (1967), with its mid-engine and magnesium alloy and steel tube chassis "clothed" by groundbreaking styling, which is functional and distinctly Italian. And now it's the 4C Spider's turn to deliver the driving thrill, performance and unforgettable emotion that only an Alfa Romeo Spider provokes.
Groundbreaking and seductive Italian style
Inspired by the 33 Stradale, the all-new Alfa Romeo 4C Spider transcends this legendary racecar's mid-engine body forms and follows its purposeful and lightweight performance tradition with sheet-molded compound (SMC) composite panels forming its seductive Italian design, and "clothing" its state-of-the-art carbon fiber monocoque chassis and all-aluminum 1750 turbocharged, direct-injected engine.