The latest initiative under the Subaru 'do' philosophy is a mobile test drive program – 'Test Drive at Yours'.
Customers can go to Subaru's website, select their local dealer and request a test drive of the new Impreza or XV at a place of their convenience. Whether it's your work, home, after the school run or even from your mates place, you can now test a Subaru vehicle where it matters most to you and without carving out time in your day to visit a dealership.
Subaru Australia's Managing Director, Colin Christie, has called the initiative a "natural extension of our Subaru 'do' pop-up stores in shopping centre locations".  This is all part of the Subaru do philosophy that has resulted in the company implementing mobile service vans, a partnership with DriveMyCar and shopping centre stores and pop-ups. The aim of the game is to remove obstacles in the path to purchase and ownership for Subaru customers. Mr Christie has noted "we are aware that our customers lead busy lives and value convenience, so our Subaru 'do' philosophy aims to enable this whenever possible".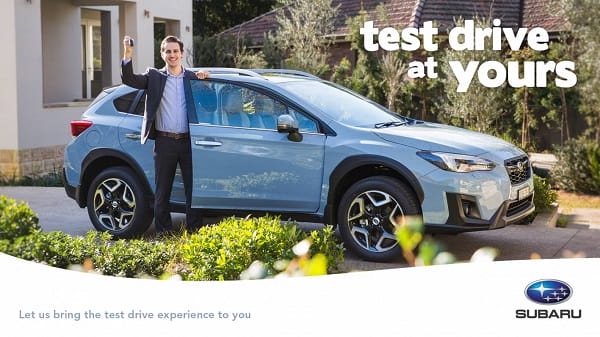 While the 'Test Drive at Yours' program is initially being trialled in the Sydney metro area only, a Subaru Australia representative has said they expect the concept to gain traction, as have other Subaru 'do' initiatives, and as demand spreads to other capital and non-capital cities, they will look to expand the program.
The automotive industry is facing a lot of changes and now more than ever, consumers are demanding brands mould to their lifestyles. Subaru certainly isn't the only brand adapting, but will dealerships eventually be replaced by these new contact points? A Subaru Australia rep said, "Our research indicates the vast majority of customers still prefer to check out every aspect of a vehicle – from test drive to specifications, finance and insurance – in a dealer environment. But we also believe in exploring alternatives for people who, for a variety of reasons, may not be able to access a dealership directly".
To take advantage of the 'Test Drive at Yours' program, visit https://www.subaru.com.au/mobile-test-drive