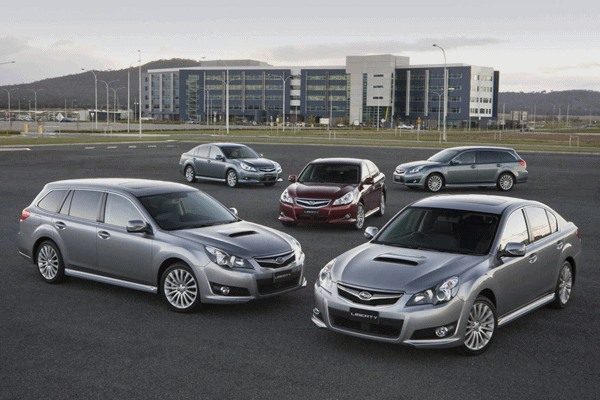 The 2012 Subaru Libertyu 2.5i will come with some added value, with no change in the starting Manufacturer's List Price (MLP)* of $32,990.
Subaru has added more than $3000 value to its entry level Model Year 2012 Liberty 2.5i, including reversing cameras – meaning every variant of the All-Wheel Drive medium car now has the valuable safety aid.
Leather trim also becomes standard on the Liberty 2.5i, making it a feature of all five-seat, Liberty variants, while Subaru's EyeSight™ preventative safety system debuts as a standard feature on Liberty 3.6R Premium.
Every five-seat Liberty now also has a full-size alloy spare wheel.
Changes to the Liberty line-up include:
Entry-level Liberty 2.5i – $3000 more value for the same price:
Leather trim
Addition of rear air vents
Eight-way power driver's seat
Electric lumbar support
Factory-fitted 4.3" LCD screen, which displays audio information and reversing camera images
Full-size spare wheel
USB connection
Factory fitted satellite navigation (SatNav) with reversing camera becomes standard equipment on:
Liberty 2.5i Premium
Liberty 2.5i Sports Premium
SatNav is already standard on Liberty 2.5i GT Premium and Liberty 3.6R Premium.
Nick Senior, Managing Director, Subaru Australia, said: "These upgrades make Liberty an even more compelling package, combining safety, luxury and functionality to produce a highly durable and desirable car with the added benefit of sure-footed All-Wheel Drive.
"We're also honoured to become the first export market for EyeSight™, which we've committed to gradually introducing right across our Australian range in the coming years."
Liberty already has a five-star rating for occupant safety from the independent Australasian New Car Assessment Program (ANCAP) and the addition of a factory-fitted reversing camera to the MY12 entry-level car underscores Subaru's ongoing safety commitment.
EYESIGHT™ BACKGROUND
EyeSight™ uses minute stereo cameras located in a single compact unit near the rear-view mirror, to recognise a variety of potential road hazards and alert the driver.
EyeSightTM is a driver assistance system combining active, passive and preventative safety technologies.
The system underlines Subaru's long-term safety commitment, which includes independent five-star ratings for occupant safety across its entire range, from the Australasian New Car Assessment Program (ANCAP).
EyeSightTM has been extensively tested locally for the last 12 months by engineers from both Subaru Australia and Fuji Heavy Industries, the maker of Subaru vehicles.
The system includes seven key functions:
Pre-Crash Braking – applies the brakes when a vehicle ahead is detected slowing or stopping suddenly (and the driver has failed to apply the brakes).
Pre-Crash Brake Assist – if the system determines that a collision is highly likely and the driver applies the brakes, the system can generate 1G maximum deceleration to help reduce impact or damage.
Pre-Collision Throttle Management – if a driver accidentally applies full throttle close to a barrier or large object situated in front of the car (such as a car park wall or vehicle immediately ahead at close range), EyeSightTM inhibits the throttle opening, helping minimize or potentially avoid impact. This will also assist in helping to reduce impacts in situations when 'Drive' is accidentally selected instead of 'Reverse.'
Adaptive Cruise Control – is designed to maintain a safe distance from the 'target' car in front irrespective of the varying speed of that vehicle.
Lane Departure Warning – alerts the driver if the system determines that the car is drifting across clearly marked lanes.
Vehicle Sway Warning – alerts the driver if the car starts to sway from one side of the road to another, which may occur with fatigue.
Lead Vehicle Start Alert – when the EyeSightTM-equipped vehicle is stopped and the vehicle in front starts to move, the driver receives an audible reminder and information display indicator notifying them that the vehicle in front has moved.
EyeSightTM is designed to actively assist drivers in avoiding frontal collisions, lane drifting and low speed impacts.
It can 'lock on' to vehicles directly in front and, when used together with adaptive cruise control, can slow, stop and accelerate to maintain a safe distance.
EyeSightTM can also recognise pedestrians, motorcycles and cyclists within its field of vision.
Depending on conditions, EyeSightTM can use pre-crash braking helping to minimize any impact and damage. If the speed is less than 30 km/h, the car may be brought to a complete stop prior to impact.
MY12 Liberty Manufacturer's List Pricing*
*Prices are Subaru (Aust) Pty Limited's Manufacturer's List Prices only and include GST on the list price but exclude dealer delivery charges and all other government and statutory charges. For the drive away price of Subaru vehicles consumers should be advised to contact their local authorised Subaru dealer.
Liberty 2.5i manual sedan $32,990
Liberty 2.5i Lineartronic CVT sedan $34,990
Liberty 2.5i manual wagon $34,990
Liberty 2.5i Lineartronic CVT wagon $36,990
Liberty 2.5i Premium Lineartronic CVT sedan $40,990
Liberty 2.5i Premium Lineartronic CVT wagon $42,990
Liberty 2.5i Sports Premium Lineartronic CVT sedan $45,490
Liberty 2.5i Sports Premium Lineartronic CVT wagon $47,490
Liberty 2.5 GT Premium manual sedan $52,990
Liberty 2.5 GT Premium auto sedan $54,990
Liberty 2.5 GT Premium manual wagon $54,990
Liberty 2.5 GT Premium auto wagon $56,990
Liberty 3.6R Premium auto sedan $53,490