UNSW Sydney racing team officially launch Sunswift 7 car which will bid to claim the title of 'Fastest Solar Electric Car over 1000km'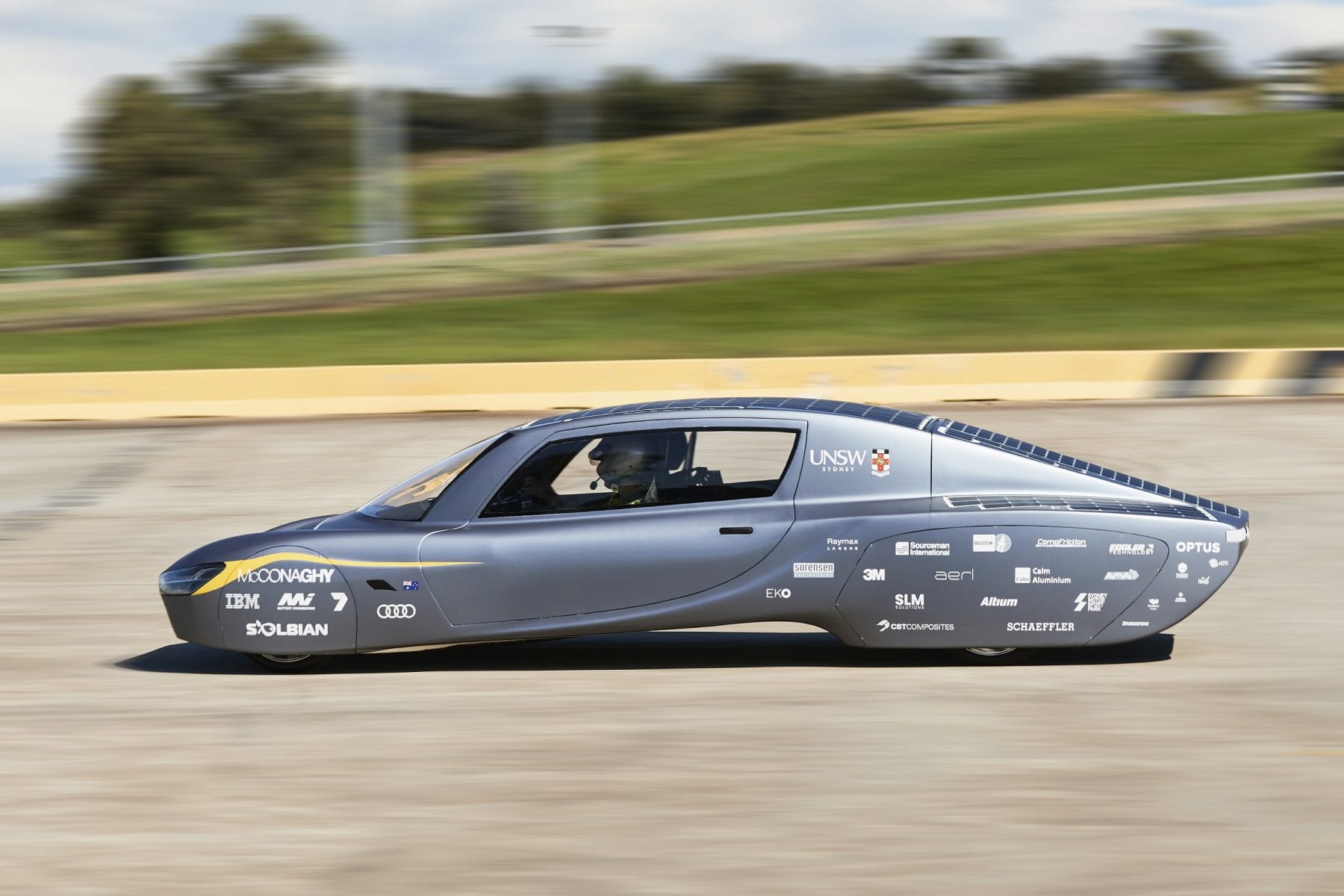 An Australian solar-powered car, designed and built by university students, is on track to challenge for a prestigious Guinness World Record.
The UNSW Sydney Sunswift Racing team, which has more than 25 years of heritage in solar car production, this week officially unveiled its latest model – Sunswift 7.
It has been designed to claim the title of world's fastest solar vehicle and will put its credentials on the line when going for a Guinness World Record at the Australian Automobile Research Centre in Wensleydale, Victoria in December.
Sunswift 7 weighs in at just under 500kg, which is around one quarter that of a Tesla Model S electric car, thanks to high-tech engineering which includes carbon fibre chassis and bodywork.
The aerodynamic design also dramatically reduces wind resistance, while efficiencies in power transfer between the solar panel and the motor mean the car can travel for more than 1200km on a single charge of its battery.
The 50-strong student team, which is overseen by Professor of Practice Richard Hopkins, former Head of Operations for the Red Bull Racing Formula One Team, hope to break the Guinness World Record for the Fastest Solar Electric Car over a distance of 1000km.

They believe they can achieve an average speed of 120km/h or more during the estimated eight-hour record attempt.
Professor Hopkins said: "The Sunswift Racing team already holds a number of Guinness and FIA (Fédération Internationale de l'Automobile) world records and we are confident Sunswift 7 can add to that list.
"Thanks to some aerospace technologies, this car weighs just under 500kg, which is about one quarter that of a Tesla Model S. The lighter a car is, the more efficient it will be, and with efficiencies come speed.
"This is a racing car, so we save a lot of weight by not having ABS brakes, or airbags, or an air conditioning system – and we don't even have windscreen wipers.
"The team has also done a lot of work on the bearings which means there is very little resistance mechanically and we have a very aerodynamic design to cut air resistance to a minimum."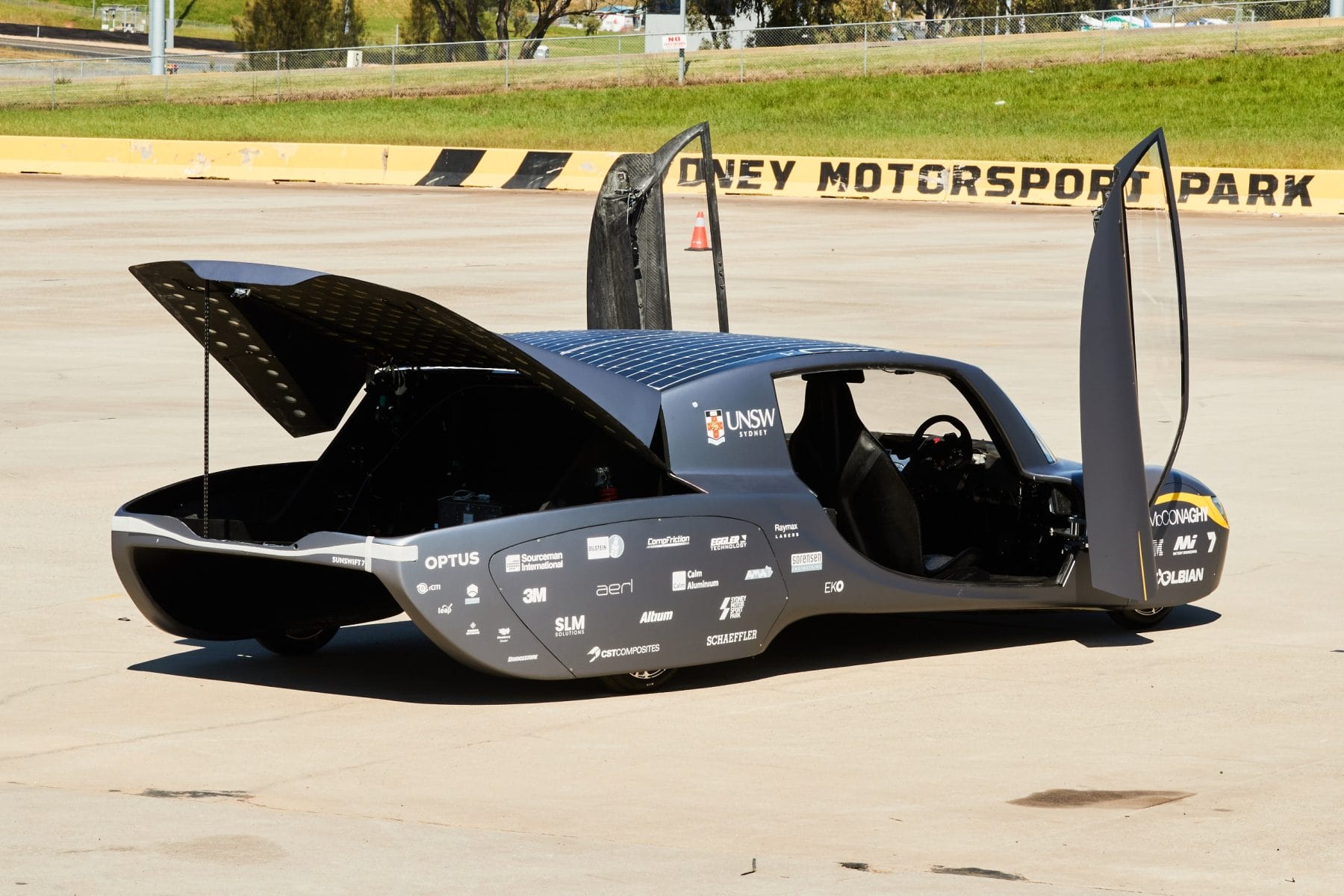 Driving technology forward
For cars, there is an industry standard for drag coefficient, which measures the way a vehicle passes through the surrounding air. The lower the number, the less drag there is.
The drag coefficient for a Tesla Model S, for example, is 0.208. Whereas Sunswift 7 has a drag coefficient of just 0.095.
And Prof. Hopkins added: "With very little rolling resistance and very little air resistance, that's what makes this car so efficient.
"All those efficiencies mean once we get up to 100km/h and take the foot off the accelerator I don't think there is a straight stretch of road long enough, except for maybe somewhere in the Nullarbor, to measure how far this car would keep going all on its own."
UNSW's Sunswift Racing team has been at the forefront of solar vehicle technology since building its first car in 1996 and enjoyed success in numerous races, most notably the World Solar Challenge.
As well as the Guinness World Record attempt, the latest Sunswift 7 car will also push the boundaries of what is technically possible with regards to remote driving.
In association with team technical partner Optus, the vehicle will have 5G receivers and cameras installed, allowing it to be driven by someone outside the car wearing a virtual headset.
And that someone will be none other than 2021 Bathurst 1000 winner Chaz Mostert who will pilot Sunswift around the famous Mount Panorama track in October.
Professor Hopkins believes the achievement of the UNSW students to design and build such a car is already hugely impressive.
"This is the result of the hard work of 50 undergraduate students who are very dedicated, very focused and very talented," he said.
"They were given the freedom to create. The criteria was simply: build a car that has solar powers and a battery. I had very little influence over what they chose to do within that – I just wanted them to make the best engineering decisions.
"Sunswift 7 is the manifestation of their collective minds, who on day one probably had very little idea what they were doing. And now to produce this amazing car is just insane.
"Let's remember, this is not the best paid professional car makers in Stuttgart working for Mercedes. This is a bunch of very smart amateurs who have taken all the ingredients and put it together in a brilliant way."
For more information about the Sunswift project, as well as photos and videos of Sunswift 7 in production and on the track in testing, please visit:
UNSW Newsroom: https://stories.unsw.edu.au/sunswift-7-driving-technology-forward/index.html