Range Rover. Two words that Evoque images of landed gentry in tweed jackets heading to their weekend estate, or to the ski fields with roof racks full of skis and snow boards. Even transporting the Queen or the Pope at times.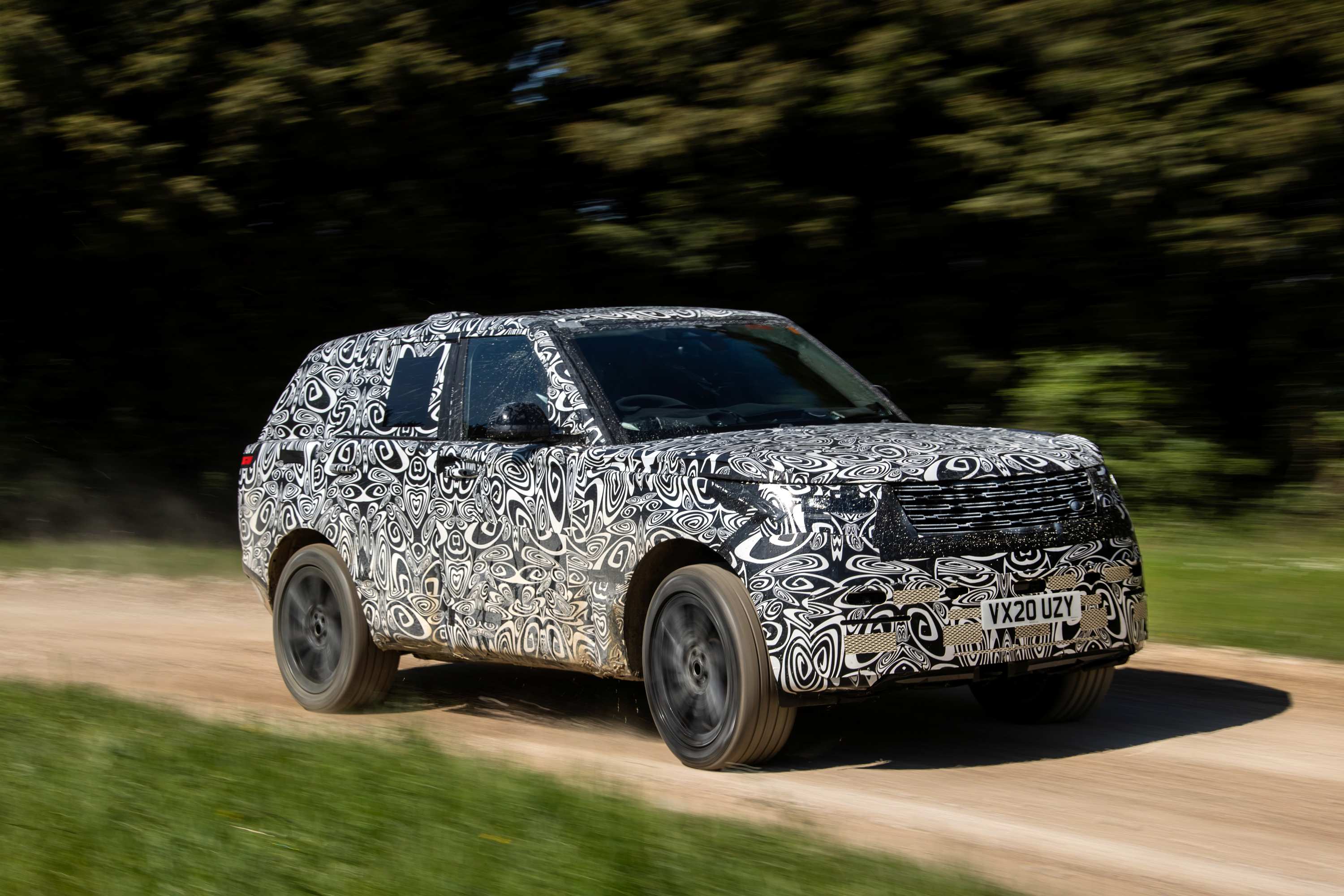 Heading up the Telegraph Track to Cape York or crossing the Simpson Desert usually isn't on the horizon for potential buyers, yet that is exactly what they are designed for.
Yes the original purpose of the Range Rover was a luxury 4WD that would go almost anywhere in comfort. That purpose remains at the core of the latest version released this morning.
When it was first released, some 50 years ago, it was in a class of its own and that label still remains today.
There isn't another vehicle that is as capable off road, yet as comfortable on road as the Range Rover.
While Porsche is often credited with starting the prestige SUV revolution with its Cayenne, the fact remains that Range Rover was there before them, doing what it does best.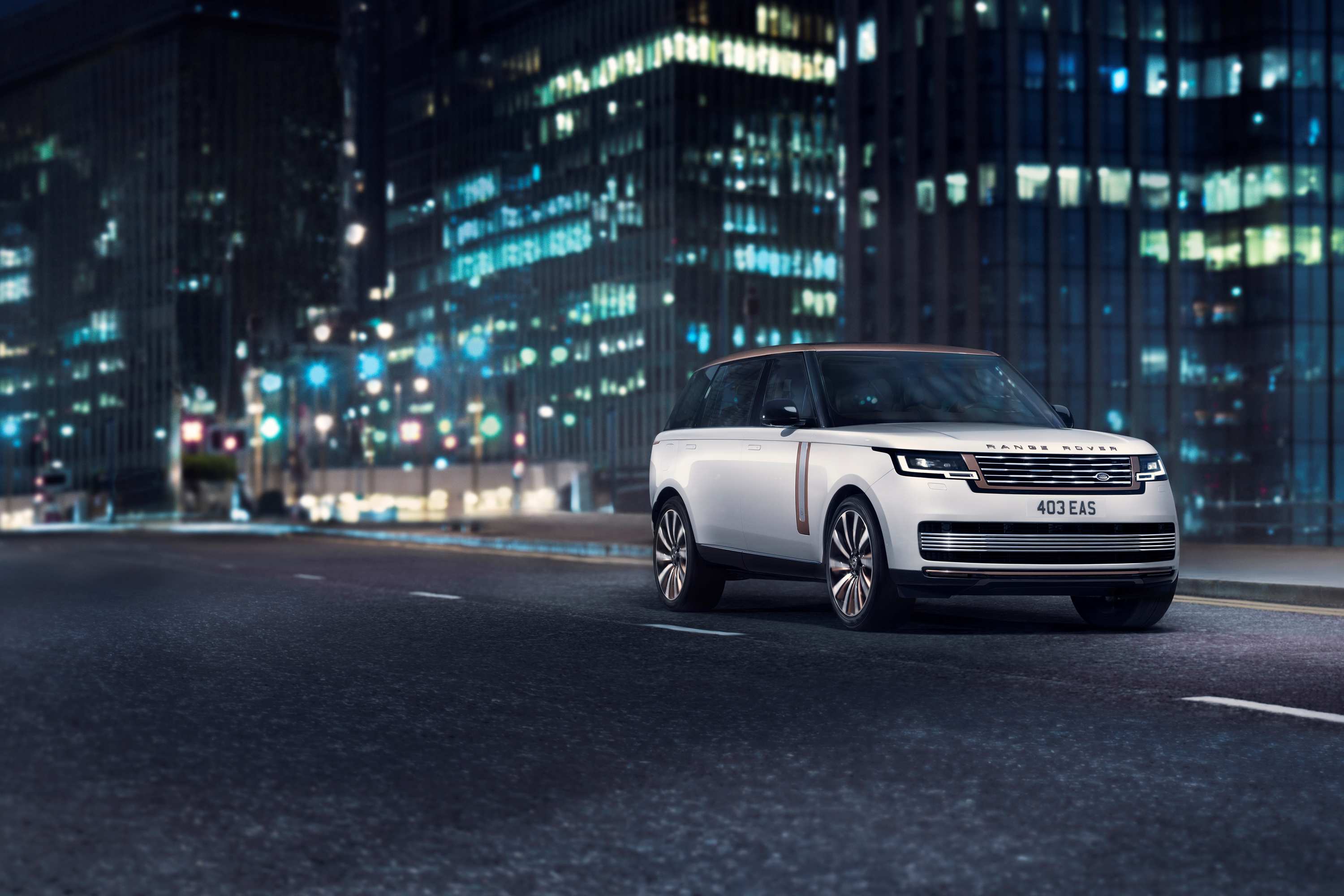 Every time they release a new model, like the fourth generation in 2012, Range Rover sets the benchmark that others follow. The latest model has morphed with an even more luxurious interior, stunning engineering and yet retains its awesome off road capabilities.
The New Range Rover leads by example with breathtaking modernity, peerless refinement and unmatched Land Rover capability informed by over 50 years of evolution.
The New Range Rover is defined by three lines that can trace their origins back through the generations; the falling roofline, strong waistline and rising sill line. These trademark features combine with a characteristically short front overhang and a distinctive new boat tail rear –complete with practical split tailgate – to create an elegant profile that conveys Range Rover's peerless presence.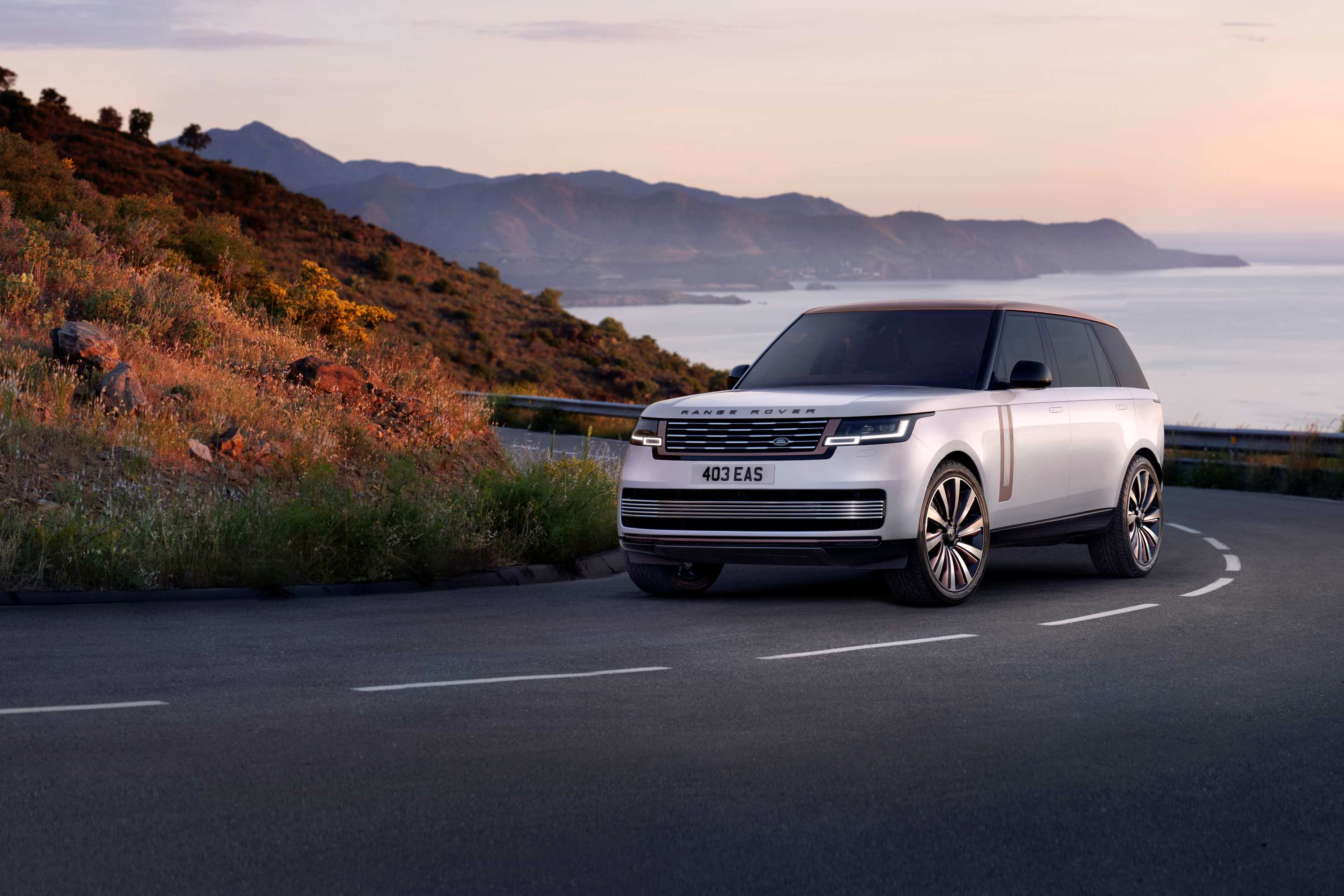 Latest Generation Range Rover Highlights
Modern luxury: New Range Rover is defined by presence and formality, achieved by the harmony of proportions, surface and lines,
Materiality choices: Luxurious alternatives to traditional leather include a new premium textile that combines Ultrafabrics™ and Kvadrat™ wool-blend
Personalisation: New Range Rover SV is an exquisite interpretation of Range Rover luxury and personalisation, handcrafted by Special Vehicle Operations,
Peerless refinement: Engineers have reduced the cognitive load on the driver at every point, while next-generation noise-cancelling with headrest speakers creates the ultimate refinement,
Perfect poise: Integrated Chassis Control with Dynamic Response Pro provides supreme ride comfort using Electronic Air Suspension that primes the vehicle for corners using eHorizon data,
Dynamic agility: Standard All-Wheel Steering combines superior high-speed stability with exceptional manoeuvrability at low speeds – and a turning circle of less than 11m4,
Breadth of choice: New MLA-Flex body architecture provides Standard and Long Wheelbase body styles with luxurious four, five or seven-seat interiors and a range of electrified powertrains,
Pure electric: Battery-electric Range Rover set to premiere in 2024 as Land Rover embraces new Reimagine strategy with an all-electric powertrain for its original luxury SUV,
Extended range PHEV: New 375kW (510PS) plug-in hybrid delivers a hushed EV range of up to 100km and CO2 emissions below 30g/km1 for serene and efficient driving,
Serene performance: New 390kW (530PS) Twin Turbo V8 petrol delivers trademark Range Rover drive, with Dynamic Launch enabling 0-100km/h in 4.6 seconds,
"Alexa, let's hit the road": Built-in Amazon Alexa helps minimise distractions by recognising intuitive verbal commands for music, navigation and traffic updates, smart home devices and more,
Tranquil sanctuary: Cabin Air Purification Pro features PM2.5 filtration and nanoeTM X technology, helping to significantly reduce odours, bacteria and allergens including SARS CoV-2 virus,
Personally configure yours: The New Range Rover is available to order now, priced from $220,200 in Australia. Configure yours here: landrover.com.au/newrangerover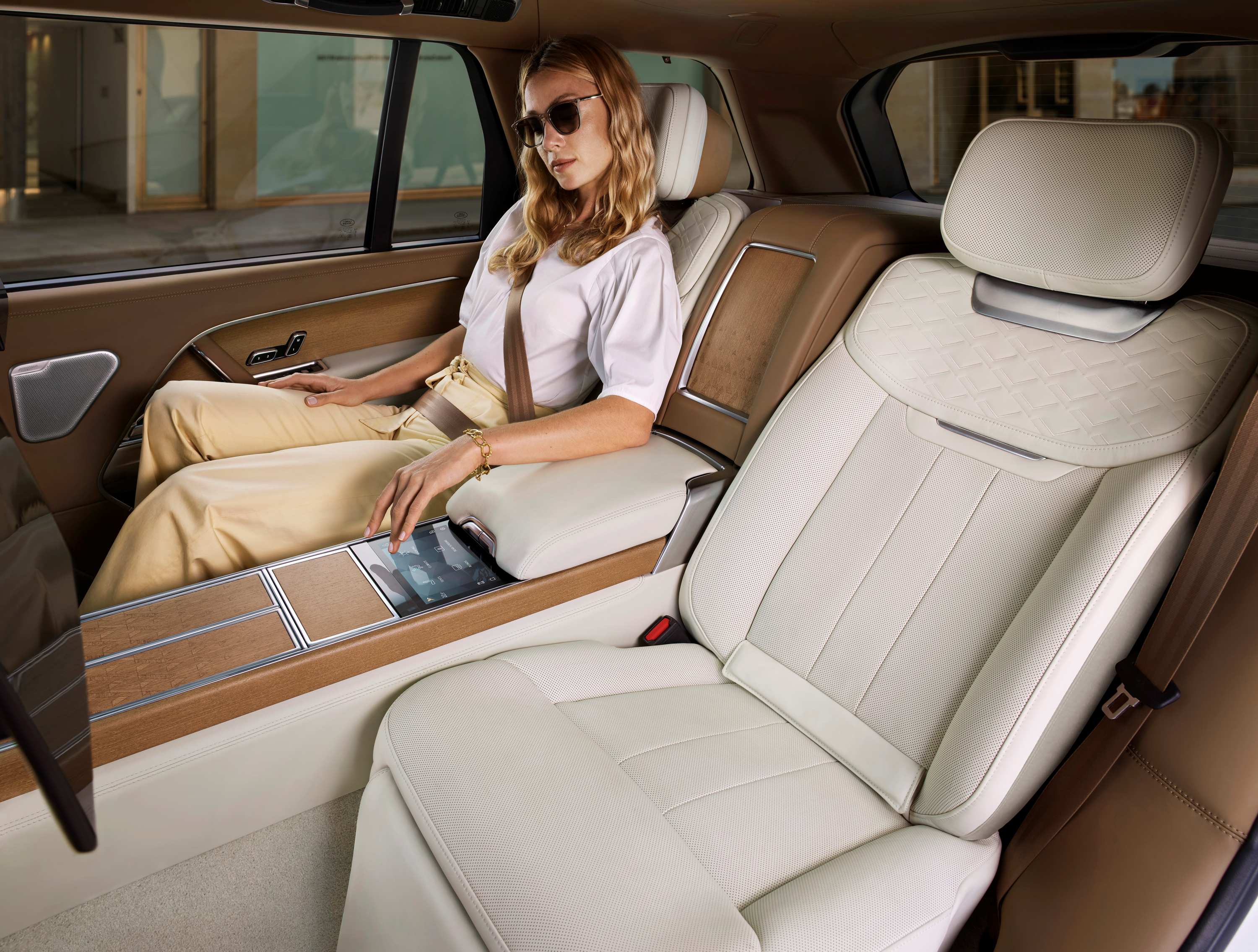 Range Rover model choices
With a suite of efficient mild-hybrid and plug-in hybrid powertrains – and a pure-electric Range Rover set to join the line-up in 2024 – plus a choice of four, five or seven-seat interiors available across Standard and Long Wheelbase body designs.
The new luxury SUV is available in SE, HSE and Autobiography models.
A First Edition will be available throughout the first year of production, based on the Autobiography and featuring a unique specification. It is exclusively available in a Sunset Gold Satin finish, among a choice of five exterior colours.
Both Standard (SWB) or Long Wheelbase (LWB) body designs are available with five seats, while the New Range Rover LWB model is available with a third row for extended comfort for up to seven adults.
The new Range Rover SV is an exquisite interpretation of Range Rover luxury and personalisation from the experts at Special Vehicle Operations. The SV model is available in both SWB and LWB body designs, with exclusive features including new SV Serenity and SV Intrepid design themes and a four seat SV Signature Suite configuration.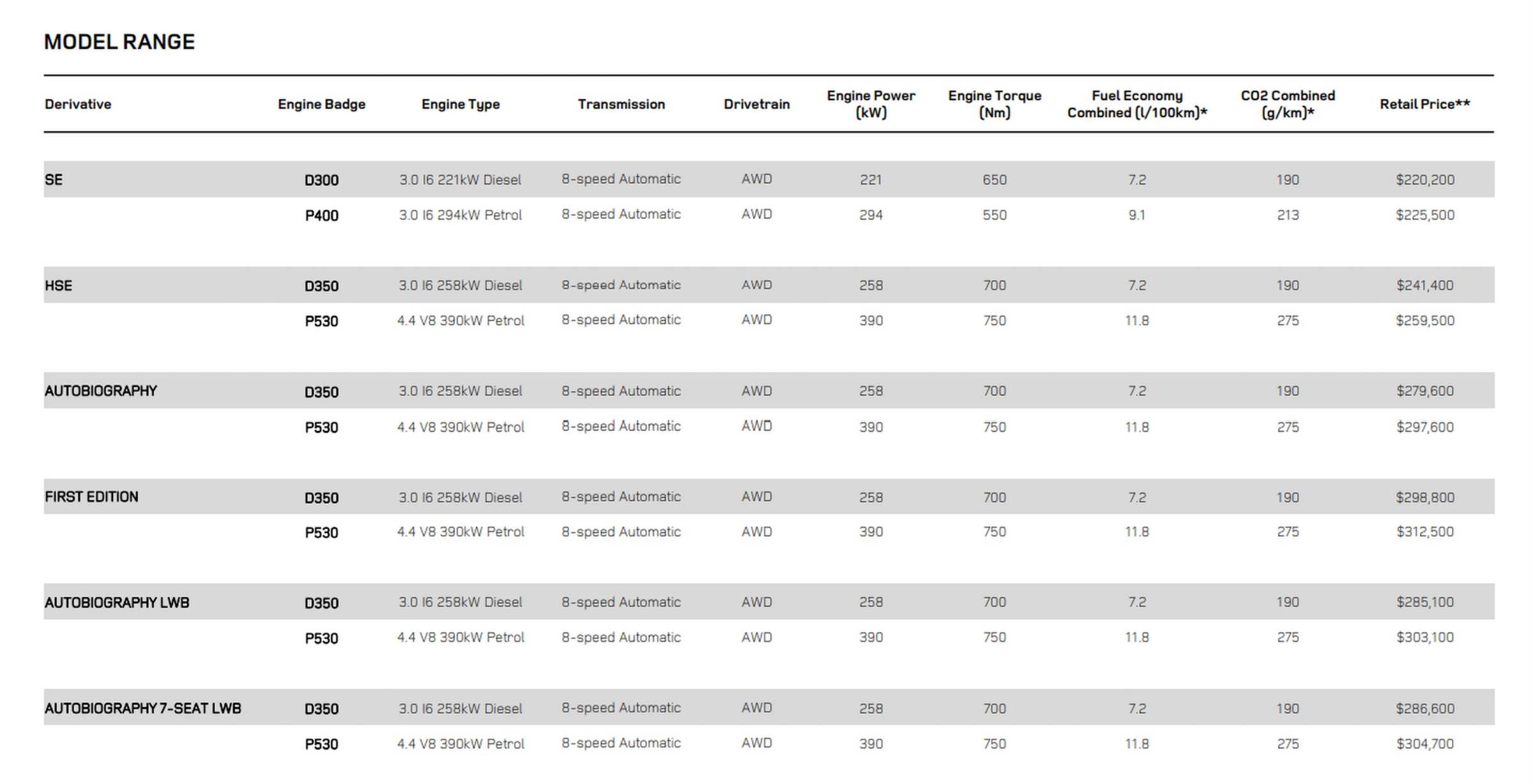 *MLP (RRP) Includes GST and LCT but excluding statutory charges, dealer costs and dealer delivery. See your dealer for RDAP. Does not include price of options. Some features mentioned in the article are options.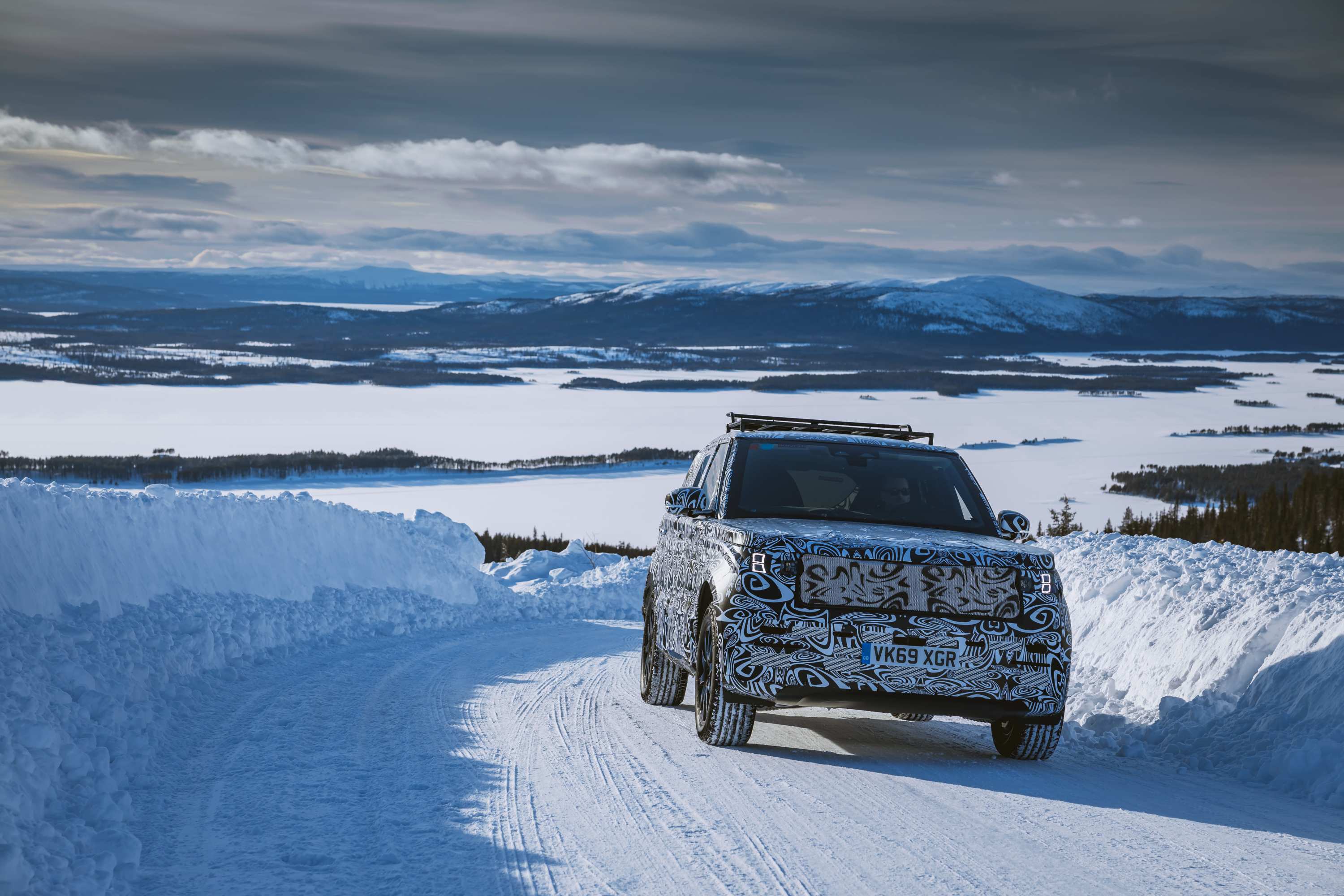 Range Rover Engine choices and Electrified efficiency
The New Range Rover is available with a comprehensive line-up of advanced six- and eight-cylinder powertrains.
Spearheading Land Rover's Reimagine strategy, a pure-electric model will join the family in 2024, bringing full-time zero tailpipe emissions driving to the Range Rover for the first time.
The New Range Rover provides electrified performance with a new Extended Range Plug-in Hybrid Electric Vehicle (PHEV) powertrain, the P510e, and the latest mild-hybrid (MHEV) P400 Ingenium petrol and, D300 and D350 diesel engines.
A powerful new petrol flagship – the P530 Twin Turbo V8 – delivers increased refinement and performance and is 17 per cent more efficient than the previous Range Rover V8.
The new Extended-Range PHEV combines the inherent refinement of Land Rover's in-line six cylinder Ingenium petrol engine with a 38.2kWh lithium-ion battery – with usable capacity of 31.8kWh – and a 105kW electric motor integrated with the transmission. Together, the powertrain provides up to 100km (of near-silent pure-electric driving). With instantaneous electric torque the new P510e accelerates from 0-100km/h in 5.6s.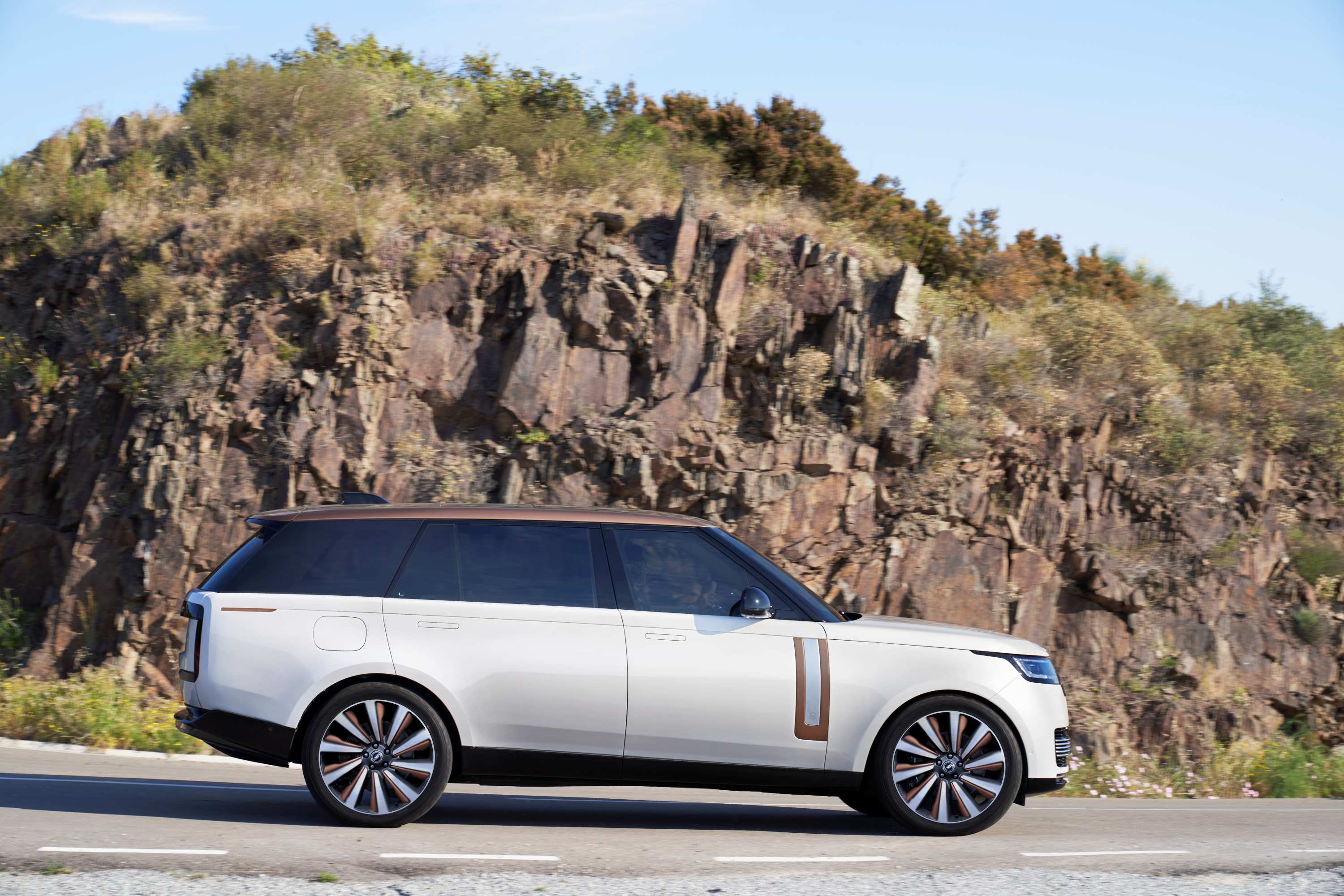 The state-of-the-art PHEV can reach up to 140km/h allowing customers to enjoy the New Range Rover as an EV-only model for most journeys in town and country, with overall CO2 emissions lower than 30g/km
Typical Range Rover customers will be able to complete up to 75 per cent of trips using electric power only if they begin each journey with a full charge. The clever packaging of the battery, beneath the vehicle and within the wheelbase, ensures both luggage space and all-terrain capability are uncompromised.
The use of advanced eHorizon navigation data also allows the hybrid system to optimise energy usage across a journey, to provide a peaceful arrival at a destination on electric power, while also optimising EV usage for travel in low emissions zones.
The six-cylinder petrol and diesel engines feature the latest 48-volt MHEV technology which harvests energy usually lost under deceleration and braking to boost fuel efficiency. The system's clever belt integrated starter motor ensures more responsive and refined operation of the stop-start system and provides extra assistance to the engine when accelerating.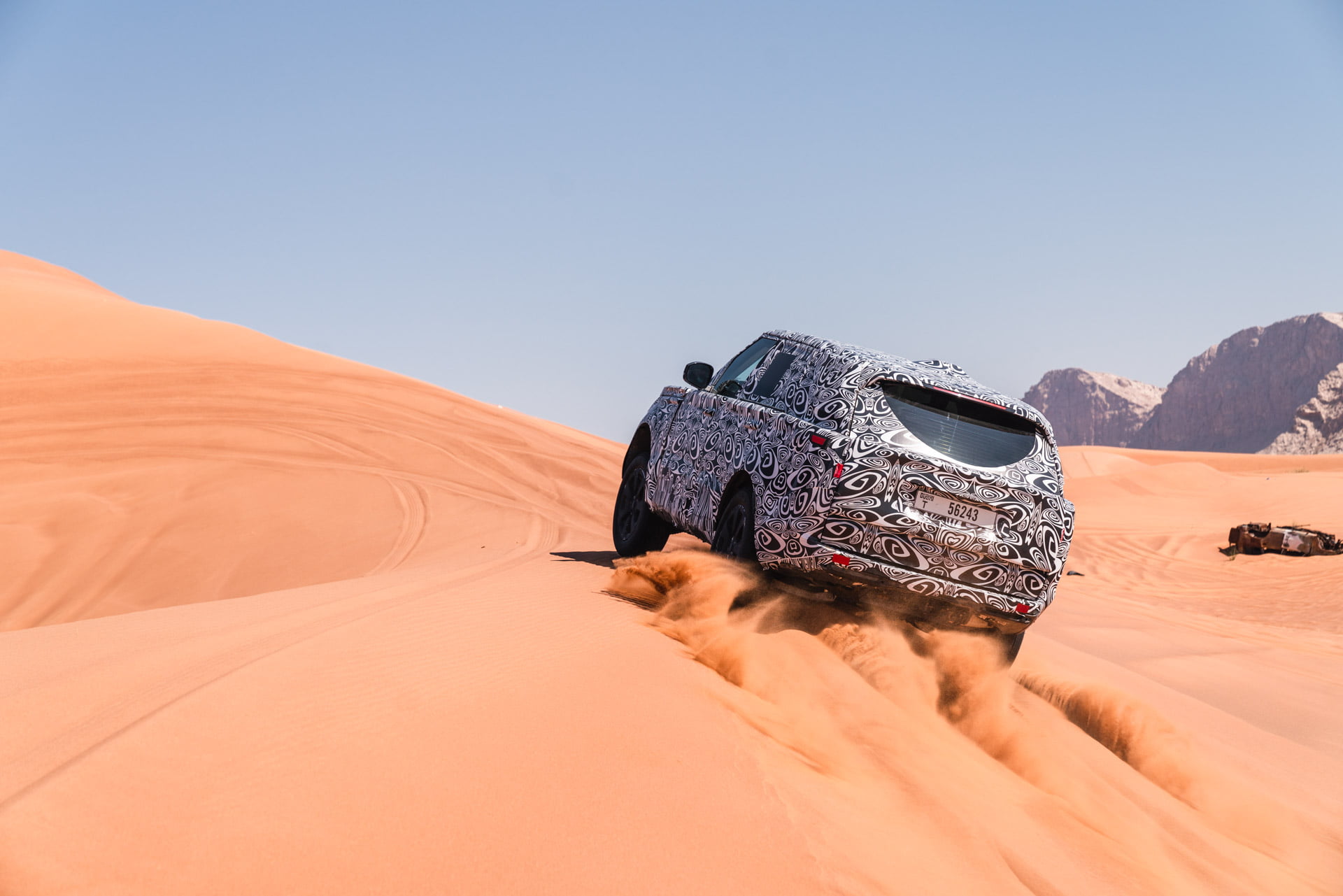 Range Rover Off Road Capability
This is what seta the Range Rover apart from its luxury SUV competitors. The prodigious 4WD capability is second to none.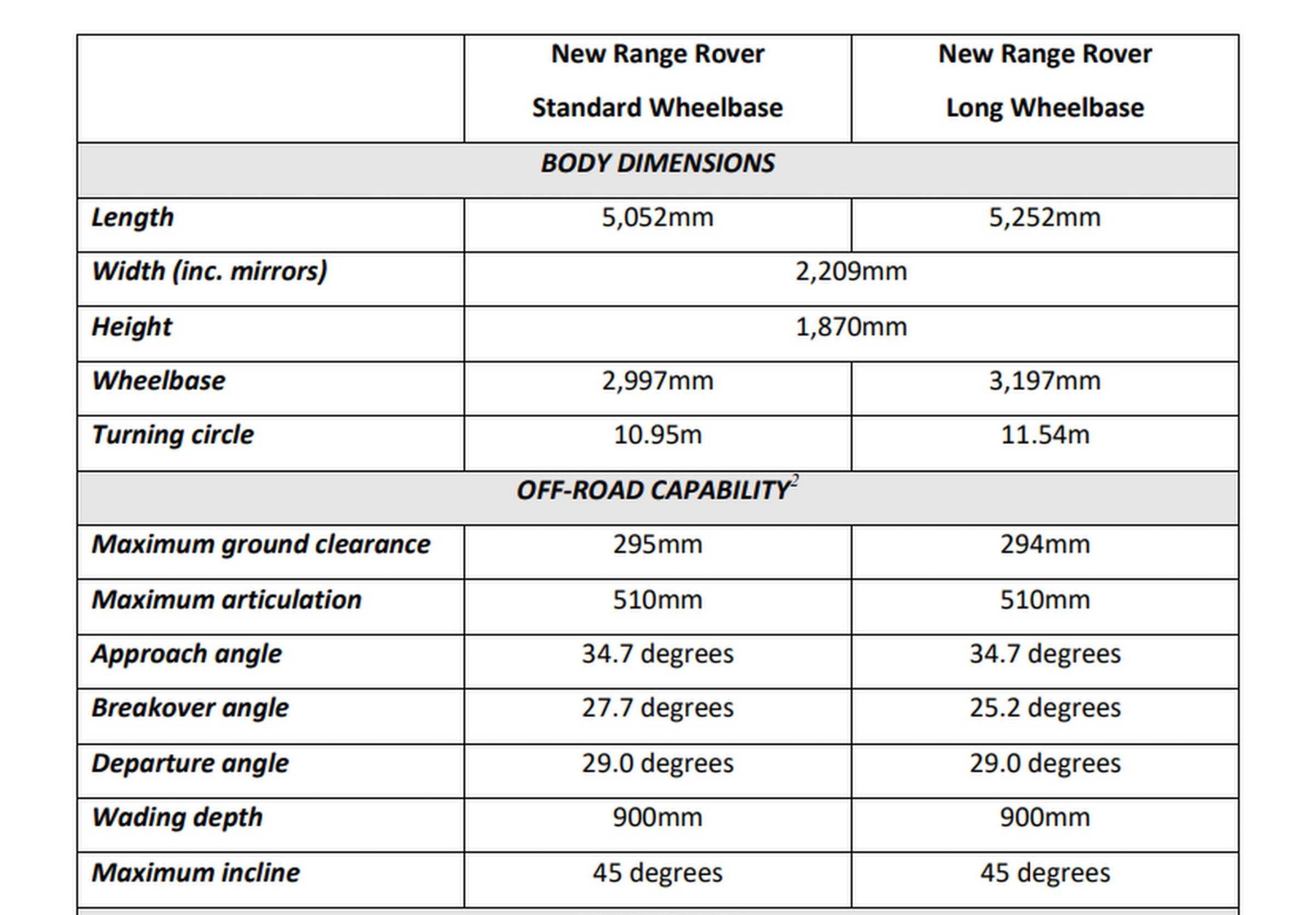 In addition the Range Rover will tow 3500kg and has a tow ball rating of 350kg as well as a maximum roof load 100kg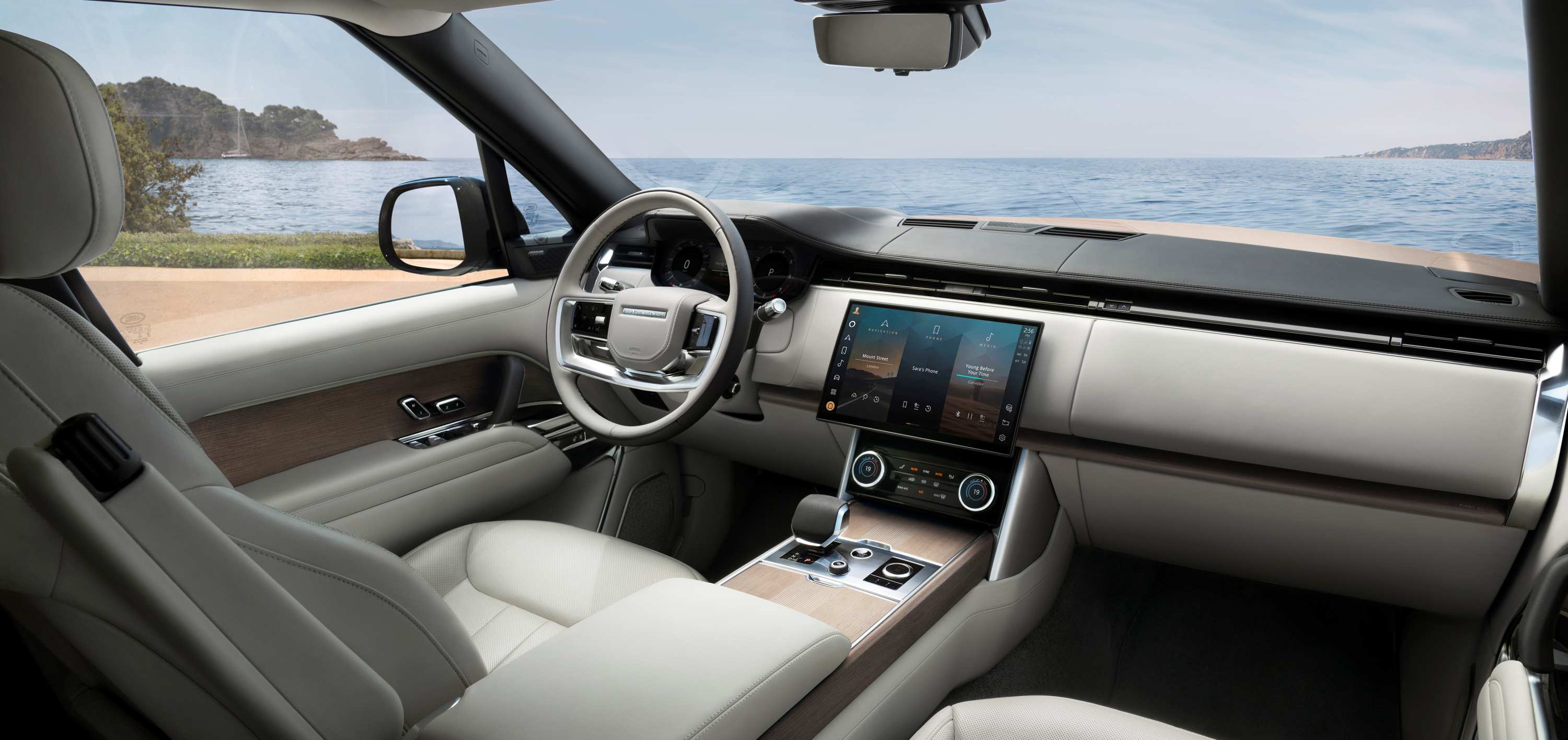 Range Rover – New quality benchmark
Land Rover's new flexible Modular Longitudinal Architecture, MLA-Flex, underpins every aspect of this luxury SUV, from its unmatched capability and agile handling to its peerless refinement. By combining state-of-the-art engineering techniques with new levels of virtual development and Land Rover's punishing development programme, the New Range Rover will deliver new levels of quality.
The New Range Rover has been designed, developed and engineered in the UK and, during this process, Land Rover has filed no fewer than 125 patents covering everything from its pioneering chassis technologies to its PHEV battery. Land Rover's engineers used motorsport-derived simulation technology to put the vehicle through its paces in the virtual world more comprehensively and intensively than ever, completing more than 140,000 hours of computational analysis prior to physical testing.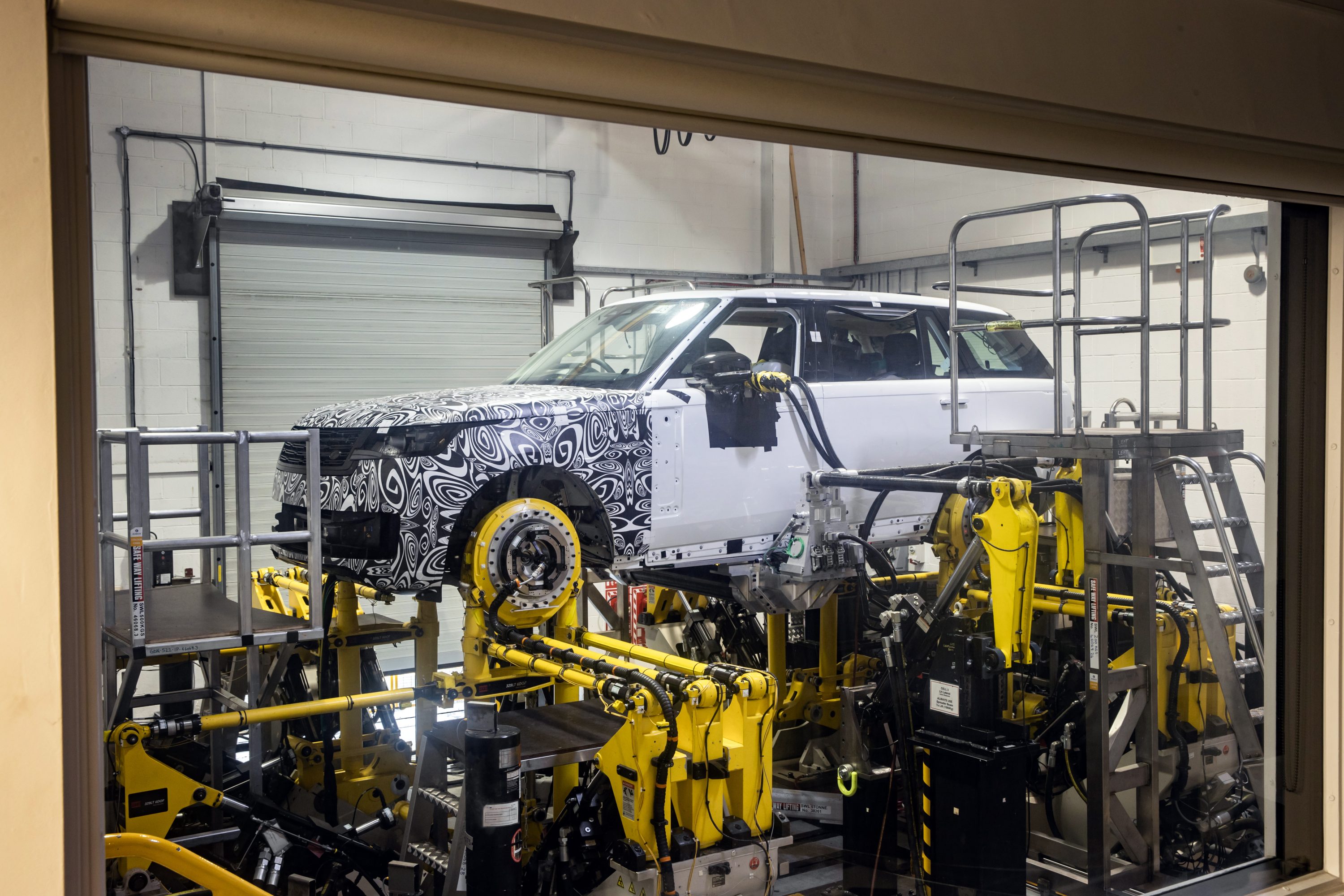 A fleet of prototypes then embarked on a punishing global test and development programme, taking in extreme temperatures ranging from the 45C heat of the desert to the -30C cold of the Arctic. The New Range Rover will be produced exclusively at the Solihull Manufacturing Facility in the UK, using a state-of-the-art production line housed in the building used to produce early Series Land Rovers. The historic building is the spiritual home of Land Rover and its reimagining as a new, ultra-modern centre for Range Rover production showcases the way the company protects its heritage.
The New Range Rover is set to arrive in Australia in March 2022 and is available to order now, priced from $220,200 in Australia.
There is of course much more to the Range Rover story and we will take you on a journey of discovery about the new Range Rover from now to the local launch dates its perhaps the most important SUV release in years.