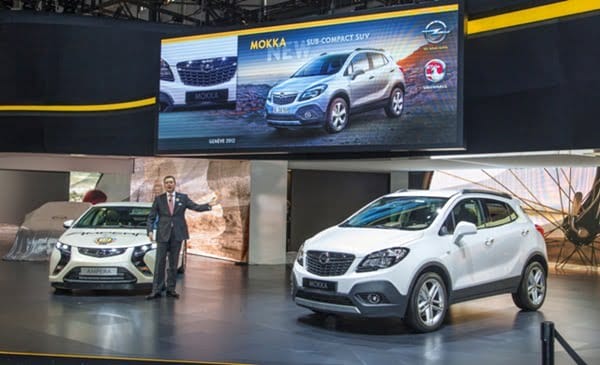 The Opel/Vauxhall CEO, Karl-Friedrich Stracke, has sent a message of optimism at the news conference of this year's Geneva Motor Show (6-18 March).
"2012 is a very special year for Opel," Stracke said, referring to the brand's 150th anniversary, its new model launches and its technological leadership. 2012 also marks the launch of Opel in Australia, scheduled for quarter 3.
"We have enormous pride that in our 150th year we are still playing a pioneering role in shaping the future of the automotive industry," he explained. Stracke unveiled two world premieres at this year's Geneva Show: the all-new Mokka sub-compact SUV and the new Astra OPC.
State-of-the art Mokka SUV
In line with this year's show slogan "Driving into the future", Opel is the first European brand to offer a vehicle in the growing sub-compact SUV segment. Despite its 4.28 meter measurement, the Mokka has space for five people and places them in a high seating position. It delivers on Opel's promise to combine attractive design with innovative technologies and upmarket functionalities, making them accessible to a wider segment of customers. Safety is enhanced with new technologies brought to its segment, for example the Driver Assistance Systems that are based on the Opel Eye front camera system, as well as a rear view camera.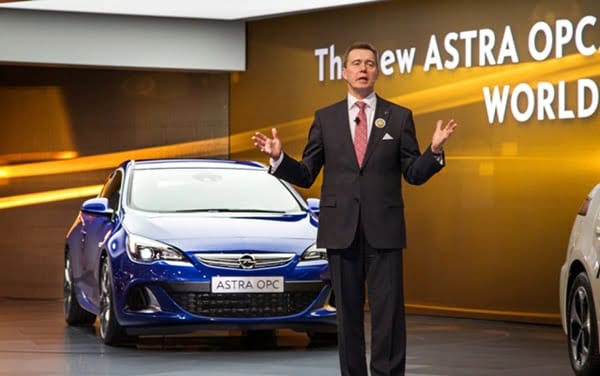 Astra OPC – The Most powerful Astra ever
The other world debut introduced by Opel's CEO Stracke is the new 206 kW/280 hp Astra OPC compact sports coupé which is the most powerful Astra ever. Stracke described it as "the most emotional expression" of Opel's design language. The turbocharged petrol engine is capable of maximum torque of 400 Nm and a top speed of 250 km/h. Never before has an Astra reached such a speed. The High Performance Struts (HiPerStruts) on the Astra OPC are one of its many highlights. In combination with the FlexRide chassis system, featuring a dedicated Sport- and OPC-drive mode, the Astra OPC delivers refined handling abilities.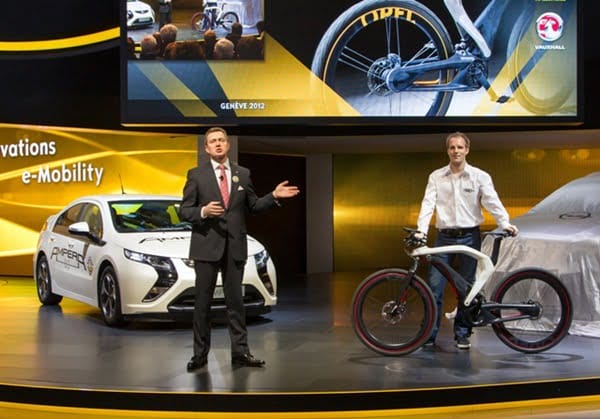 RAD e complements e-mobility strategy
Stracke also unveiled the futuristic e-bike RAD e. It is another element in Opel's diverse strategy in the area of electric mobility. With the RAD e the company presents a vision for a truly integrated individual and urban mobility concept. It uses pedelec technology with a 250-watt motor providing the rider with motorized support when pedalling. RAD e is the first e-bike built around automotive construction and production principles and can be transported on the unique Opel FlexFix bike carrier, where it can also be recharged whilst driving.
The Opel Mokka and Astra OPC are not yet confirmed for Australian launch. People are encouraged register their interest in Opel Australia at: www.opel-australia.com.au.
Opel, General Motors' aspirational European brand, is set to enter the Australian market in late 2012. The Australian portfolio will include the new generation Opel vehicles Insignia, European Car of the Year 2009, award-winning Astra and the recently upgraded Corsa, with the complete model line-up and dealer network to be announced closer to launch.
Founded in 1862 in Rüsselsheim, Germany, Opel is one of the most technologically advanced automobile manufacturers in Europe. We have a long and rich history. Our company is shaped by our passion for cars. Together with Vauxhall, our sister brand in the U.K., we sell vehicles in over 35 markets in Europe. We operate 13 vehicle, powertrain and component plants in 8 countries and employ around 47,000 people. Many additional jobs are provided by some 5,000 independent sales and service outlets.
From its birthplace in Rüsselsheim, the Opel brand has spread out across Europe and the world. We operate modern production and assembly facilities in many European countries and sell our cars all over the world. The Dudenhofen Test Center is located near the Rüsselsheim headquarters.
In 2009, for the third consecutive year Opel sold over 1.2 million passenger cars and light commercial vehicles in Europe, achieving a market share of 6.4 percent. In our homemarket in Germany, Opel regained the number two position with a market share of 8.6 percent.