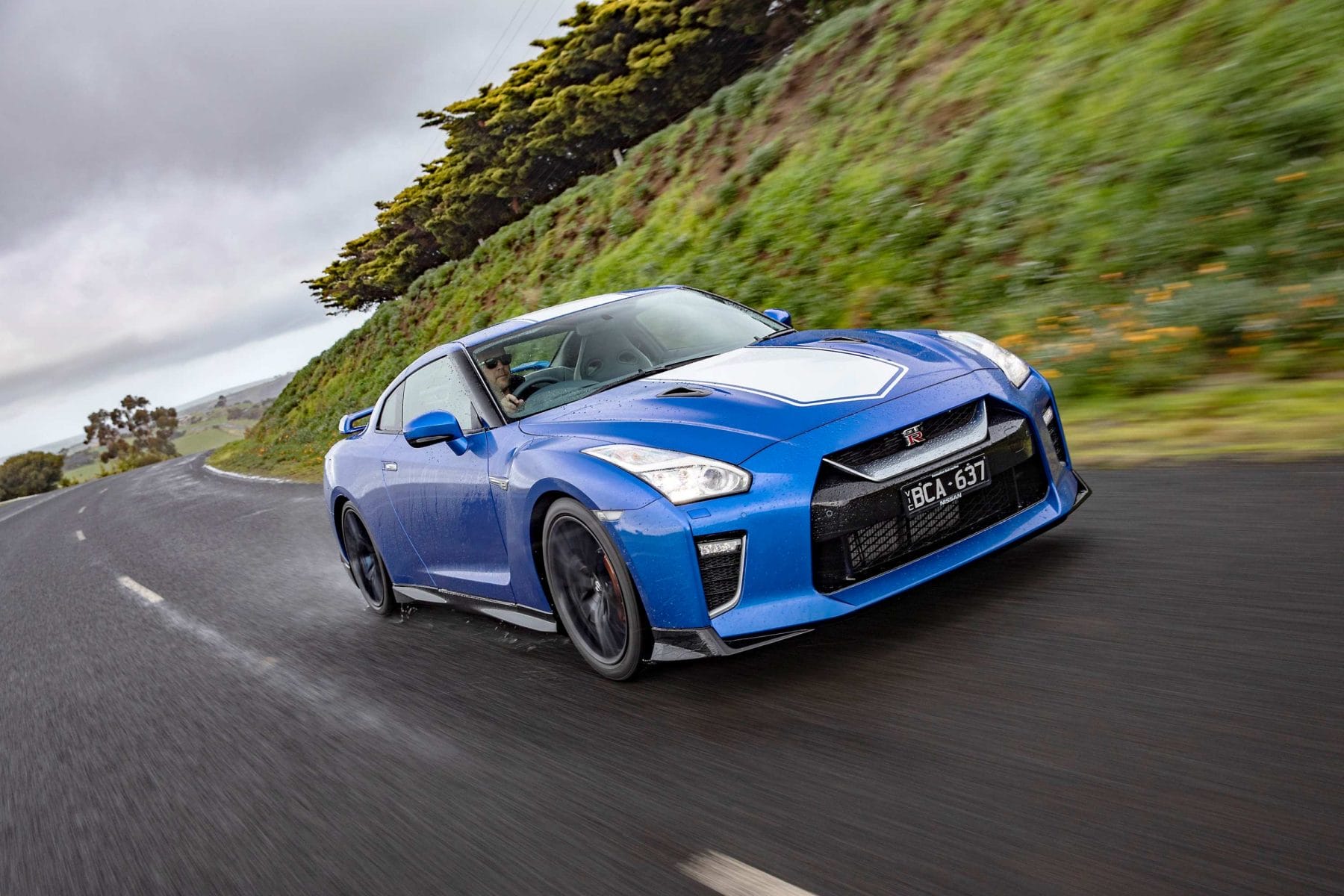 GT-R is captain of the good ship Nissan.There are currently 3 models in the GT-R range: Premium, Premium Luxury, and Track Edition. The 50th Anniversary Edition is based on the Premium Luxury, for an extra $9,000.
For many moons, cashed up bogans have flocked to showrooms across the world to lay down the readies for a chance to experience the common man's personal rocket. This is the closet most will get to a street legal racer. It seems bonkers to have a lethal weapon in the hands of the amateur, but there it is.
There is history too. 50 Years of Nissans have worn this esteemed GTR badge. First, the funny-looking Cedric-like coupe, then the 240K beefed up to within an inch of its life. Then came the mighty Skylines, which climbed to the dizzying god-like heights. The last Skyline had a mere 206kw. Our luxury GT-R has 419kw.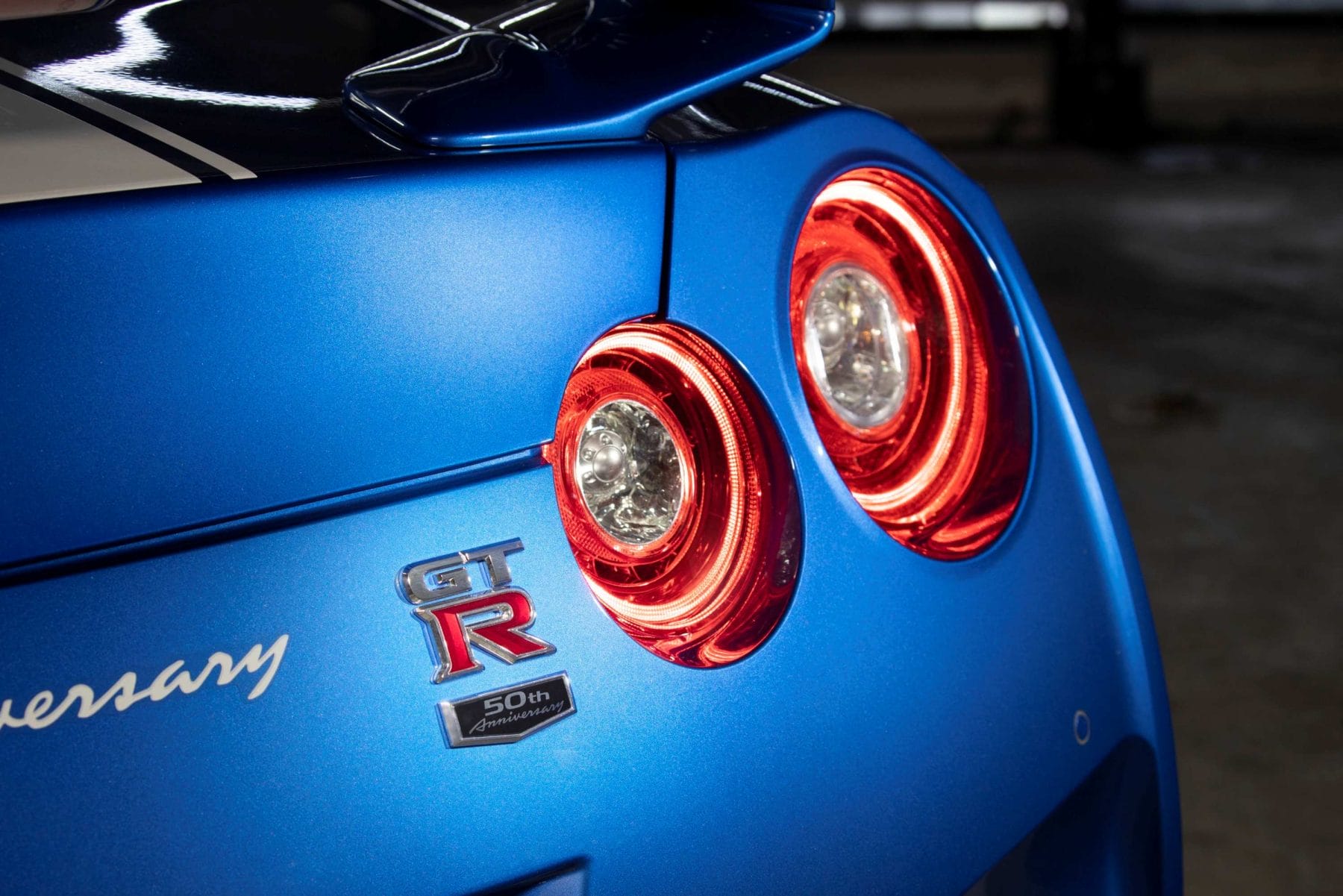 What's new with the 50th Anniversary Model?
The GT-R has been festooned with all manner of badging, and the interior lavished with many cows worth of leather.
Bayside Blue brings the heritage colour back for an encore performance. There are 2 other colours too: Peral white (red stripes) and Silver (white stripes). The white racing stripes are inspired by the 1971 Japan Grand Prix, and the branch-like spokes of the RAYS 20" alloy wheels continue the blue theme.
Quad titanium exhausts are tinted in blue too. And, they are real exhausts unlike some brands we could name.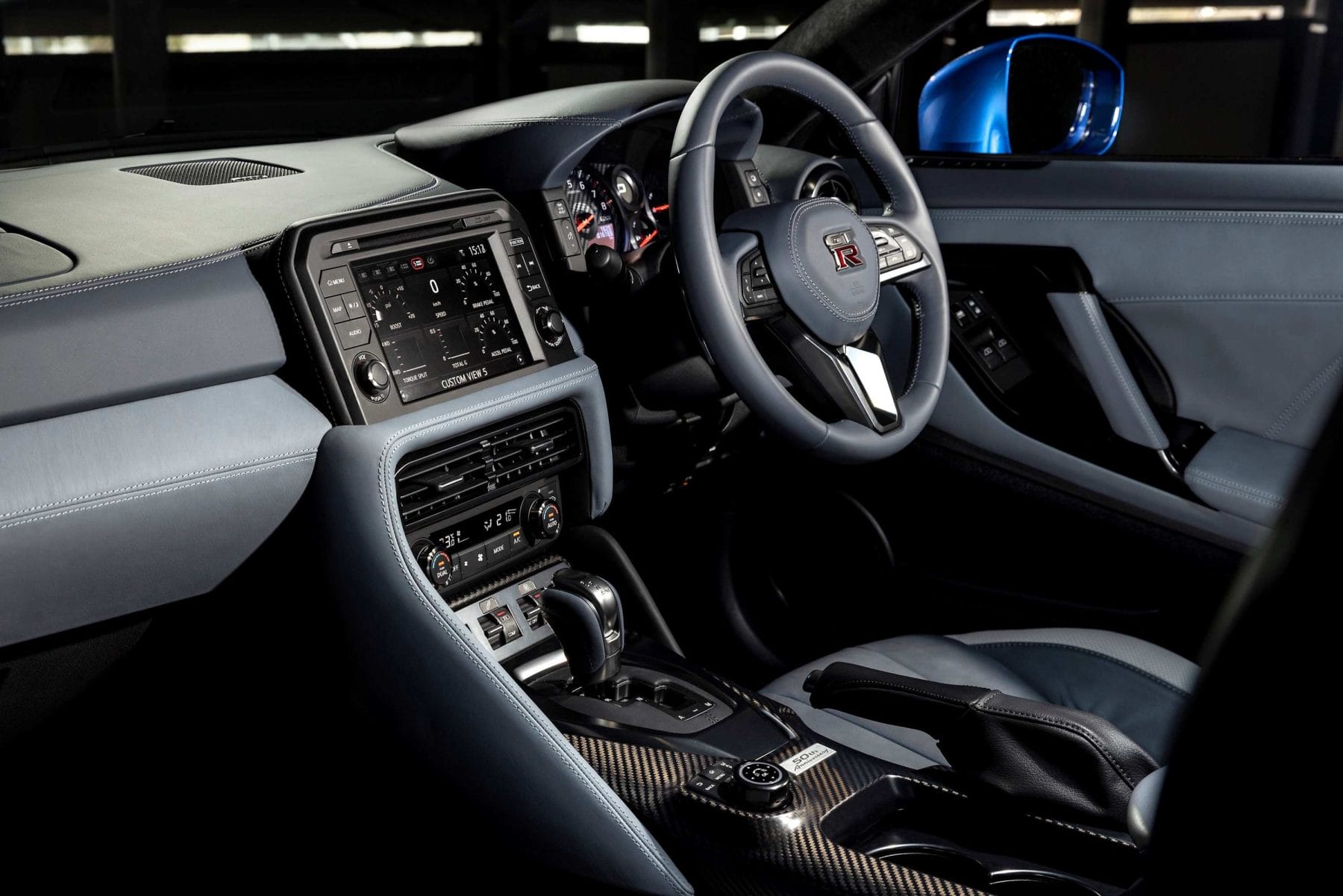 What is the GT-R like Inside:
2020 GT-R range changes, give the aging coupe a touch of something special. Subtle greys mingle with power, torque, and technology, in a beautifully choreographed waltz. The exhaust is a symphony mixed with a mad cackle, and the result is astounding.
Semi-aniline grey leather is stitched in white. More leather can be found on the doors, gear knob, and steering wheel. The dash looks positively luxurious, is soft and buttery, and beautiful to touch.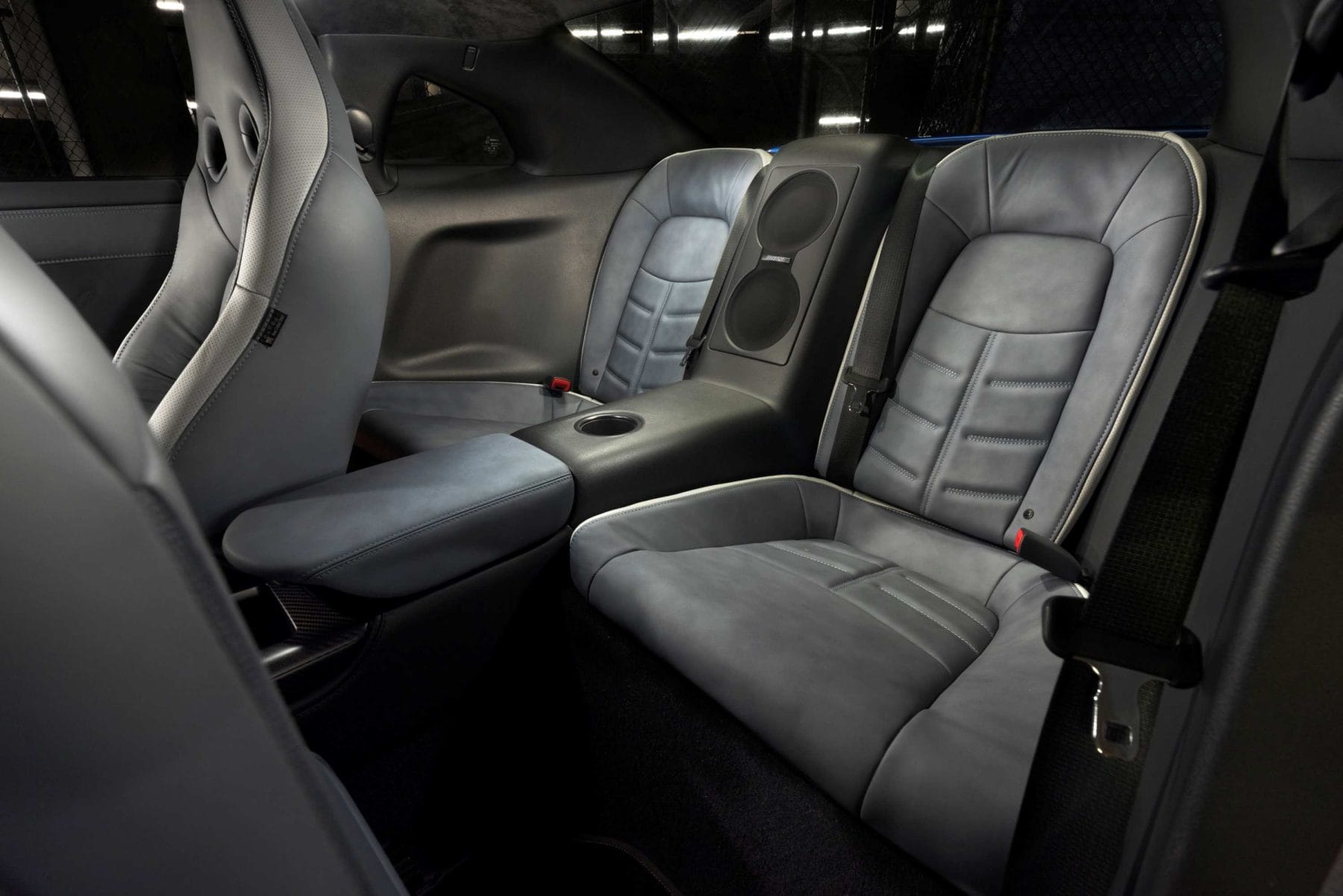 There are 50th badges, as well as a shedload of sexy carbon fibre trim.
Back seats have only a passing acquaintance with practicality. You'd be doing well to squeeze much more than a few David Jones bags in.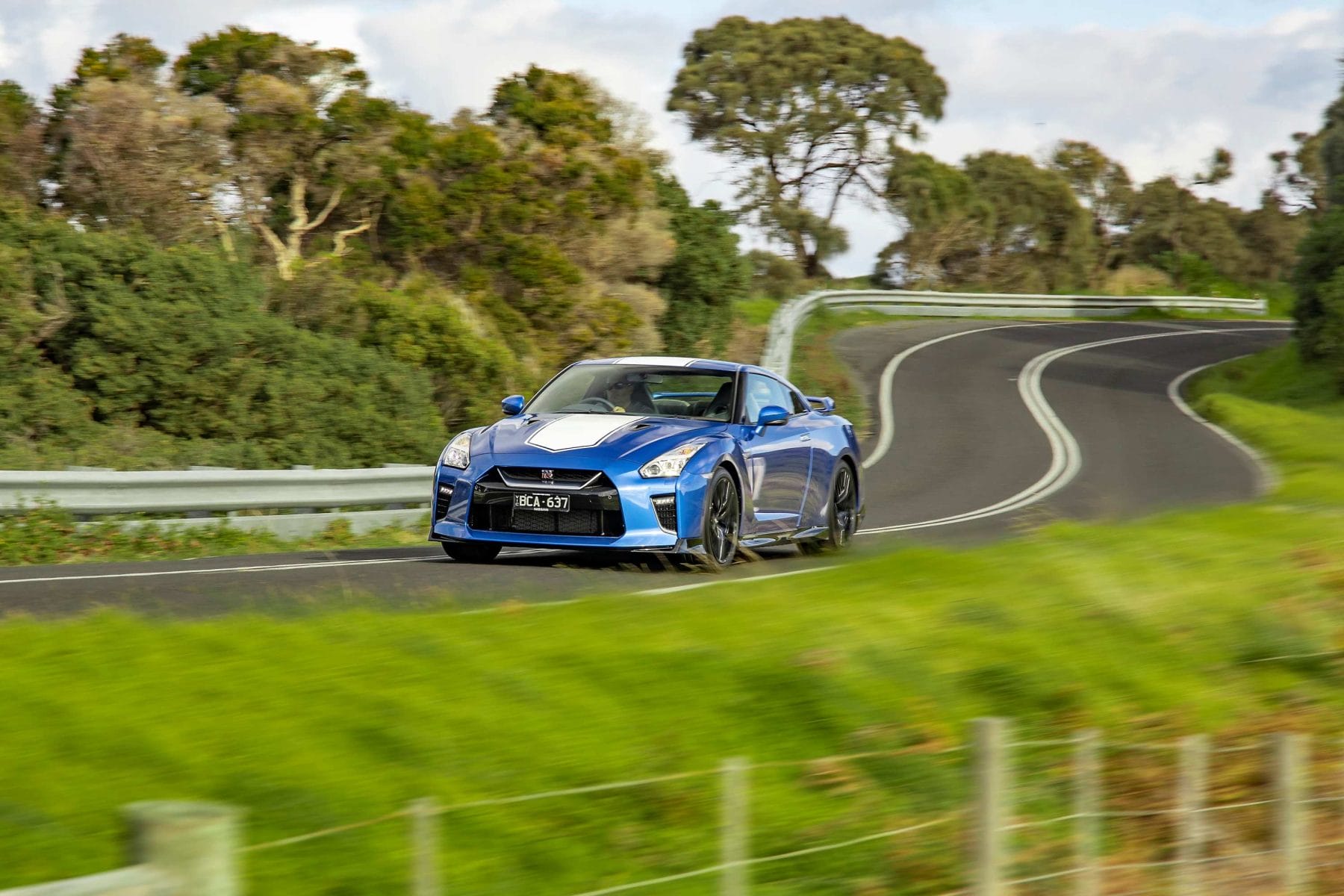 What is the GT-R like on the road?
GT-R the familiar twin turbo V6 with a planet-destroying 419kw and 632Nm. It uses the good stuff, running on premium 98ron fuel.
The ATTESA E-TS All-Wheel-Drive system has a patented independent rear-mounted transaxle. It integrates transmission, differential and AWD transfer case. That is good for both performance, and handling.
The 6 speed dual clutch automatic has rev matching in manual mode. Manual mode can be selected by shifting the gear lever sideways, or by using the steering wheel paddles. It stays in manual mode until  commanded by again using the gear lever, or by holding the "up" paddle.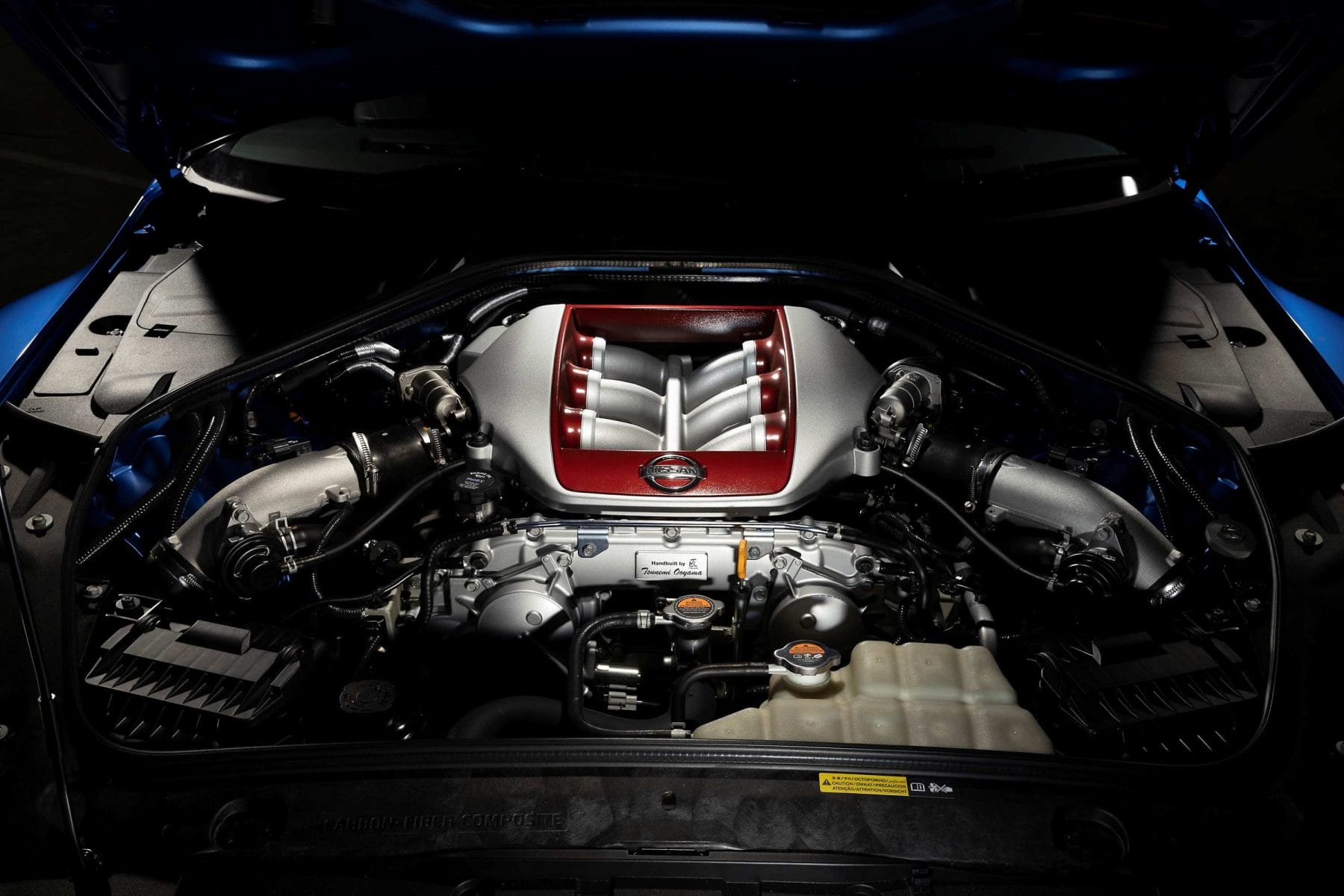 Hill start assist is standard.
Brakes are a floating two-piece rotor affair. They have diamond patterned ventilation for cooling. They are 390mm at the front and 380mm around the back. Monoblock calipers are Super-rigid 6-piston in the front, and 4-piston at the rear.
Sophisticated Bilstein® DampTronic® Suspension allows drive mode selection. It works with double-wishbone front suspension with aluminium arms, and Multi-link rear suspension with aluminium upper arms, to make ride sharp, yet comfortable. The experience is enhanced by Hollow front and rear stabiliser bars.
There are towing hooks under the front passenger floor where you could also store a can of repair goo, just in case the run-flat tyres don't run flat.
There are exclusively developed tyres:
nitrogen-filled at factory
255/40ZRF20 (front)
285/35ZRF20 (rear)
Dunlop® SP SPORT MAXX GT600 DSST CTT high performance run-flat tyres.
Steering is near psychic. Yaw inputs are monitored by the system which then fettles the car mid corner. The result is dynamic handling worthy of a racetrack.
Unusually for high-performance cars, it is equally at home around town and on the highway.

Nissan GTR Highlights
$209,300
8 litre twin-turbocharged 24-valve V6
Power 419kW @ 6,800rpm
Torque 632Nm @ 3,300-5,800rpm
ATTESA E-TS All-Wheel-Drive (AWD) with patented independent rear-mounted transaxle integrating transmission, differential and AWD transfer case
Dual clutch 6-speed transmission with three driver-selectable modes
Downshift Rev matching
High-performance 1.5-way rear mechanical LSD
Fuel consumption: 11.7L/100km
CO2 emission: 278g/km
Fuel type: 98 RON premium unleaded petrol
Also look at