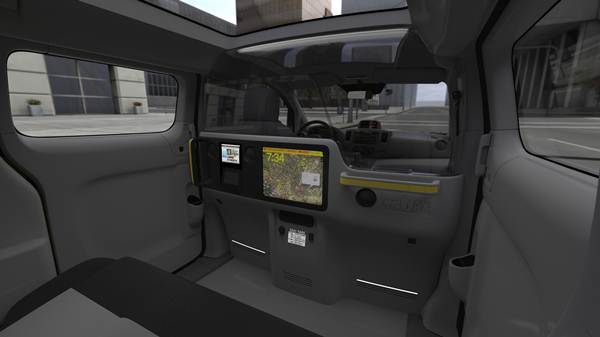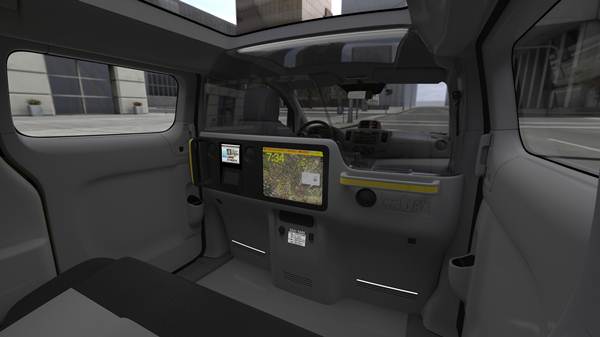 Going to New York? Thinking about taking a taxi? Then take a look at the taxi of the future at the Nissan 'Taxi of Tomorrow' Design Expo. Nissan Offers New York City a Peek Inside its New Taxi; First Look at Interior of 'Taxi of Tomorrow' Interactive exhibit showcases Nissan NV200 Taxi's seating, legroom, interior amenities
A host of New York City officials, including Taxi & Limousine Commissioner David Yassky, were among the first to preview the interior design planned for the Nissan NV200 Taxi, New York City's exclusive 'Taxi of Tomorrow,' at the Nissan 'Taxi of Tomorrow' Design Expo.
The exhibit is open to the public until Nov.5 and features an interactive display that allows New Yorkers to fully experience new and unique taxi features developed for – and with – New Yorkers.
The NV200 Taxi design reflects the input of hundreds of taxi owners and drivers, and thousands of passengers from all walks of life, who shared their ideas and priorities with Nissan designers and engineers.
Spacious cargo area to accommodate luggage for four passengers
A transparent roof panel to provide unique views of the city
Sliding doors with entry step and grab handles for easy entry and exit
USB charging access for passengers
Independent, passenger controlled rear-seat heat/air conditioning with a grape phenol-coated air filter to improve cabin air quality
Flat floor – with no hump
Enhanced interior materials intended to help passenger cabin smell fresher
Breathable, anti-microbial, easy-to-clean and environmentally friendly seat upholstery
"Over the past century, New York City's taxis have become known around the world for iconic exterior styling," said Joe Castelli, vice president, Nissan Fleet & Commercial Vehicles. "Now, with the NV200 Taxi, Nissan is bringing iconic design inside the taxi, while improving the comfort and safety of passengers and drivers. We're committed to sustaining the New York City taxi's heritage while meeting the modern needs of 600,000 passengers every day, and we're looking forward to hearing New Yorkers' feedback after they sit in this display property and fully experience the vehicle's many first-of-a-kind features and amenities."
The 'Taxi of Tomorrow' project began in 2007 as an initiative to establish the vision for a next-generation New York City taxicab. Following a rigorous evaluation process, Nissan's NV200 Taxi was selected in May 2011 as New York City's exclusive 'Taxi of Tomorrow' beginning in late 2013.
About Taxi of Tomorrow
In 2007, City officials convened a group of stakeholders, including representatives of taxi drivers, owners and passengers, to create a set of goals for the next New York City taxi cab, a project called the Taxi of Tomorrow. In December 2009, the TLC issued a "request for proposals," inviting auto manufacturers and designers to submit their best ideas for a purpose-built vehicle to serve as a New York City taxicab. At the end of the evaluation, the Nissan NV200 was selected and will be the next New York City taxicab for ten years, beginning in 2013.