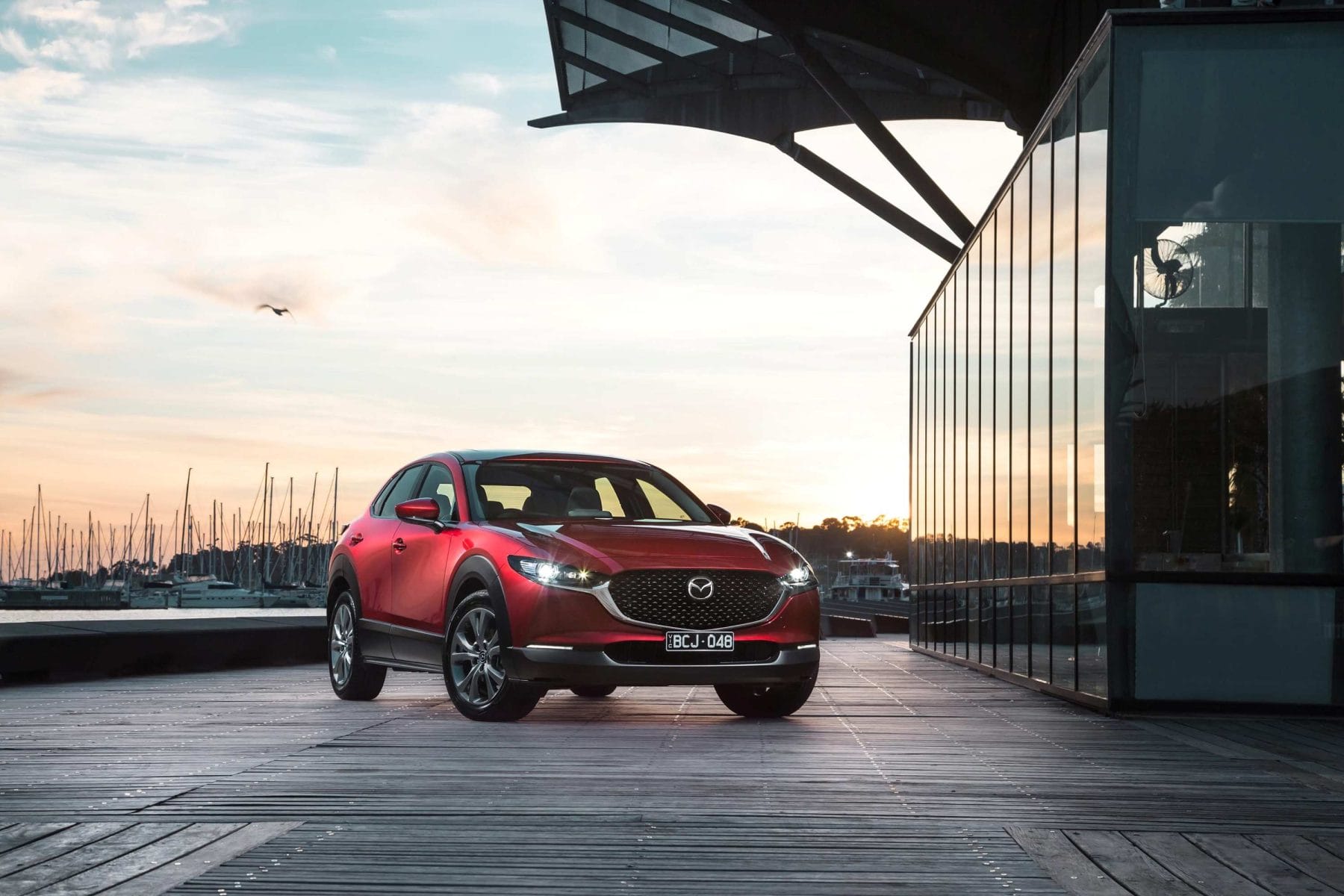 CX-30 is yet another small to medium SUV to clutter your tired brain with, but is it any good? In a word, yes. In fact, it is more than good. It would be perfect if it had the lusty 2.5L MAZDA6 engine, but hey ho.
The looks are stunning if you like the MAZDA design direction, and I do. Light shimmers off the body and reflections morph the surroundings into a Monet-like montage of life.
LED lighting includes nifty swivelling headlights, and door handles conceal a discrete button for easy entry. We all like life as easy as possible, so keep the key in your pocket for future reference.
Blackened plastic creates a slimming profile, and a low roofline swoops down over the D Pillar while keeping the interior space big. Even a taller rear-seater is spoiled for room.
The cabin drips with tasty tech goodness. Apple CarPlay/Android auto means never having to apologise to a bloke in blue, even when sending and receiving texts while on the move. You do everything by voice activation. It means Siri is always listening so don't say anything you don't want sent into the ether.
There are power outlets and USB points, and little cubby bins all over the cabin. Bottle holders in the doors are handy, and there is enough space for road-trip detritus, eliminating the need for placky bags.

So, the looks and cabin do the trick. How about the drive?
Driving should be an event, not a chore.
You can nip, or lounge, your choice. You may find yourself seeking out corners to take at warp 10, but tie the dog down first.
On a road trip, you'll just about make it all the way to Melbs in a single tank if your home port is Sidders. Best to top up though, just in case.
There is a sunroof, but to avoid 3rd degree burns, keep the climate to a balmy 22c with dual-zone controls.
The driver need never take his eyes off the road with all the relevant data beamed on to the windscreen in a Star-Trek-Inspired piece of genius. You won't get navigation updates there unless you use the built in system. Google maps is restricted to the phone and central LCD tablet.
What did I think of CX-30?
Stupid name aside, CX-30 is cool, good value, and a brilliant drive. The cabin is cosy, and drips with a premium feel that'll turn the Europeans green with envy.
It is easy to drive, easy to park, and with a 360° camera, safe and secure too. CX-30 looks after you like a nanny at nap time.
It has all the latest mod-cons, so buyers will be very happy campers.
Price: $41,490
Engine: 2.5L
Power: 135kw/252Nm
Econmy:6.6 L/100k