The Lotus Emira is an all-new mid-engined premium sports car that perfectly embodies the ongoing transformation of the Lotus business and brand.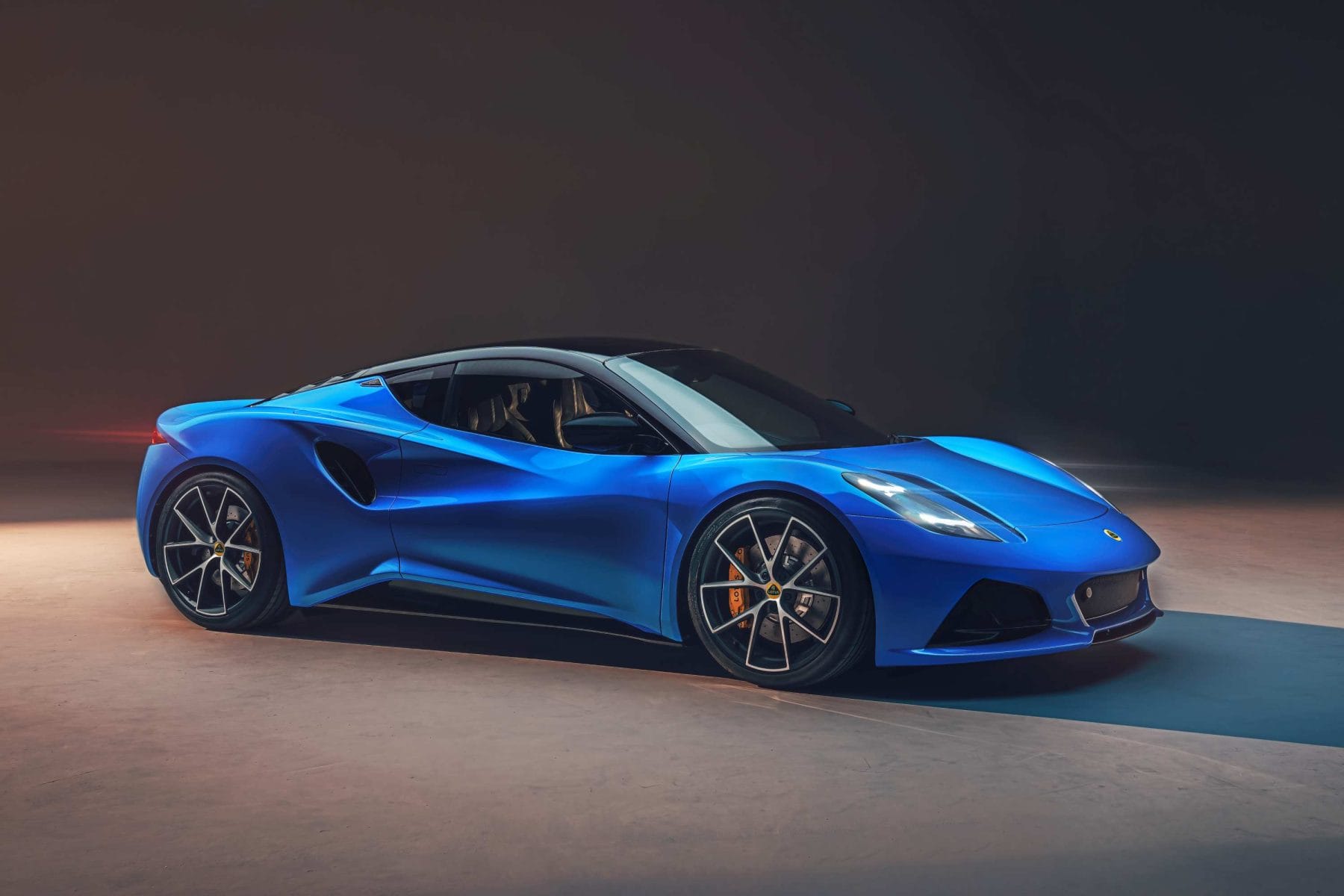 It features all the hallmarks that the automotive world has come to expect from a Lotus – striking design, thrilling dynamic performance delivering best-in-class ride and handling, outstanding aerodynamics and an unrivalled experience 'For The Drivers'.
All-new mid-engined sports car perfectly embodies ongoing transformation of iconic British sports car manufacturer
Striking design, delivering exotic supercar appeal in sports car segment
Inspiration from Lotus Evija hypercar clear in fluid surfaces and crisp feature lines
Developed on Lotus' recently announced Sports Car Architecture
Two petrol engines available, including new-to-Lotus 2.0-litre turbocharged 'i4' from technical partner AMG
Much-loved and characterful 3.5-litre supercharged V6 from Exige and Evora to feature as 'First Edition' range-topper
Manual, automatic and Dual Clutch Transmission to maximise global appeal
Power output from 360 to 400 hp at launch
0-62mph (0-100km/h) in less than 4.5 seconds
Top speed of up to 180mph (290km/h)
Target weight of 1,405kg in its lightest form
Prices will start from under £60,000 (under €72,000)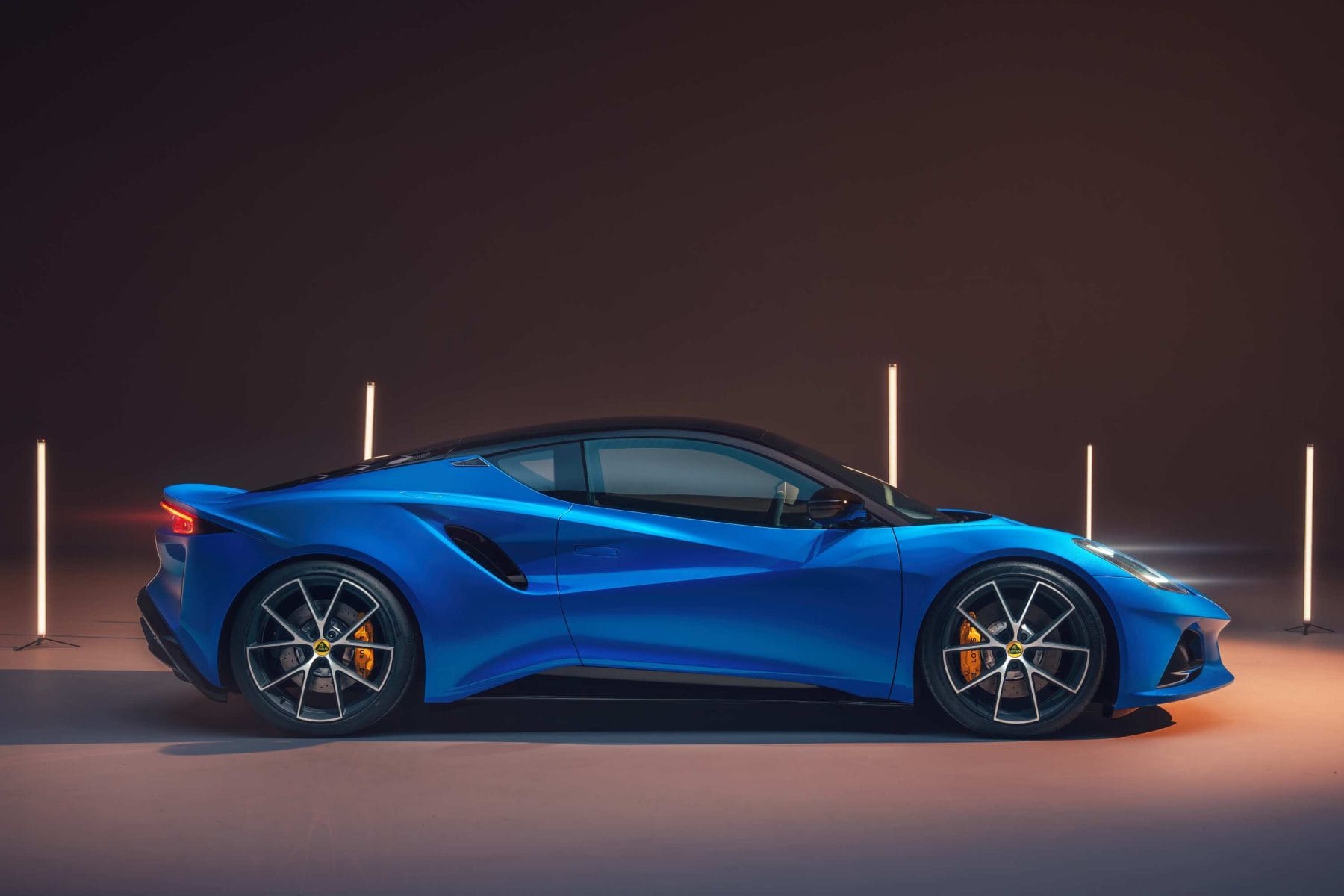 Building on the legacy of the Elise, Exige and Evora, the Emira represents a quantum leap forward for Lotus. Those instantly recognisable brand signatures and core values have been combined with a paradigm shift in levels of practicality, comfort, functionality and technology.
Matt Windle, Managing Director, Lotus Cars commented: "The Emira is a game-changer for Lotus. It stands as a beacon of everything we have achieved to date in the transformation of the business, the embodiment of our progress. It is a highly significant milestone on our path to becoming a truly global performance car brand."
The Emira has been developed on a new lightweight bonded aluminium chassis, technology pioneered by Lotus and which remains an intrinsic part of the company's sports car DNA. That innovative vehicle architecture is wrapped with a bold and sculpted design using cues clearly developed from the Evija. Key dimensions of the Emira are length 4,412mm; width 1,895mm; height 1,225mm; and wheelbase 2,575mm.
First customer cars will start to be delivered around the world from next spring. Powering the Emira will be a choice of two petrol engines, both globally respected for their performance characteristics. At launch, the first cars will be available as limited-production 'First Edition' models powered by the much-loved and Lotus-honed 3.5-litre V6 which cut its Hethel teeth powering the Exige and Evora.
From summer 2022, the first new Lotus sports car engine for more than a decade makes its debut, with the Emira powered by AMG. The new-to-Lotus AMG unit is a turbocharged 2.0-litre four-cylinder 'i4' from the performance division of Mercedes-Benz.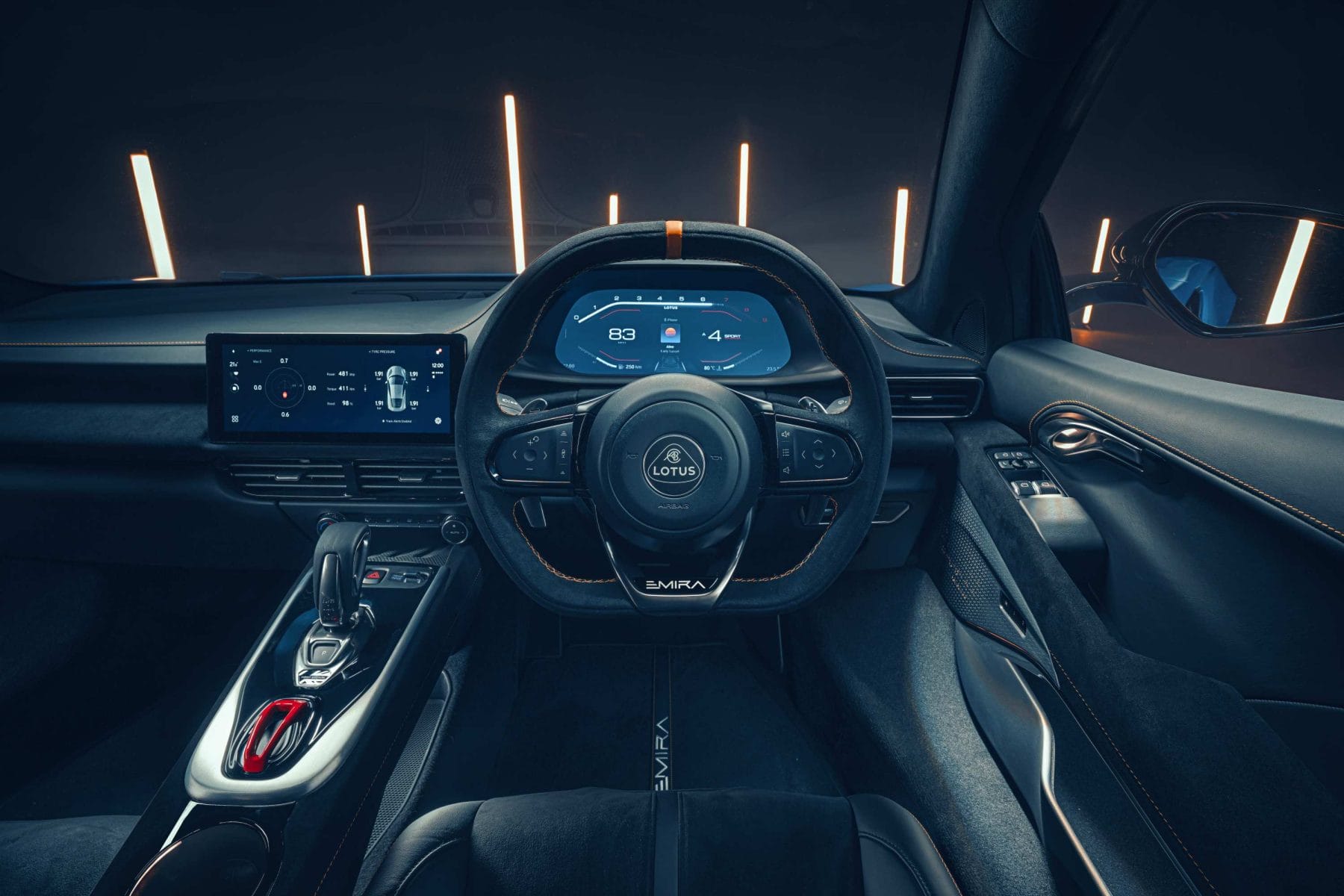 Working with Lotus for the first time, AMG has come on board as technical partner on the Emira programme, with some fundamental changes made to the in-line four-cylinder set-up for its Lotus debut. Transverse-mounted and delivering rear-wheel drive, the unit has been modified with a new air intake system and new exhaust to suit the character of the Emira. The second engine is more familiar, the 3.5-litre supercharged Toyota V6 that is so loved by drivers of the Exige and Evora. Cars will be available with a manual, automatic and Dual Clutch Transmission (DCT).
Across the Emira range, power output will between 360 and 400bhp at launch, with 0-62mph (0-100km/h) acceleration in less than 4.5 seconds and top speeds of up to 180mph (290km/h). Maximum torque will be 430Nm and CO2 emissions will start below 180g/km. The car has a target weight of 1,405kg in its lightest form, and prices will start at less than £60,000 (less than €72,000).
Manufacturing will take place at Lotus' famous home in Hethel, Norfolk, following more than £100million of new investment in the company's UK facilities. The highly skilled operations teams will be supported by new processes and technologies to enhance production efficiency, volume capability and overall quality.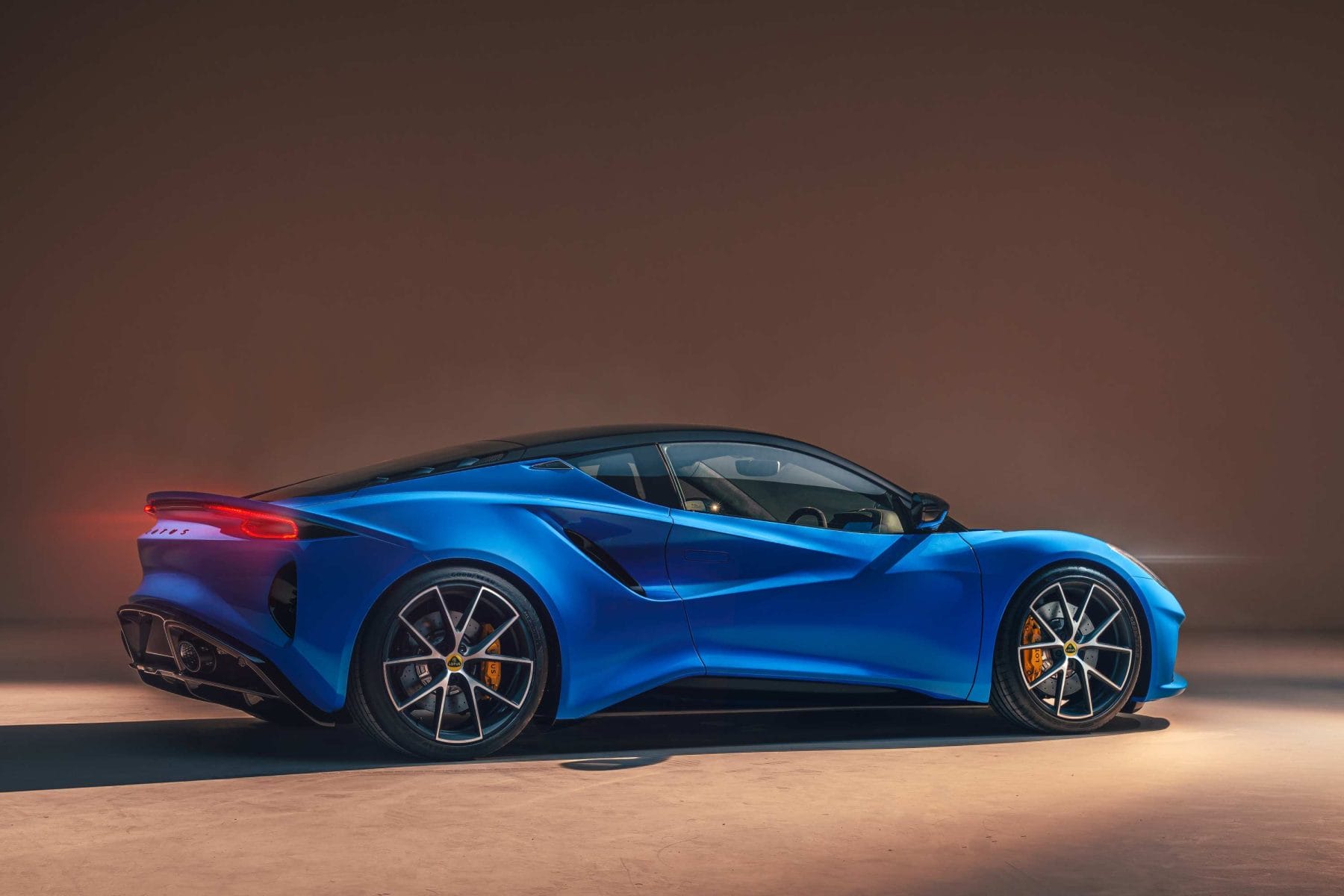 Matt Windle added: "The Lotus Emira is the most accomplished Lotus road car ever to roll through the Hethel factory gates. Beautifully proportioned with a stunning design inspired by the Evija all-electric hypercar, it's the perfect package. The Emira is a junior supercar with all the thrills and head-turning characteristics found in the greatest Lotus cars, but at the same time is an everyday sports car that's high on comfort and functionality, packed with the latest technology demanded by the discerning driver."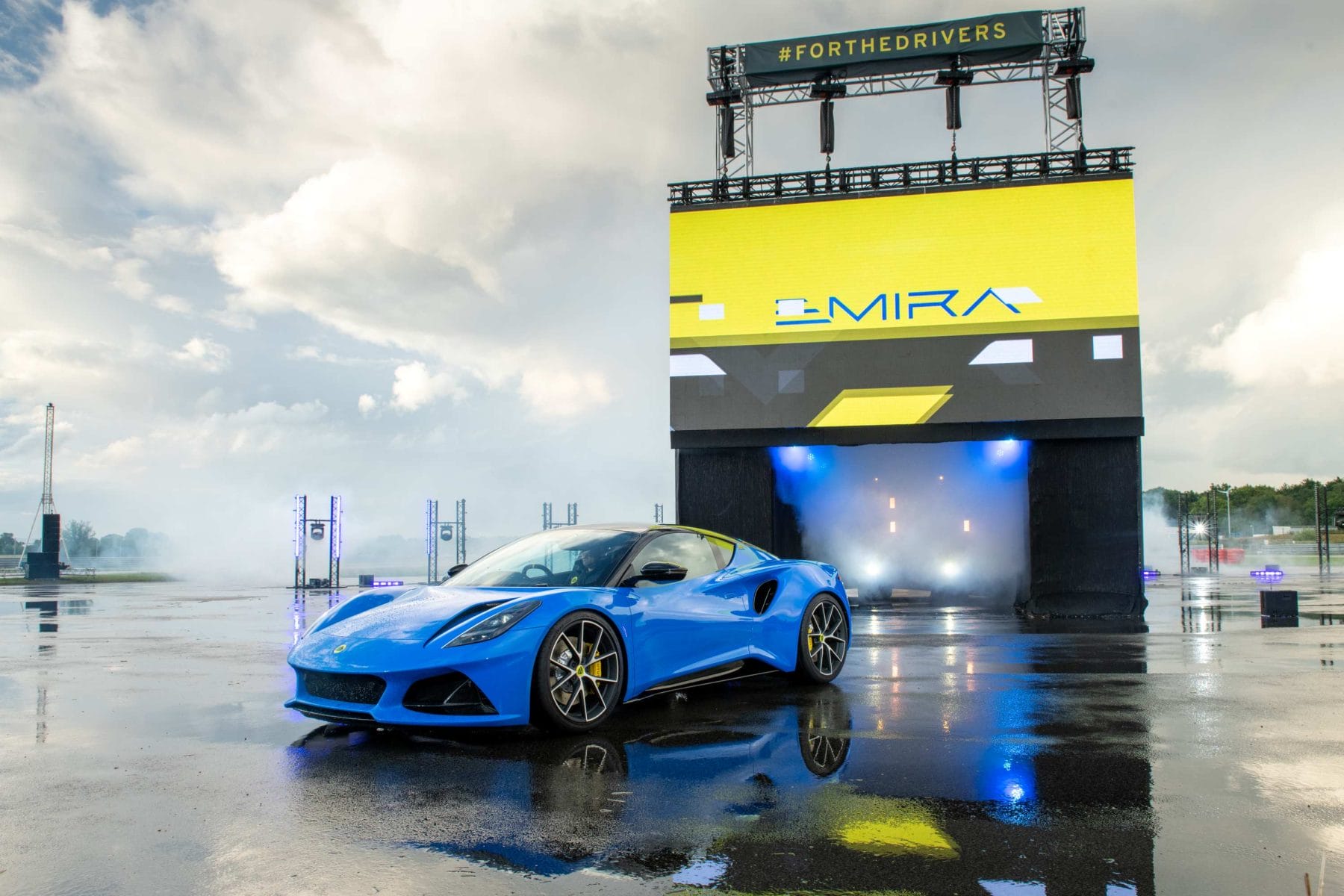 Lotus retailers around the world are now taking deposits for the Emira. A digital visualiser showcasing the car's striking design is live at www.lotuscars.com. The Emira will make its public dynamic debut this coming weekend at the Goodwood Festival of Speed (8-11 July).