Hyundai's premium Genesis brand offers a range of medium and large SUVs and sedan cars. Locally, the Korean giant has been dabbling in this space before but didn't have a wide enough range to get going properly.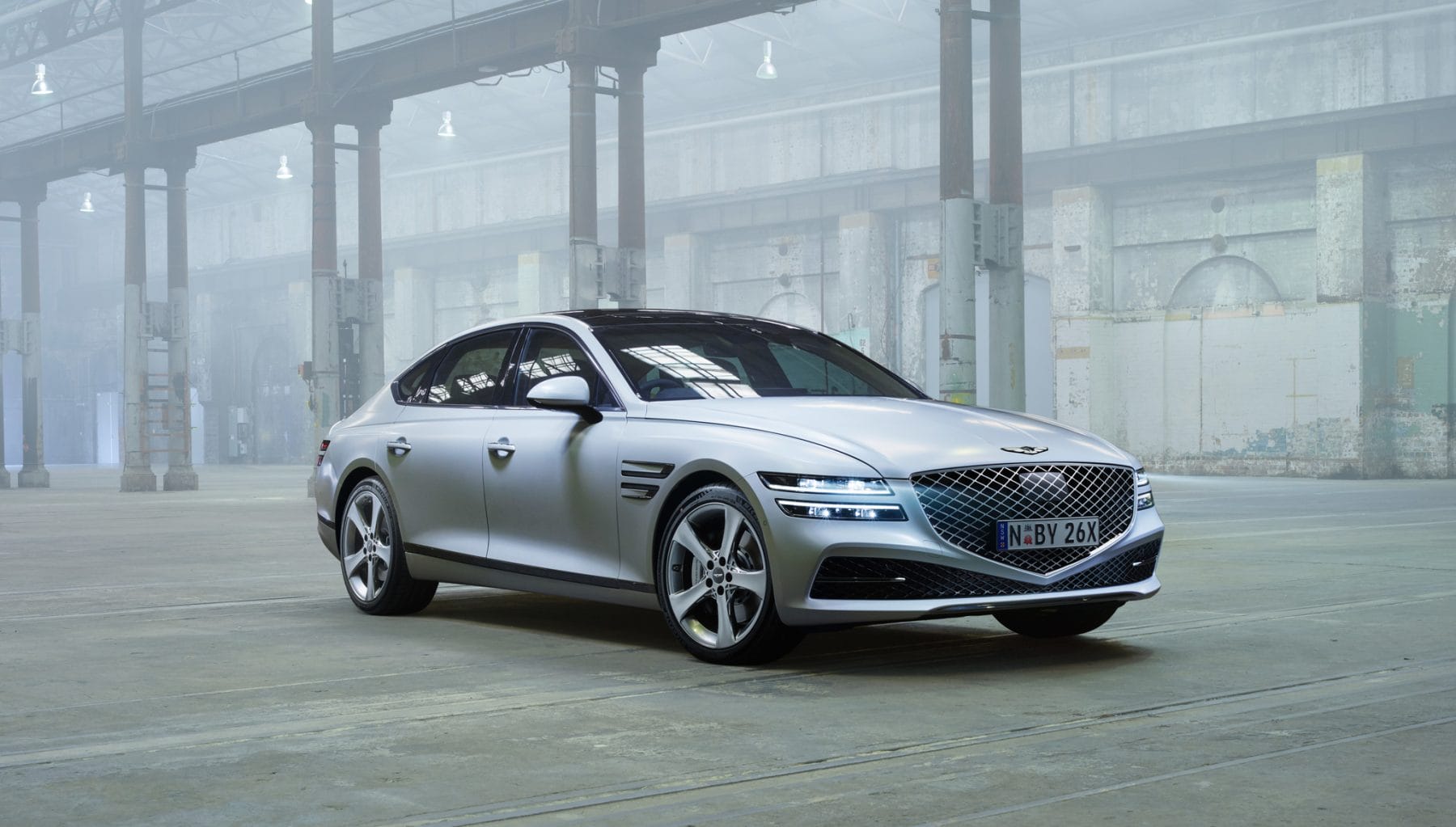 They do now and Genesis provides a tempting proposition to any premium/prestige car buyers based on the actual product, technology, luxury, quality and ownership fronts to say nothing of their striking looks.
Genesis is up against it giving away decades of market penetration to the three big Europeans not forgetting Jag.
Still, with more than competitive pricing and additional benefits, cars like the imposing G80 3.5 tested here should be considered along with traditional premium offerings.
Genesis G80 is roughly the same size as an E-Class Benz or a 5-Series BMW, at a considerable saving comparing like with like.
Similar underneath to the Genesis GV80 SUV the G80 sedan is crammed with luxury including Nappa leather and real wood/stainless steel fascia no less.
The Koreans didn't hold back on anything giving the G80 strong performance from a 279kW, twin turbo, petrol V6 hooked up to an 8-speed auto driving (predominantly) the rear wheels with the front axle hooking up as needed.
Adaptive, camera modulated suspension too.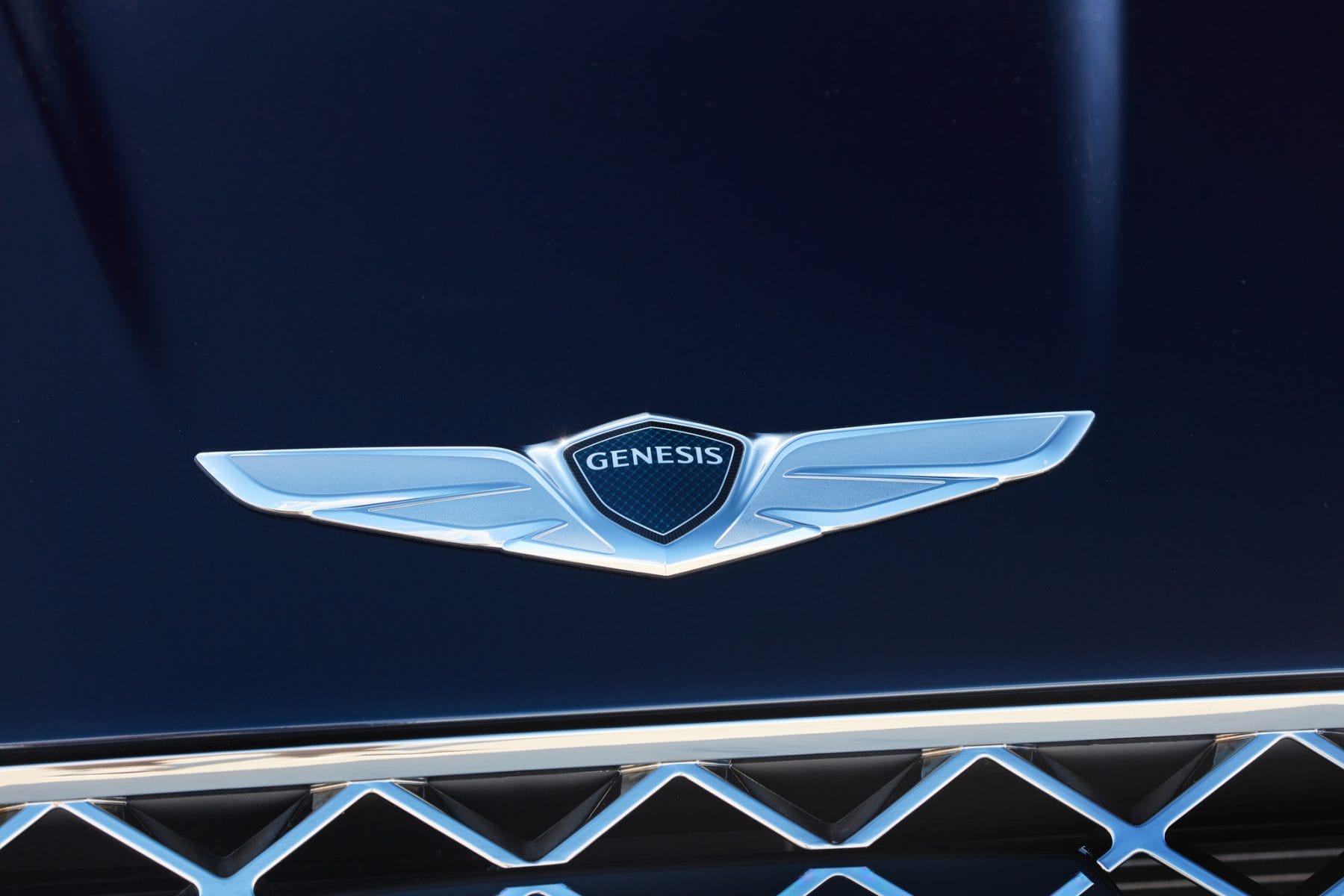 But that's just the start of it as Genesis G 80 delivers on plenty of fronts right down to the winged, Bentley-esque badge and Australian dynamic calibration all for the price of $99,900.
All you need to do is get over badge fixation….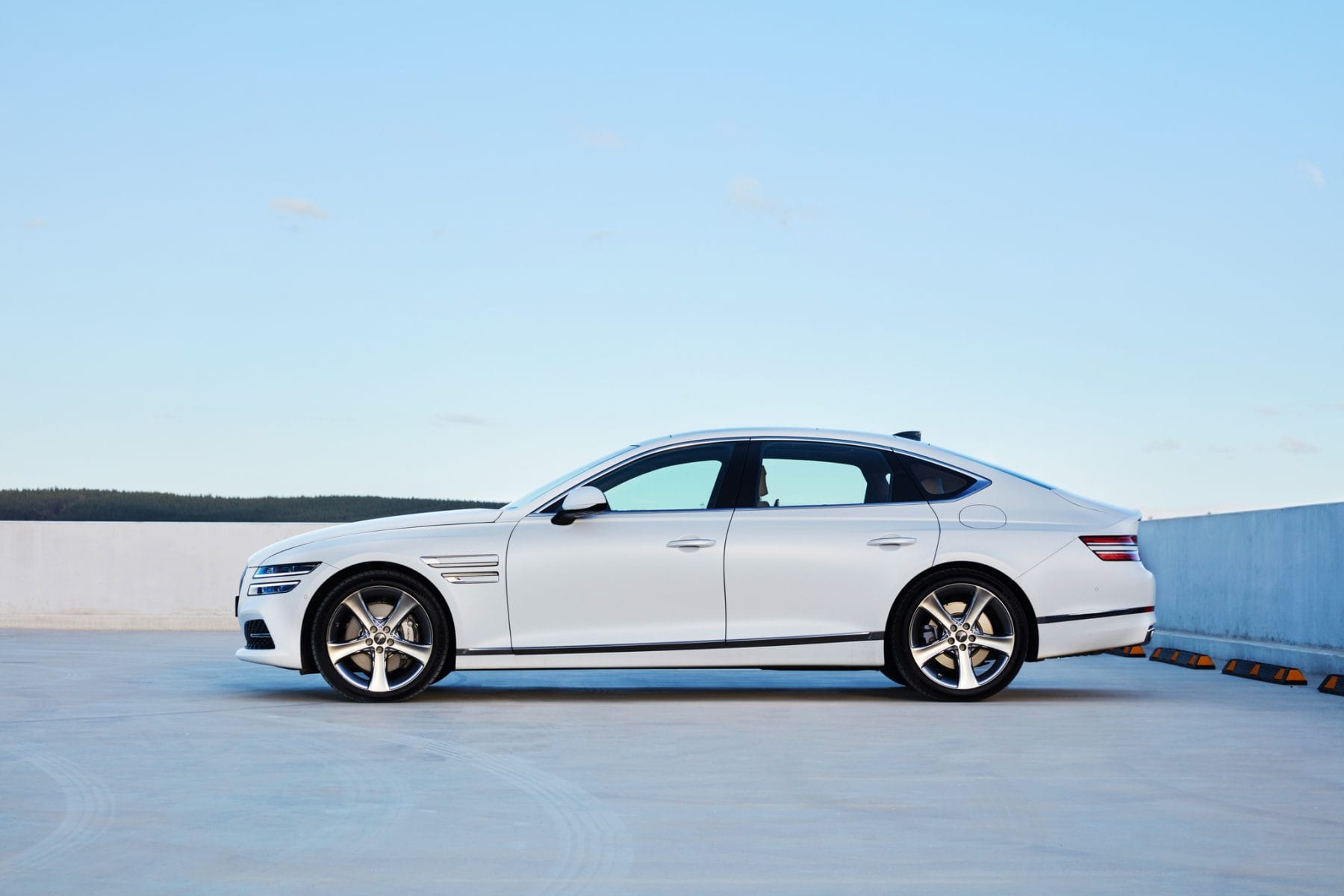 Genesis G80 Exterior
G80 doesn't look like anything else on the road with a big distinctive grille dominating under an expansive bonnet together with double stripe LED headlights. There's plenty of cross hatched activity going on at the front including under the grille which kind of links to the twin side vents and other powerful frontal styling elements.
Five spoke 20-inch wheels fill G80s wheel arches nicely and look a whole lot better than the fussy mesh wheel alternatives.
The low arcing roof is in contrast colour to the rest of the car due to the sunroof accentuating G80's coupe/fastback profile. In fact, it has a distinctive fastback profile with a long nose and a roof curving back to nearly the edge of the boot, like a big "e".
Tail light shape reflects the headlights leading down to a well-executed lower diffuser housing twin five sided tail pipe outlets in chrome.
Looked at as a whole, the G80 is a winner conveying an impression of sportiness, luxury and power, all of which it delivers in spades which is more than can be said for some of its rather ugly competitors.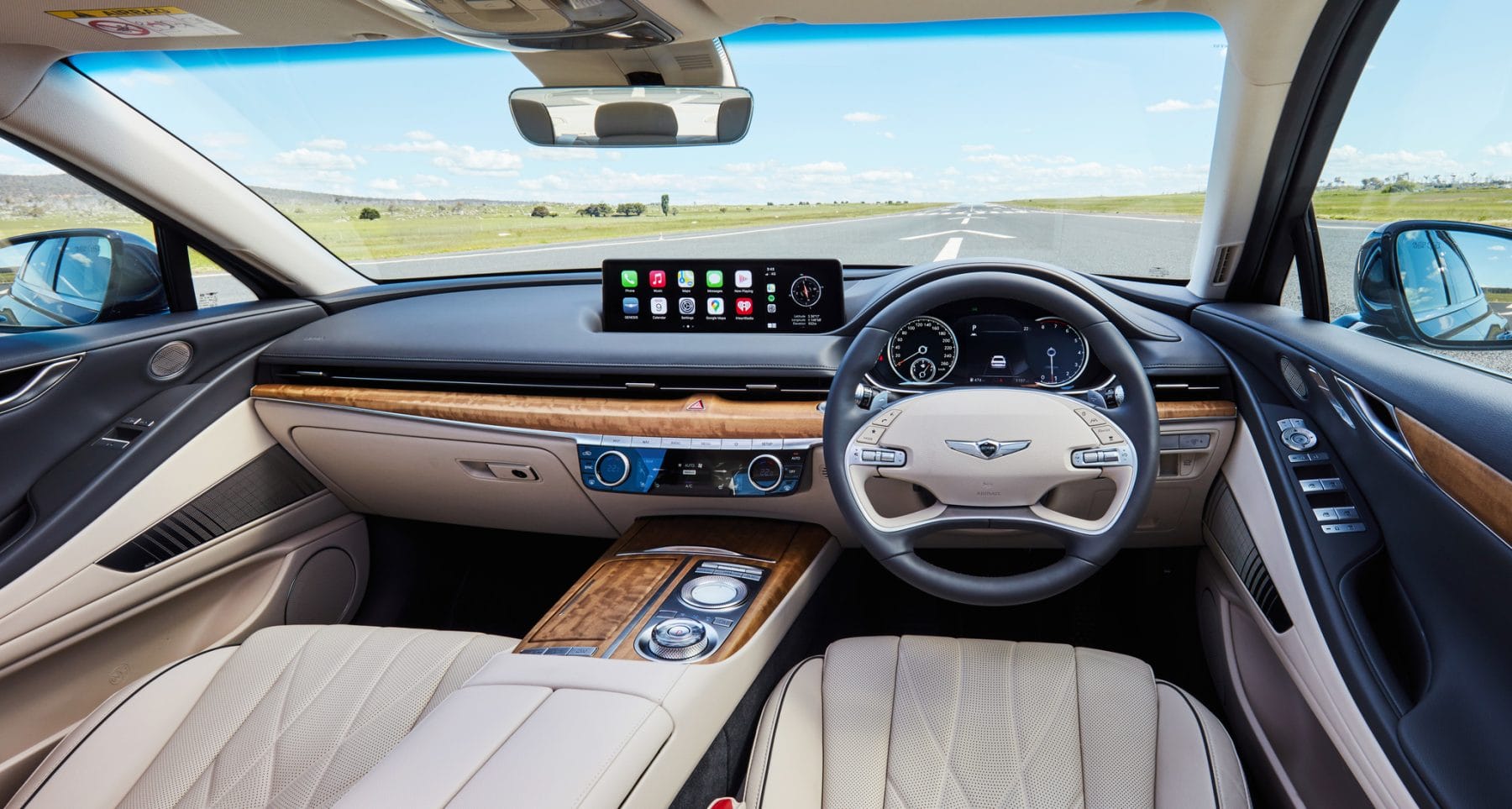 Genesis G80 Interior
They pulled out all the stops inside particularly with the use of "real" materials, leather, wood and stainless steel. While other brands have gone down the faux plastic path, the G80 marks a return to a more tactile way of doing things. And the effect is obvious as soon as you get inside…. a pleasant place to be on the eye and through the skin.
Sharp styling too with a wide sweep of dash abutting the door trims each side and with multiple tones, dark grey on top, cream underneath the wood fascia together with various metal trims.  They kept the look simple but hidden away are controllers with numerous functions and of course the super-size centre mounted touch screen.
A soft quilted effect is used on seat faces which are all heated and electrically adjustable apart from the alleged centre rear pew.
Premium audio of course, in this case a Lexicon unit with 21 speakers to go with your 21 ears.
Love the soft close doors, rear window sun shades and adjustable ambient lighting.
The big boot holds plenty and the interior is super quiet through the use of various devices including active sound suppression using the audio system, plus it has a slippery aerodynamic rating of Cd 0.27 with a flat underbody.
It's a big, airy cabin that feels good to ride in delivering the full luxury experienced without going completely over the top with stuff you never use or need.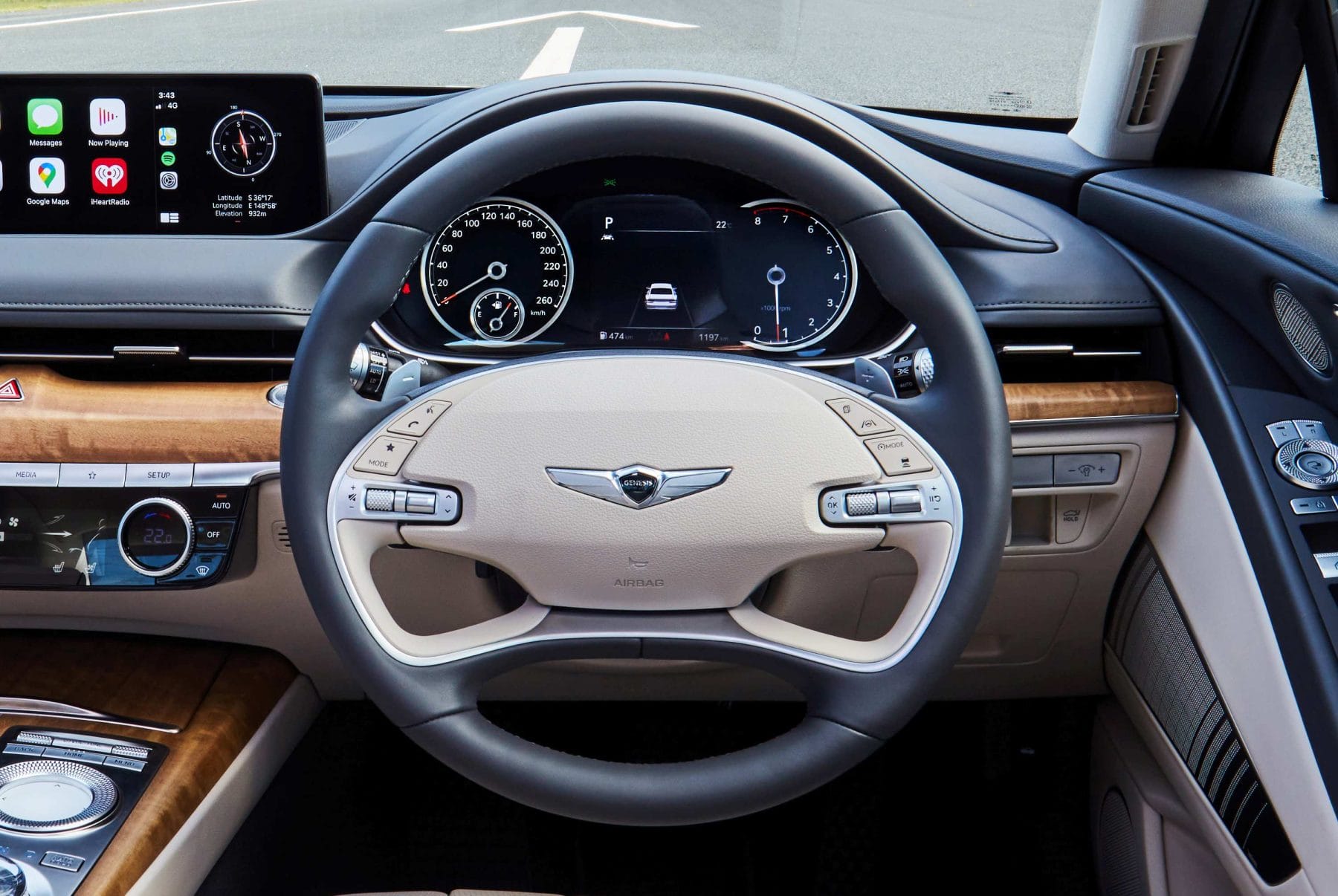 Genesis G80 Features
As you'd expect not much is left off the inventory here…
Rear seat entertainment and climate controls
Drive mode select
Power adjustable heated seats x 4
Nappa leather
Premium Lexicon audio
Head up display
Adaptive suspension
Paddle shift
LED lights all round
Power boot lid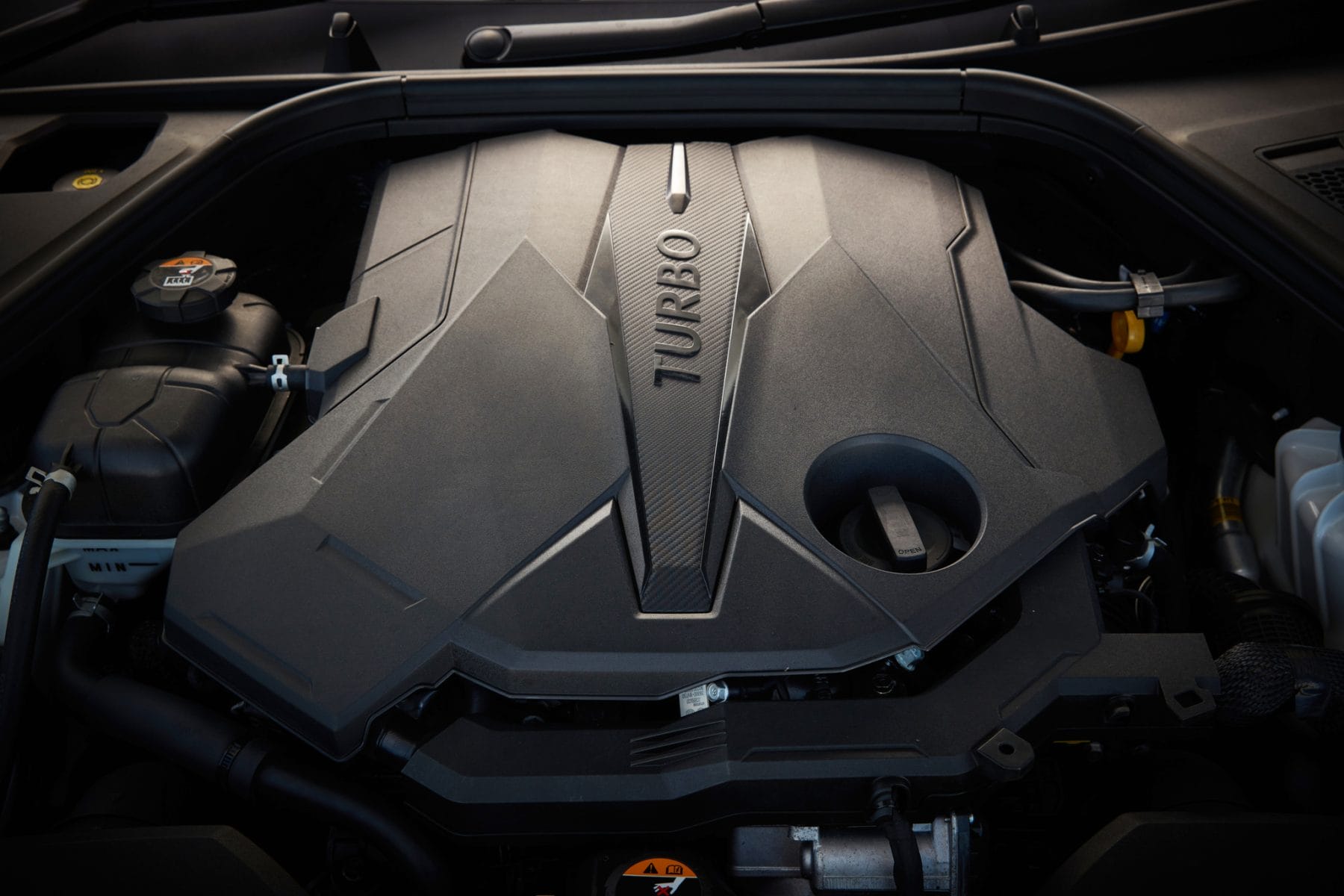 Genesis G80 Drive and Engine
No shortcomings here with 279kW and 530Nm on tap this 2.0 tonne luxury sedan has plenty of performance delivered smoothly and without fuss. There's no noise to speak of most of the time even under full acceleration and the big G80 can clock a 0-100kmh sprint in the 5.0 second bracket while consuming 10.7 litres/100km claimed combined fuel consumption using 98RON. Drive is to the rear wheels with the front axle engaged electronically as needed for additional traction.
Seems superfluous to me.
The 8-speed auto is, like the engine, silky smooth with barely perceptible changes up and down the range. This is all optimised by the drive mode select offering Comfort, Sport, Eco and Custom settings. We went for Comfort most of the time because if you floor it, the G80 slips instantly into Sport go mode.
The engine has no real power surge offering linear acceleration from stop to about 6000rpm.
What is really good is the predictive suspension that uses G80's forward pointing cameras to look at the road and change suspension settings accordingly.
You do feel somewhat insulated from the drive experience such is the level of noise and vibration suppression.
It handles well as long as you're not expecting GT car handling dynamics. G80 is firmly rooted in luxury land and rides as such, even in Sport mode and despite the drive select altering calibrations to steering, transmission, engine, suspension, all-wheel drive and even sound.
Genesis G80 Safety
Five stars from ANCAP aided by the full suite of advanced driver assist technology plus some other goodies like the road review adaptive suspension.
All the usual safety stuff is incorporated… AEB with pedestrian and cyclist recognition, lane keeping, blind spot monitoring, 360 degree view and so on. Some is too intrusive in my opinion but others would like this level of automated car control.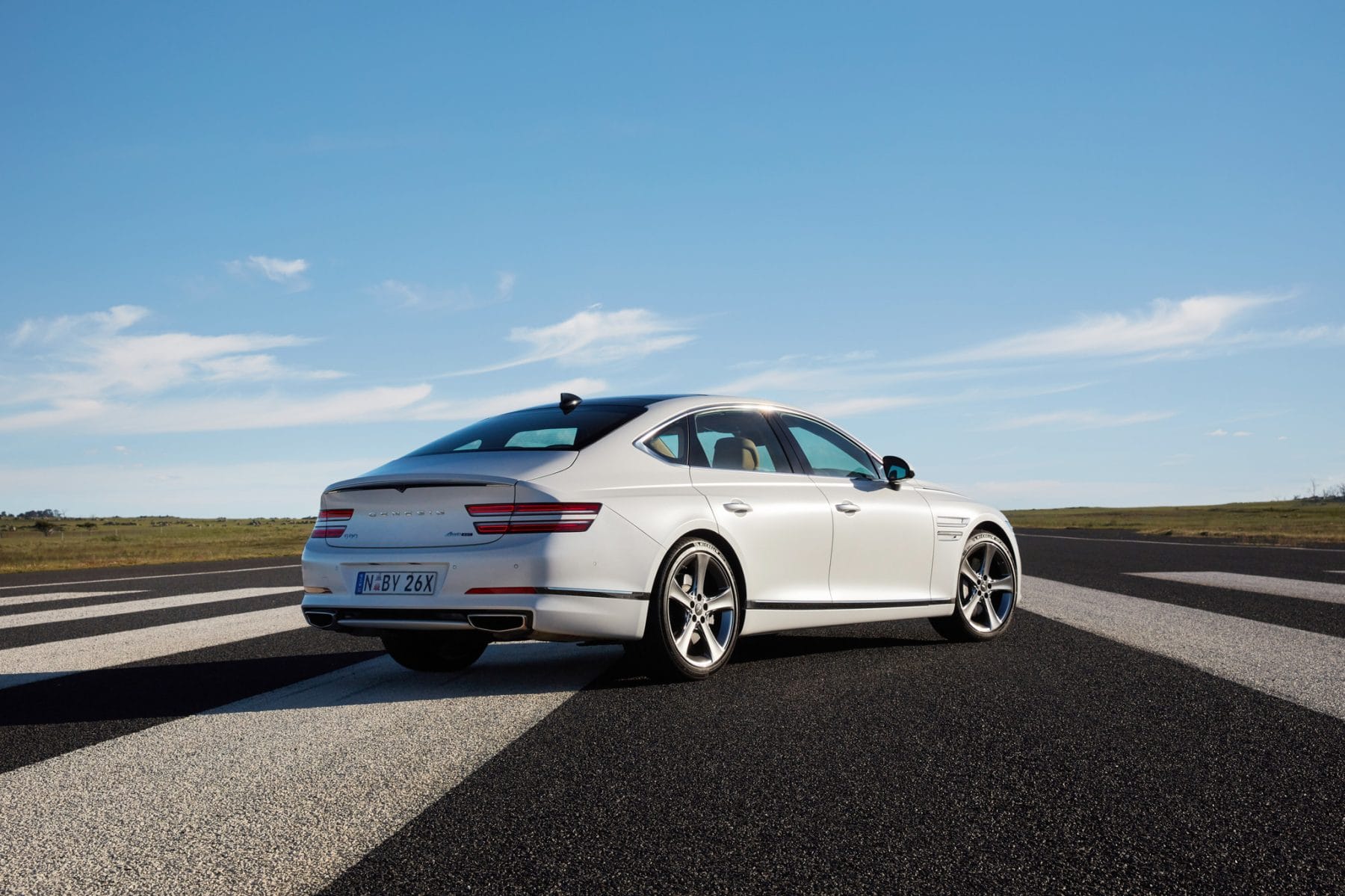 Good Bits
Looks imposing
Price advantage over competition
Unrivalled ownership benefits.
Not So Good Bits
Some over intrusive driver assist functions
Not many dealerships
Bit thirsty
Summary
Yep, always knew the Koreans could build cars at this level which is at least as good as the Germans. And the styling puts a cat among the pigeons too. The only real issue here is snobbery. How do you get around the snob value of having a BMW on the drive as opposed to a Genesis…? That will take some time I suspect.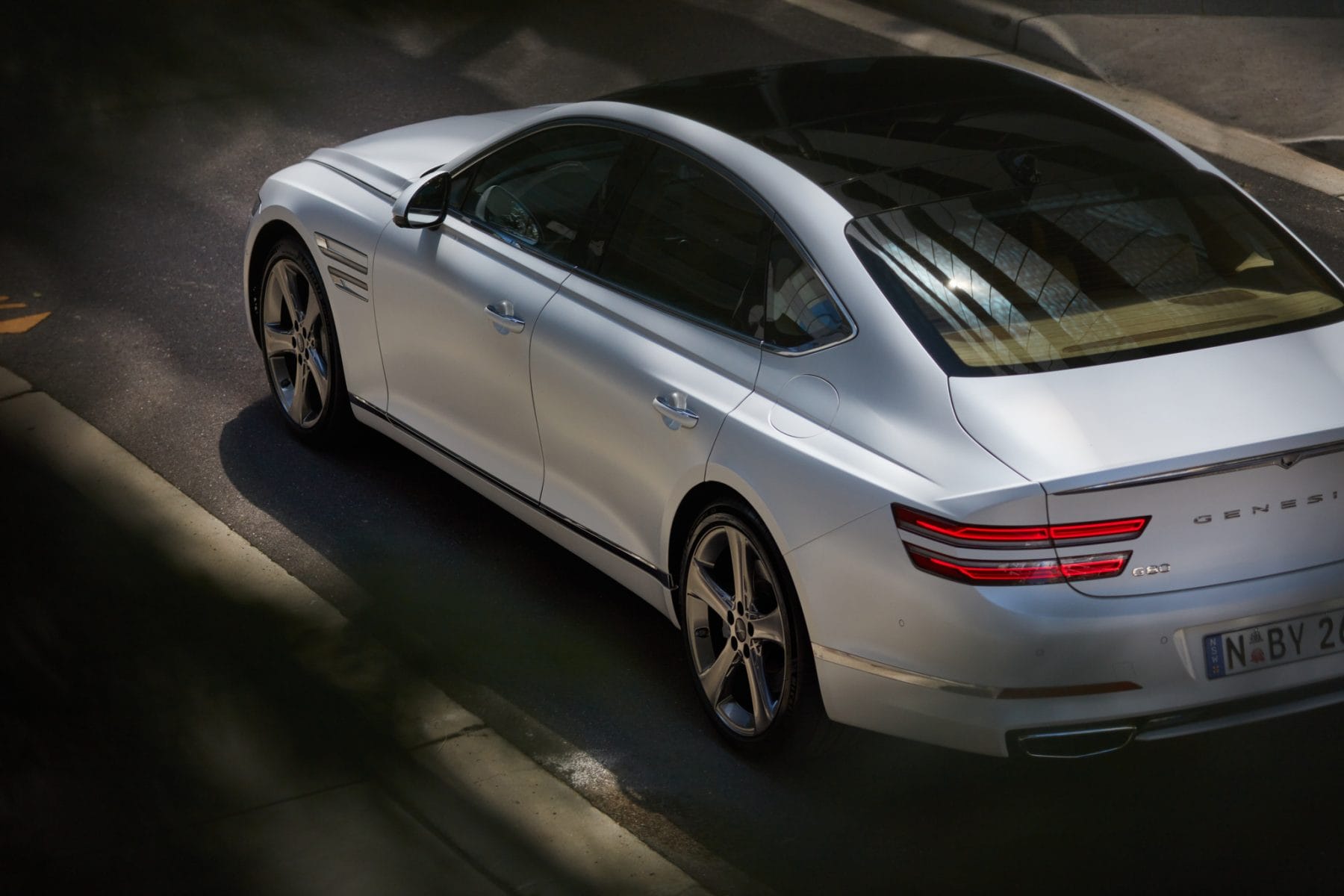 Also Look at:
| | |
| --- | --- |
| Model | Genesis G80 3.5 |
| Price | $ MLP* 99,900 |
| Engine | 3.5-litre, twin turbo, petrol V6 with direct and port injection |
| Drivetrain | AWD with 8-speed auto |
| Power | 279kW @ 5800rpm |
| Torque | 530Nm  @ 1300 – 4500rpm |
| Safety | 5 Star ANCAP |
| CO2 Emissions | 250g/km |
| Economy ADR/ Capacity | 10.7L/100km / 73L |
| Towing/Tow ball | 0 Kg / 0 Kg |
| Servicing | Complimentary for first 5 years/50,000km |
| Warranty | 5yr/ Unlimited Km with 5 Yr roadside assist |
*MLP – Manufacturers List Price includes GST and LCT but excluding statutory charges, dealer costs and dealer delivery. See your dealer for RDAP. Does not include price of any options.
Summary
Yep, always knew the Koreans could build cars at this level which is at least as good as the Germans. And the styling puts a cat among the pigeons too. The only real issue here is snobbery. How do you get around the snob value of having a BMW on the drive as opposed to a Genesis…? That will take some time I suspect.