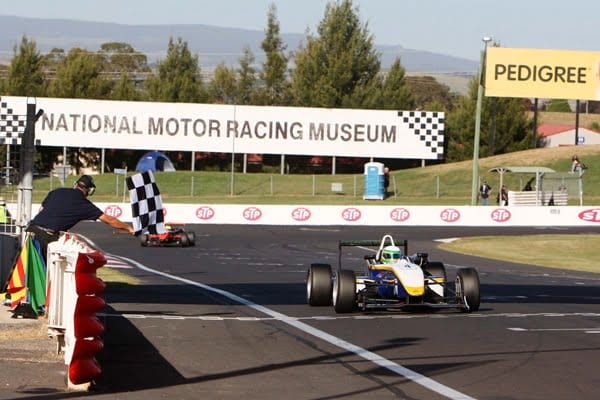 A tiny two-litre four-cylinder Formula Three car using Kumho racing tyres has smashed the Mt Panorama lap record in the first appearance for the category at the iconic and daunting mountain circuit over the Easter weekend.
The record was set by Queenslander Chris Gilmour driving a Dallara Mercedes with a lap time of 2min 04.6187sec on the penultimate lap of the second of three 13-lap Formula Three races run at the Mountain as part of the Bathurst Motor Festival.
Gilmour's performance bettered the long standing V8 Supercars lap record set by Jamie Whincup driving a Ford in October 2007 by more than 3.2 seconds, underlining just how fast and nimble the Kumho-shod F3 cars are.
In setting the new lap record Gilmour averaged 178 km/h around the 6.3 km track and set a race average of 177km/h for the entire 13 lap race.
This is the first time winged open wheel Formula racing cars on slick racing have competed in races at Mt Panorama since 1973.
Gilmour and British Dallara Mercedes driver James Winslow battled it out for the record with Winslow taking the first strike with a time of 2min 04.9143sec on lap 11. He only held the outright lap record for a second and a half before Gilmour crossed the line to record a 2min04.7406sec and then bettered his time again on lap 12.
Australian Formula Three Championship series leader Winslow set a time of 2min 05.3052sec seven laps into the first F3 race of the weekend on Easter Saturday, beating the previous lap record set by Allan Simonsen in a Ferrari 458 at the Bathurst 12 Hour back in February by more than one second.
South Australian Jordan Skinner was the first driver to run under the record on the fifth lap but was immediately pipped by both John Magro and James Winslow on the same lap. Magro then bettered the record on the very next lap before Winslow set the quickest lap of the race on lap seven.
According to David Basha, Kumho Tyre Australia's national marketing and training manager, the result at Bathurst has cemented Kumho into Australian motor sport history.
"Kumho supports a range of motor sports in Australia from rally to touring cars and the Formula Three Championship," said David Basha.
"For Kumho to have helped a driver achieve the fastest race lap of Bathurst is a compliment to the research and development that occurs as a result of our involvement in motor sport.
"We would like to congratulate James Winslow on his history making drive at Mt Panorama along with Jordan Skinner and John Magro who both set records in the first Formula Three race at The Mountain.
Gilmour said he was very proud to have achieved a new lap record at one of the world's most difficult and famous tracks.
"I believe we could potentially lower the record even further if conditions are right for an F3 car here in the future," said an elated Winslow.
Since its inception in 1960, Kumho Tyres has been a model of steady growth amid dramatic changes of business landscape. Driven by innovation in management and technical development Kumho has become one of the top ten tyre companies in the world.
Over the past half-century Kumho Tyres has built the foundation for a sustainable company, which has thrived through a full range of business environments.
Kumho has succeeded in the development of superior tyres for all vehicles including high performance, passenger, sports utility and recreational vehicles, as well as light trucks, heavy truck and buses, industrial, agricultural, mining and construction vehicles as well as aircraft.
Kumho produces more than 68 million tyres annually with a massive research and development program which comprises more than 600 research personnel and 300 testing machines at proving grounds in South Korea, China, Europe and North America, Kumho leads the world with the latest in tyre technology, safety and performance. In Australia Kumho markets an extensive range of tyres for cars, 4WD's, light commercials, trucks and buses with a network centered around five state locations with the ability to distribute tyres to retailers across all areas of Australia.