Hyundai Motor America has revealed seven exciting concept vehicles at the 2012 Specialty Equipment Market Association (SEMA) Show in Las Vegas, based on Genesis Coupe, Veloster and i30. In addition to the concepts, a bold special edition RE:MIX production Veloster was also unveiled, ahead of its arrival in North American dealerships later this year.
Clearly demonstrating the company's brand mantra 'New Thinking. New Possibilities' the SEMA exhibition confirms the company's willingness to embrace provocative design and to challenge convention.
Inspired by Hyundai's successful RE:MIX Lab program, Hyundai introduced the special edition RE:MIX production Veloster to the enthusiast crowd at SEMA. This Veloster is a production vehicle with a lifestyle-focused look and feel. The special edition features an aggressive sporty exterior appearance with a unique body kit and gunmetal-finish alloy wheels, while the interior is enhanced with a premium audio system. Truly a "re-mix," this Veloster is a cool blend of exclusive features and options creating a distinctive lifestyle offering from Hyundai.
Teaming up with some of the most respected names in the aftermarket business, Hyundai unveiled seven unique concept models for the show:
Hyundai Design and Technical Center "Velocity" Concept
ARK Performance Genesis Coupe R-Spec Track Edition
ARK Performance Veloster Alpine Edition
Bisimoto Engineering i30 Concept
Cosworth Engineering Genesis Racing Series Concept
FuelCulture Genesis Coupe Turbo Concept
JP Edition Veloster Concept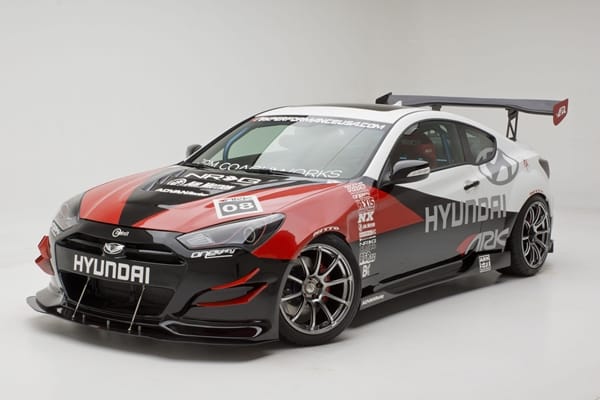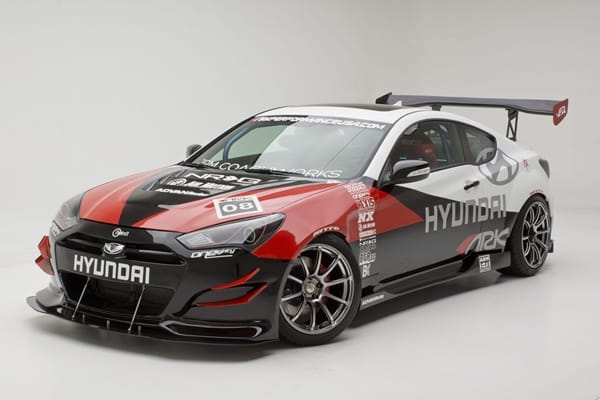 ARK Performance Genesis Coupe R-Spec Track Edition
Hyundai teamed up with ARK Performance to create an ultra-high-performance track edition based on the Genesis Coupe R-Spec model. This special ARK model takes the new Genesis Coupe 3.8-litre, direct-injected engine to an impressive 295kW @ 6800 rpm and 460Nm @ 5400 rpm. From the exterior, the ARK design theme takes the muscular character lines of the Genesis Coupe to the extreme, with race-like flared over-fenders, an aggressive front splitter, and carbon-fibre bonnet with heat-extractor vents.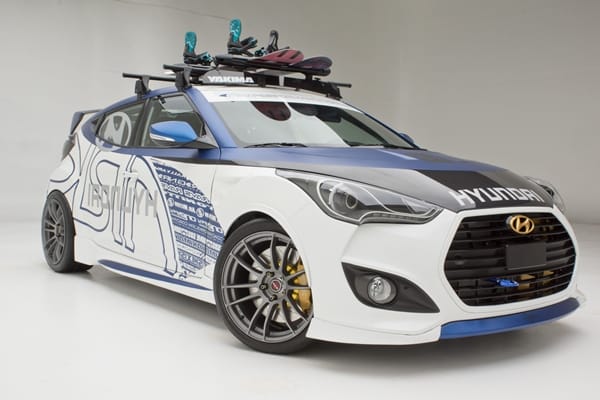 ARK Performance Veloster Alpine Edition
ARK Performance created a Veloster sport coupe concept focused on an extreme sports alpine-enthusiast lifestyle. This concept offers a finely tailored interior using materials, colors and design themes fitting an extreme winter sports lifestyle. The Veloster Alpine concept expands on original Veloster functional design strengths, such as the hidden third door and wide-opening rear hatch with a focused interior theme. JPM Coachworks created the interior environment with a blend of Alcantara®, fine Italian leather and WeatherTek® breathable fabric. These materials were chosen specifically for their durability in wet environments, including mildew repelling leather and a WeatherTek material commonly used in snow apparel.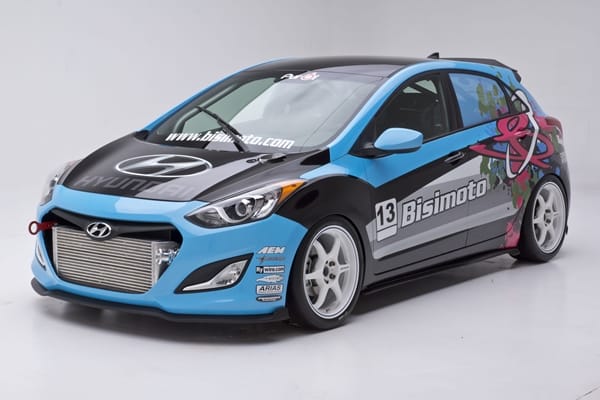 Bisimoto Engineering i30 Concept
In the i30's first concept appearance at SEMA, Bisimoto Engineering gave the car a complete re-working with an emphasis on outrageous performance gains. Starting with forged Arias pistons, Bisimoto con-rods and Turbonetics turbocharger, AEM water-methanol injection and Bisimoto high-pressure injectors, the Bisimoto i30 is one of the highest specific-output Hyundai's ever created, muscling 447kW+ out of the 1.8-litre "Nu" engine family power plant.
See video here: http://www.youtube.com/watch?v=SJC97c9UMHM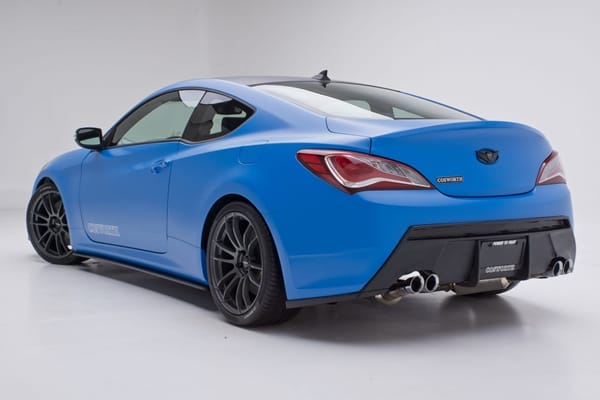 Cosworth Engineering Genesis Racing Series Concept
This special Cosworth-tuned model takes the new Genesis Coupe 3.8-litre, direct-injected engine to racecar levels, with an impressive 290kW @ 6400 rpm, and tyre-shredding torque of 440Nm @ 5100 rpm, all with daily-driving civility. From the exterior, the Cosworth design theme radiates a retina-bending satin-gloss blue finish, aero front splitter, gunmetal-finish lightweight racing wheels, integrated rear spoiler, and blackout rear diffuser. While unmistakably race-oriented, the Cosworth concept retains the original Genesis Coupe design language, focusing most on astounding performance gains and real-world performance potential.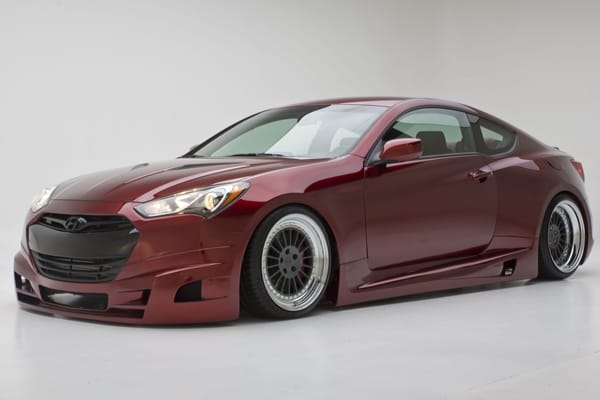 FuelCulture Genesis Coupe Turbo Concept
Hyundai and FuelCulture.com teamed up to modify a Genesis Coupe for SEMA and demonstrate how customisation can be achieved by the enthusiast, within budget, resulting in cars as unique as the people who drive them. From engine to suspension upgrades, and everything in between, the partnership between Hyundai and FuelCulture.com exhibits how easily car customisation can be achieved. The tuned, Apple Red Genesis Coupe is set to achieve 235kW of power and 328Nm of torque.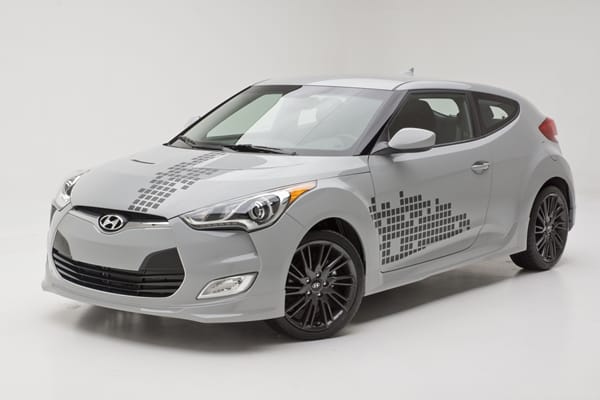 JP Edition Veloster Turbo
Hyundai partnered with John Pangilinan (JP) to create a brilliant mint green Veloster concept. Paint supplier BASF was consulted as the unique supplier of the Mint Green exterior finish for the concept. The 1.6-litre, direct-injected Veloster engine receives an ARK performance exhaust, while the suspension adds KW coilovers, Whiteline sway bars and anti-lift kit, and a Brembo® big brake kit. Blacked-out Ray's Gram Lights Xtreme57 Wheels and Toyo Proxes T1 Sport tyres fill in the bright mint green TS Designs fender flares by Jon Sibal.
See video here: http://www.youtube.com/watch?v=nNQZpuIewAY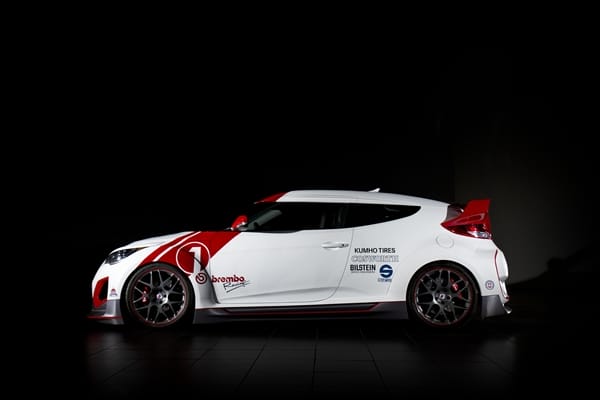 Hyundai Design and Technical Center "Velocity" Concept
Hyundai America's internal design and technical center created the "Velocity" factory-tuner concept for the company's popular Veloster sport coupe. The Velocity concept expands on the original Veloster concept strengths in an aggressive, no-holds-barred factory-racer design language. Huge 19 x 9.0 inch, HRE lightweight satin-charcoal racing wheels, tarmac-scraping lower body kit with generous front and rear brake cooling ducts, lift-reducing rear diffuser, oversized rear wing, and #1 racecar design graphic. While unmistakably racetrack-oriented, the Velocity concept retains the original Veloster silhouette, focusing on exponential performance gains and functional design cues.
See video here: http://www.youtube.com/watch?v=rD44xuHyxgE