Kia Stonic – It was inevitable that Kia would release a mini SUV given the success it's had with larger models. Stonic has been around in Europe for about 4 years and only arrived here after the second generation started rolling off the assembly line early this year.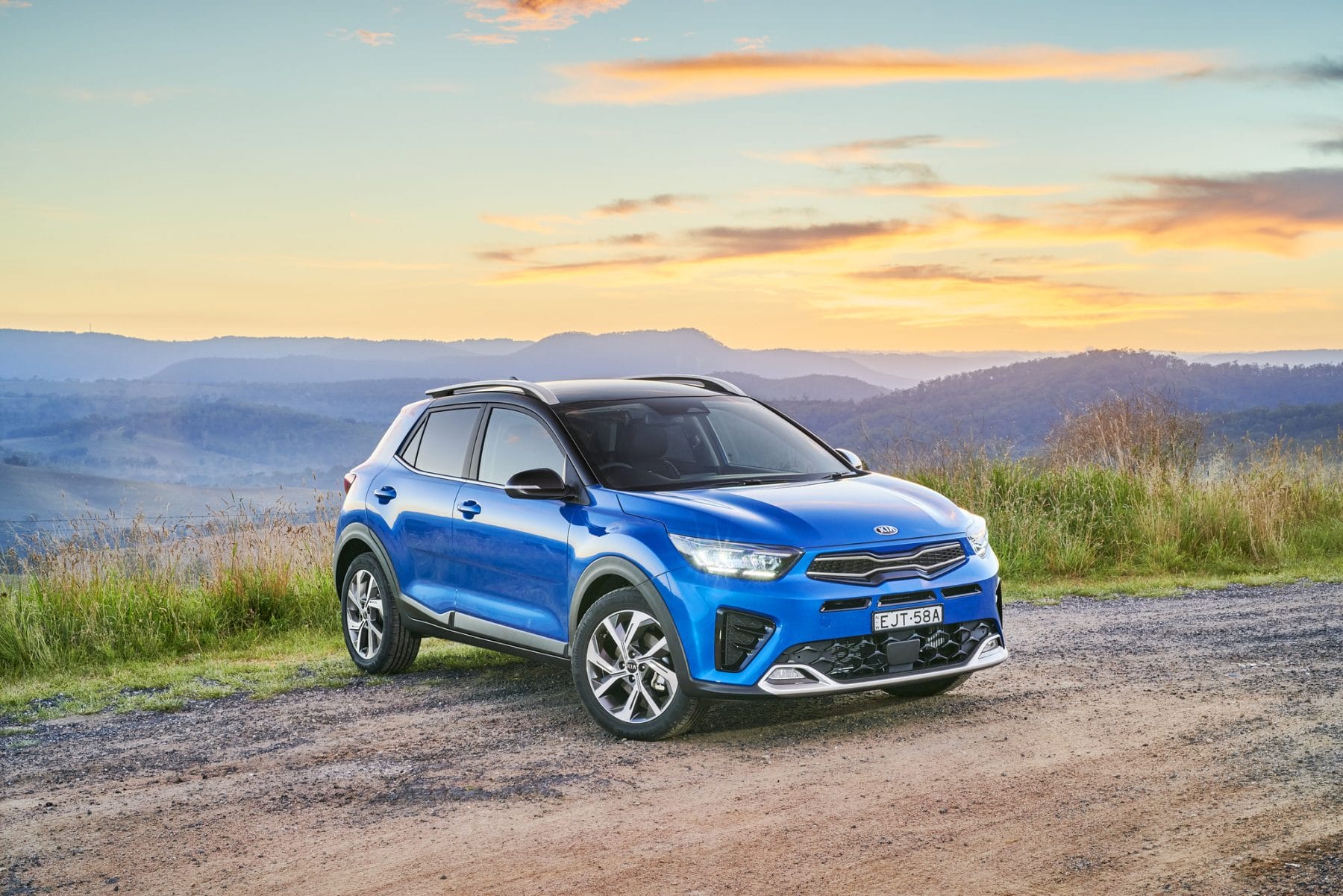 It's based on Kia Rio but is a more practical package offering plenty of room inside and a selection of petrol engines including a 1.0-litre, turbo three cylinder with a 7-speed dual clutch manumatic transmission as tested.
This is the GT-Line and it's an impressive little carry-all that looks good, goes pretty well and has a high level of safety.
The price is $29,990 but includes a comprehensive range of driver assist features and the more efficient direct injection turbo engine capable of using only 5.4-litres /100km of regular 91 ULP.
It's not as good as a Toyota hybrid on this score but doesn't cost as much.
About the same size as Hyundai's Kona, Stonic has characteristic Kia styling cues with an athletic stance and aggressive frontal appearance.
As the range topper, Stonic GT-Line benefits from a generous amount of standard equipment  and features a body kit adding to its looks.
Surprisingly, this version of Stonic will tow nearly 1000kg and weighs in at 1227kg, more than I thought on both counts..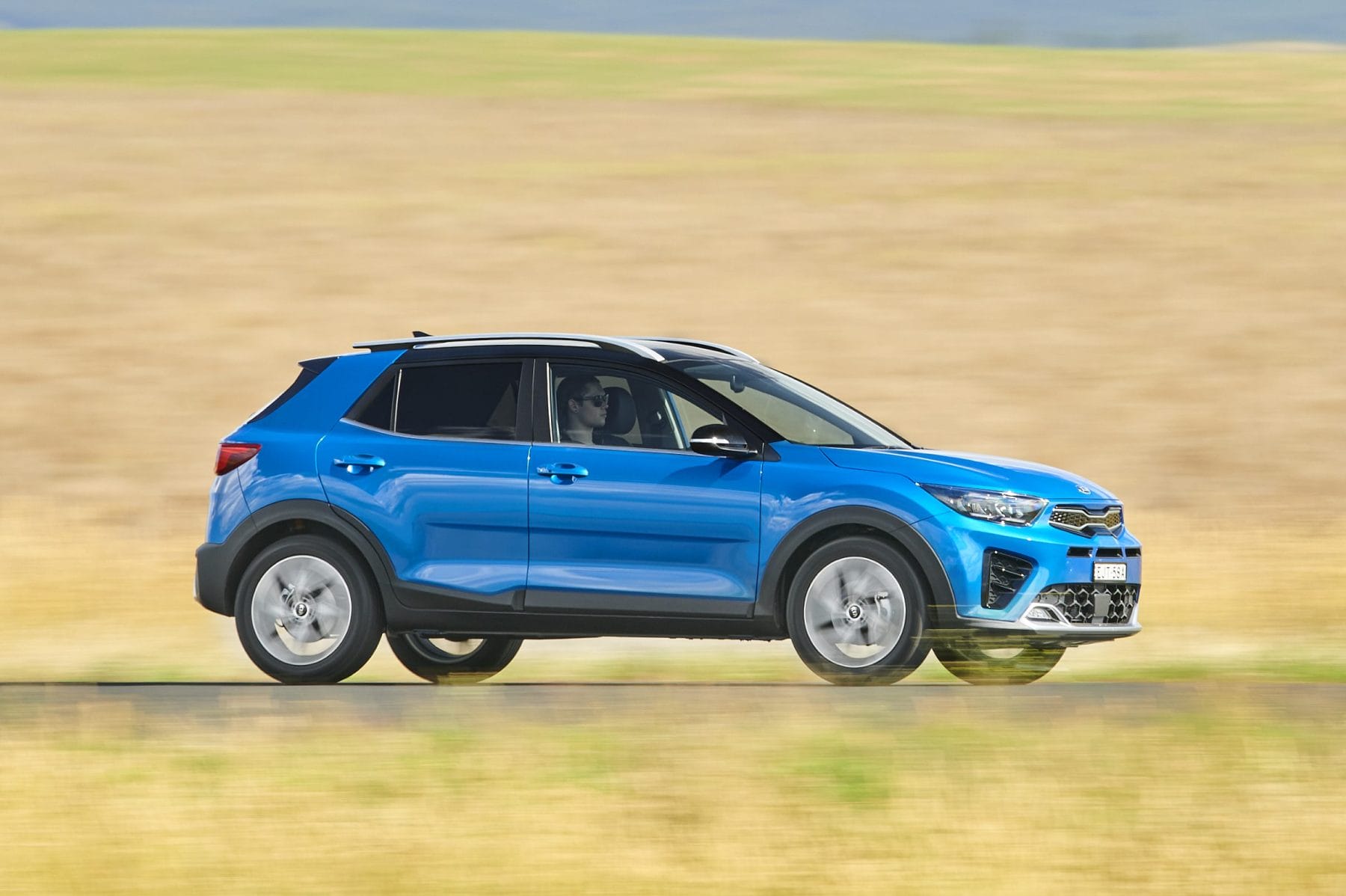 Exterior
The look is family Kia right down to the so called "Tiger Nose" grille. Other Kia styling cues are clearly evident around the handsome compact body with five doors and seating for five inside. Roof rails add an air of outdoors as do the chunky 17-inch alloys.
Some metal look appliques front and rear lift Stonic's appeal as do twin exhaust outlets and black plastic cladding to the lower quarters of the little SUV.
Is it better to look at than Hyundai's Kona?
In my opinion yes, chunkier with a more planted stance and stronger face.
Kia offer Stonic in some two tone paint combos which hold plenty of appeal.
I'd get one every day over a regular Kia Rio and I guess that's what Kia is counting on.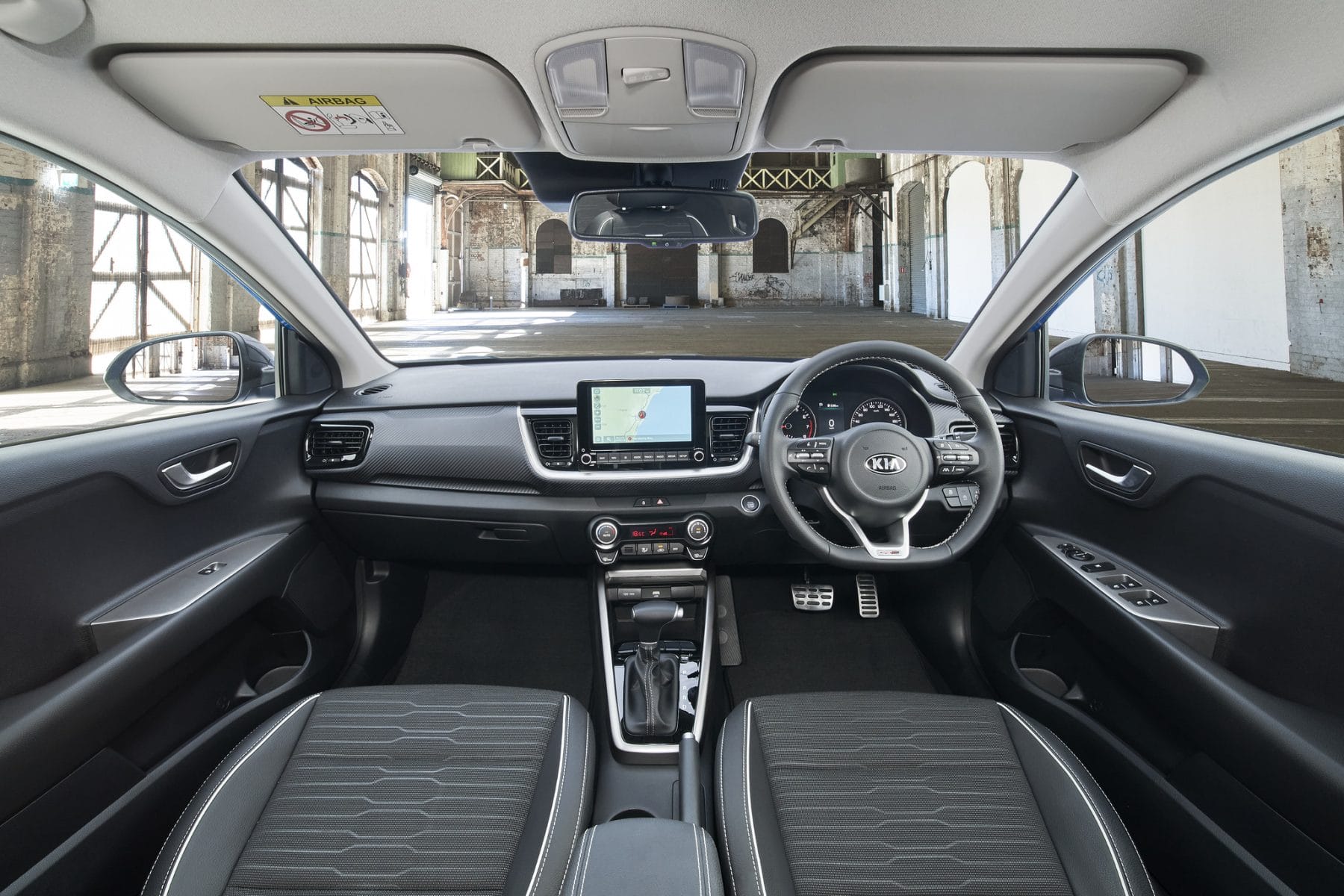 Interior
Inside is standard Kia in a condensed form. The dash is one single line across the car with a large central touchscreen as has become standard in all new cars these days. A well laid out centre console is under that with numerous controls for ventilation and other functions them move to the right for the standard looking driver's pod with a multi-function wheel and two dial instrument console surrounded by various switches all easy to see and operate.
I like the way Kia cuts the dash into the front door sills forming one arcing sweep across the entire front compartment.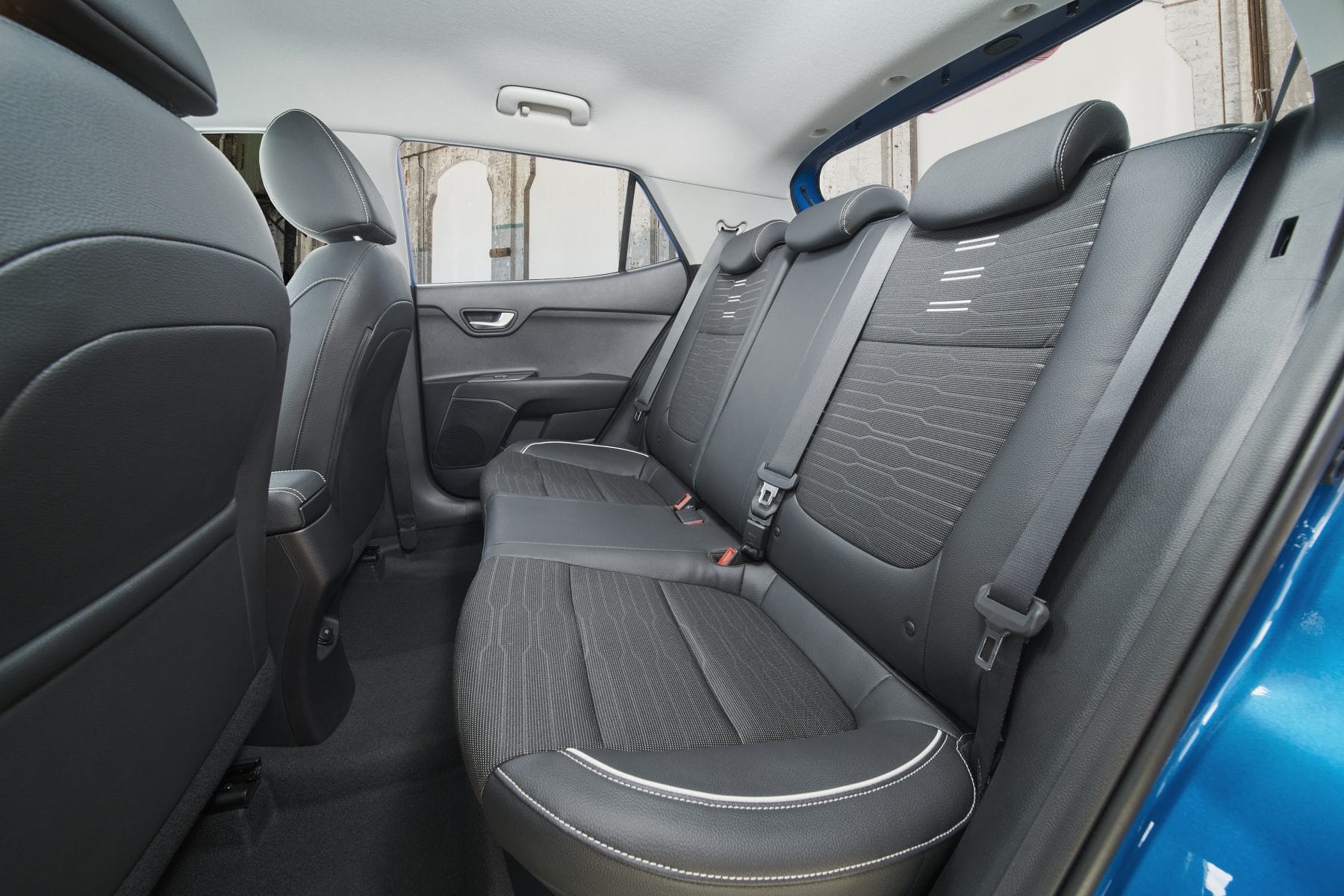 Plenty of storage is afforded Stonic occupants in the doors and centre console as well as the glovebox and other stashes for your phone and keys.
The tones are greys of varying hues with some metallic and faux carbon fibre fascia lifting the look.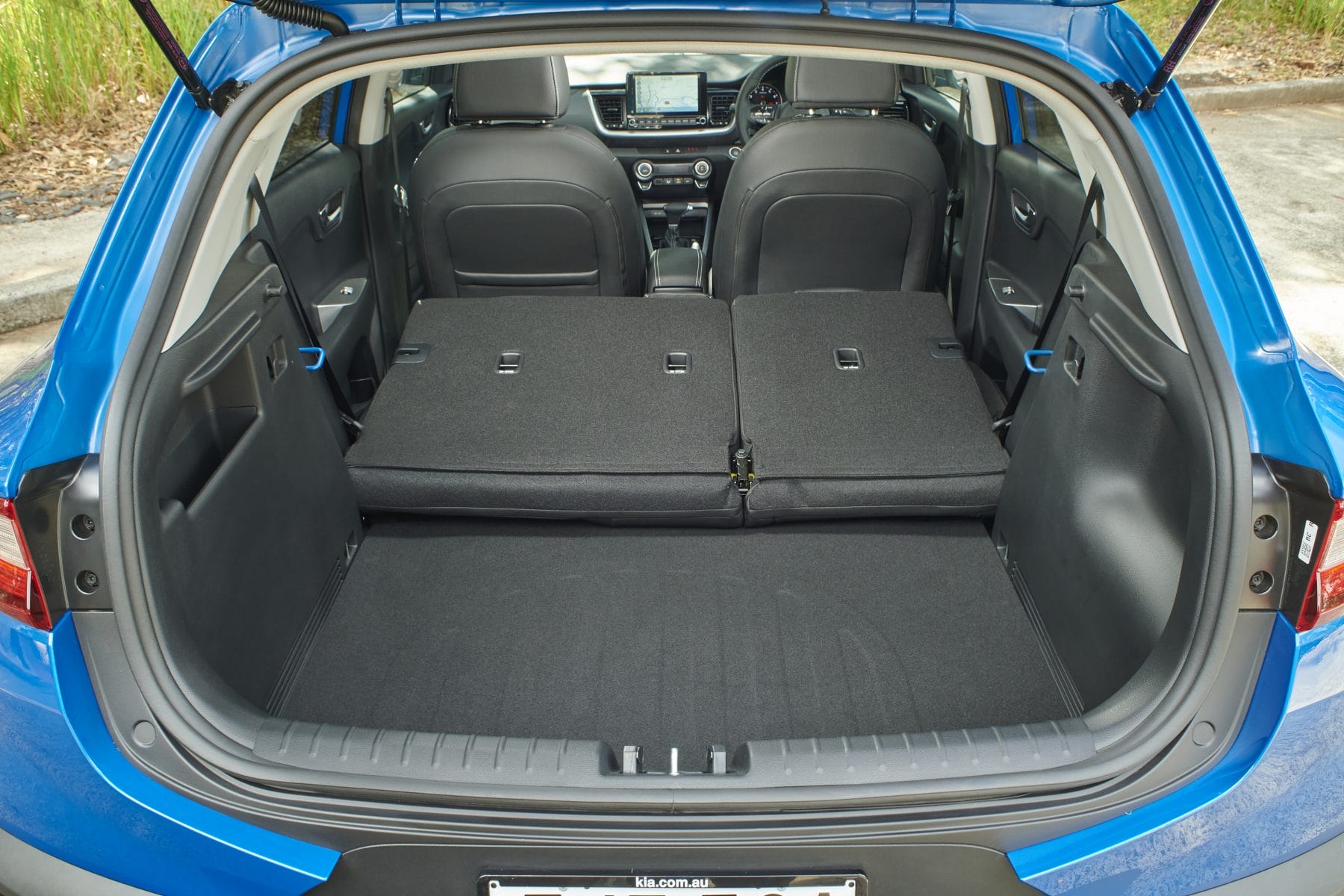 I like the cloth/leather seats with contrast piping on the sides and the seats themselves are comfortable and firm. Dunno if I'd like to spend a long time in the rear centre pew though.
Luggage space is compact but sufficient for a couple of large suitcases and soft luggage…. Expandable by folding the 60:40 rear seat backs.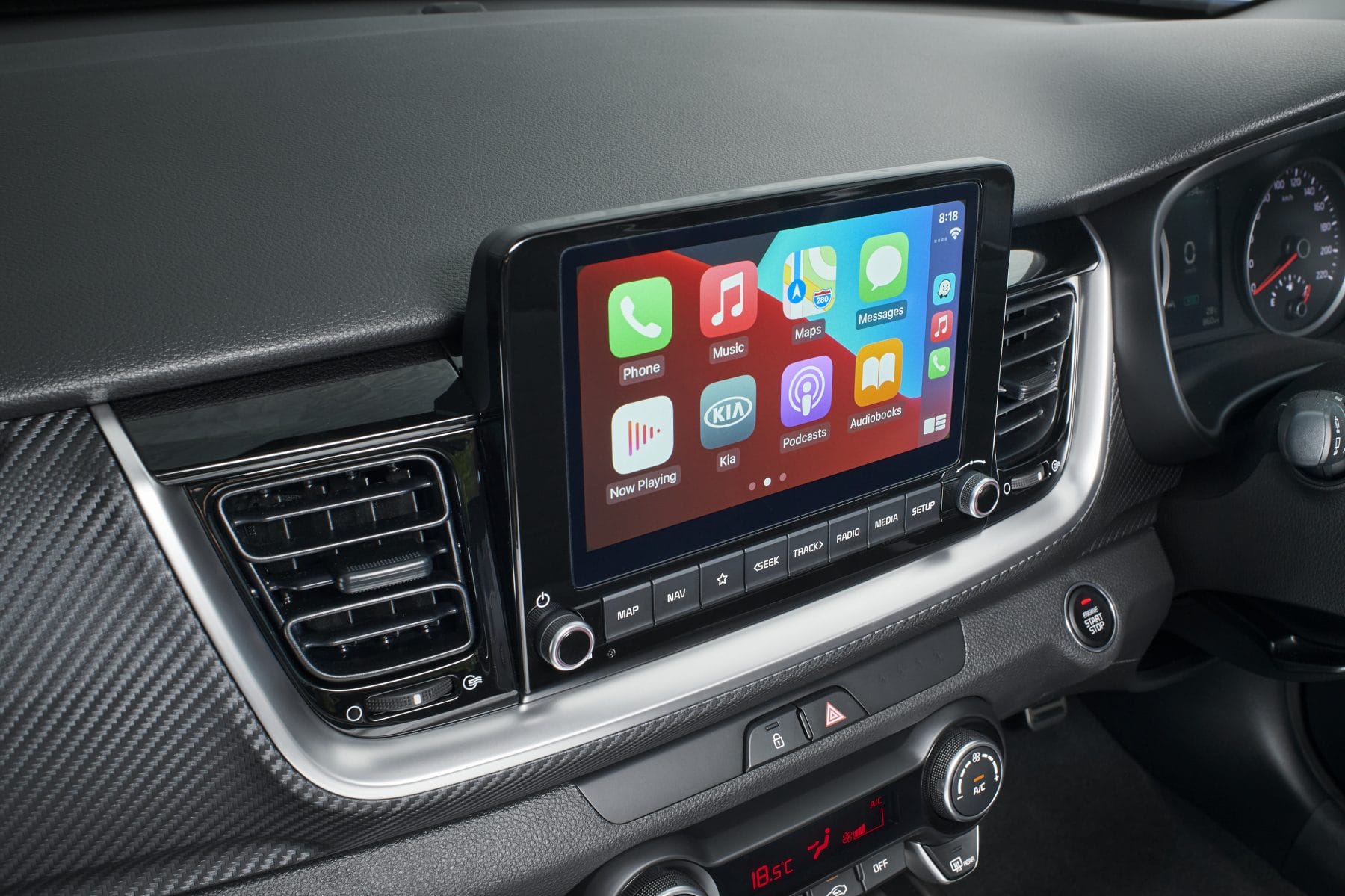 Features
Stonic GT-Line has plenty of goodies on offer of a safety and convenience nature such as;
8-inch multi-media touchscreen
6-speaker premium audio
Hardwired SUNA satnav
LED headlights
Climate control air
Hook-up for 2 phones
Runs on 91 octane petrol
Auto headlights and wipers
Cloth/leather upholstery

Drive and Engine
A surprising amount of performance comes out of the 1.0-litre three pot turbo petrol engine rated at 74kW and 172Nm. That's a similar power output to the larger naturally aspirated 4-cylinder also available in Stonic.
But the turbo three is more economical at 5.4-litres/100km and has more acceleration due to the availability of more engine torque at lower engine speeds. That would be the turbo for you.
You can hear a three pot warble at times but once up and running Stonic GT-Line is fairly quiet and well-mannered too due to locally calibrated dynamics… steering, suspension and sound deadening.
The drive feel is sporty (ish) but off the line it can be a little tardy before the turbo gets on full boost. Fast cornering, brake performance and ride quality (despite rudimentary torsion beam rear suspension) are all good for what is essentially, a plump little front wheel drive family wagon.
The fact that this model has a 7-speed dual clutch transmission is surprising given many of its competitors have gone down the cheaper and less driveable path of a slurring CVT.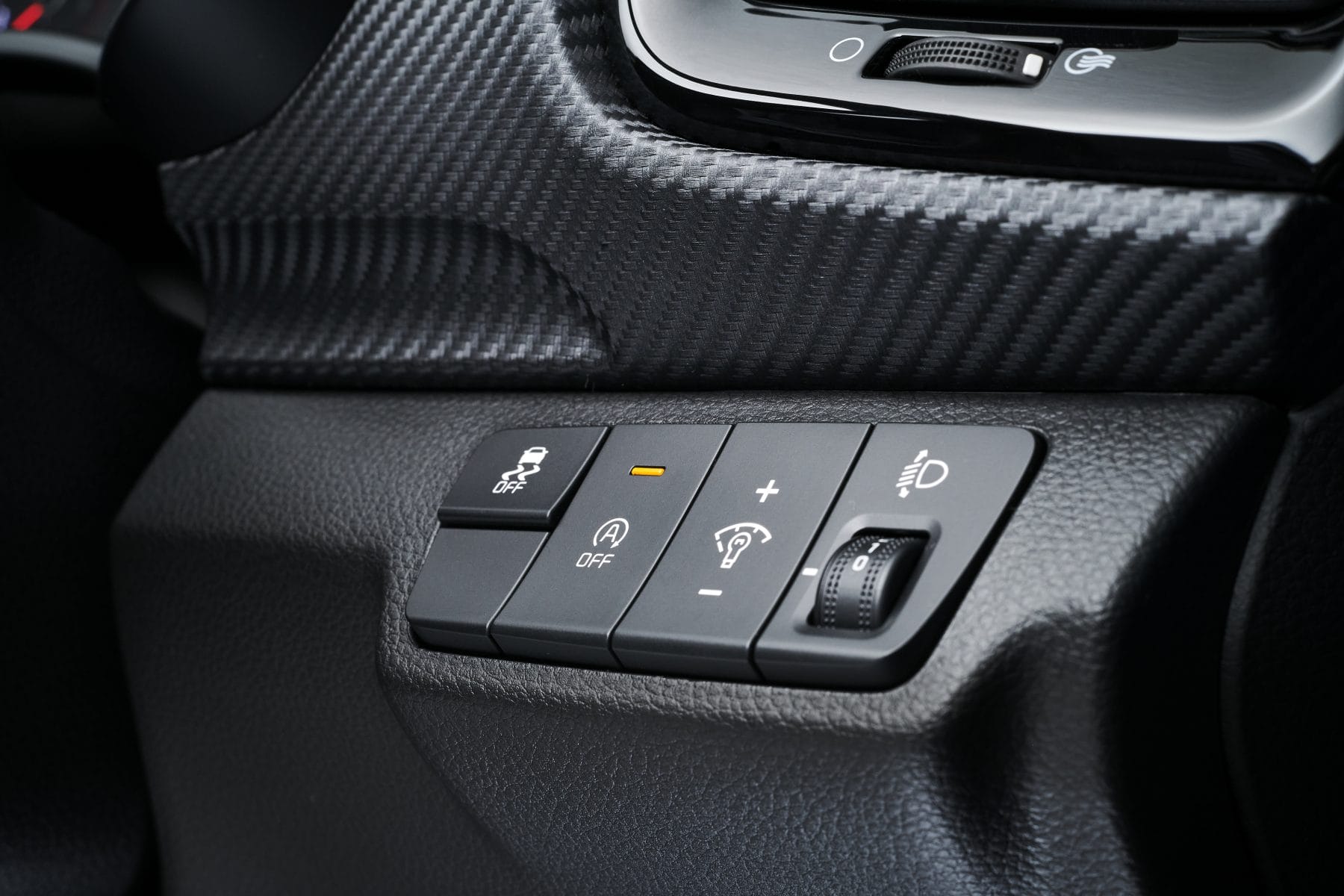 Safety
Stonic GT-Line is a five star car with a generous amount of active and passive safety kit along with plenty of driver assist tech, most of which I like apart from the intrusive active lane keeping assist. Luckily you can de-activate this silly system through drilling down into some of Stonic's menus.
They made it stronger than Rio with greater use of high strength steel in the chassis through the CAD (computer aided design) process.  Clever thing that….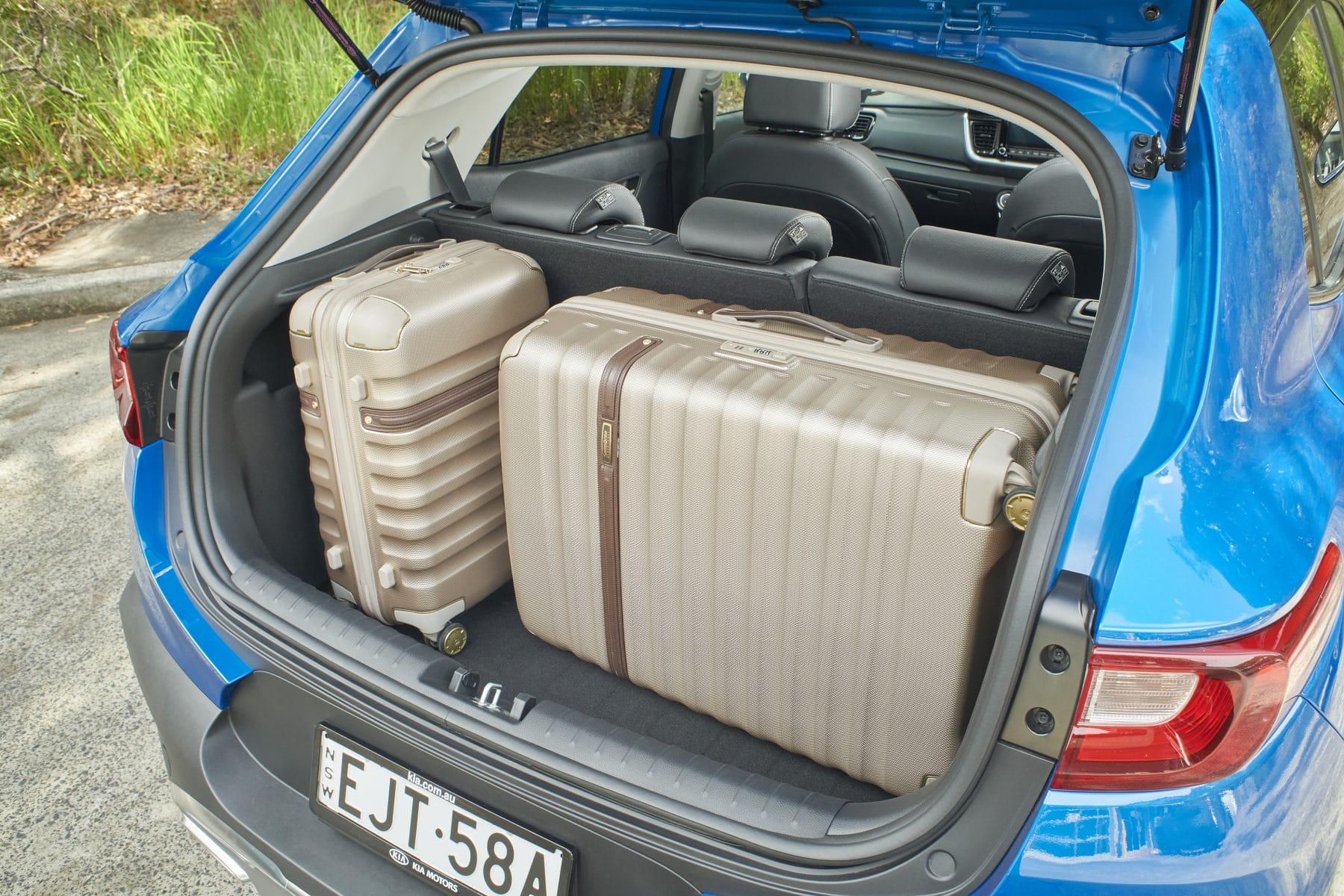 Good Bits
Good looking tiddler SUV
High safety level
Economical and punchy engine runs on 91 octane fuel
Not So Good Bits
Some lag off idle
Intrusive active lane keeping assist
Low roofline an issue for taller drivers/front seat passengers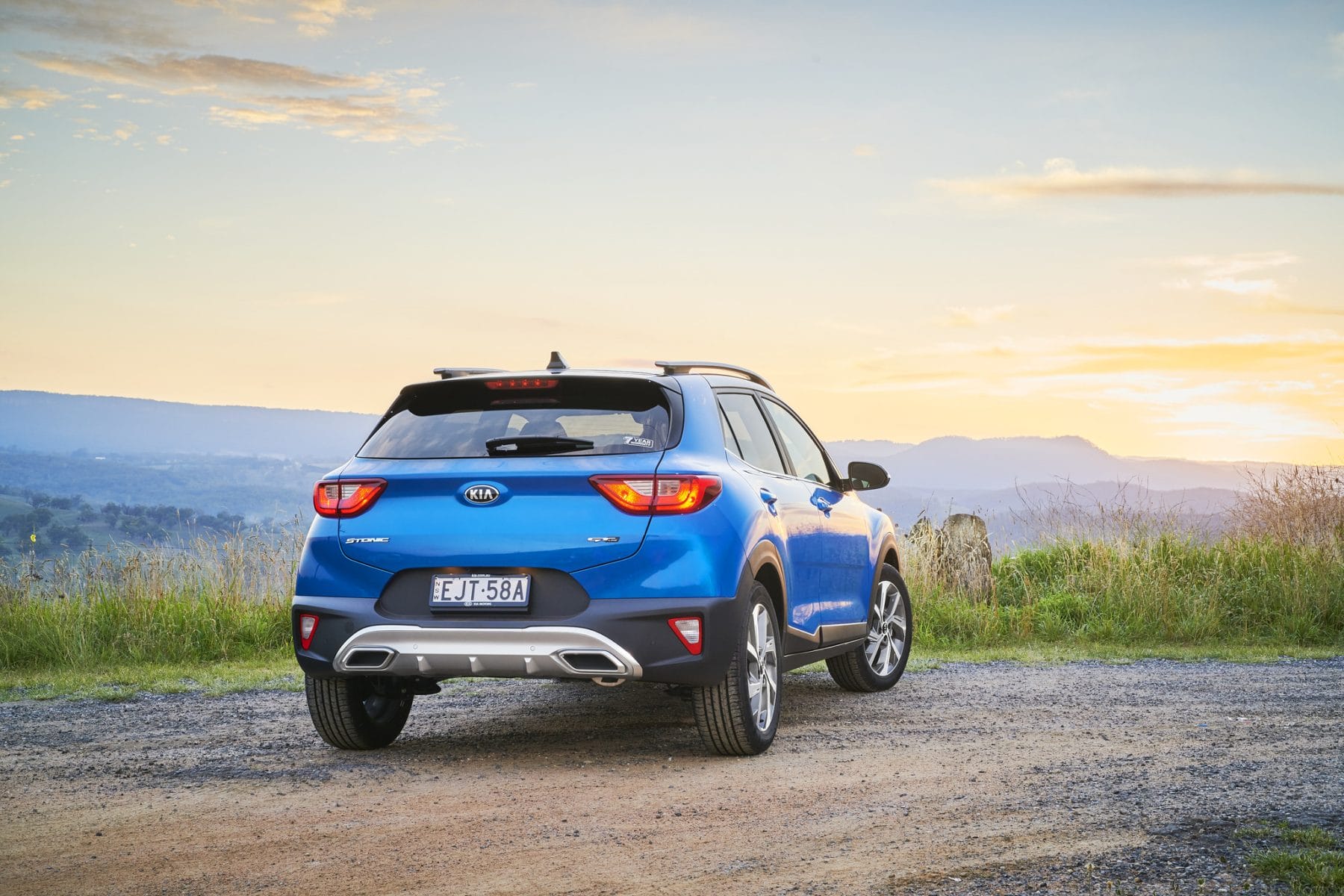 Summary
I like Stonic as it's at the front of the queue in small SUV styling terms. Better than a little hatch, more practical, 7 year warranty, runs on 91. Easy to park, affordable to own. New to Australia.
Facts and Figures: 2021 Kia Stonic GT-Line
Engine: 1.0, 3-cyl, turbo petrol producing 74kW/172Nm
Transmission: Select-speed sports automatic
Warranty: 7 years/ unlimited km
Safety: Five stars
Origin: South Korea
Price: from $29,990 MLP*
*MLP – Manufacturers List Price includes GST and LCT but excluding statutory charges, dealer costs and dealer delivery. See your dealer for RDAP. Does not include price of any options.
Overall Rating -

7/10
Summary
I like Stonic as it's at the front of the queue in small SUV styling terms. Better than a little hatch, more practical, 7 year warranty, runs on 91. Easy to park, affordable to own. New to Australia.