Kia Sorento GT-Line –  Sorento had humble commercial vehicle beginnings but the latest, fourth generation model, is something else altogether.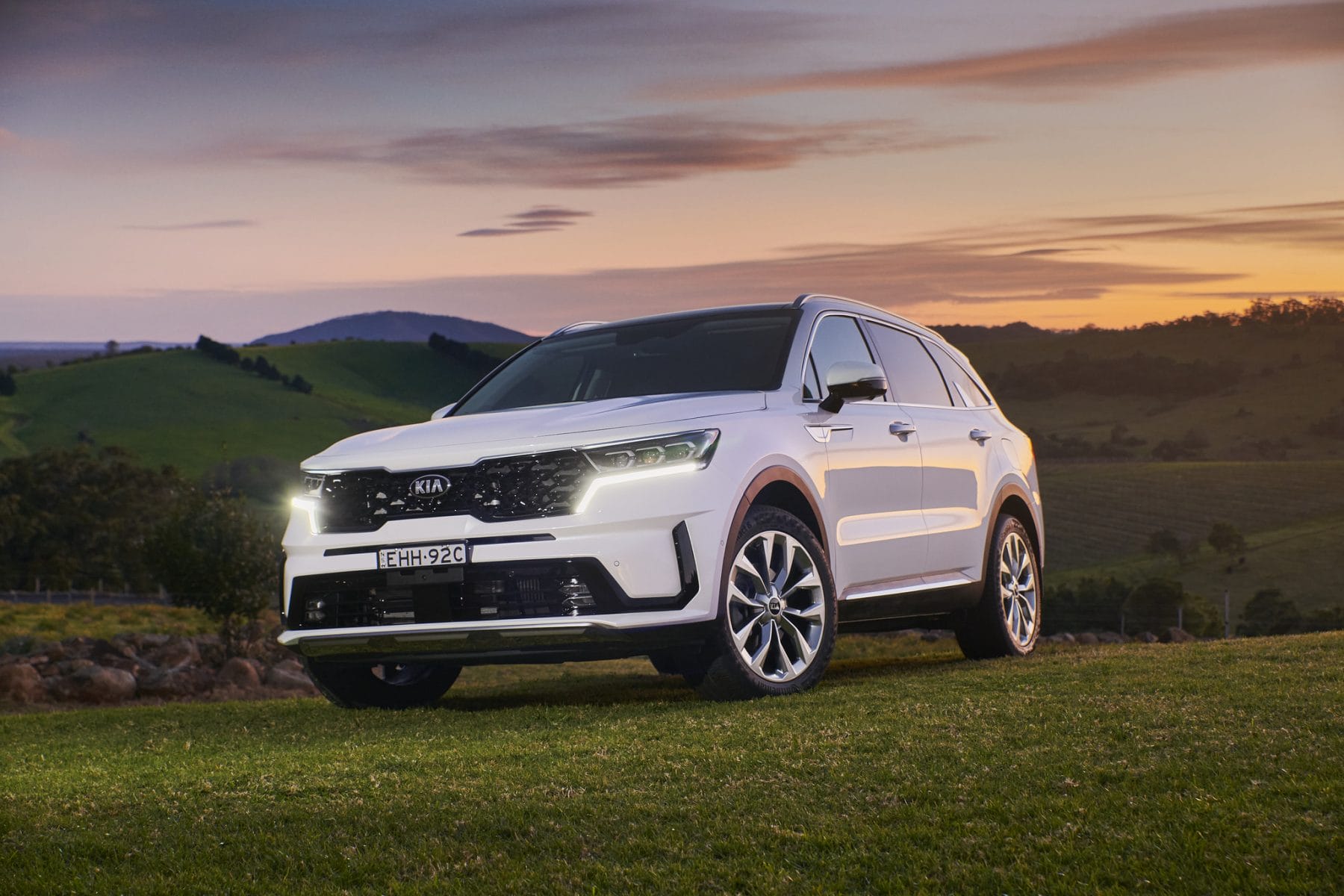 Not only does it look the part, Sorento could now be seen as a benchmark in the medium/large SUV segment regardless of the competition brand.
From a pragmatic point of view, a wise buyer would surely opt for the latest Sorento GT-Line tested ($64,040) over a similar size, more expensive, "premium" European….every day.
It's that good.
Disregarding badge "value", Sorento GT-Line buyers would be paying less and would certainly be getting a vehicle that looks as good and goes as well as the Audis, VWs, Mercs and BMWs of this world (like for like) while matching them for safety and luxury.
It's a completely new generation model built on a new chassis with a longer wheelbase and a new, all-alloy 2.2-litre turbo diesel engine. Drive is on-demand AWD with an 8-speed dual clutch "auto" smoothly swapping cogs.
Kia has come up with a vehicle that has the measure of the competition that is tech-rich with a raft of advanced driver assist technology and luxury features. Even the suspension sports a superior double wishbone rear system where others use lesser multi-link or even a rudimentary torsion beam.
Sorento has a full size spare too.
The angular styling is a stand out with only a small question mark over the tail lights. You get used to them.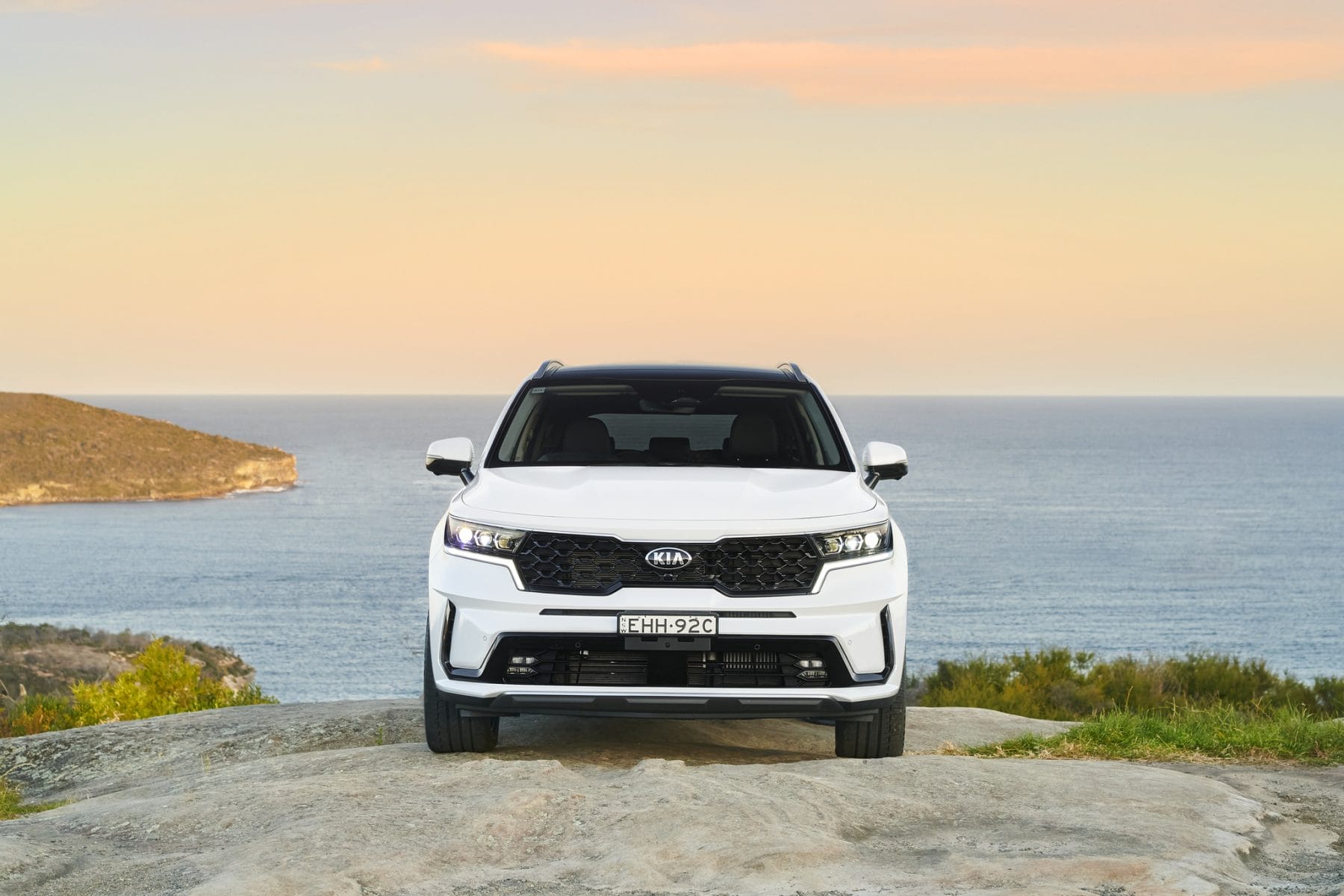 Sorento GT-Line Exterior
They did a great styling job on new Sorento with the GT-Line driven having an edge with 20-inch alloys and subtle body garnishes.
The front styling is in Kia's current family genre… scaled up with finely chiselled angles moving away from rounded, organic forms. The so called "tiger nose" grille is retained in a new iteration.
New Sorento has an individual appearance that differs from many other similar size SUVs that look cloned.
Square tail lights with a triangular leading edge set Sorento apart from the almost generic cat-eye shape. Below the tail lights is neatly executed right down to the bumper with incorporated dual wide spaced exhaust outlets. Like the angles recessed into the tail gate too.
The extra 35mm wheelbase allowed Kia to fit bigger doors to Sorento and in turn, give it more presence on the road. The platform is shared with Kia's new Carnival and will be on new gen' Hyundais no doubt.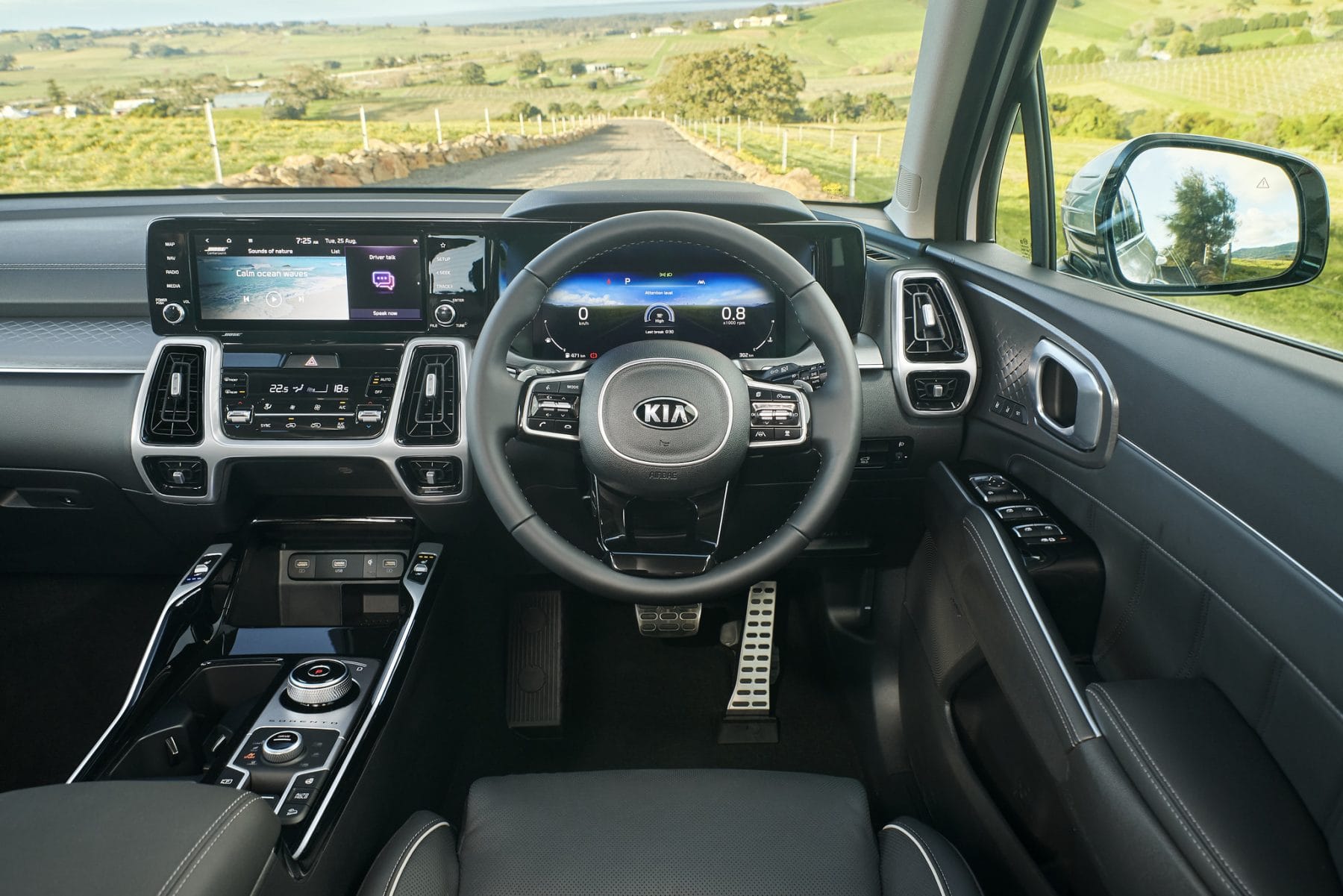 Sorento GT-Line Interior
Inside has an upmarket look with attractive and tactile materials complemented by soft Nappa leather upholstery together with subtle contrast piping to the seats as well as metal garnishes and fascia on the dash and doors.
The GT-Line has funky mood lighting highlighting certain areas and shapes while the tones inside the test car were dark grey together with silver metallic.
A large touchscreen controller resides in the middle of the flat dash that links with the digital instrument pod in front of the driver. This is where lane change view is projected when you turn on Sorento's indicators.
A large rotary dial provides drive select incorporating off road driving and the usual on road options- sport, eco and normal.
Gear selection is via a larger rotary dial in front of that on the centre console.
The thick steering wheel has multiple functions together with paddle shift and a large centre armrest sits between the two front seats.
Numerous storage options are provided in the well laid out cabin and seat operation in the second and third rows is simple including third row access. An aircon' outlet for rear seat passengers is isn't provided.
The additional leg room that came with that 35mm wheelbase increase gives Sorento plenty of room in all three rows.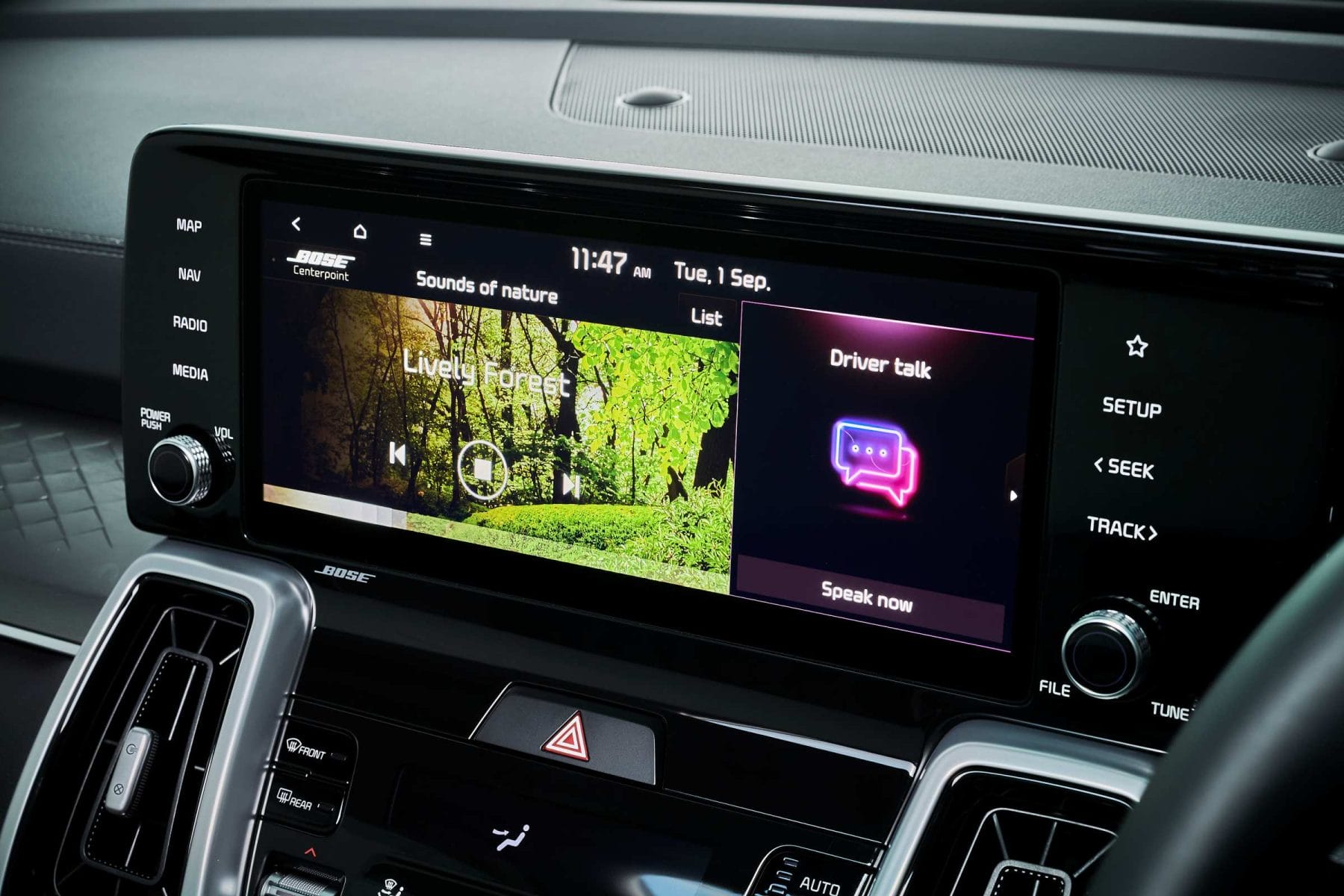 Features
As the top of the range model, Sorento GT-Line misses out on very little with;
Dual phone connectivity
Terrain mode/drive select
Mood lighting
Head-up display
Nappa leather upholstery
Bose premium audio
Power tailgate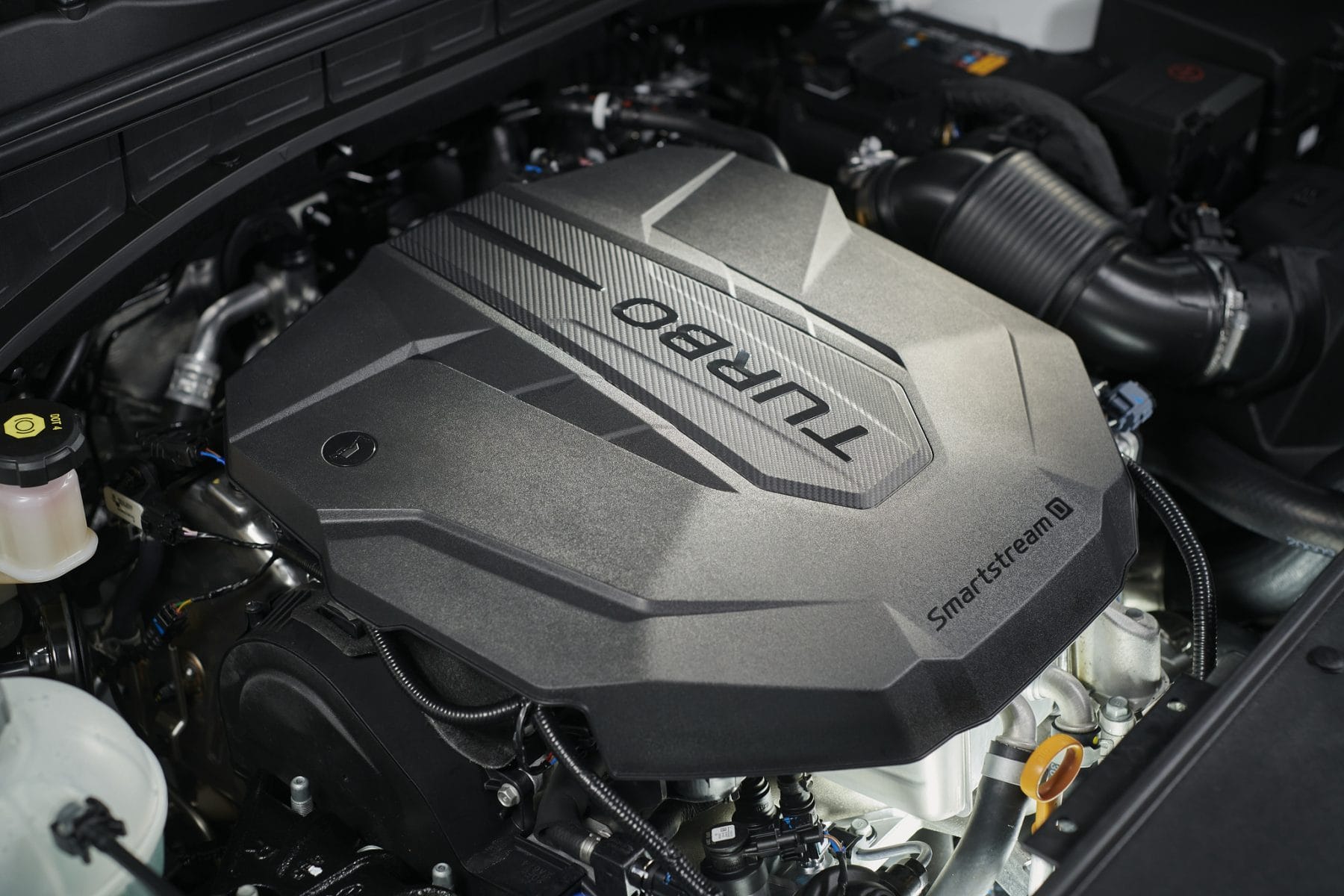 Sorento GT-Line Drive and Engine
It goes great with strong performance across the entire engine operating range that tapers off around 4000rpm. Smooth and quiet too. This is a new engine used in Hyundai/Kia premium luxury car models as well as Sorento.
It utilises a variable geometry turbo for instant throttle response and improved efficiency.
Rated at 148kW and 440Nm, there's plenty in reserve from the 2.2-litre turbo diesel for towing up to 2.0-tonnes.
On test we saw fuel consumption drop under the 6.0 mark on the highway and got close to the claimed 6.1-litres/100km combined mark claimed for Sorento.
The ride is comfy and controlled but is more towards the comfort side of the ledger that sporty.
It's a family wagon after all.
That double wishbone rear suspension soaks up bumps and keeps the 1908kg SUV tracking straight even on rough corners when heavily loaded.
It's an easy vehicle to drive offering good visibility and plenty of handy driving aids like the reverse park collision avoidance. Should be good for plenty of parking challenged punters.
Sorento is bigger than you think and occupies plenty of road and parking space.
Access all round is facilitated by various seat folding devices, even in the third row that easily folds to form a large load space.
We took Sorento on a long trip and arrived relaxed and stress free. Didn't cost much in fuel either.
We weren't able to tow anything with it but suggest Sorento would go OK with 2.0-tones on the back considering available torque and that 8-speed auto keeping the engine on the boil.
Safety
Five stars all the way augmented this time around with extra advanced driver assist features like blind spot view monitor, lane follow assist and reverse parking collision avoidance together with the usual stuff like AEB armed with pedestrian and cyclist recognition, blind spot monitor, lane keeping assist and all the rest of it.
This new model has a chassis/body comprising aluminium and high strength steel for gains in strength over the previous model.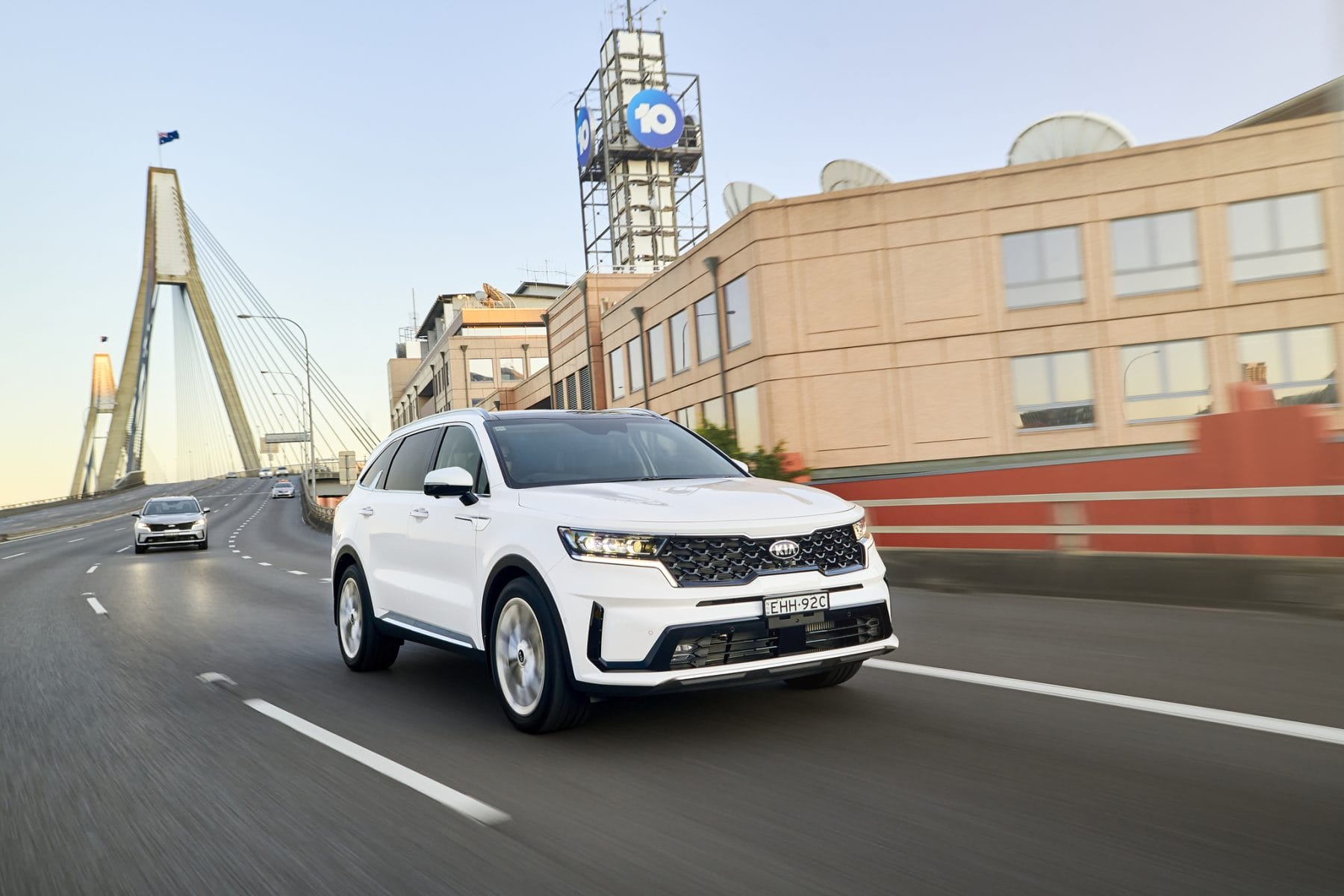 Good Bits
Punchy, economical engine
Feature rich
Styling
Not So Good Bits
Lacks third row aircon' vent
Some intrusive advanced driver assist tech
4WD lock-up would be handy
Summary
What's not to like?
Kia Sorento looks the part, goes great, is safe and has generous amount of kit. The new engine delivers surprising fuel economy especially with the new 8-speed dual clutch auto controlling drive. Then there's the 7 year unlimited km warranty and full size spare. Very little to criticise here…
Also Look At

Facts and Figures: 2021 Kia Sorento GT-Line
Engine: 2.2L four-cylinder turbo diesel producing 148kW/440Nm
Transmission: Eight-speed sports automatic
Warranty: 7/ unlimited km
Safety: Five stars
Origin: South Korea
Price: from $64,040. MLP*
*MLP – Manufacturers List Price includes GST and LCT but excluding statutory charges, dealer costs and dealer delivery. See your dealer for RDAP. Does not include price of any options.
Summary
What's not to like?
Kia Sorento looks the part, goes great, is safe and has generous amount of kit. The new engine delivers surprising fuel economy especially with the new 8-speed dual clutch auto controlling drive. Then there's the 7 year unlimited km warranty and full size spare. Very little to criticise here…