Hyundai IONIQ 5 – There a ton of power, with rear or AWD. IONIQ 5 is built on the E-GMP platform, and allows the exterior design to reflect the compact nature of electric motoring.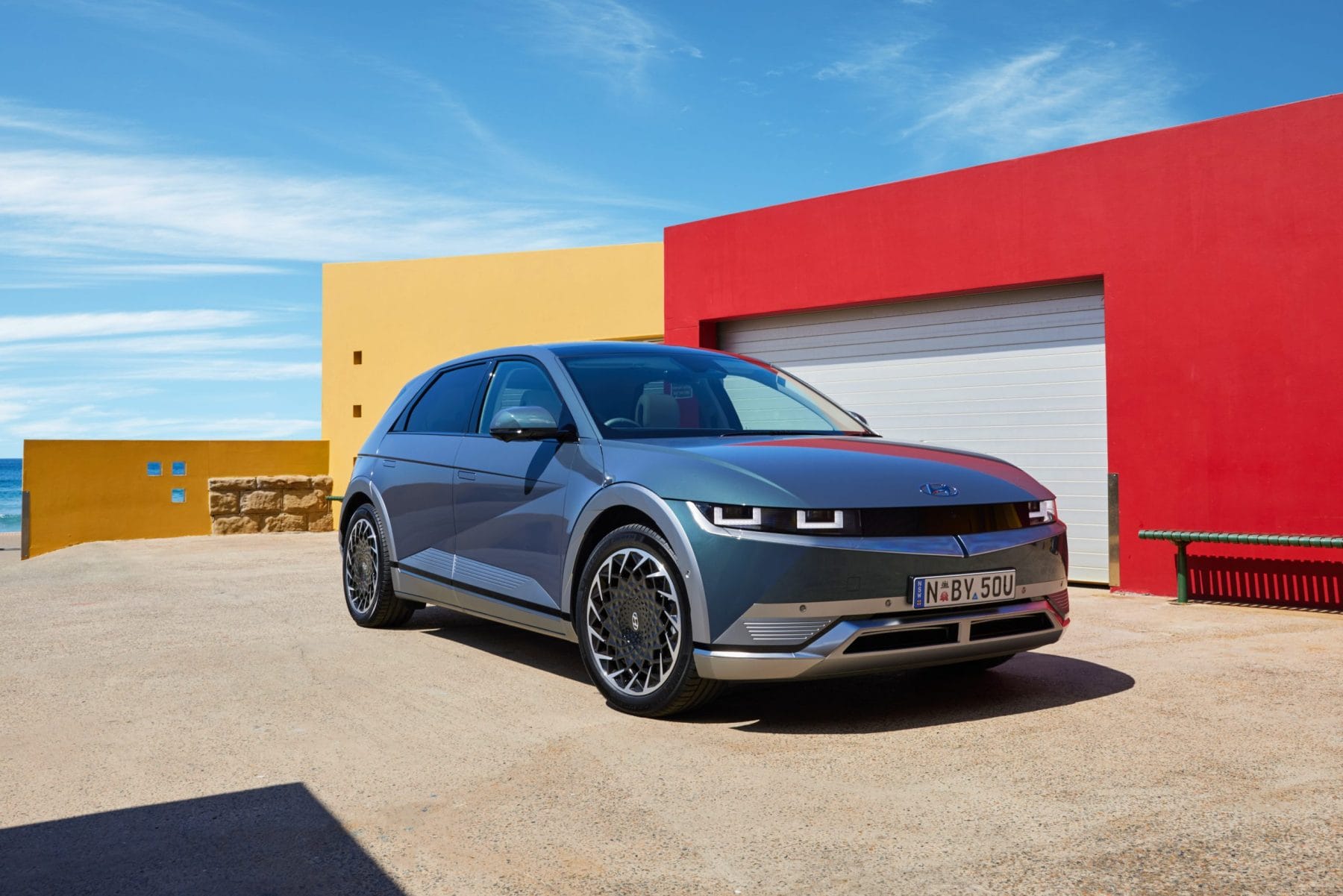 The long wheelbase and short overhangs give cabin a TARDIS-like feeling. 72.6Kwh of batteries forms a flat interior floor on which the furniture can be rearranged at will.
The front end is punctuated by pixelated LED lights, and the bumper has a hidden array that only comes on at night.
The first 240 were lassoed by lucky lads and lassies in only 2 hours. Buyers late off the mark will have to wait until next year.

IONIQ 5 Cabin:
The cabin is calm and clean, and extremely well designed.
Everything has a purpose, and materials are recycled, or able to be recycled. Even the hides tanned  in an "eco-friendly". To compliment the white leather, is a white linen-look fabric looks like something from a modern club. The paint is eco friendly, and many of the processes have been made friendlier to the environment.
Both rows of seats are electric, there is a flat floor and sliding centre console, so passengers can to either to the either side to alight.
The full array of Hyundai assistance extends to the usual safety and driver aids, as well as fully automated parking. In driverless mode, you get out of the car and press the parking button. The car then moves into the parking bay you've selected.
Those driver and safety aids are crucial to a 5-Star rating. What's more, the tech is easy to use. It doesn't need big hugs every time you need it.
Compared to Tesla, the Hyundai IONIQ 5 cabin feels lighter, and more spacious, and unlike Tesla, there is Apple CarPlay/Android Auto.
This is a car that acknowledges passengers are as important as the driver. All seats are heated and electrically adjusted, and the front seats add cooling as well. Finally, as well as 2 memory slots for the driver, there are 3 memories controlling all 5 seats. You can relax while you charge, by raising the ottoman on either or both of the front seats, turning them in to 1st-class lie-flat beds.
It is all white and relaxing.
| | |
| --- | --- |
| Exterior Dimensions | |
| Length | 4635 mm |
| Width | 1890 mm |
| Height | 1605 mm |
| Wheelbase | 3000 mm |
| Min. ground clearance | 160 mm |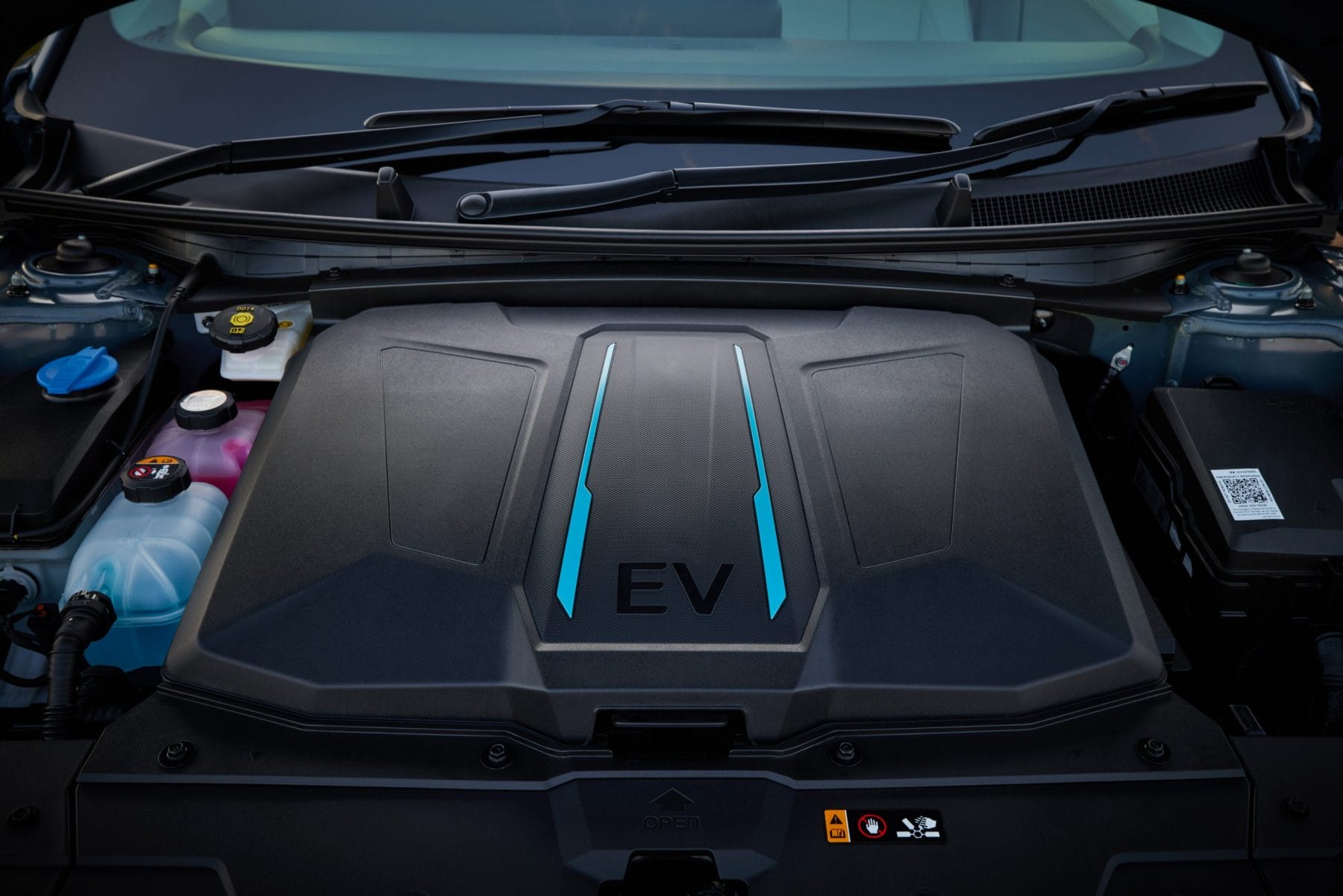 Charging:
Charging is something that we all should consider.
Our local shopping centre has many chargers, both free and paid. There are free 15w chargers, a 22w Tesla destination chargers, and some newly installed Chargefox 50w and 350w chargers.
It was easy enough to set up my Chargefox account. It needed only a couple of minutes putting in my first and last name, and credit card.
For an hour I following the instructions.
I went from charger to glove box and back again. My patience evaporated with each trip.  After a dozen times trying to start charging, I rang Chargefox helpdesk.
I was eager to test out my "World first patented ultra-fast 400V and 800V multi-charging technology," and all I was getting was grief.
After a short wait, the agent put me on hold. After a short wait, the agent told me someone else had difficulty with an IONIQ 5. "Thanks for that," I said. He then declared the problem was that the IONIQ 5 could not take a fast charge. "Cobblers," I uttered. I informed him that I have my "World first patented ultra-fast 400V and 800V multi-charging technology" on board, and this very car had charged happily at other fast chargers.
I then called Hyundai.
It transpired that after much ado, the Hyundai people found that if you held the charger firmly into the car's socket while starting the app with the other hand, the magnetic lock would then grip properly and charging will begin.
I did that, and it worked.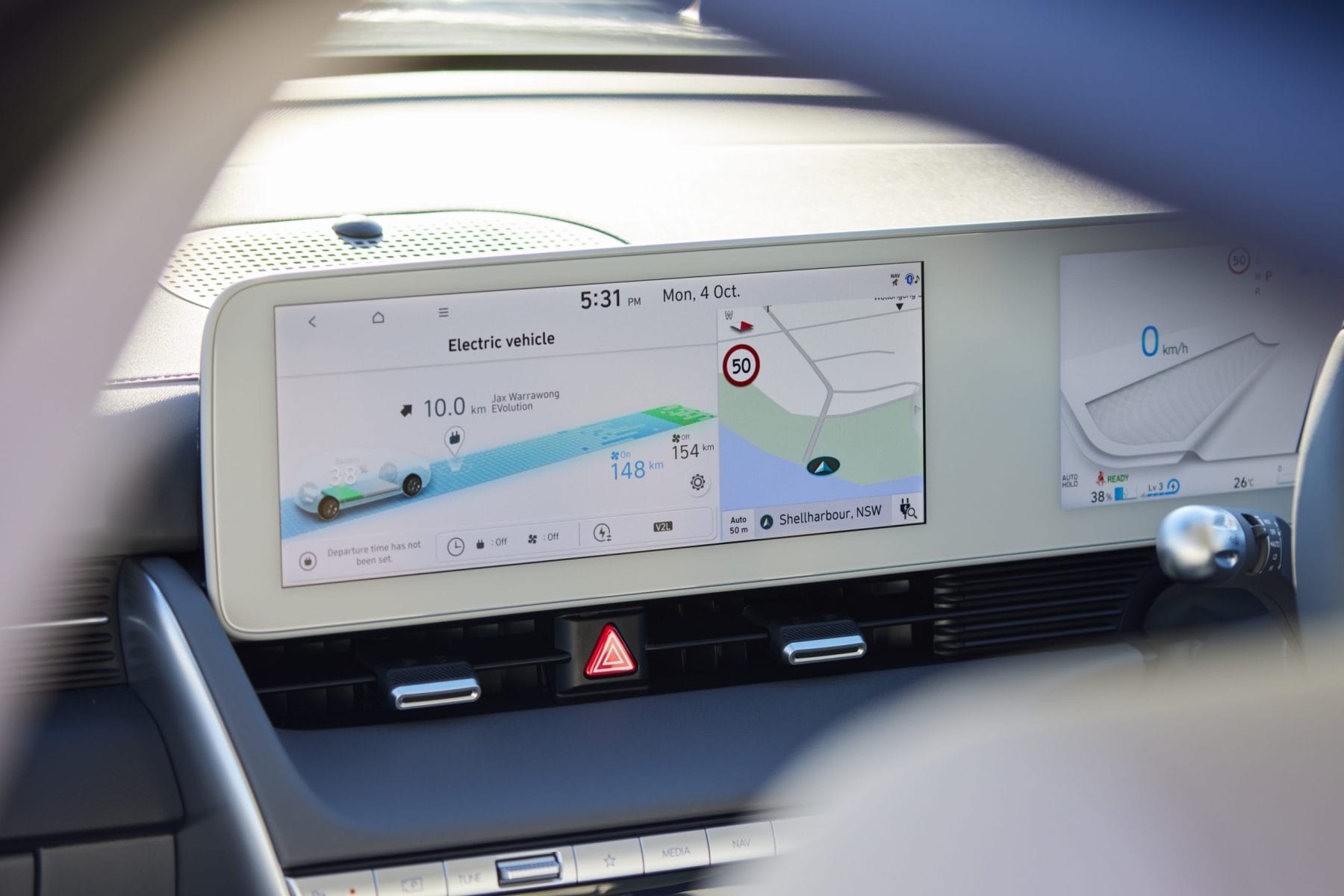 IONIQ 5 Drive
The charge rang up around 450 CO2-free kilometres. All Chargefox stations use power created with green power only.
Before you set off, there are buttons to get the chair where you want it. They are firm but extremely cosy.
A quick press of the "ON" button, brings the dash to life. The crystal clear 12" infotainment screen also fettles car settings. It works smoothly first time every time, and if you can work an iPhone, the IONIQ 5 is easy, with every menu making perfect sense.
In front of the driver is a second 12" screen in the same bleached-white theme. It the light and bright theme makes the cabin feel even more spacious and calming.
A column mounted gear stalk keeps the console free of clutter. Once on the move, activating i-peddle means the brake is rarely needed. Our rear-wheel-drive version had 160kw and 350Nm, which is more than enough get the Hundai up to highway speed in 7.4 seconds.
The ride is smooth, though tight mountain bends soon showcase the heft in the batteries. What feels light on the highway, suddenly gets heavy, fast. You feel it moving under you, and even thought the centre of gravity is low, you can't work miracles with hundreds of kilos trying to pull you sideways.
Active steering is used by the Lane Keep Assist, Lane Trace Assist, and the remote parking assistant. The latter will park the car for you after you get ou, as previously mentioned. It goes without saying the accident prevention system will try to avoid a crash, or brake heavily if something unfortunate is imminent.
IONIQ 5 has everything a large petrol or diesel SUV has, and more. Most SUVs aren't used to off-roading anyway.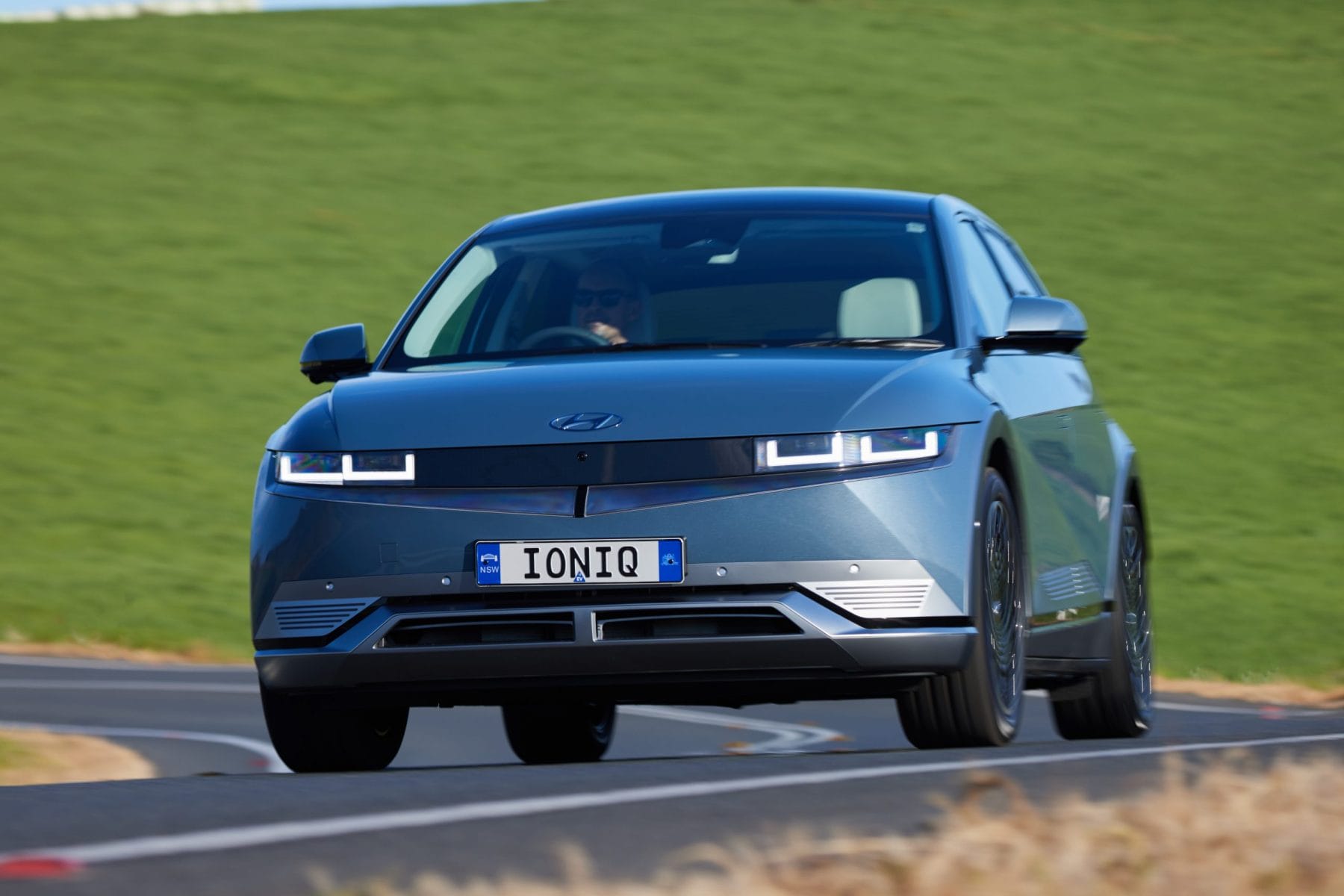 Conclusion:
There is way too much about IONIQ 5 to mention here.
The exterior design is instantly recognisable, the cabin lives up to the claim of being truly beautiful, while being both comfortable and practical. There are clever gizmos, a great 5 year warranty, 12 month servicing at only $220 each ($804 for the 48mnth/60,000km service), and an excellent build quality. Hyundai and Genesis frequently top the JD Power surveys.
It trumps Tesla in every way possible.
Some quick facts
Price: $71,900 RWD, $75,900 AWD MLP*
Motor: Electric with 1 Reduction gear Transmission
Power: 160kw/350Nm (RWD), 225kw/605Nm (AWD)
Drivetrain: Rear Wheel Drive or AWD
*MLP Includes GST and LCT but excluding statutory charges, dealer costs and dealer delivery. See your dealer for RDAP. Does not include price of options. Some features mentioned in the article are options.