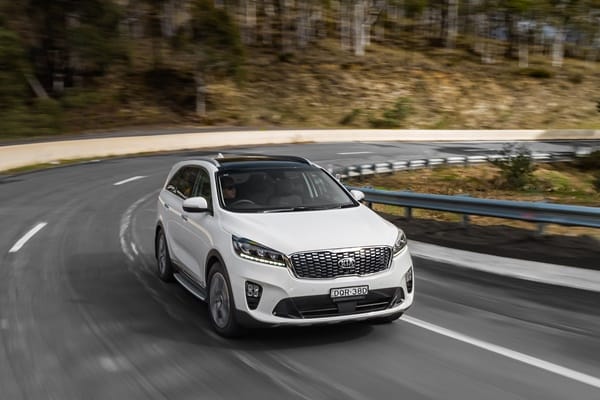 Kia has gone to great lengths a few years ago, to design what was, by the measure of all the awards it won, a well-designed successful vehicle. There was nothing wrong with the model at all really. Yet they deemed it worthwhile to make more improvements.
That was the reason we found ourselves whisked away to the beautiful Blue Mountains for the launch of the latest update of the Sorento. Kia has called it a significant product enhancement. There are 2WD and AWD versions.
They focused on four key areas
• Safety
• Driveability
• Comfort and Convenience
• Design and Styling
To show how in tune with their market, a lot of what has been enhanced has come directly from feedback from customers and some is what they felt needed to be improved themselves.
Key changes include
• Addition of Kia's in-house eight-speed automatic across the range,
• a new larger capacity long-stroke petrol engine, which to be honest is neither her or there
• a higher and longer body for increased internal space, which is noticeable, especially in the rear half of the vehicle
• revised and improved ride and handling characteristics to even better suit Australian conditions,
• Some exterior streamlining and changes to LED lights
• Revised and tuned suspension to improve handling and noise reduction
• a new 8 inch multi-media cluster incorporating Apple CarPlay and Android Auto,
• Improved Harmon Kardon sound system on some models
• Improved safety features including: AEB across the range, Lane Keeping Assist, Driver Attention Alert, a 360-degree camera on GT-Line and advanced cruise control for all grades.
Let's have a look at a couple of what I think the key improvements are.
The Kia Sorento is bloody good!
Kia tells us that the majority of fleet sales is in the Si or Sport range and the private sales is skewed towards the SLi and GT Line and 70 % diesel. That makes sense. If I was looking to buy I would buy the GT Line in diesel! It only comes in diesel.
Given the Kia's main competition is the Mazda CX-9, Toyota Kluger, Hyundai Santa Fe and the rest of the also rans,  Kia should be justifiably proud of its product and how it compares. .  We will be running more in depth reviews over the next few months so please keep an eye out for them.
Have a look at what some of our other writers have said about the upgrade Alan Zurvas reviews the Kia HERE  and David Brown reviews the Kia and talks about the history of the Blue Mountains HERE
All Kia's come with their outstanding full factory 7-year warranty, 7-year capped price servicing and 7-year roadside assist.
Pricing for the petrol variants is:
• Si $42,990 (+$2000);
• Sport $44,990 (previously Si Limited +$1000);
• SLi $46,990 (+$1000).
Diesel pricing is:
• Si $45,490 (+$1000);
• Sport $48,490 (previously Si Limited +$1000);
• SLi $50,490 (+$1000);
• Platinum discontinued; GT-Line $58,990 (+$500).