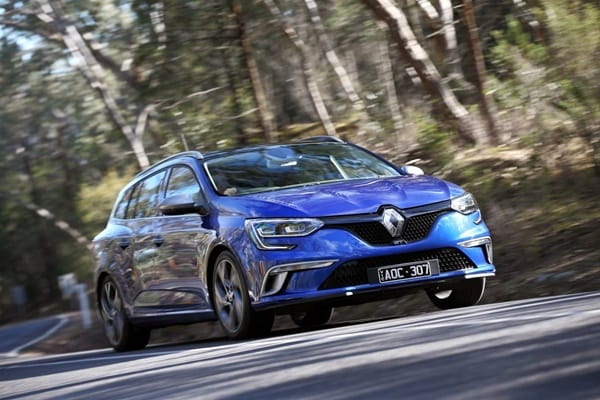 What an absolute peach the Renault Megane GT hatch is. The Renault brings some interesting technology along with an engaging ride. Renault Megane GT was a surprise.
From time to time, I get swept away in a wave of enthusiastic fervor, especially when the hot-hatching.  Megane is deserving of every ounce enthusiasm.
Most small cars are not in the least bit engaging, but Megane GT does it in spades.
The Drive:
Wow, what a treat
The drive is a revelation. The steering is sharp without being tetchy. And here is the cheeky hatch's party trick: it steers all four wheels. Yes folks, it has 4-wheel-steer.
Although only the front wheels are driven, and so has a little torque-steer, all 4 wheels get you around corners.
4 Wheel Steering is brilliant.
At low speed, the front wheels turn in the opposite direction to the rear. At high speeds, the rear wheels turn slightly in the same direction as the front wheels. It sounds complex, and it is.
See our video for details.

The engine is as sweet as a nut. It spins happily with no nasty vibration. The 7 DCT auto is one of those fancy-schmancy double clutch jobs. A microscopic graphic on the drivers centre dial tells you what gear you're in, but it wouldn't kill Renault to make it a bit bigger
The DCT/engine combo is super-silky. 151kw isn't neck snapping by any means, but the performance feels brisk. It has Launch Control, but is it really with it. With 151kw, I wouldn't have thought so
Megane GT isn't about warp speed. It isn't about being a brutish thug, so there is no chest thumping, or getting all shouty-pants.
Conclusion:
I like the looks, and the ride, and the handling. The price isn't too bad, at $39,100 either. Renault have a special promotion with free on-roads.
Our test car had the high end Bose sound system, and a lighting package which includes those sparkly LED headlights.
The GT has many moods. Bright and frisky, gentle and soothing, and, frantic and urgent, but all are dispatched with equal alacrity.
The sub 40k market is chockers with offerings. Some are fab, and others are like spending a long stint in purgatory.
This one however, is an absolute pearler.
Would I buy one? Yes.