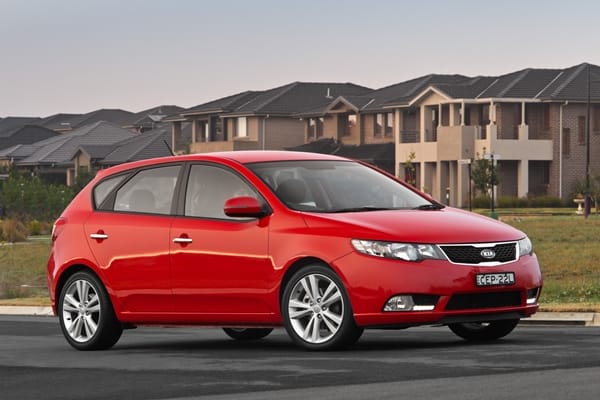 Kia has finally launched its ever popular hatch version of the Kia Cerato. The Kia Cerato Hatch , released some time after the sedan last year, has accounted for up to 70% of sales since 2010. In addition the stylish Koup is due for launch later this year.
Head of design Peter Schreyer has given the new Cerato a brush with the magic styling wand. Sporting a sleeker profile, the all-new Cerato hatch is longer, lower and wider than the current car, with an extended wheelbase. It features an all-new re-engineered bodyshell structure and will also boast improved quality, upgraded equipment with a host of additional convenience and safety features, a more spacious cabin with enhanced quality, improved refinement and an upgraded powertrain line-up that delivers outstanding fuel economy.
"The new Cerato sedan has been warmly welcomed by Australia's small car shoppers and with the arrival of the hatch we are genuinely excited for the immediate future," said Kia Motors Australia Chief Operating Officer, Tony Barlow.
"That excitement will only be amplified with the arrival of the Koup _ the first Kia model in Australia to offer turbo boosted power."
The original Kia Cerato focused on quality and price, and recorded global sales of 1.23 million units. The second-generation vehicle introduced in 2008, majored on design, quality and value. It has achieved more than 1.21 million sales around the world so far.
"We have raised our game yet again with the all-new Cerato sedan, and _ particularly with the addition of the hatch _ the new range has added emotional appeal to its established core values of design, quality and value," Mr Barlow said. "This all-new model will boost our competitiveness in the small passenger car segment, the largest and most competitive segment in our market. Second generation Cerato finished 2012 as one of the best, major manufacturer performers in its segment in terms of year to date sales, with close to 40% growth compared to 2011."
Kia Motors' global Executive Vice-President and COO, Thomas Oh, said: "It is very promising to see robust growth for the Kia brand continue in the Australian market. This is a positive sign for further momentum, especially with the launch of our 5-door Cerato there, which has been a hit with its sporty performance and European hatchback styling in other key markets amongst automotive enthusiasts and customers alike."
The result of 42 months design, engineering and development work and an investment of more than 300 billion Korean Won ($256 million), the third-generation Cerato models will be manufactured at Kia's Hwasung facility in Korea.
All-new Cerato is created to appeal to current Cerato owners and to the increasing numbers of customers down-sizing their cars who still desire a spacious and generously equipped vehicle.
2. STYLING & DESIGN
The all-new 'look' of the Cerato hatch was created at Kia's Seoul design centre under the direction of Kia's Chief Design Officer, Peter Schreyer.
The new Cerato hatch takes its stylish European lines with wider, lower stance and distinctive eye-catching concave door contours.
The addition of front and rear quarter glass panels enhances the car's sense of spaciousness and improves visibility by eliminating blind spots.
The Kia badge is moved from the grille to the panel in front of the shortened bonnet. At the rear, the tight rear hatch and rear combination lamps reinforce the Cerato's wide stance while the roof-mounted spoiler is another nod to a sportier mindset.
Compared with its second-generation predecessor, new Cerato hatch is 10 mm longer (4350 mm), 10 mm lower (1450 mm) and 5 mm wider (1780 mm). The wheelbase has been extended by 50 mm (to 2700 mm) and is now the same as Kia's Sorento SUV. The wheelbase of the second-generation Cerato was 40 mm greater than the original model, so over time Kia's compact car has become a significantly larger and much more accommodating model.
The new Cerato hatch is manufactured in a range of 10 exterior colours. Standard factory finishes for new Cerato include Clear White, Racing Red and Abyss Blue (standard), plus Snow White Pearl, Aurora Black, Bright Silver, Metal Stream, Golden Beat, Temptation Red, and Planet Blue (premium).
3. COMFORT & CONVENIENCE
Extra space, extra quality and new high-tech features
All-new Cerato hatch will be offered in three trim/equipment levels – S, Si and SLi providing buyers the broadest opportunity to tailor their new car to best suit their lifestyle and budget.
Although new Cerato is lower, its ability to provide generous accommodation for people and cargo has been enhanced. Because the cabin floor is lower and the seat 'hip-points' have been lowered, passengers will find increased headroom (12 mm in the front and 10 mm in the rear) and legroom (13 mm in the front), while shoulder room is improved by 9 mm (front) and 5 mm (rear).
Driver comfort has been enhanced by fitting an organ-type accelerator pedal which more closely follows the natural movement of the user's foot, while the steering wheel features 'tilt & telescopic' adjustment over a 40 mm range.
Both front seat occupants will enjoy the wider seat cushions (now 322 mm) and increased cushion angle (up from 15.2 to 16.2 degrees) with the front raised to increase thigh support. The heating and ventilation system has been upgraded to deliver more heating capacity and greater cooling power.
The interior design of new Cerato concentrates on sportiness and adopts nature's ebbs and flows as a motif.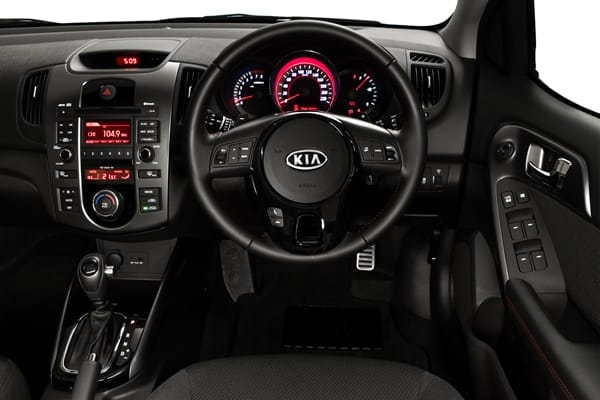 The driver-focused cockpit places all the major and minor controls within easy-to-operate reach, while the sweeping curve of the centre stack (from behind the instrument cluster around and down to the centre console) creates a voluminous feeling while combining state-of-the-art IT imagery. The sweeping appearance is re-enforced by carbon-look trim on the vertical band each side of the stack that incorporates the adjustable air vents (Si and SLi models).
For enhanced elegance, soft-touch materials are applied to the upper front door trims, dashboard and door centre trim panels (Si and SLi models).
Depending on model, the Cerato driver will be faced by one of two different types of instrument cluster – each based on two large, chrome-edged, dials and a bridging centre information panel layout.
The dot-matrix LCD cluster (standard on S and Si) offers a broad range of information through its centre panel display. While buyers of the SLi can experience the TFT colour LCD cluster. This features a new and more ergonomically designed GUI (graphics user interface) with a 4.2-inch centre screen and high-intensity white lighting.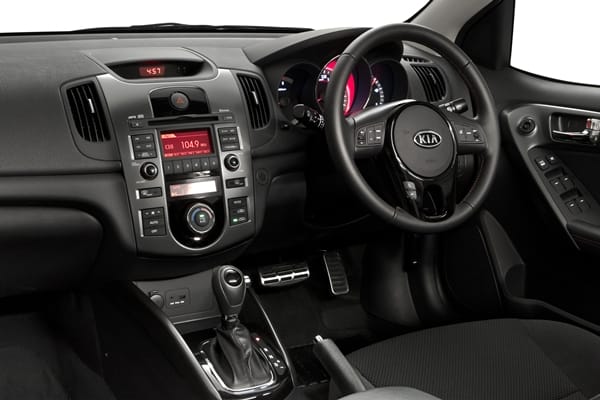 Even the 'entry-level' S model is generously equipped with projection-style headlamps and escort lighting, electric front & rear windows, keyless entry with burglar alarm, cruise control, power steering, trip computer with external temperature display, chrome exhaust pipe tips, a USB / iPod compatible radio/CD player with six speakers and Bluetooth hands-free and front corner and rear parking sensors.
Si models add 16-inch alloy wheels, chrome exterior highlights (belt-line and exterior door handles) electric folding exterior mirrors, auto light control, adjustable rear seat air vents, a 4.3-inch touch-screen audio system with LCD display, push button start and smart key and a rear view reversing camera.
The range topping SLi models gain 17-inch alloy wheels, leather trim seats with front heated seats and a 8-way powered plus lumbar support and ventilated driver's seat, LED daytime running lights and HID headlamps, LED rear light clusters and high-level brake light, paddle shifters on the AT model, dual-zone climate control with automatic windscreen de-fogging and Clean Air, powered glass tilt-and-slide sunroof, TFT LCD cluster display and a cooling glove box.
The Si and SLi models with Smart Key include the Smart Welcome system which unfolds the door mirrors and switches on the puddle lamps and pocket lights (in the door handles) for 15 seconds when the driver approaches. It also turns on the front and rear exterior positioning lights and the cabin's interior lamps (for 30 seconds).
Seven storage areas are provided within the Cerato's cabin. The size of the glove box is increased by 30% to 8-litres, each front door pocket holds a 700 ml bottle, while the rear door pockets can accept a 500 ml bottle. Along the car's centreline, there is a sunglasses holder, covered 2-litre console multi-box (ahead of the gear lever), twin cupholders (behind the gear lever and also on the rear centre armrest) and 5.6-litre centre console box between the front seats.
New Cerato colour for the cabin is black one-tone with upholstery in woven (S model), knit and tricot (Si) or leather (SLi).
4. REFINEMENT
Quieter, smoother running, with improved NVH
True comfort when travelling by road is not just dependent on a car's interior space and convenience features – it can be enhanced or undermined by the level of NVH (noise, vibration and harshness). Consequently, Kia's engineers worked hard to ensure that the third-generation Cerato would deliver even better refinement than the previous model.
The stiffer bodyshell and new vibration-damping front subframe mountings are an excellent foundation for minimising NVH. Additional measures taken to reduce NVH even further include lining the engine bay bulkhead with a new, three-layer, HMP3 noise-lowering pad, fitting new dual-frequency engine mounts and applying a new 700 g/m2 EVA (Ethylene Vinyl Acetate) sound insulating coating to the cabin floor.
Further measures see the rear parcel shelf and cargo bay side trims incorporate a thinsulator filling, while the rear wheel arches are covered with sound insulation material and a breathable film is adopted within the cabin headliner.
In addition the front side chassis members, A-pillar and side sills are filled with an acoustic deadening foam. There is also a dynamic damper fitted to the shorter of the front driveshafts.
The NVH improvement program has achieved a significant effect. Idle vibrations through the steering wheel and cabin floor have been reduced by 2 dB, while idle noise level in the cabin is down 1 dB to 38 dB and noise during acceleration is cut by 1 or 2 dB – depending on model. Interior noise during a 110 kph cruise is cut to 65 dB.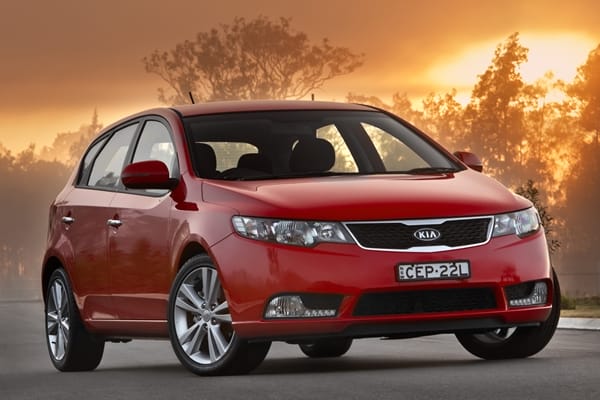 5. ENGINES
Enhanced power and fuel economy
All-new Cerato customers will be offered a choice of two gasoline engines – Kia's 129 kW 2.0-litre Nu GDI engine and the 110kW 1.8-litre Nu MPI engine.
These lightweight engines, which feature cast aluminium cylinder blocks and aluminium cylinder heads, are both equipped with an offset crankshaft (to reduce friction), a low-noise timing chain, mechanical lash adjustment, variable intake and exhaust valve timing, and plastic variable intake manifold.
In combination, these features (together with the upgraded transmissions) enable new Cerato to deliver a highly competitive combination of increased power (up to 12.2%) with modest fuel consumption and low emissions.
Powered by the 2.0 litre Nu GDI engine, the new Cerato with a manual gearbox accelerates to 100 kph in 8.5 seconds or 9.3 seconds (automatic) and attains a top speed of 210 kph. Combined cycle fuel consumption for both the manual and automatic models is 7.4 l/100 km.
With1.8 litre Nu MPI engine, new Cerato has a top speed of 200 kph and reaches 100 kph in 10.1 seconds (11.6 seconds, automatic). For manual models, combined cycle fuel consumption is 6.6 l/100 km (and 7.1 l/100 km for automatic models).
Thanks to the new Cerato's 50-litre fuel tank, owners should enjoy a typical range of 650 km between fill-ups.
6. TRANSMISSIONS
Six-speed gearboxes for every new Cerato
Every all-new Cerato model will feature a six-speed transmission as Kia continues to upgrade the specification of its products to meet or surpass customers' ever-rising expectations. Drivers are offered a choice of manual or multi-mode automatic gearboxes.
To reduce fuel consumption and lower CO2 emissions when cruising at speed, both the six-speed transmissions feature high top-gear ratios (as high as 0.633:1 manual and 0.772:1 automatic). Low first-gear ratios (as low as 3.615:1 manual and 4.400:1 automatic) will ensure a responsive drive away from standstill, enabling drivers to fully enjoy the new Cerato's performance.
The latest generation Cerato's new manual gearbox features a smoother shifting performance, enhanced efficiency (reducing fuel consumption), and greater durability. Improvements include multi-cone key-and-ball type synchronizers, quieter running optimised gear teeth, a new reverse gear selection 'button', hydraulic clutch control and low viscosity oil – ensuring that the transmission does not require any servicing for the life of the vehicle.
Kia's automatic in new Cerato is the world's most compact six-speed transmission and can boost fuel economy by up to 12 per cent – compared with a regular-sized conventional automatic. The new automatic delivers faster acceleration from low speeds and greater refinement at high speeds. The transmission has such compact dimensions, with a flat-type torque converter and an enclosed-type differential, that it is especially suitable for use in front-wheel drive cars.
This transmission features two operating modes – fully automatic or 'Sport'. The selector gate is a straight P-R-N-D arrangement, with Sport mode engaged by moving the lever towards the driver when in D mode.
For city driving, fully automatic mode is ideal, while 'Sport' mode allows for clutch-less sequential manual gear changes – up or down, one ratio at a time – for greater driver involvement. The Cerato SLi automatic comes standard with paddle shifters mounted behind the steering wheel.
7. SUSPENSION & RUNNING GEAR
Improved ride quality, handling agility and steering 'feel'
While the specification of the new Cerato's fully independent front suspension – by MacPherson struts – and CTBA (coupled torsion beam axle) rear suspension is unchanged, both systems have been fine-tuned to improve agility, enhance shock absorbance and deliver greater refinement.
As with all Australian Kia's the local product team has invested hundreds of hours and thousands of kilometres in optimising the ride and handling characteristics to meet Australian drivers' demanding expectations.
Key to the improved ride and handling capabilities of the new Cerato are gas-filled dampers front and rear, delivering supple ride comfort and high-speed stability.
At the front, the suspension is mounted on an all-new, stronger subframe. The wide 'L'-shaped lower arms feature larger diameter suspension bushes, the steering rack is moved forwards by 15 mm (closer to the axle line) and the suspension's geometry is modified to deliver improved on-centre steering feel. The 4.22 degrees castor angle of the previous model is retained to ensure the optimum level of self-centering.
The CTBA rear suspension is a particularly compact design, which ensures minimum intrusion into cabin and trunk space, and also maximises under-floor space to accommodate the 50-litre fuel tank, 657-litre boot (SAE) and full-size spare wheel.
For the new Cerato, the steering wheel features 'tilt & telescopic' adjustment up/down and in/out over a 40 mm range, and the gearing requires 2.96 turns of the wheel lock-to-lock. The turning circle (with the 50 mm longer wheelbase) is still compact, measuring 10.6 metres.
To ensure responsive steering 'feel' and precise vehicle control, every new Cerato comes with Kia's MDPS (Motor Driven Power Steering) system. Electric power assistance, rather than hydraulic assistance, delivers a significant (up to 3%) fuel saving.
Kia's new FlexSteer™ system is fitted standard across the range. It provides three different settings (or weights) for the steering to match customer preference with Normal, Sport and Comfort modes. The effort required to turn the wheel varies with mode, but the gearing (the number of turns lock-to-lock) remains the same. Comfort mode is ideal for city driving while Sport provides an additional feeling of stability at highway speeds.
For maximum stopping power, all new Cerato models are equipped with an all-disc braking system featuring large diameter (280 mm) ventilated front discs and 262 mm solid discs at the rear, backed up by ABS anti-lock, to achieve a stopping distance from 100 kph from as little as 42.3 metres.
8. SAFETY
High strength steel is foundation for high safety standards
Kia Motors invests heavily in R&D to maximize occupant protection and makes the safety of people using its products and other road users a top priority.
The outgoing second-generation Cerato was awarded a 4-Star safety rating by the Australia's NCAP, with a 'good' rating by the US IIHS.
By 2012, the official crash test standards around the world have been made even tougher and Kia engineers have re-engineered both the new Cerato's structure and its safety equipment to ensure that the third-generation model will also deliver the highest safety standards in its class, with improved front, side and rear impact protection. The expectation for the new Cerato is a maximum 5-star rating.
Now incorporating a much higher percentage (63%) of high-tensile strength steel _ more than many competitor's cars _ the bodyshell structure features new engine bay bulkhead bracing linked to two new longitudinal chassis members each side of the central tunnel. New gussets provide extra connections between the B-Pillar and roof rail, while 60 kgf steel is used for the anti-intrusion door beams and 150 kgf ultra high-tensile strength steel for the B-pillars.
Hot stamping is used to manufacture the B-pillars. This method heats steel to 900º C, then rapidly cools the steel, while simultaneously pressing it into immensely strong components with greatly enhanced crashworthiness – without adding weight.
The new Cerato's structure also benefits from additional cross members linking the front suspension towers, rear suspension mounting points at floor level and under the rear parcel shelf.
Torsional rigidity of the new bodyshell is increased by 37 per cent (over the previous model), bringing the added benefits of improving refinement and creating a stronger foundation for the suspension and steering – in turn enhancing ride comfort and steering precision.
New 'crash boxes' are fitted to the longitudinal engine bay side members, reducing low-speed impact damage and the rear chassis side members are strengthened – minimizing distortion and reducing repair costs.
An additional benefit of the CTBA rear suspension layout is that its robust structure provides the under-seat fuel tank with added protection during a rear impact.
Active safety technologies that new Cerato buyers can expect include ESC (electronic stability control), HAC (hill-start assist control), which prevents slip-back during stop-start driving on inclines, and VSM (vehicle stability management) that works with the ESC to provide 'corrective' steering inputs to help
the driver avoid loss of control, especially on asymmetric (wet and dry) road surfaces, front corner and rear parking sensors and HID (high intensity discharge) Xenon headlamps in the SLi model.
The all new Cerato comes standard with six airbags including dual front airbags, front side airbags and side curtain airbags offering head protection to both front seat and rear seat occupants.
9. STANDARD EQUIPMENT
Kia Cerato S
1.8L Nu MPI engine (110kW / 178Nm)
6 speed M/T or A/T
Tilt and telescopic MDPS steering with FlexSteer
16" steel wheels (205/55 R16) with full-size spare
ESC (Electronic Stability Control) with TCS/ABS/EBD/BA
VSM (Vehicle Stability Management) with HAC and ESS
Seatbelt reminders on all positions
Front corner & rear parking sensors
Rear spoiler with high-mounted rear stoplight
Three child restraint anchorage points
Front fog lamps
6 SRS airbags (front / front side / curtain)
Keyless entry with folding key set
Projection headlamps with escort function
Cloth seats
6-way driver's seat adjustment (height adjust – pumping device)
Front centre console armrest (with storage box & bin) & front twin cup holders
Split fold rear seats (60:40)
Height adjustable headrests (all seats)
Chrome family-look grille
Body coloured bumpers, door handles & outside door mirrors
Electric outside door mirrors (heated) with side indicators
Cruise control with steering wheel mounted controls
Dot-matrix type LCD instrument cluster with multi-function trip computer
Power windows (front & rear) with driver's auto down
Floor console storage with sliding cover
MP3 compatible CD player with AM/FM tuner
6 speakers (front door, rear door & front tweeters)
AUX/USB input with iPod® compatibility (on selected iPod® models)
Bluetooth® functionality (phone/media stream)
Steering wheel mounted audio/Bluetooth® controls
Manual air-conditioning
Under floor side tray in cargo area and luggage net hooks
Luggage screen
Roof-mounted antenna
Chrome tip exhausts
Multi-function trip computer
Kia Cerato Si (S trim +)
2.0L GDI engine
16" alloy wheels (205/55 R16) with full-size alloy spare
Rear view camera with in-audio screen display & parking guidelines
Dusk-sensing automatic headlamps
Smart key with push button start & welcome lights (puddle/pocket)
Electric folding outside door mirrors with automatic folding function
Front centre console armrest sliding function
Outside door handle pocket lamps
Chrome accented highlights (waist-line & door handles)
UV cut glass (windscreen)
Aero-blade type front wipers
Premium steering wheel & shift knob
Artificial leather wrapped instrument cluster
Front power windows auto up & down with safety function
Premium interior trim
(carbon-fibre look fascia / chrome look interior door handles / soft-touch door trim)
Sunvisor illumination
Seat back pocket (passenger side)
4.3" full touch colour LCD audio screen
Rear air vent
Kia Cerato SLi (Si trim +)
17" alloy wheels (215/45 R17) with full-size alloy spare
Electrochromic rear view mirror (auto dimming)
LED daytime running lights (DRL)
HID type front headlamps
Leather trim seats
LED rear combination lamps
8-way power driver's seat plus lumbar support
IMS driver's seat with 2 seating position memory & easy access function
Powered sunroof (slide & tilt)
Paddle shifters (A/T only)
Colour TFT Supervision instrument cluster
Alloy sports pedals
Cooling glovebox
Dual-zone climate control air-conditioning
Clean Air module
Auto defog system
Ventilated driver's seat
Front seat warmers
Satellite Navigation multimedia system with traffic information (SUNATM)
7" full-touch colour LCD screen
DVD Player (video playback only functional while stationary)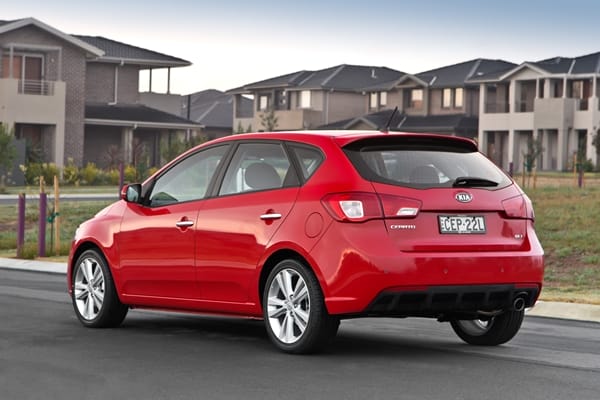 PRICING
Body

Grade

Engine

T/M

RRP

4DR

S

1.8L MPI Petrol
(110kW)

6M/T

$19,990

6A/T

$21,990

Si

2.0L GDi Petrol
(129kW)

6M/T

$23,990

6A/T

$25,590

SLi

6M/T

$27,990

6A/T

$29,990

SLi
(with Nav)*

6M/T

$28,990

6A/T

$30,990
10. TECHNICAL SPECIFICATIONS
All-new Kia Cerato
Body and chassis
Five-door, five-seater hatch, with all-steel unitary construction bodyshell. Choice of transversely mounted gasoline engines driving the front wheels via a six-speed manual or automatic transmission.
Engines
Gasoline
2.0-litre 129 kW
Type
Nu, GDI, four-cylinder, DOHC
Capacity
1,999 cc (2.0-litres)
Bore x stroke
81.0 x 97.0 mm
Power
129 kW @ 6,500 rpm
Torque
209 Nm @ 4,700 rpm
Compression ratio
11.5:1
Fuelling
Gasoline Direct Injection, 16 valves
1.8-litre 110 kW
Type
Nu, MPI, four-cylinder, DOHC
Capacity
1,797 cc  (1.8-litres)
Bore x stroke
81.0 x 87.2 mm
Power
110 kW @ 6,500 rpm
Torque
178 Nm @ 4,700 rpm
Compression ratio
10.3:1
Fuelling
Multi-point injection, 16 valves
| | | |
| --- | --- | --- |
| Transmissions | Si & SLi | S |
|   | 2.0 (129) | 1.8 (110)  |
| Manual | 6-sp | 6-sp |
| Automatic | 6-sp | 6-sp |
| | | |
| --- | --- | --- |
| Gear Ratios | 2.0 MT / AT | 1.8 MT / AT |
| 1 | 3.308 / 4.212 | 3.615 / 4.400 |
| 2 | 1.962 / 2.637 | 1.962 / 2.726 |
| 3 | 1.257 / 1.800 | 1.294 / 1.834 |
| 4 | 0.976 / 1.386 | 1.024 / 1.392 |
| 5 | 0.778 / 1.000 | 0.860 / 1.000 |
| 6 | 0.633 / 0.772 | 0.756 / 0.774 |
| Reverse | 3.583 / 3.385 | 3.583 / 3.440 |
| Final Drive | 4.333 / 3.064 | 4.188 / 3.270 |
Suspension and damping
Front
Fully independent subframe-mounted MacPherson struts, with coil springs and gas-filled shock absorbers. Anti-roll stabiliser bar.
Rear
CTBA (coupled torsion beam axle), with separate coil springs and gas-filled shock absorbers.
Technical specifications / All-new Kia Cerato
Steering
Type
MDPS electric power steering
Steering ratio
15.7:1
Wheel turns
2.96 lock-to-lock
Turning circle
10.6 metres
Brakes
Power
Single 10.0-inch booster
Front
280 x 23 mm ventilated discs
Rear
262 x 10 mm solid discs
Assistance
ABS anti-lock
100-to-0 kph
42.3 metres (with ABS)
Wheels and tyres
SLi
17 x 7.0 inch alloy
215/45 R17
Si
16 x 6.5 inch alloy
205/55 R16
S
16 x 6.5 inch steel
205/55 R16
Spare
full-size steel or alloy wheel
Dimensions (mm)
Exterior
Overall length
4,350
Overall width
1,780
(excluding door mirrors)
Overall height
1,450
Wheelbase
2,700
Front track
1,553 to 1,557 (depending on wheel/tyre combination)
Rear track
1,566 to 1,570 (depending on wheel/tyre combination)
Front overhang
880
Rear overhang
  770
Ground clearance
140
Aerodynamics
0.30 Cd
Interior
Front
Rear  
 
Head room
1,000
983
Leg room
1,073
913
Shoulder room1,424
1,395
Hip room
1,366
1,348
Capacities (litres)
 
 
 
Fuel tank
50.0
Luggage
657 (SAE) / 385 (VDA)
Weights
2.0 MT / AT
1.8 MT / AT
 
Kerb weight (kg)
1,316 / 1,339
1,308 / 1,325
Maximum (kg)
1,780 / 1,800
1,770 / 1,790
Performance
Top speed (kph)
210 / 210
205 / 202
0-to-100 kph (sec)
8.5 / 9.0
9.3 / 10.2
Fuel Consumption and Emissions*
Litres / 100 km
7.4 / 7.4
6.6 / 7.1
CO2 (g/km)
176 / 177
158 / 169
*combined cycle tests