Kia now dominate the people mover segment with their bigger, better looking and more  refined 8-seat Carnival in various denominations and with a choice of 3.5-litre V6 petrol and 2.2 litre four cylinder diesel power plants. All now have an 8-speed auto as standard.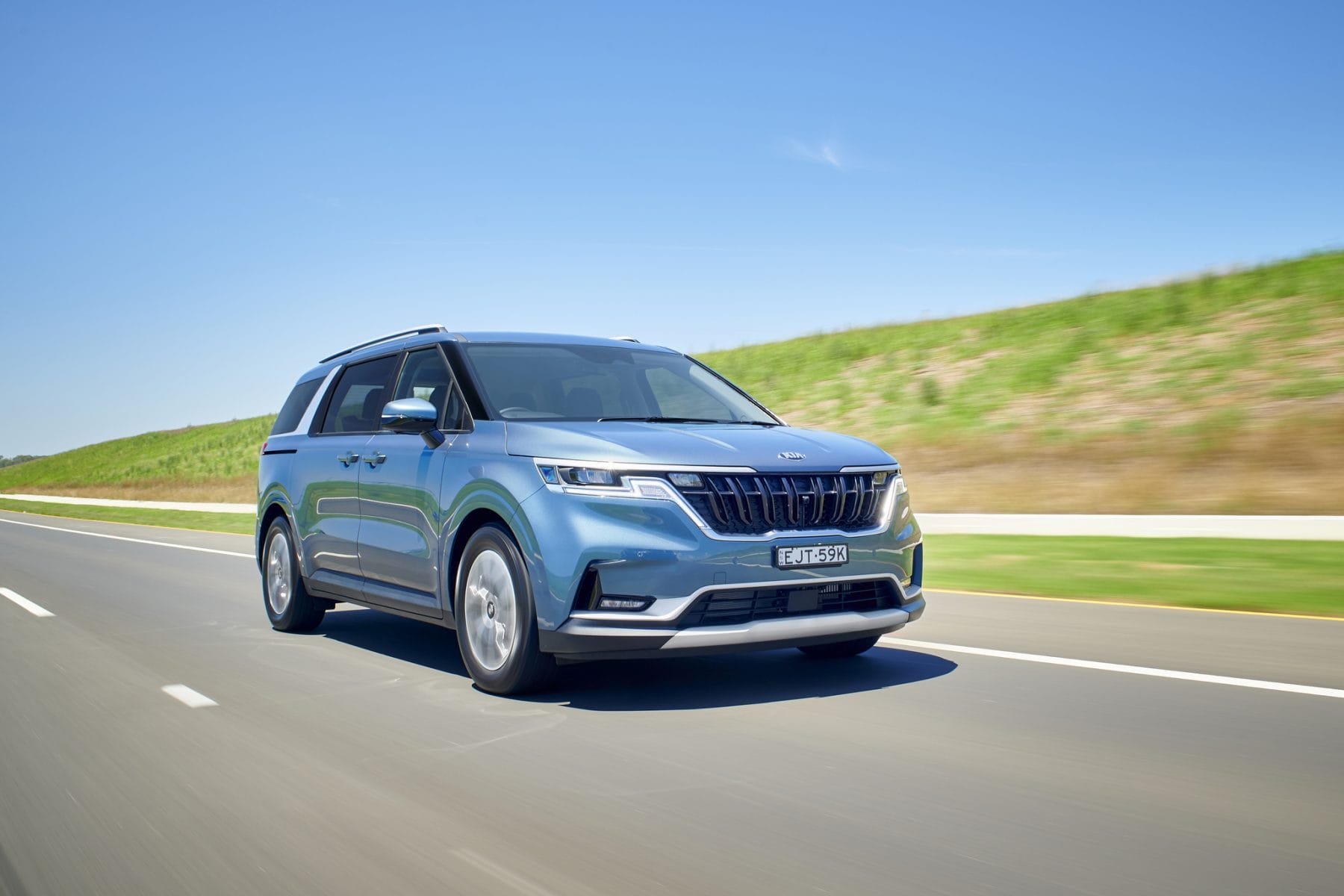 Tested here is the top of the range Platinum diesel model, a singularly impressive people mover capable of taking 8 adults and much of their luggage with plenty of performance instantly available.
It's a front wheel drive but offers a limo-like ambience and interior comfort levels. The price is $69,990.
This is a completely new generation Carnival apart from the revised engines and is longer than before with characteristic Kia styling.
Though I drove Carnival over a decent 1000km of mixed driving, it was in the passenger seats that I prefer to be. You can lounge in the big comfy seats with plenty of adjustment and handy facilities close at hand including aircon' and ventilation controls.
The side sliders on the test model were touch and go electrically operated and make access to the second and third rows easy.
The third row has a clever concertina folding action that forms a flush, flat floor in seconds simply by pulling one strap.
When not folded there's a deep luggage space that will take up to half a dozen medium size suitcases stacked up.
Safety this time around is enhanced with a swag of driver assist technology, some of which I didn't like.
It has plenty of family friendly features too such as a 360 degree camera and a safe exit alert for passengers.
Like the hands free tailgate and numerous bottle/cup holders along with the heated wheel and reversible centre row.
They really put some thought into this one.
Exterior
Carnival looks quite imposing on the street with a version of Kia's family "tiger nose" grille incorporating slender LED head lights and supplementary lighting. It's a long beast with a lowish roofline for a people mover but the interior design allows for this as it's roomy in all dimensions.
Kia has added an aluminium fascia to the C pillar which attracts both criticism and approval.
At the rear a bar of red tail light spans the width of the vehicle and wraps arounds the sides for good measure.
The Platinum driven rolls on 19-inch alloys, gloss black in the case of the test car, and they look good imparting a sporty appearance to what is essentially a family transporter or celeb' bus.
Carnival looks like no other people mover on the market and is a big step away from an adapted van like some competitors. While not as tall, Carnival has more in common with VW's Multivan than anything else…. with a less utilitarian look.  Costs a bit less though and as for Tarago, well, there ain't no Tarago diesel and the V6 petrol variant costs more than the V6 Carnival.
One thing's certain about Carnival's impressive styling… you won't have to cringe when you take it out….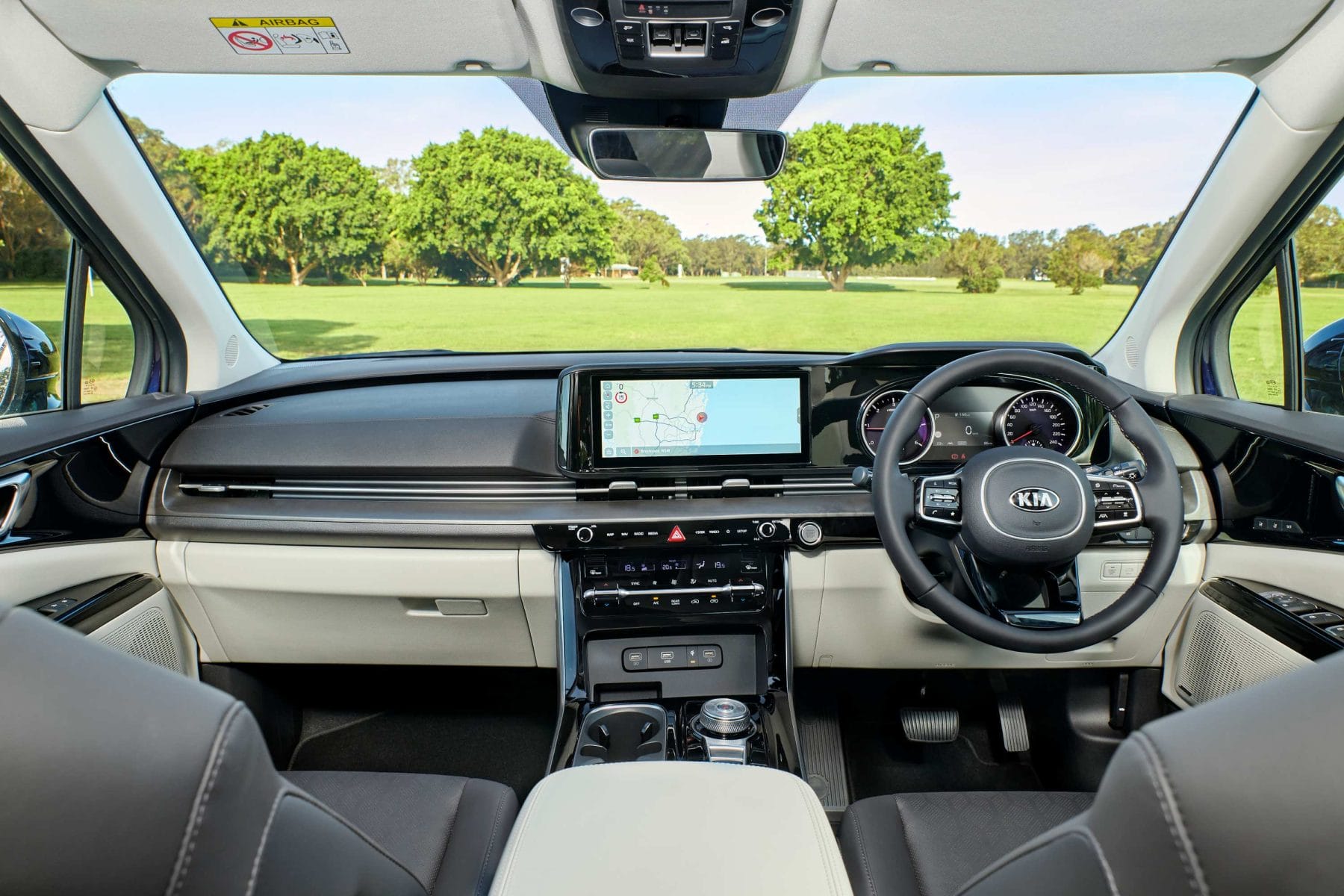 Interior
Inside is, as you'd expect from a vehicle with a 3090mm wheelbase, generously proportioned with plenty of seat adjustment in all three rows, adequate headroom and comfortable seats for eight.  It's a sensible design too with many wow features and practicalities rolled into a leather clad interior. The dash is similar to top end Kias and Hyundais and bears no similarity to a van in any way. The seating position in front is more upright than a sedan but only marginally higher… about the same as a 4×4.
Access through four side doors (two front hinged and two side sliders) and the rear one piece tailgate is easy because of their size.
The test vehicle had a two tone interior of mid grey with cream together with some satin silver and dark wood grain fascia. Dominating the centre of the dash is a large touchscreen in the middle with a centre floor console together with a centre roof console. The fat wheel has multiple functions and all dials and switches are self-explanatory and easy to find and use.
Premium Bose audio too along with a rotating dial gear selector.
It's a good place to be especially in the passenger seats as already mentioned.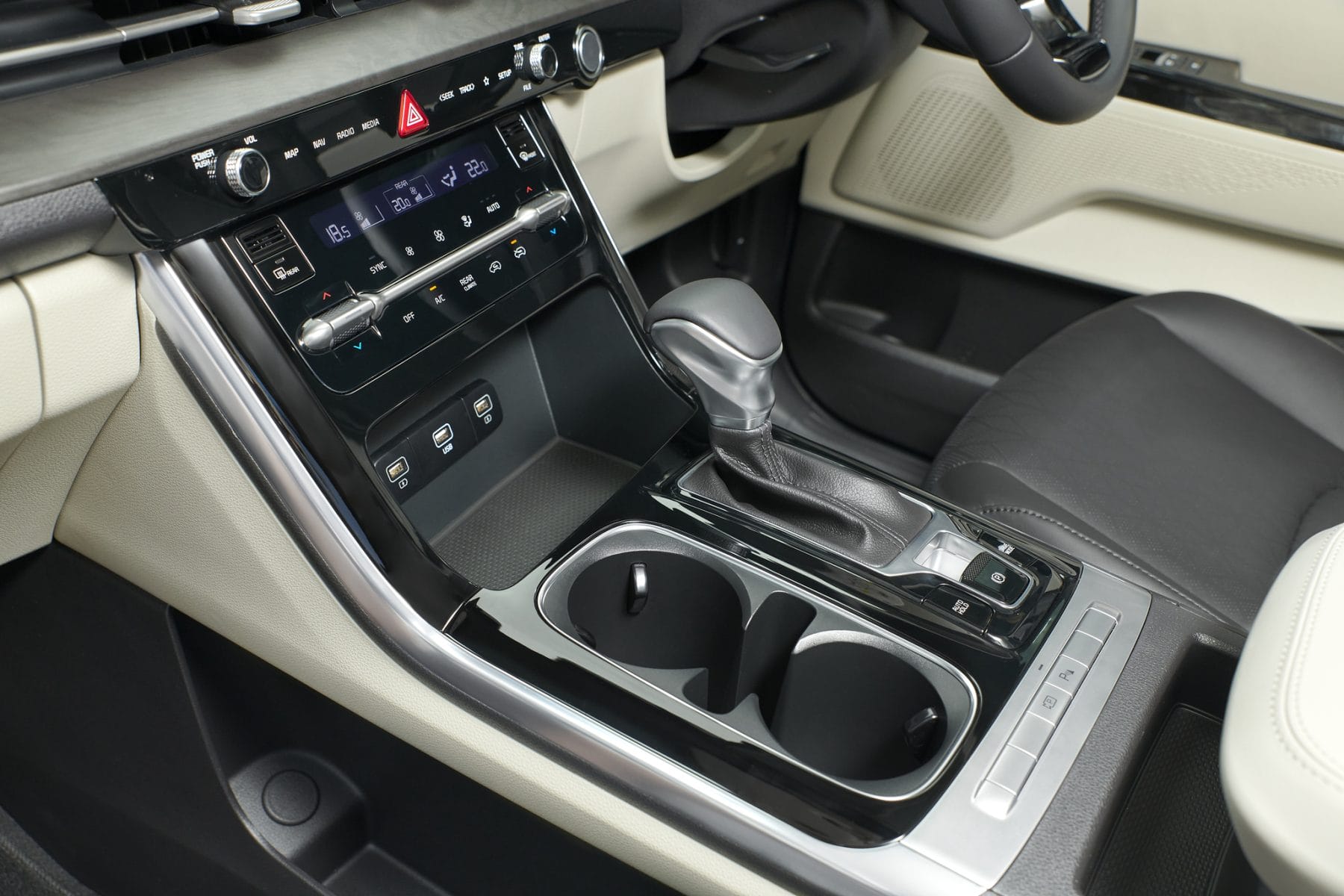 Features
Carnival Platinum doesn't miss out on much with goodies like;
4 drive modes
LED head lights
Leather and premium seats
12 way driver seat adjustment (electric)
Heated wheel
2 x sunroofs
Heated exterior mirrors
Wireless phone charger
Hands free tailgate operation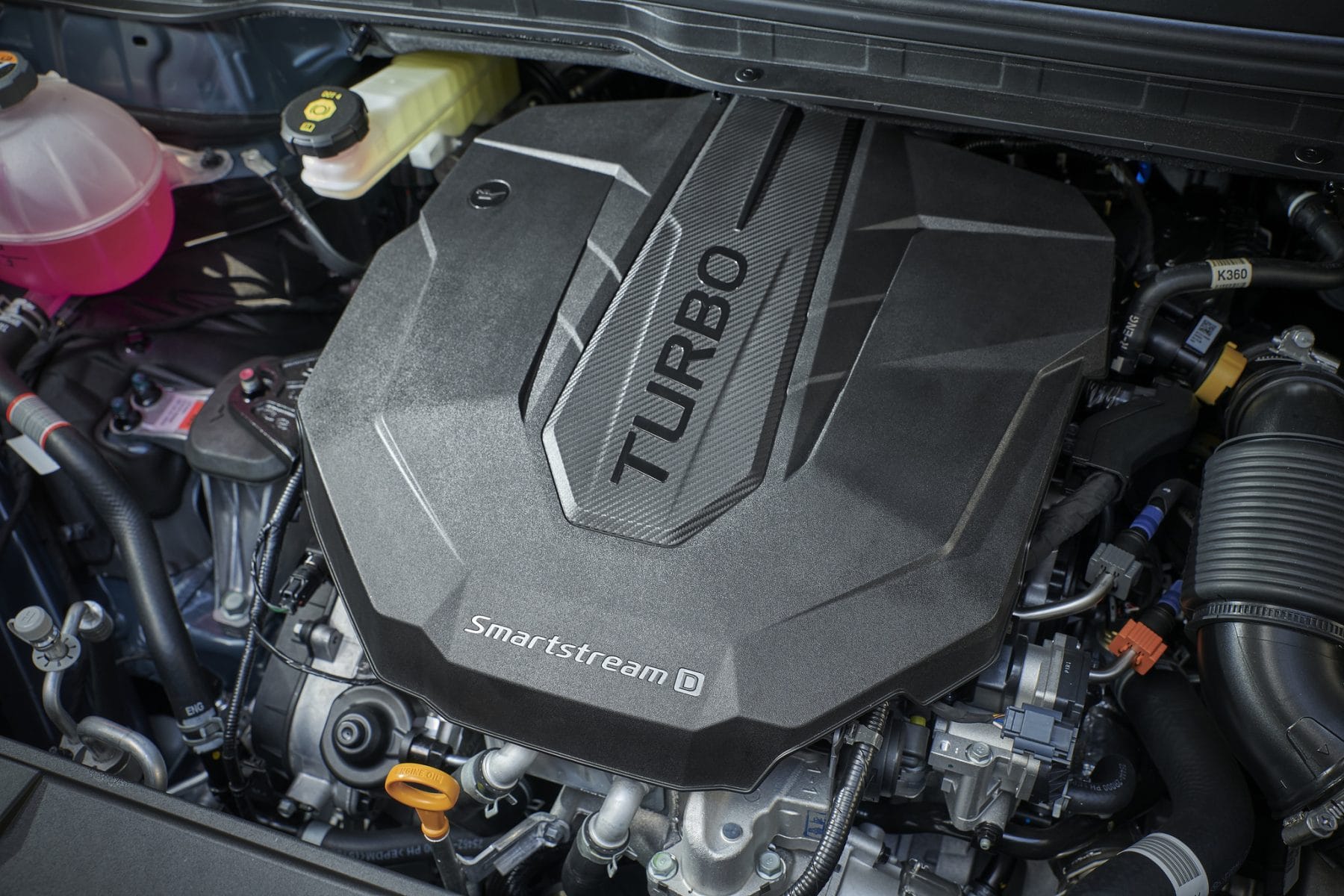 Drive and Engine
For a vehicle tipping the scales at 2134kg Carnival diesel goes really well offering plenty of acceleration through the entire engine operating range and smooth, quiet cruising. The 2.2-litre engine is good for 148kW/440Nm but feels stronger than that possibly because of the excellent 8-speed auto tapping to maximum available torque and the efficient VGT (Variable Geometry Turbo) with instant response most of the time.
Over the 1000km test drive Carnival chalked up around 8.0-litres/100km, sometimes better but that was only with 2 people aboard. With 8 it would use more but is still pretty impressive for such a vehicle.
The ride is comfortable and controlled probably because of local engineering input to Carnival's dynamic calibration. It even corners well for such a big, heavy beast and noise suppression is impressive with minimal if any noise cruising on the highway.
I found the active lane keeping a real pain but you can turn it off each time you drive or go into a menu and really turn it off. Same applies to other drive assist features that some may find over intrusive.
Carnival needs a big space to park because of its length but that is facilitated by various cameras and guidance systems.
It affords a commanding view of the road and surrounds and the driving position is comfortable over a long run thanks to the seat and numerous adjustments.
I left it in Smart drive mode for best results but you can select Eco, Normal or Sport all of which have an effect on Carnivals engine revs, gear selection and steering response.
It's a good thing to drive….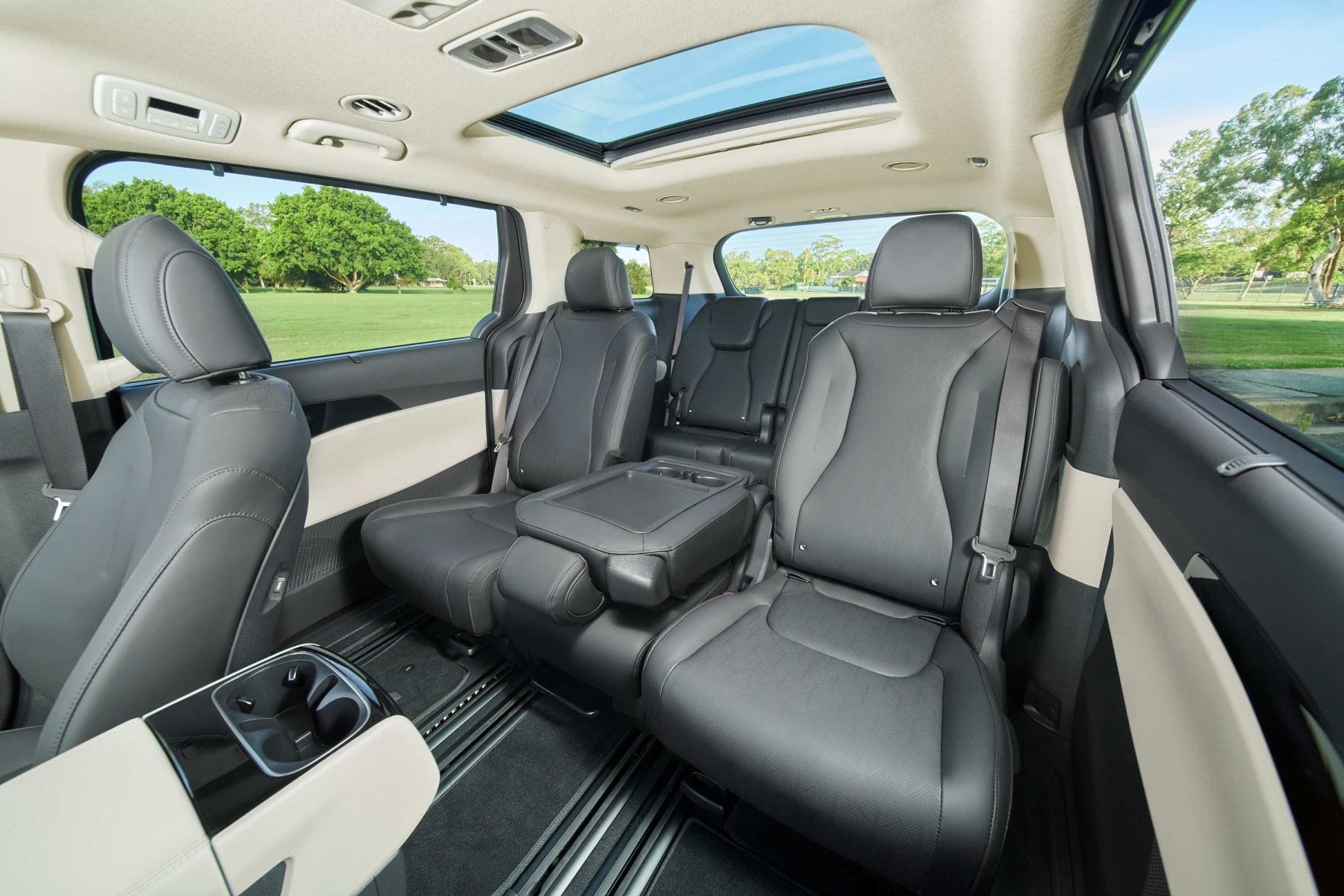 Safety
Carnival scores a 5-star ANCAP crash rating but goes further with a generous selection of advanced driver assist technology like blind spot collision avoidance, lane following assist, safe exit assist and all the other usual tech such as autonomous emergency braking, lane keeping and the rest of it.
To my mind, car companies including Kia have gone a tad overboard with driver assist tech which in some cases has dubious safety benefits and can in fact cause an issue such as the active lane keeping system that hauls on the wheel if it decides there's an "issue". Anyway, it seems as though this is the way car companies are going and we have to suck it up.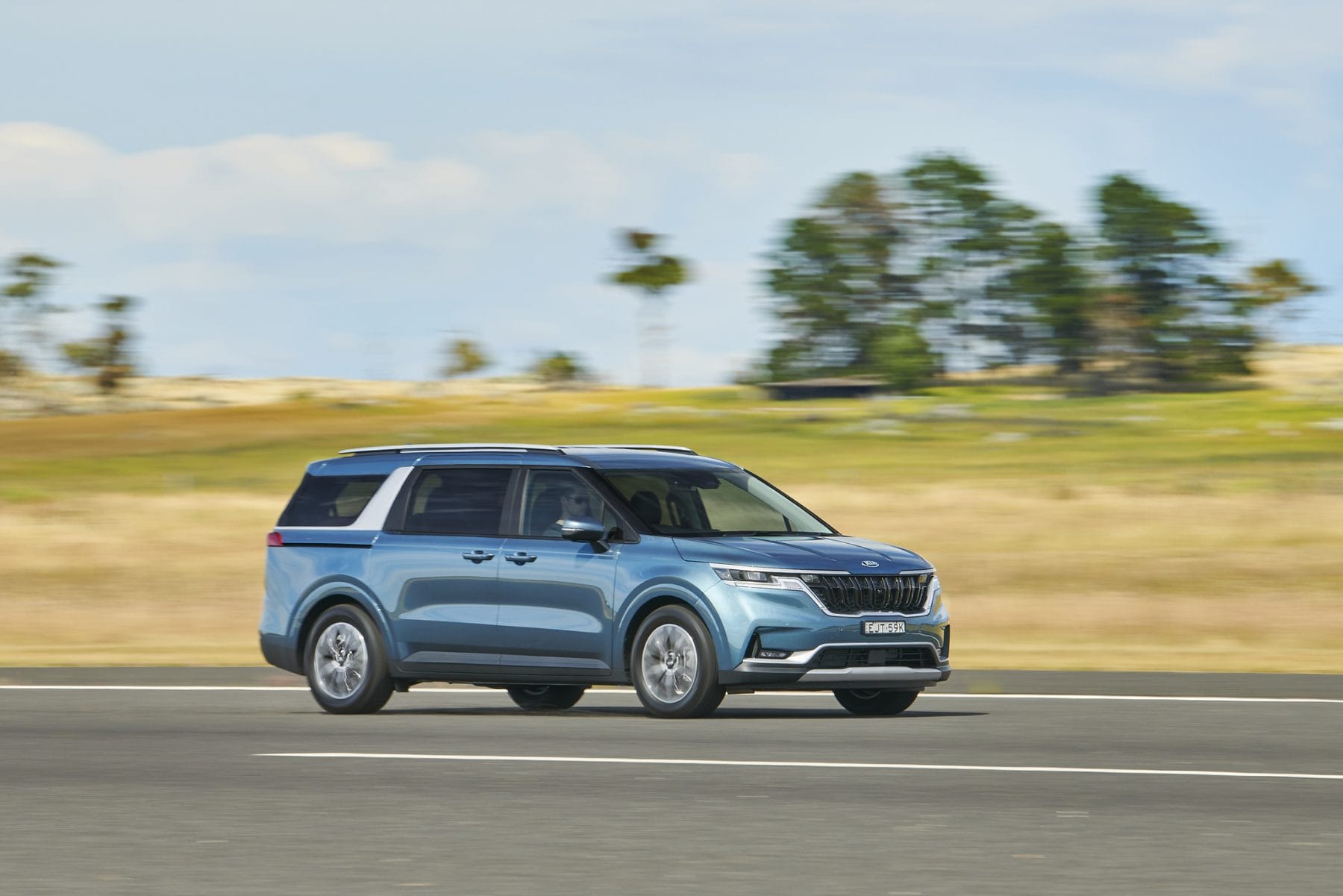 Good Bits
Handsome styling
Roomy, Comfortable
Economical, Safe
Not So Good Bits
Some intrusive driver assist tech.
Some garish styling touches
Getting up there on price

Summary
Yep, this is a bloody good family vehicle offering plenty of space and comfort, a smooth and economical engine and controlled ride. Eight full size seats too and a 7 year/ unlimited km warranty.
Facts and Figures: 2021 Kia Carnival Platinum diesel
Engine: 2.2L four-cylinder turbo diesel producing 148kW/440Nm
Transmission: Eight-speed automatic
Warranty: 7 years/ unlimited km
Safety: Five stars
Origin: South Korea
Price: from $69.990 MLP*
*MLP – Manufacturers List Price includes GST and LCT but excluding statutory charges, dealer costs and dealer delivery. See your dealer for RDAP. Does not include price of any options.
Summary
Yep, this is a bloody good family vehicle offering plenty of space and comfort, a smooth and economical engine and controlled ride. Eight full size seats too and a 7 year/ unlimited km warranty.