Ioniq5 vs EV6  – Hyundai and Kia are separate entities under the one major corporation. They both recently launched electric vehicles onto the Australian market built on the same platform but looking markedly different.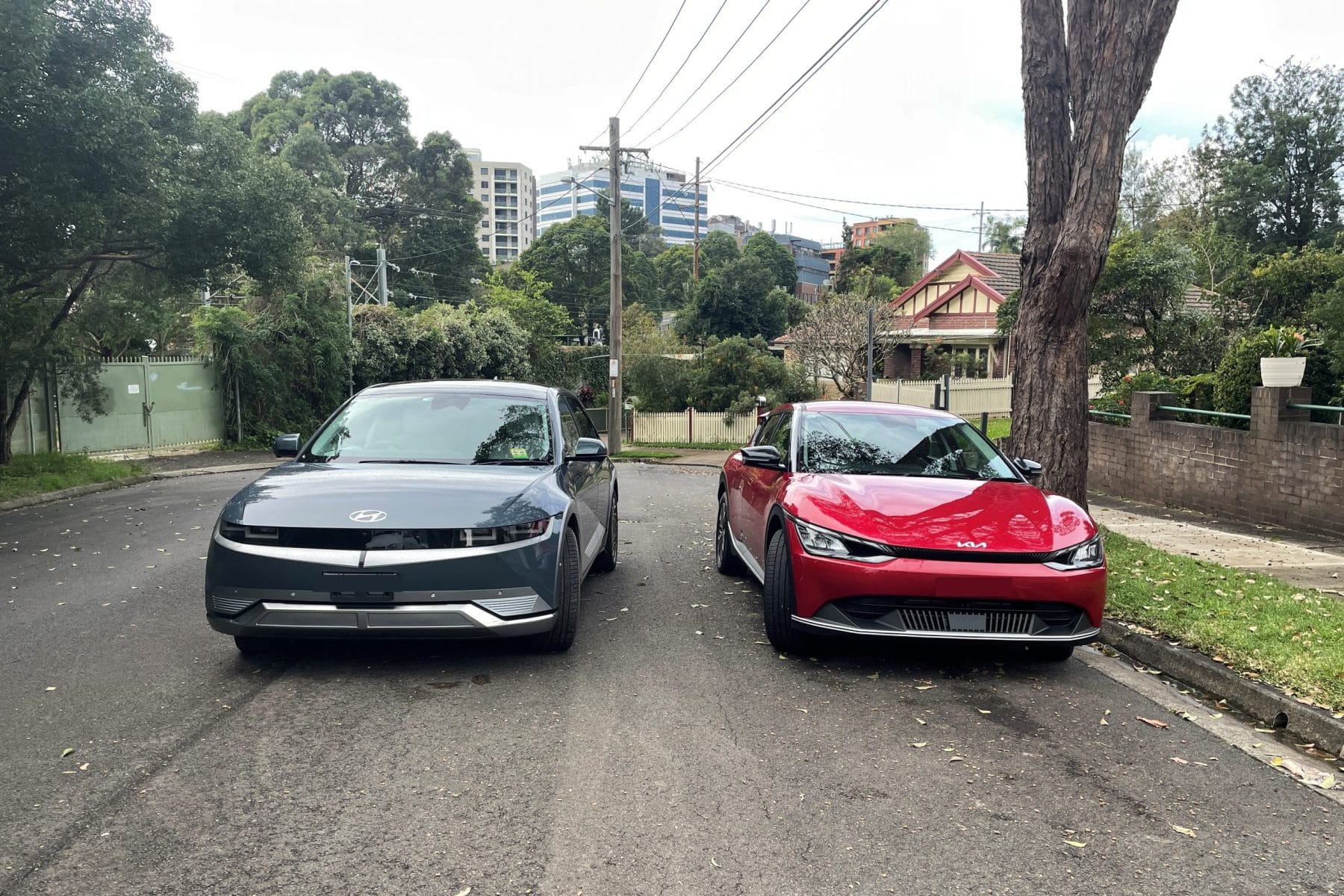 The Hyundai Ioniq 5 looks like a hot hatch with a bright interior that focuses on using the space inside the vehicle
The new Kia EV6 is a more flowing design and while classified as an SUV has strong elements of a large sedan.
Both are available with the same one electric motor two-wheel drive or a two electric motor AWD
TO LISTEN TO THE RADIO REVIEW CLICK BELOW
The base model EV6 AIR is listed at $68,000 while the base Ioniq 5 is listed at nearly $72,000.
The difference is in features. The Hyundai base model has extras such as
Fully Automated Parking assist
Driver Fatigue warning
Side airbags and seat belt pretensioners for the rear passengers
Ventilated rather than solid disc brakes on the front
One of the most obvious differences was the operation of the door handles.
In both cases they are flush with the door but in the Kia you had to press one end to get it to pivot out.
The Hyundai's handles would automatically extend to be able to more easily open, whenever the car was unlocked.
One of the other advantages of this is that you could tell if the car was locked from a distance.
The shape of a vehicle can mean so much to a person from their own perspective.
I drove behind a KIA EV6 and had a flash of memory of the Citroen DS.
The rear with the small protrusions from the top of the roof, in the Citroen they were blinkers in the Kia that provide puddle lights. The windows and roof Even from the front with a bonnet that slopes down. The tail slops down a bit on the Kia although the line is broken by the rear airfoil.
The nose of the car sloping down also had a memory spike for me.
My artistic friend felt I was stretching the image a bit but then again he thought the Hyundai Ioniq 5, from directly front on, reminded him of the DeLorean!
The detail pricings before on-road costs are are:
Hyundai Ioniq 5
Motoring Minutes are heard around Australia every day on over 50 radio channels through the Torque Radio network. 
Our Motoring Minute has an average daily audience of over 150,000 listeners. With over 750,000 listeners a week they are also syndicated through various news sites around Australia.
Additionally Motoring Minute is also broadcast as part of Overdrive Radio Program, which is broadcast through the Community Radio Network across Australia.