Family people movers like Granvia are a very specific ask, and not for everyone. Tarago was the choice of families world-wide, why transform Hiace into a people mover when there are Hiace models with seats.
Toyota says Granvia is a "luxury" people mover, and while there are hints of comfort, luxury is stretching the friendship a bit.
Granvia Looks
The looks are not my cuppa. Let's face it, it is a bit of a dog's breakfast.
A big rectangular box with a smaller box glued on the front. The oversized grille is flanked by a couple of LED headlamps that look like they're trying to escape.
The side has a couple of big electric sliding doors, and around back is a huge, heavy hatch.
It is a bus, and that is very hard to hide.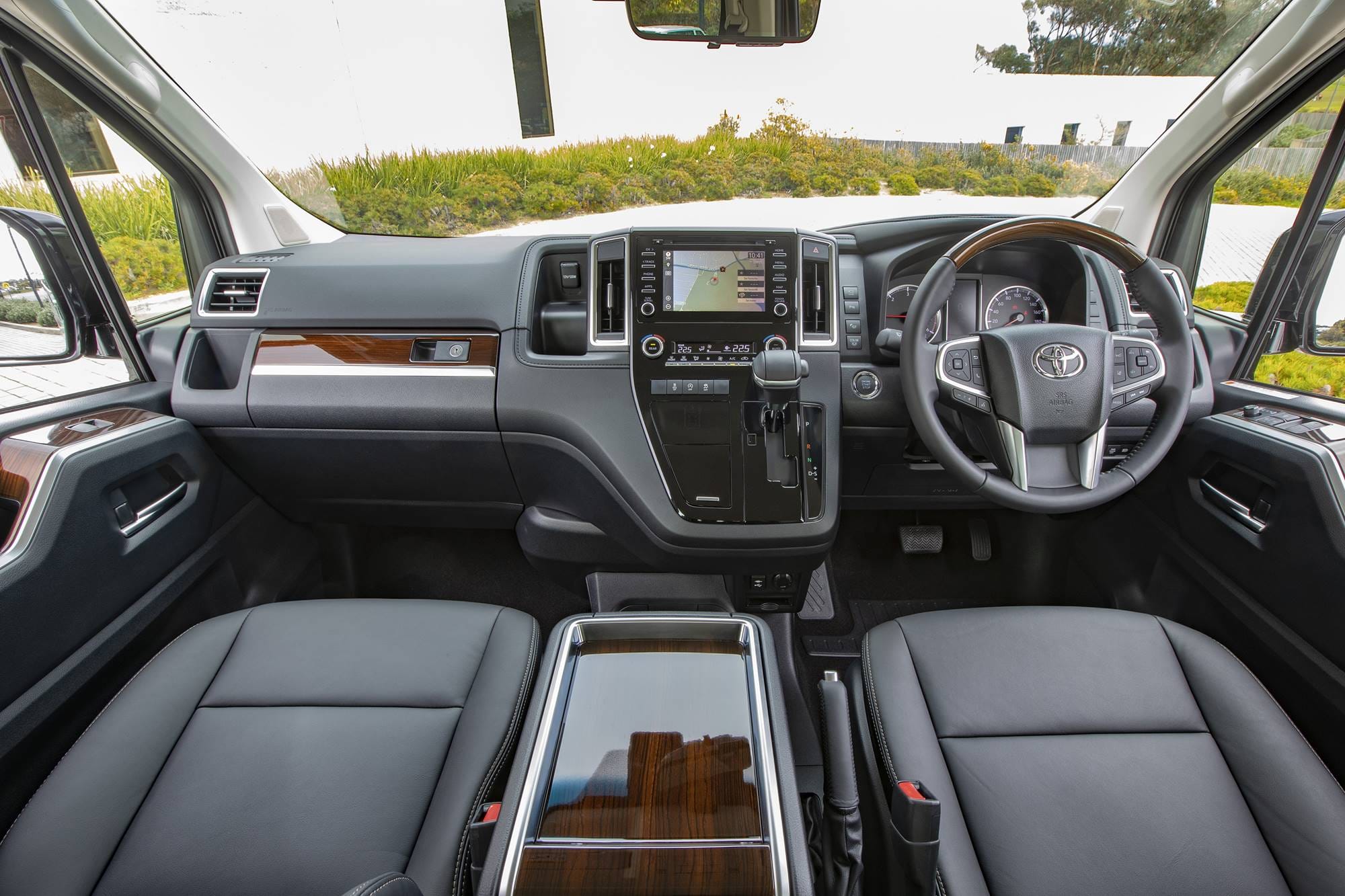 Inside Granvia
The Granvia 6-seater has 4 heated, power adjustable, captain's chairs. They have a powered foot stool built in, and slide back and forth on runners. Side windows have sun/privacy sun shades to keep those outside, from looking inside.
The dash is vast.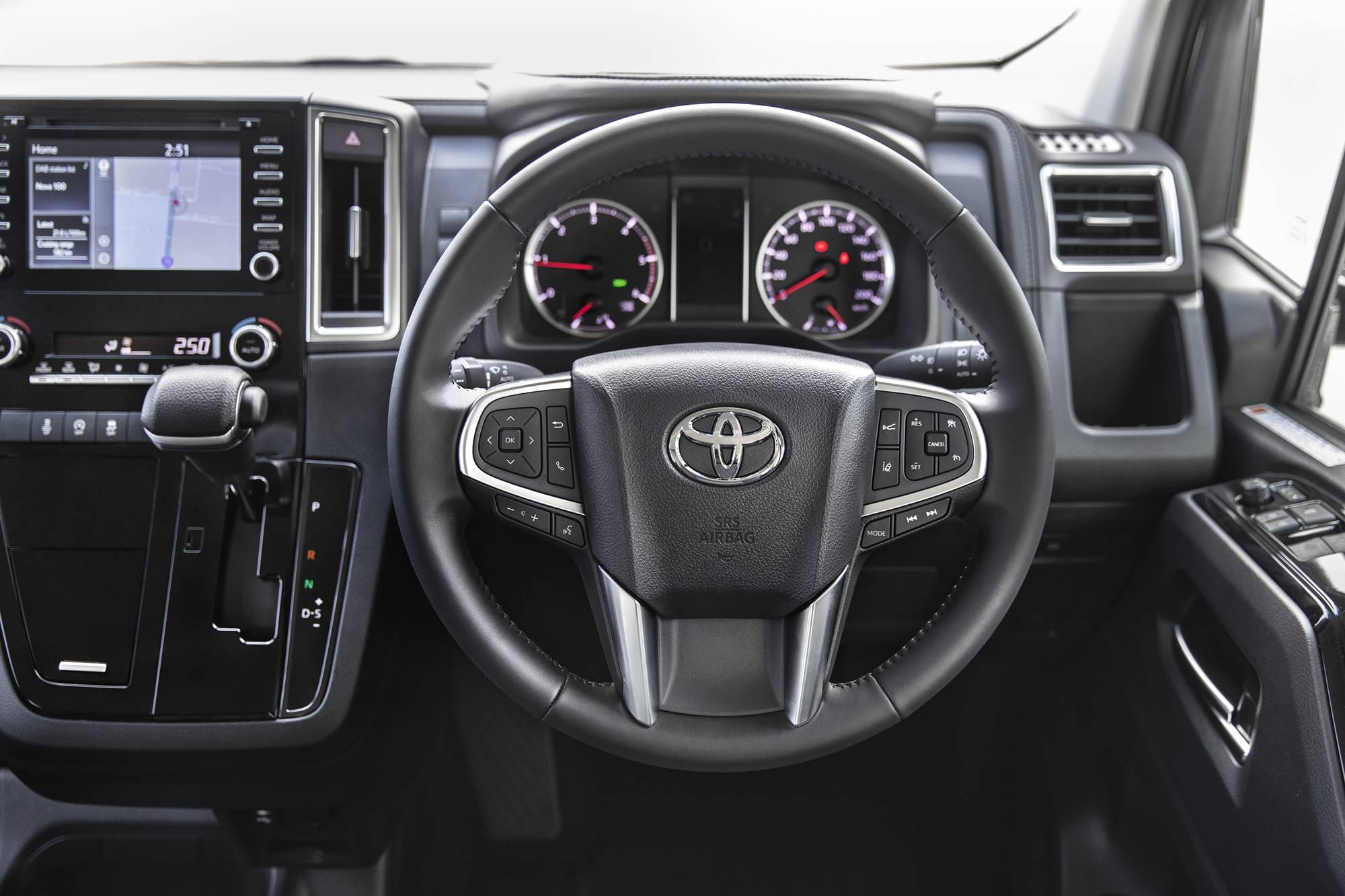 While some of it is softly cushioned, but its utilitarian roots are never far from view. There is an acre of hard plastic doing its best to look good, but not quite succeeding. Despite that, the feel is strangely high-end. Leather and leatherette are used to create subtle ambience with a touch of gent's club.
Driver's instruments have a colour multi-display between the tacho and speedo, Hilux-style.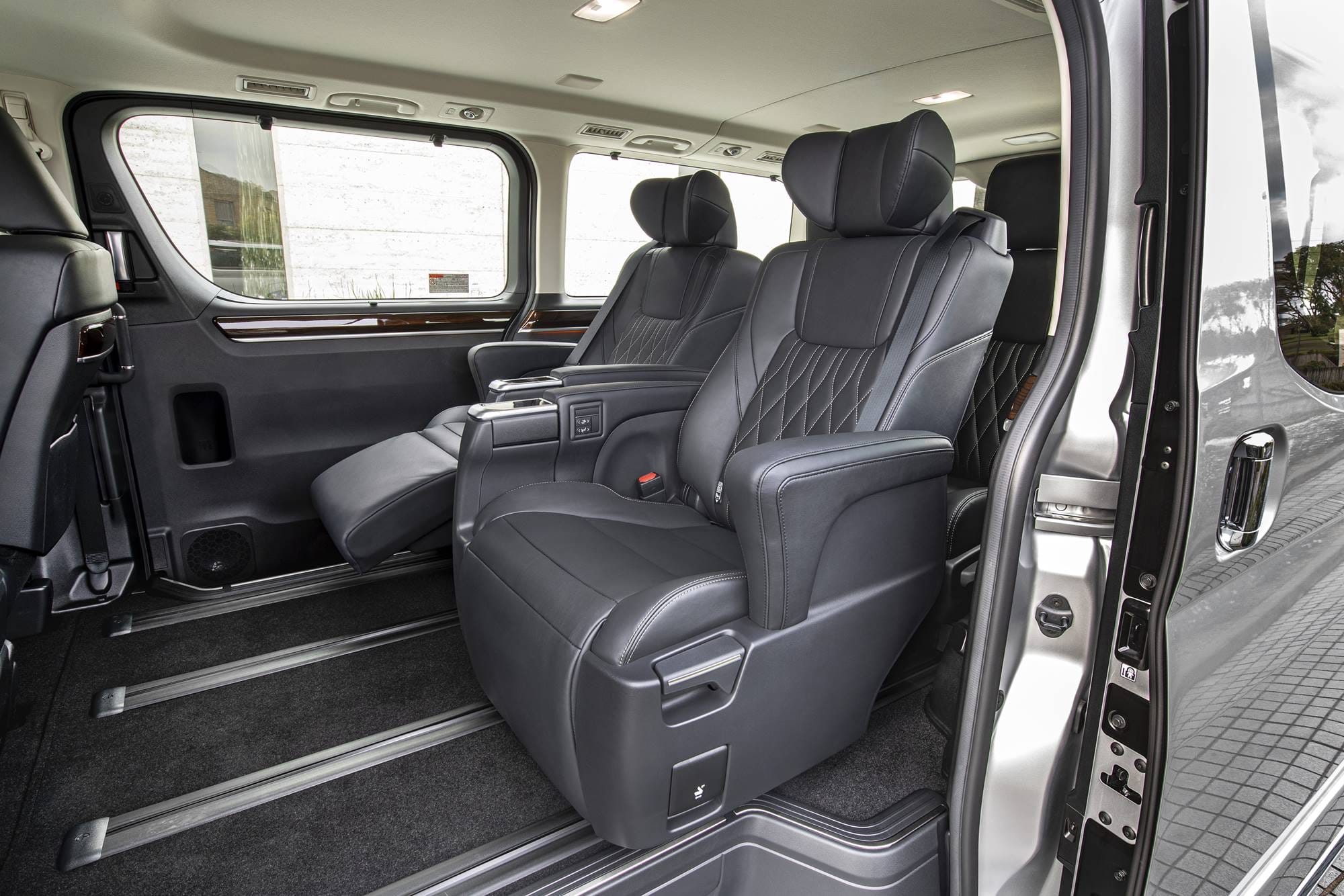 There are cup holders for everyone on board, with 8 USB ports and CarPlay/Android Auto for good measure.
The sound system is great. It isn't quite concert hall, but good enough for most of us.
Access good for the 2nd row, adequate for the 3rd row, but 8 seat versions might need a lot of planning.
Fake wood trim looks OK, and adds a touch of warmth to an otherwise so-so cabin.
Although Granvia is a Hiace with nicer curtains, it doesn't suffer from renovator's syndrome. Things haven't been shoved into places, just for the sake of it.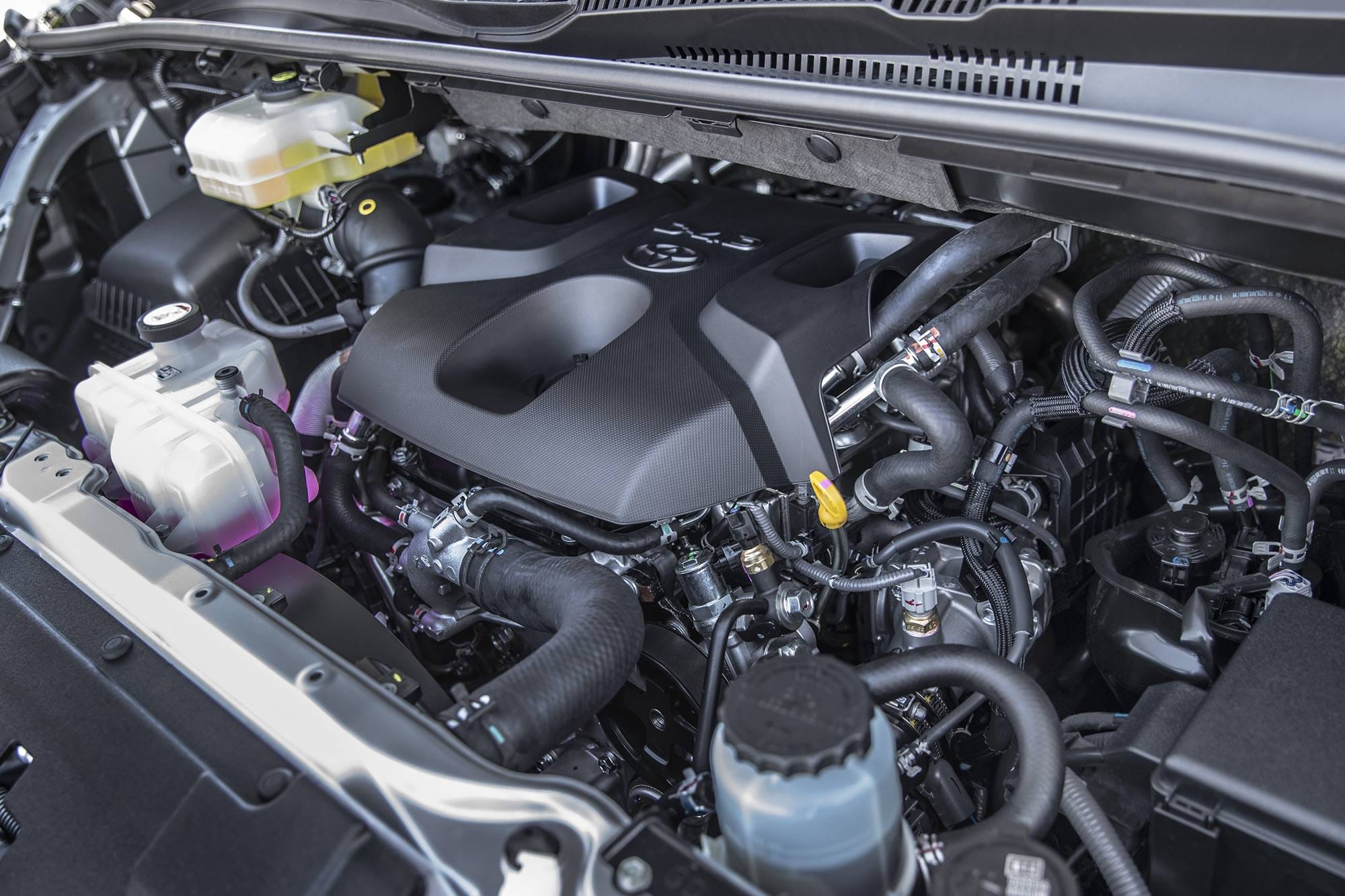 The Drive
Granvia is better for the passenger than the driver.
Having said that, one passenger complaint was common: there is nowhere to put a tablet or phone.
Handling in a commercial van with seats, is like you'd expect a commercial van with seats to feel, ordinary. Don't expect an SUV feel like that of KIA's Carnival. Ride is firm even with 4-up, and corners must be respected, at any speed. Except for the roughest of tarmac, the mood inside was calm and quiet.
Parking in most places sees 5.3m van take up all but 300mm of the allowance. It would be a tough task without the aid of the surround view camera.
The 2.8L diesel is a plodder rather than a sprinter. It protests rowdily when pushed, and the 6-speed auto, though smooth, needs more cogs. At cruise, the engine sound relegates itself to the background, and the cabin resumes its subtle demeanour.
Although driver instruments are clear and easy to use, some of the buttons were obviously stolen from an 80's nursing home public phone. Luckily, the steering while is a little more like a regular old Toyota.
Handling is helped by driving aids, but as the steering is hydraulic, lane control is by braking. Blind Spot Monitor and AEB options, along with other Toyota Safety Assist features.
To round off the feature highlights, there are auto lights and wipers.
For a full list of features CLICK HERE: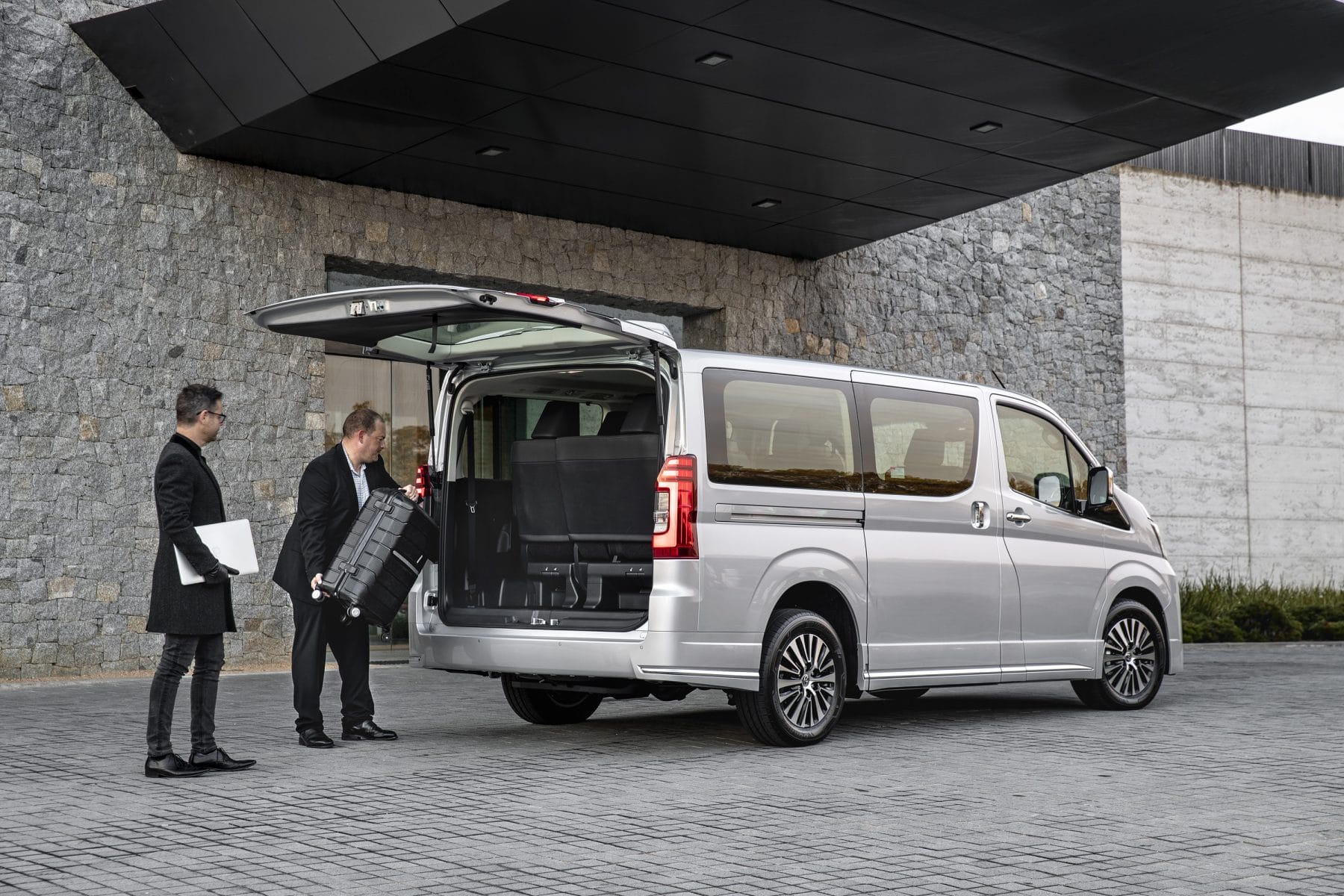 Conclusion:
I took 3 mates on the drive, and we liked it. However we decided for a party of 4, you're better off with a regular passenger car or SUV. Granvia is a commercial van, so keep that in mind. With 6 on board, it is good, but 8 might be less successful.
All who drove it, liked it, even if only for the novelty value. The 360° camera made parking easy, and the engine was fairly economical.
Price:
Granvia (6-seat): $62,990
Granvia (8-seat): $64,990
Granvia VX (6-seat): $74,990
Granvia VX (8-seat): $74,990
Engine: 2.8L turbo diesel
Power: 130kW/450Nm
Econ: 8L/100k
Trans: 6-speed auto