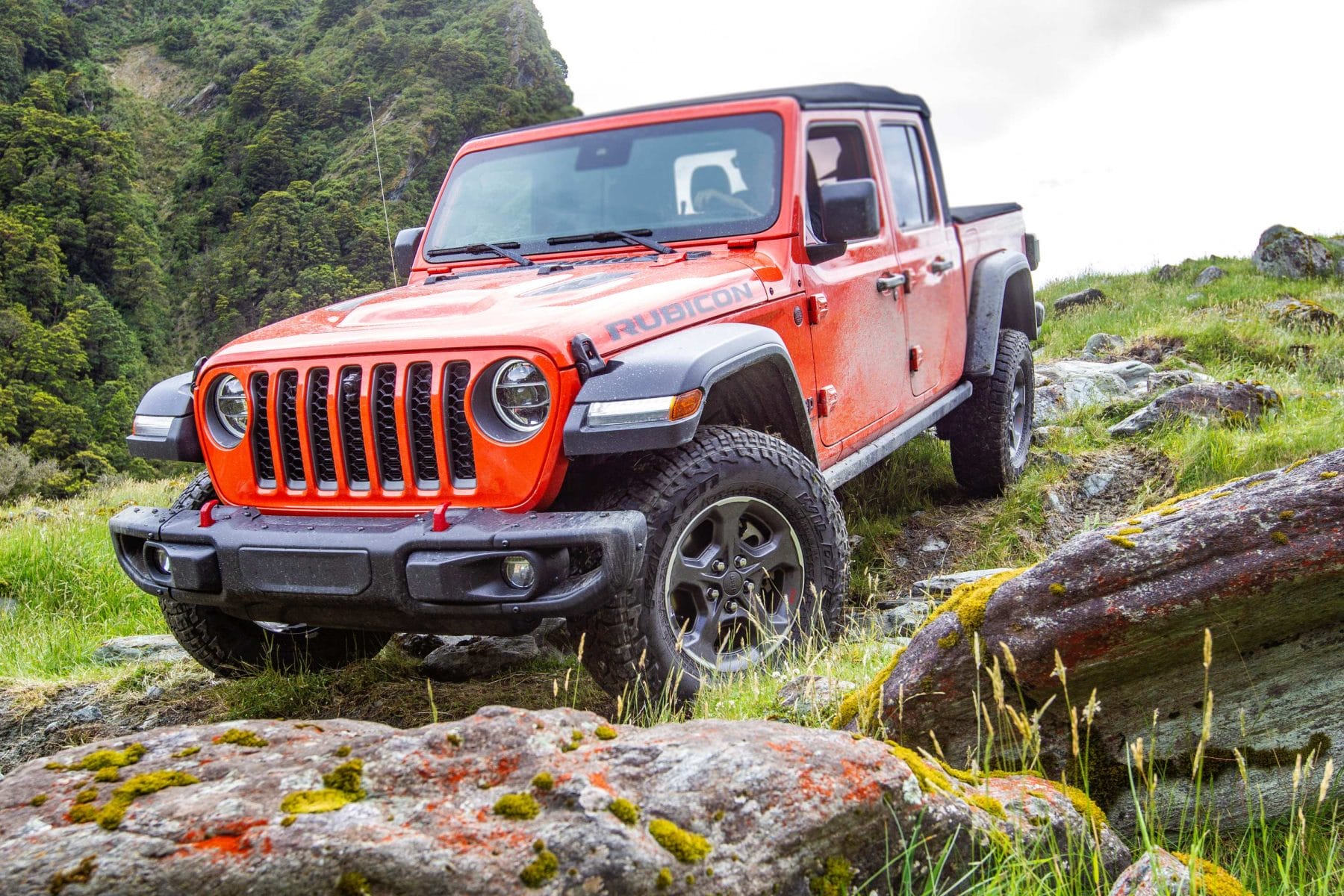 At $76,490, Jeep Gladiator costs about as much as a movie of the same name, but, is it worth it? Look at it this way, do you want to watch a Gladiator movie, or would you rather be part of it?
Outside:
You might think Gladiator is for bogans, but you'd be wrong.
Gladiator is around 800mm longer than the regular Wrangler. The wheelbase is around 500mm longer too, and it is where it counts, behind the back door. The rims may look huge, but they're only 17", with 32" tyres.
LED headlights rectangular DTRLs making the front look downright mean.

Do we need another pick-up truck?
Pick-ups are very important. Tradies have been buying Hilux, and Navara. They're good, but boring. Gladiator is anything but.
The tray is lined, with a locking tailgate and a soft cover that can't be opened unless the tailgate is down.
The cabin?
The interior is a bit bare-bones.
There are rubber floor mats with amap of Rubicon gold fields stamped into them. For added gravitas, miner's picks and shovels are emblazoned across each corner
Seating is leather, so can be wiped down. Floors have a bung hole, so can be hosed out.
The dash has a bold orange insert, with a bewildering array of switches and screens.
The centre stack includes controls for off-roading, entertainment, and climate. The switches and LCDs screen combine and intertwine. Some functions are duplicated, while others have stanbd-alone controls. I like it a lot.
The roof sections come out in 3 parts, 2 in the front, and one over the back seats. The rear window is removeable too, and the windscreen folds forward onto the bonnet. The doors can be taken off too, but the whole thing involves spanners and not a little swearing. Leave it all on, keep clean, keep cool, and keep dry.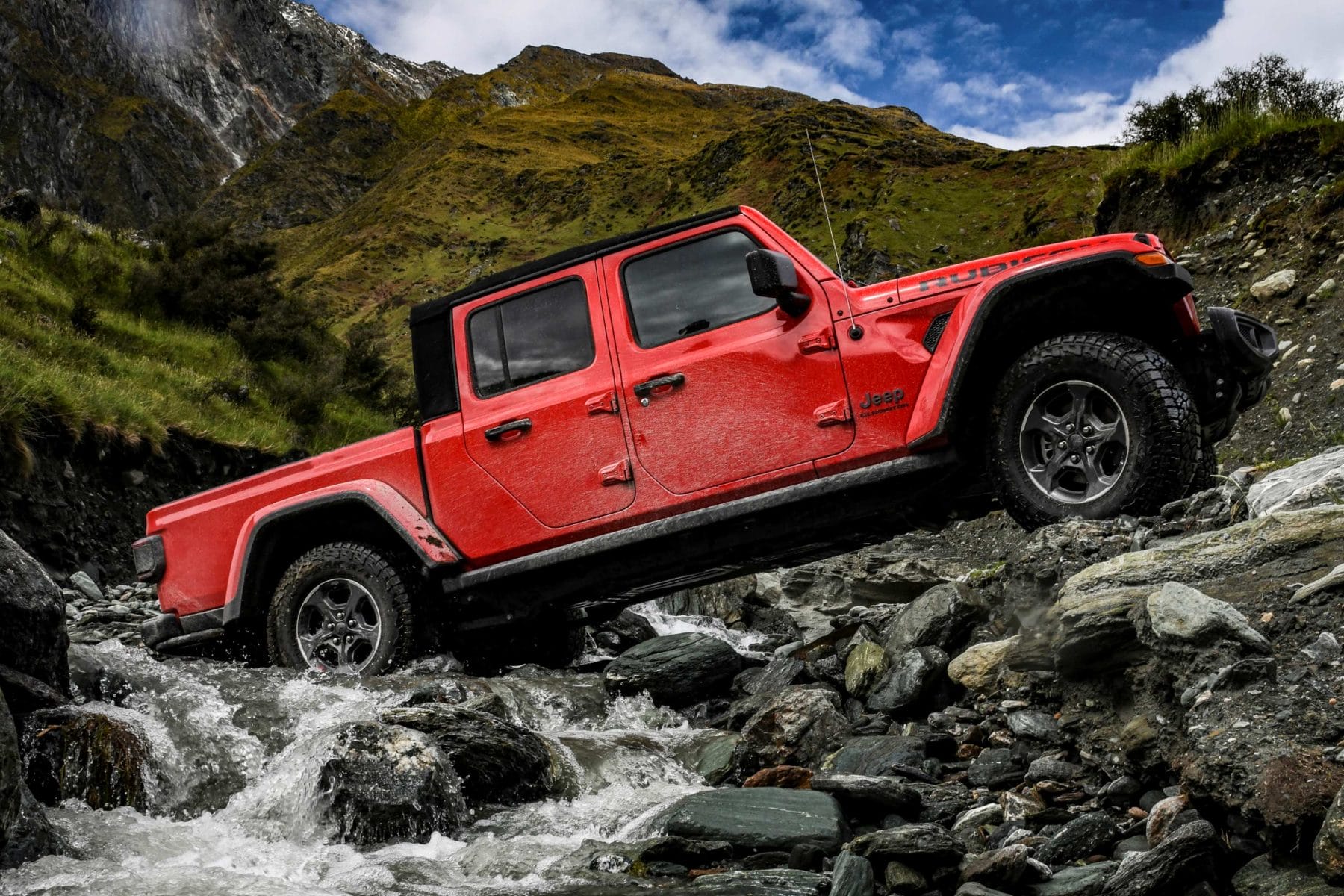 What is Gladiator like to drive?
Gladiator is bigger and bolderr than Wrangler.
As capable as it is,  Gladiator will more likely be called upon to tow boats and trailers. It might even be used by grey nomads for their bucket ist tours.
The V6 Pentastar is smooth, and the 8-speed ZF automatic is as slick as ever. The 4X4 system differs slightly from the base model Overland, but are equally capable. Off-road cred is no in dispute.
There is no diesel option which is a bit of a disaster. Jeep has great diesels available, and Gladiator must have this option if it is not to die the slow of Toyota's Fj Cruiser.
Steering feels floaty at spead, as expected. Corners are still dispatched fun, but it is no ports car.
In tight carparks, don't forget to check your overhead clearances. You're around 1.95m tall, making many car parks too close to call.
Cameras can be used any time, whether parking, or on a trail. For this price I'd have liked 360° cameras. That is something every high-end 4X4 should have. Although utilitarian at its root, 80 grand is still a chunk of change. We should expect the best.
Tradies will like the huge rear tray. Off roaders will love the drive system, ride height, and space. Grey nomads will love the towing capacity.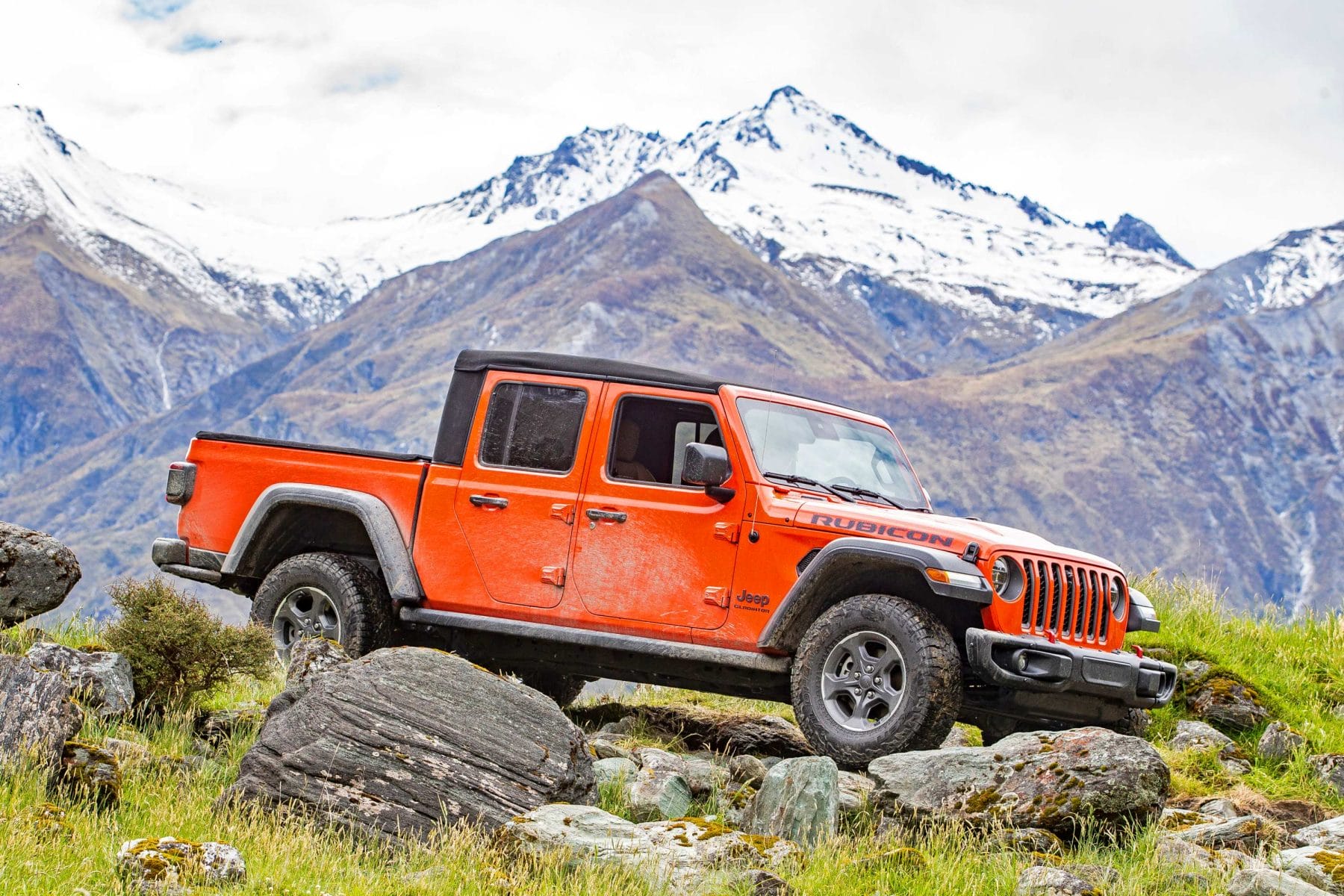 Conclusion:
I loved every second. Our Firecracker Red test car was cool, but there are other hip colours, including one that makes you feel like you've nicked an army car from the car pool.
Although Gladiator is huge, it feels much smaller, especially on the highway. Parking is fairly easy, and the interior space has that mid-century cool.
There are some rough edges that need sorting our, like parts of the bumper that look like they were screwed together in dad's workshop.
Gladiator makes you feel like a million bucks.
Price:
Overland $74,490 MLP*
Rubicon $76,490 MLP*
*MLP – Manufacturers List Price includes GST and LCT but excluding statutory charges, dealer costs and dealer delivery. See your dealer for RDAP. Does not include price of any options.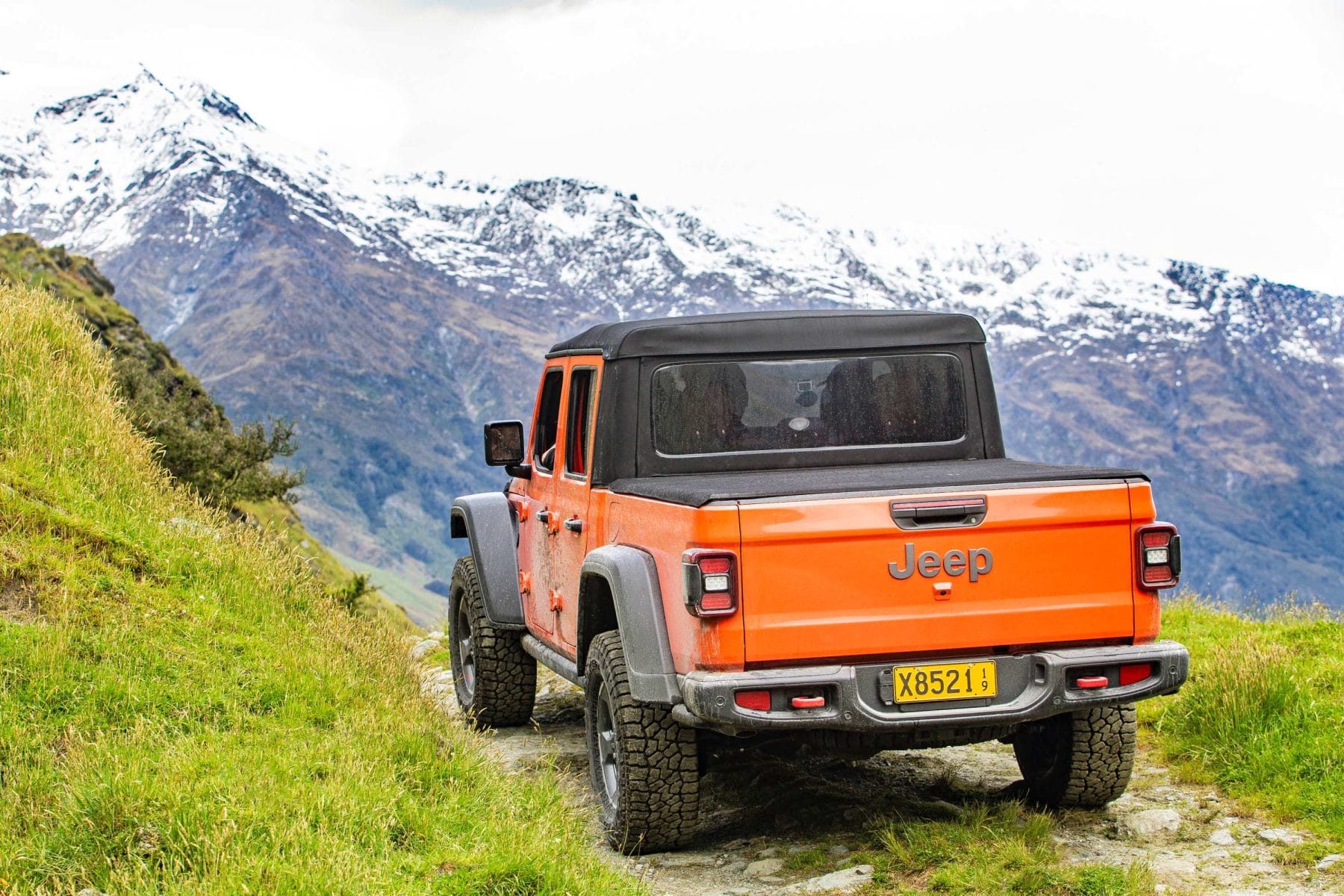 Other Details
Weight – Kerb 2215
Weight GVM 5284 (with 620kg payload)
Length (mm) 5,591
Width (mm) 1,894
Height (mm) 1,909
Wheelbase (mm) 3,488
Front Track (mm) 1,636
Rear Track (mm) 1,636
Suspension
Front – Solid axle, link coil, leading arms, track bar, coil springs, stabilizer bar
Rear – Solid axle, link coil, trailing arms, track bar, coil springs, stabilizer bar
Shocks – Aluminum monotube shocks
Electronic Stabiliser Bar Disconnect – Front
Electronic Locking Differentials – Tru-Lock® Front & Rear
Running Clearance (mm) 249
Approach Angle 40.7
Breakover Angle 18.4
Departure Angle 25.1
Wading Depth (mm) 760 (
Warranty & Service Overland
Towing – Max. Braked Towing Capacity (kg) (9) 2,721
4×4 System
Overland  Selec-Trac® 4×4 Active On-Demand
Rubicon – Rock-Trac® 4X4 Active On-Demand
Operating Mode 2WD High; 4WD High Auto; 4WD High; Neutral; 4WD Low
Engine: 3.6L Pentastar V6
Power: 206KW/347Nm
CO2: 288gm/km
Tank: 83L
Econ:  12.8L/100k
Transmission: 8-Speed ZF Automatic
Service Intervals 12,000km / 12 months
Warranty (7) 5 year / 100,000 km
Roadside Assist (8) Lifetime roadside assist when you service through Jeep