Defender vs LandCruiser is the battle of the titans. Here we have two extremely popular large 4WD wagons that are so similar in many ways yet different in enough to sway buyers one way or the other.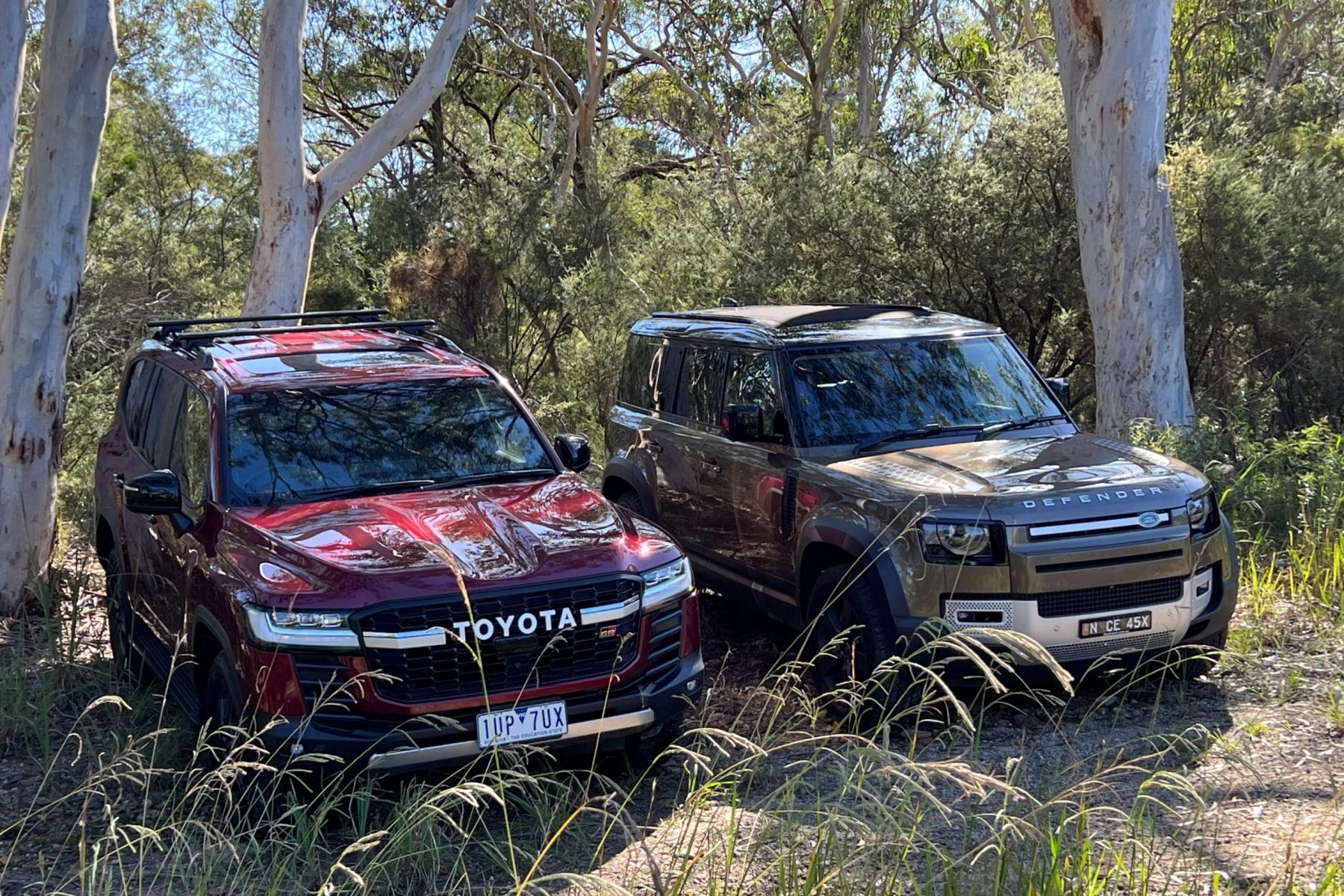 Both were finalists in the OzRoamer 2022 4WD over $80,000 COTY Award, both approach the same outcome from different perspective, both excellent 4WD touring vehicles.
Let's have a closer look at them.
The vehicles chosen are

Quick Overview of the two 4WDs
| | | |
| --- | --- | --- |
| Model    | 2022 Land Rover Defender D300 SE | 2022 LandCruiser GR Sport |
| Model Price | $101.905 MLP* PAT $121,540 MLP* | $137,790 MLP* |
| Engine | 3.0L inline 6 Cyl Twin Turbo diesel | 3.3L V6 Cyl Twin Turbo diesel |
| Drivetrain | Dual Range 4×4 8 speed Sports Auto | Dual Range 4×4 10 speed Sports Auto |
| Power | 220kW @ 4,000rpm | 227kW @ 4,000rpm |
| Torque | 650Nm @ 1500-2500rpm | 700Nm @ 1,600-2,600rpm |
| Safety | 5 Star ANCAP (August 2020) | 5 Star ANCAP (August 2020) |
| CO2 Emissions | 207 g/km | 207 g/km |
| Economy ADR/ Capacity | 7.9L/100km / 8.2L/100K on test / 89L | 8.9L/100k / 10.2L/100k on test /110L |
| 0-100kmh/Top Speed | 7 secs / 191kmh | N/A / 210kmh |
| Servicing | 5 Years/130,000 max kms (whichever occurs first) – $2,650 | 6 mths/ 10,000km  Capped price |
| Warranty | 5yr/ Unlimited km with 5 Yr. conditional roadside assist | 5yr/ Unlimited km with 5 Yr. conditional roadside assist |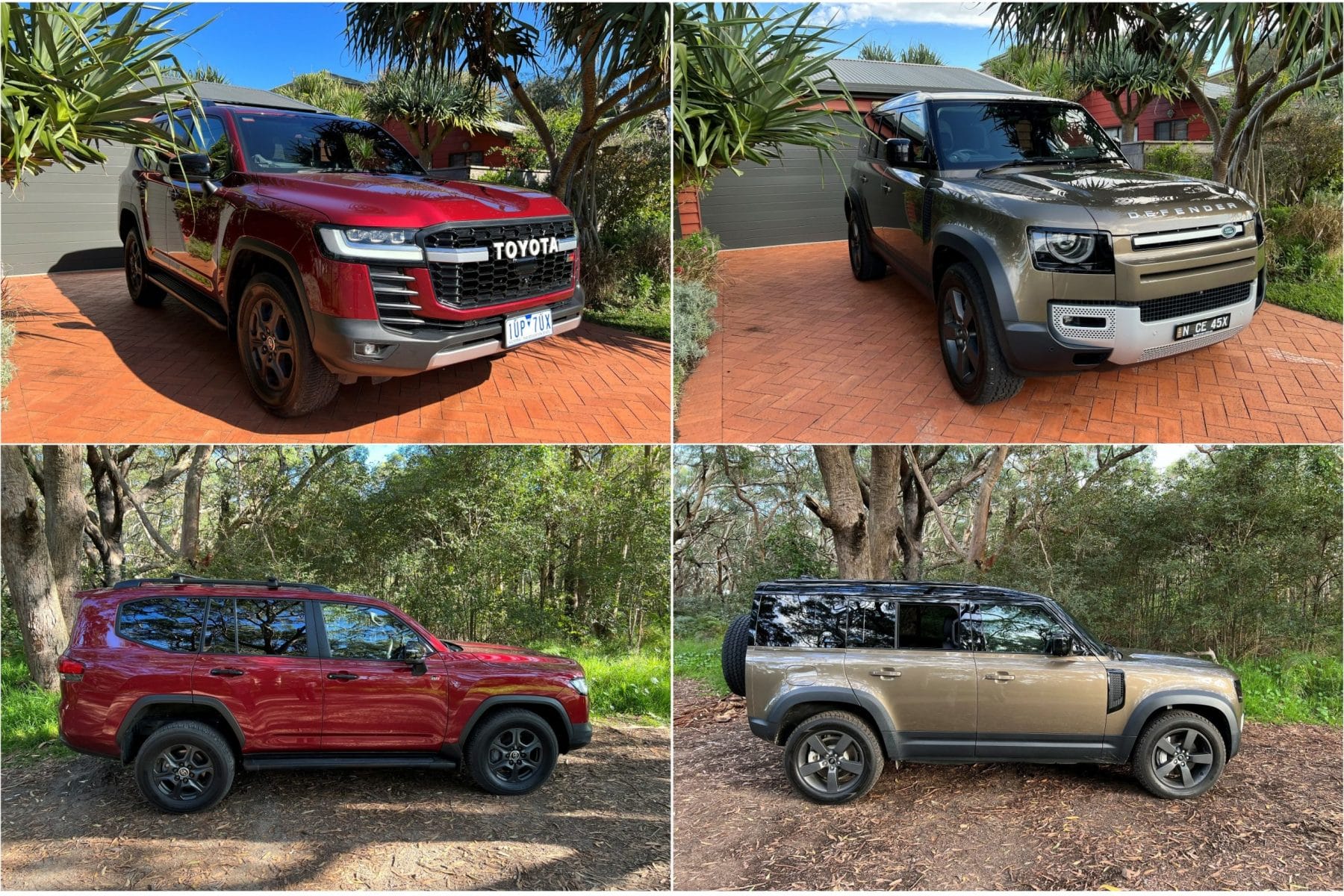 Defender vs LandCruiser Exterior
LandCruiser 300 GR Sport has the big bold look with bonnet bulges and large front grill. GR Sport definitely has a different look and feel about it to the Sahara versions
GR specific additions include; Unique black 18-inch alloy wheels with 265/65R18 Dunlop tyres, Unique black gloss mesh grille with matte white 'TOYOTA' lettering, Unique front & rear lower bumper design & black wheelarch mouldings, Black rocker/lower door mouldings, outer mirror covers, door handles, window mouldings & 'LandCruiser' logo, GR Sport badging on grille, front doors & rear hatch, Unique rear mudguards, Front door scuff plate ornamentation, Delete chrome-accented exterior door mirrors & door handles
The new Defender is excellent. It looks great with enough homage to the original icon, but with modern design it's a style that will last I believe.
The droopy eye style lights are a feature as well as the almost smiling frontal grill area. It's a happy face.
The designers have managed to have a solid, robust design with softened edges that I found was universally appealing to the many people that stopped me to chat about it.
Call this one a tie as tastes differ. 

Defender VS LandCruiser Interior
Inside both vehicles are particularly comfortable as you would expect for $125,000 plus. However they exhibit a different design philosophy.
GR Sport interior
The LandCruiser is all new from the 200 series and works well but as I've mentioned before, they could have gone further. Having said that layout is typically Toyota, with a steering wheel packed with controls, twin dials in the instrument binnacle and a central MFD.
The 4WD controls are within easy reach and particularly easy to use.
The central console bin is a cool box but I would prefer a multi layered storage area as its more practical. Large cup holders and a wireless charging tray surround the transmission lever. However not having wireless Smart Phone mirroring is a minus. I don't understand why manufacturers go to the extent of wireless charger and wired connectivity.
The central stack is dominated by air conditioning controls, but surprisingly you still have to go into the screen menu for some functions. Apparently optical drives for CDs are still very popular as I've been told by a few manufacturers.
The central screen is huge and allows some degree of flexibility with layout.
Rear seats have outer heating as well and are comfortable for two occupants. Plenty of head, knee, and leg room, even behind my driving seat.
Defender D300 SE interior layout.
The Defender has a completely different philosophy to the interior layout.
Like all Land Rover vehicles the level of interior features depends on the option packs taken but the general layout is excellent.
Unfortunately the responsiveness of the steering wheel controls is a little delayed, annoying until you attune your expectations.
One thing that is obvious is the amount of interior storage spaces. The Defender is outstanding with its multiple trays, under console storage, central console bin and cup holders. Its best in class.
General thoughts
Both are five seat vehicles and maximise the boot space. The Defender has a swing away door and the GR Sport the lift back style. It helps if it's raining.
Being a fair bit larger than the average bear, comfort is important for me. I fit comfortably in the GR Sport, but the Defender sits on me like my favourite pair of jeans, it just fits.
I actually don't think I've sat in a car/4WD/SUV/Ute that fits me as well as the Defender. My missus, who is surprisingly fussy, likes the GR Sport but loves the Defender as well
I love the space, practicality, simplicity and efficiency of the interior of the Defender.
However for almost every person that loves the GR Sport and hates the Defender there is someone that is the reverse.
This is purely subjective but the Defender wins this one.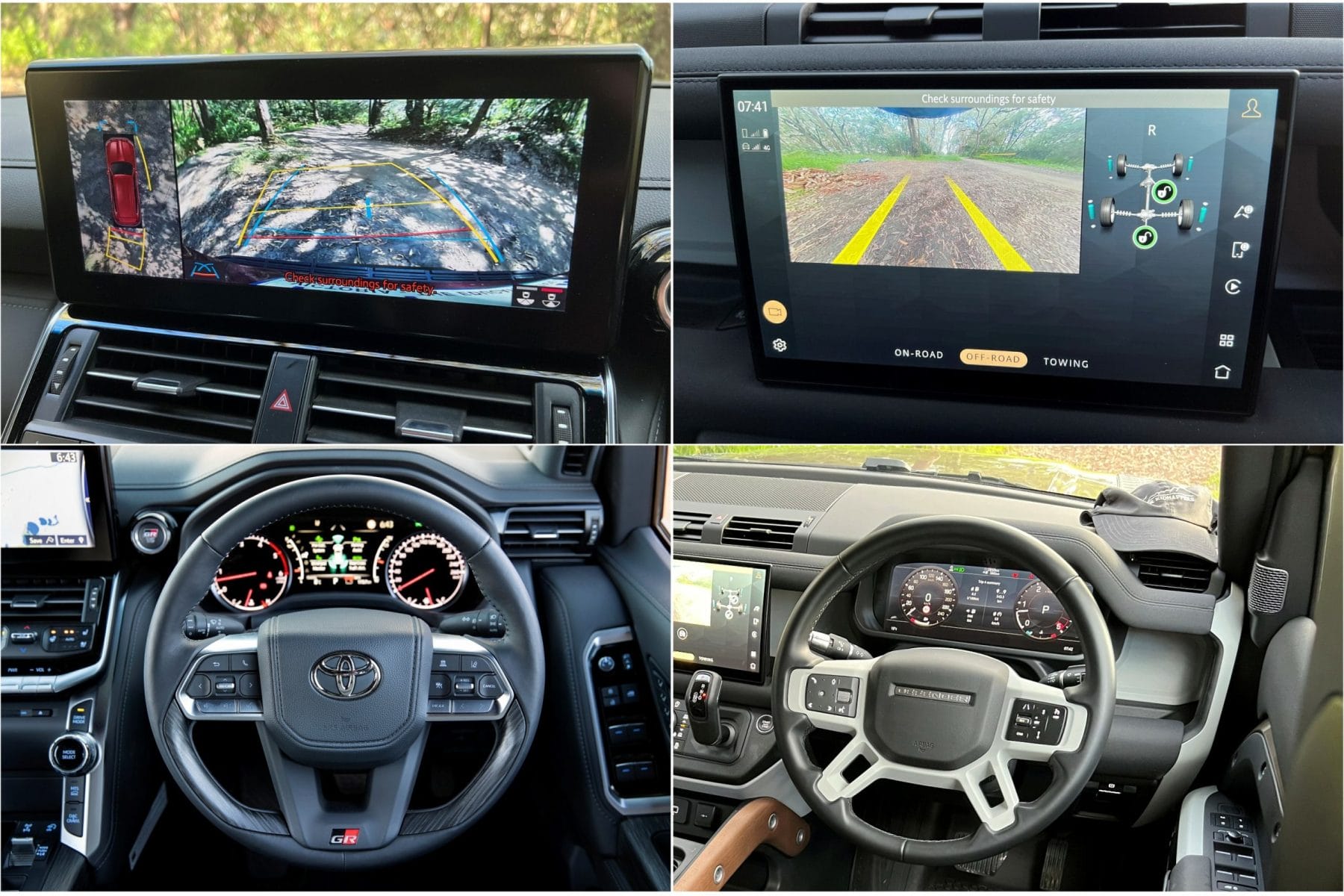 Defender VS LandCruiser Features
This is a minefield as both are well equipped and the Defender in particular can depend on what options are added.
I have outlined both in more detail before and it's easier if you want to read those details rather than simply repeating them here.
LandCruiser GR Sport Details HERE
Land Rover Defender D300 SE detail HERE  
General thoughts
GR Sport has no auto off function for headlights when you turn the engine off, that comes with a $20,000 hatch and would be expected on a $125,000 4WD
Having a wireless charger on the GR Sport but no wireless connectivity for smartphones is frustrating
I would have expected a HUD on the Defender
Having to turn the A/C recirculating function on every time you turn the engine on in the Defender is a little annoying.
As is turning off the lane keep assist in the GR Sport every time.
This one goes to the Defender, as there is a myriad of options that can be added 

Defender VS LandCruiser Engine and drivetrain
Both these vehicles have a six cylinder turbo diesel engine.
GR Sport has the new twin turbo V6 with power of 227kW @ 4,000rpm and torque of 700Nm @ 1,600-2,600rpm. It has a dual range 4WD and a 10 speed sports automatic transmission.
While I loved the old V8 diesel on the LandCruiser, I have absolutely no complaints about the new arrangements.
Defender has an inline six cylinder turbo diesel delivering power of 220kW @ 4,000rpm and torque of 650Nm @ 1500-2500rpm running through a dual range 4WD system and an 8 speed sports automatic transmission.
In real world driving conditions there is bugger all difference between them
The Defender feels to have a touch more grunt down low (felt before I read the specs) and the GR Sport appears to be freer higher in the rev range.
Defender was a little more economical in most conditions,
This one is a tie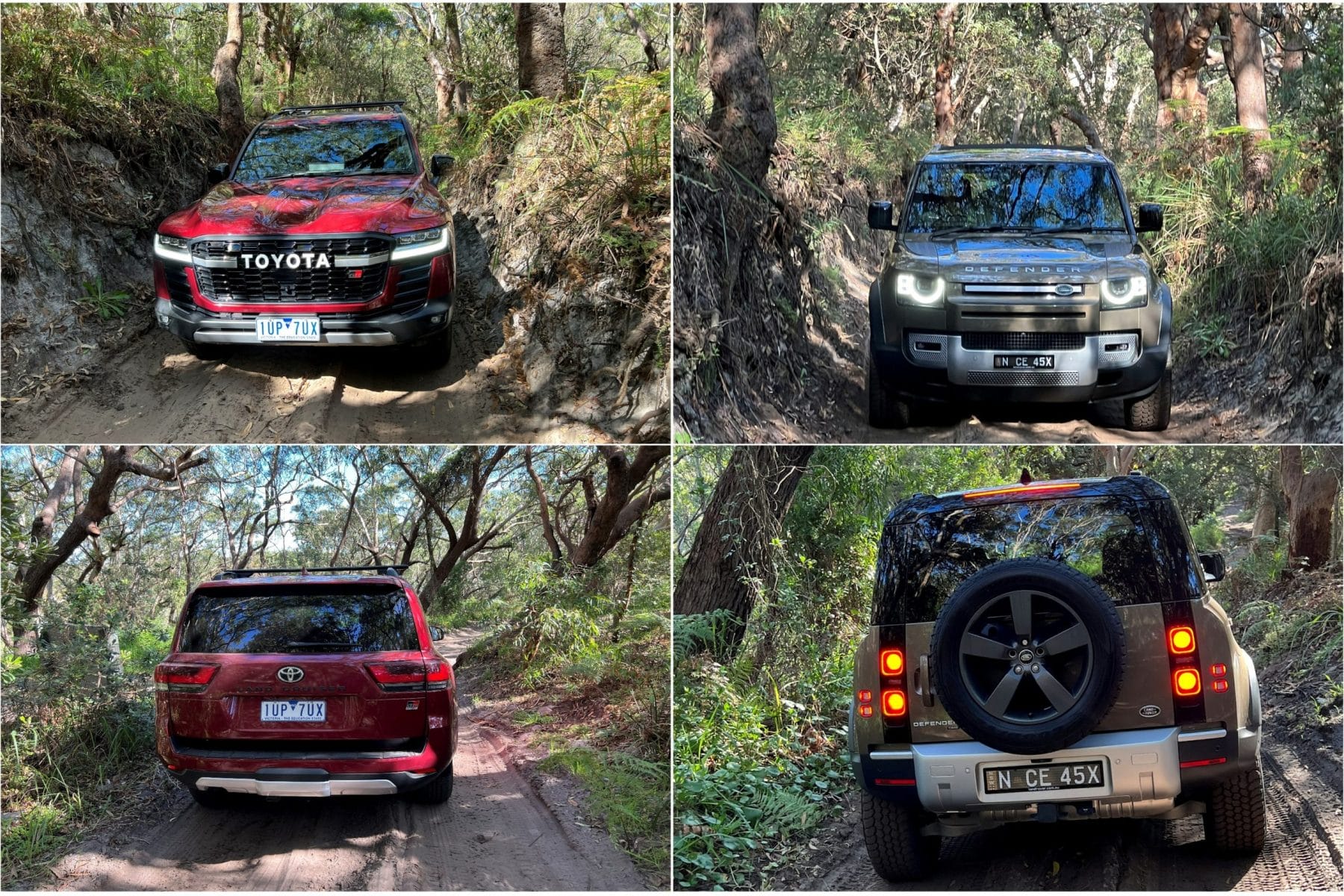 Defender VS LandCruiser Driver engagement
LandCruiser GR Sport is without doubt the best riding and handling variant amongst the 300 series vehicles.
The combination of e-KDSS (kinetic dynamic suspension system), Lockable front and rear differentials, Adaptive variable suspension and 5-mode drive mode select ensure outstanding off road performance and dramatically improved on road performance.
GR Sport is good, very good, the Defender is better.
Defender is leaps and bounds ahead of other 4WD wagons and many fancied AWD SUVs as well, for on road ride and handling.
It's simply stunning how good the Defender dynamics are.
I have said it before and repeat it here, no one sorts suspension for dirt roads like Land Rover.
Despite how good the GR Sport is, this is a clear win to the Defender.

Defender VS LandCruiser 4WD and towing ability
Ok straight up there is bugger all difference between both for towing. They both will do the job with ease and both have low delivery of peak torque to help with overcoming inertia when towing.
For towing it's a tie.
4wd capability is like pitting two championship teams against each other. They are designed for this and it shows. There are slightly different approaches but ultimately both achieve the outcome with minimum fuss.
If anything the slightly lower peak torque delivery, optional air suspension with improved angles and 900mm wading depth gives a slight edge to the Defender. Off road the Defender possesses instant and direct response to throttle and steering inputs.
But any driver with reasonable skill levels would take both these vehicles to the same places with relative ease.
The standard 18 inch rims on the GR Sport are better suited to serious off road work and easier to find applicable tyres for. The 20 inch rimes on the Defender look cool, but I would possibly be replacing them before going too far into the bush.
The slightest edge to the Defender here. .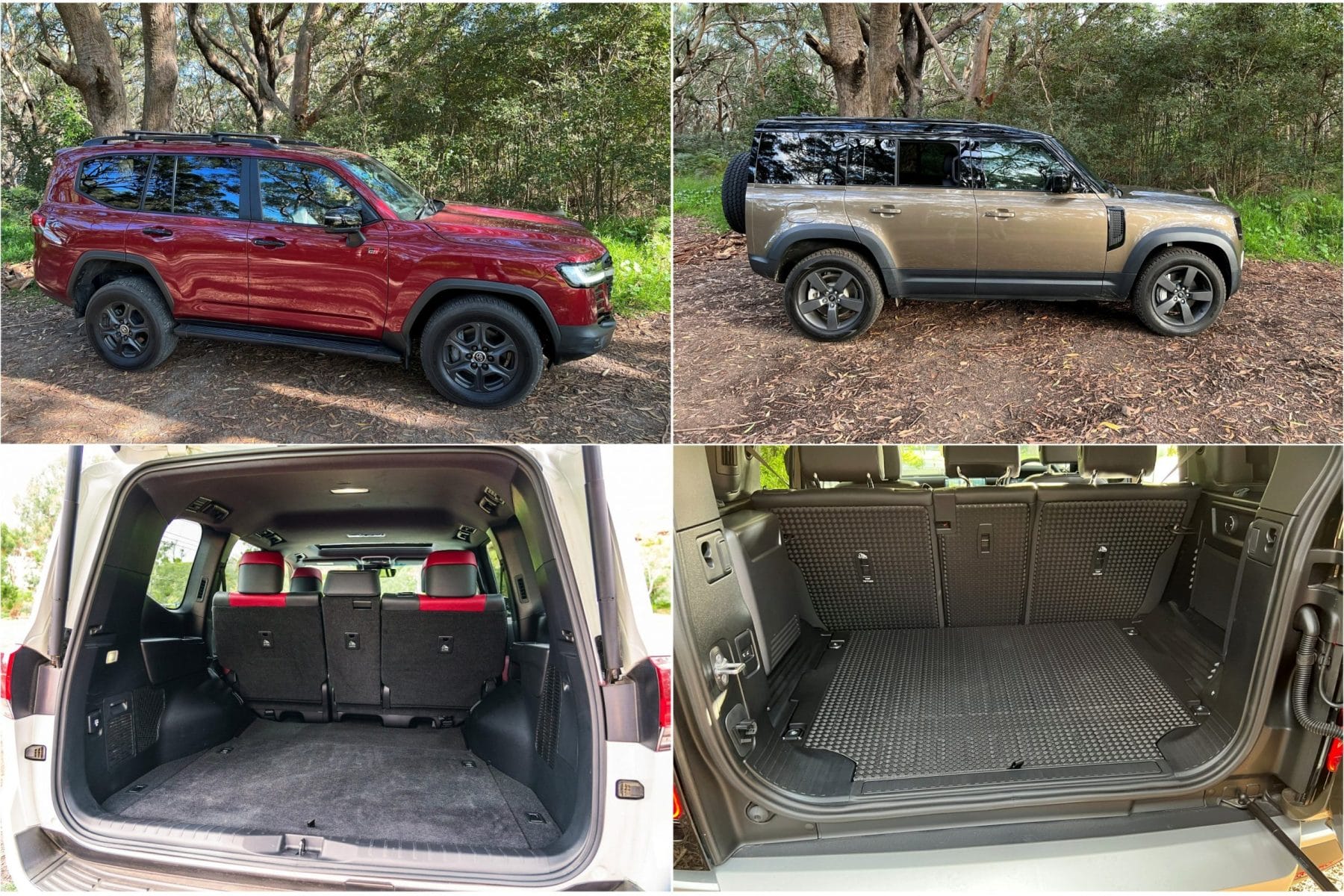 Defender VS LandCruiser Dimensions
The surprise here is that while the Defender looks sleeker and smaller it's actually has larger exterior dimensions.
But inside there isn't a huge difference. That has a lot to do with the wide wheel arches on the Defender and the design brings the sides sloping inwards on the defender.
The Toyota actually feels slightly larger and bulkier, but it's an illusion. Both are easy to drive and manoeuvre in tight spaces, the Defender slightly larger turning circle is only noticeable when driven back to back.
I would say that the interior is better utilised in the Defender, with subjectively more room in the rear seats, more room for the driver and objectively more cargo space in the boot.
| | | |
| --- | --- | --- |
| Dimensions |  LR Defender D300 SE |  GR Sport Dimensions |
| Overall Length | 5018mm | 4995mm |
| Wheelbase | 3022mm | 2850mm |
| Width / Height | 2008mm / 1967mm | 1990mm / 1950mm |
| Boot space Min / Max | 1075L / 2380L | 1131L / 2052L |
| Unladen ground clearance / wading depth | Up to 290mm / 900mm | Up to 245mm / TBC |
| Fuel Tank  / Turning Circle | 89 Litres / 12.84mts KTK | 110 Litres / 11.8mts KTK |
| Approach / rampover / departure degrees | 37.5 / 27.8 / 40.0 | 32 / TBC / 25 |
| Kerb Weight /  GVM / GCM / Payload | 2347kg / 3205kg / 6700kg / 953kg | 2630kg / 3280kg / 6780kg / 650kg |
| Wheels and Tyres | Alloy 255/60 R20 | Alloys 265/65 R18 |
| Max Roof Load: | 168kg (Dynamic), 300kg (Static) | TBC |
| Towing Capacity / Tow Ball rating | 3500kg / 350kg | 3500kg / 350kg |
LR Defender ground clearance is up to 290mm with air suspension. Coil suspension is up to 226mm.
The Approach, ramp over and departure angles for LR Defender are based on off road setting with optional air suspension, which was included in the test vehicle.
Defender VS LandCruiser Owner benefits
Toyota offers a five year unlimited kilometre warranty with five year roadside assistance. Add to that capped price servicing.
Land Rover also offers a five year unlimited kilometre warranty with five year roadside assistance. Add to that fixed price servicing.
It's a tie here, with a slight puff of wind to the Toyota given how prevalent dealerships are around Australia.
Defender VS LandCruiser final thoughts
Let me start out by saying that I would be delighted with either of these two vehicles in the driveway.
They are both excellent, capable, robust five seat 4WDs that will take the family anywhere they want to go that a car can go, with ease and comfort.
That's not a cop out, just a fact.
If I had a personal preference it would be for the Defender because of the ride and handling dynamics, simplicity of its internal design and the way it simply fits me as a driver.
Overall Rating    

Defender D300 SE

92/100

GR Sport

88/100

Behind the Wheel
9
8
Comfort
9
9
Equipment
9
9
Performance
9
9
Ride and Handling
9
8
Practicality
9
9
Fit for Purpose
10
10
Towing / 4WD Ability
10
10
Technology / Connectivity
9
8
Value for Money
9
8
*Towing and AWD Capability is compared to other similar vehicles in the same class.