Hyundai's new Staria Load van is based on Santa Fe SUV with which it shares numerous components.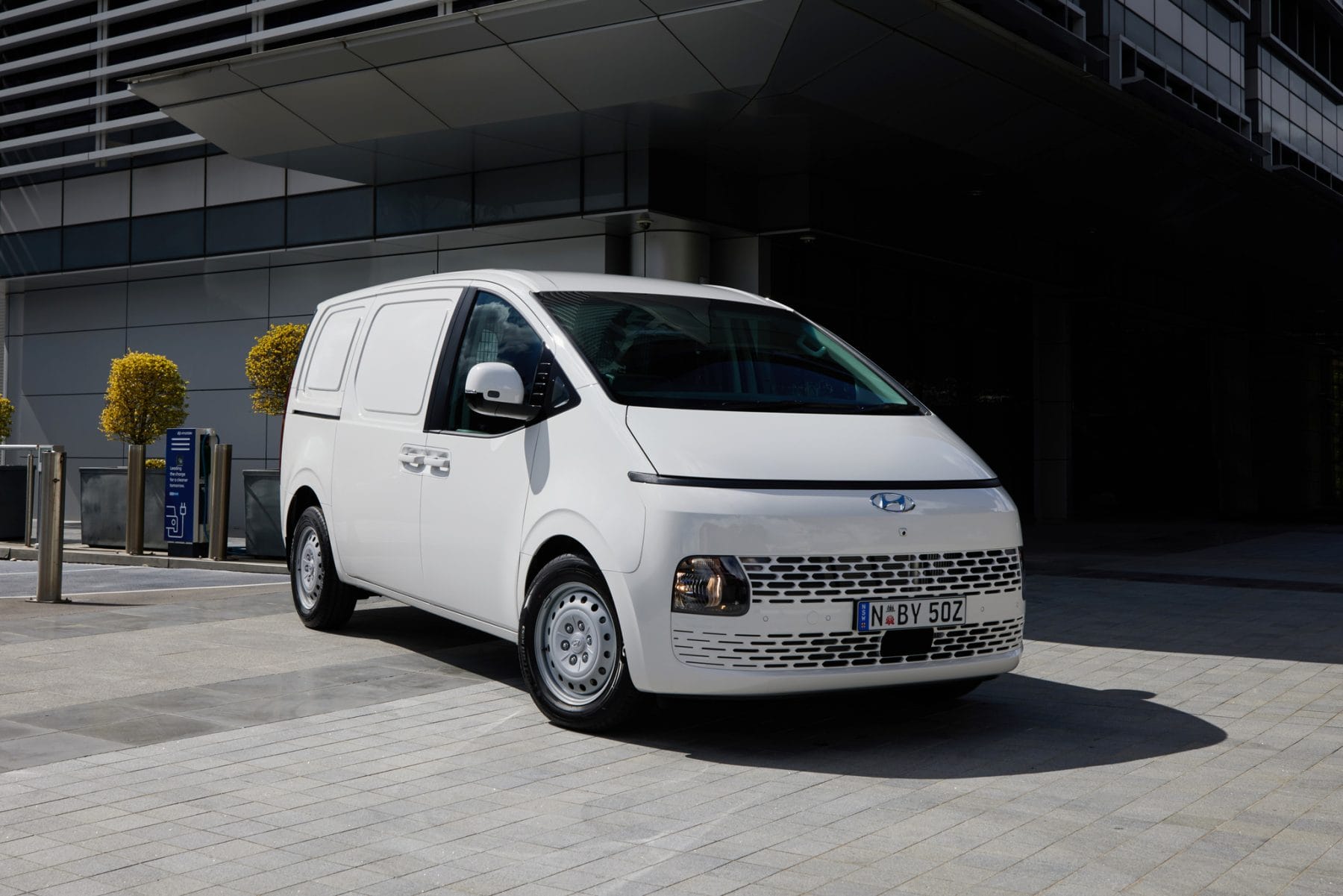 They wanted more of a passenger car feel and safety kit in their new van and have achieved that with Staria Load. However, like many European vans, Staria Load is only available with front wheel drive which can be problematic under fully loaded driving conditions.
On the other side of the coin, it allows Staria Load to swallow three Euro pallets, one more than iLoad could, and enables a towing capacity increase from iLoad's paltry 1000kg to Staria Load's 2500kg.
It's a heavy beast around 2.0-tonnes empty but is crammed full of Hyundai's latest driver assist technology, an 8-speed auto transmission as standard and a host of comfort features in the cabin. Did I mention the full size spare and the choice of tailgate or barn doors (to facilitate forklift loading).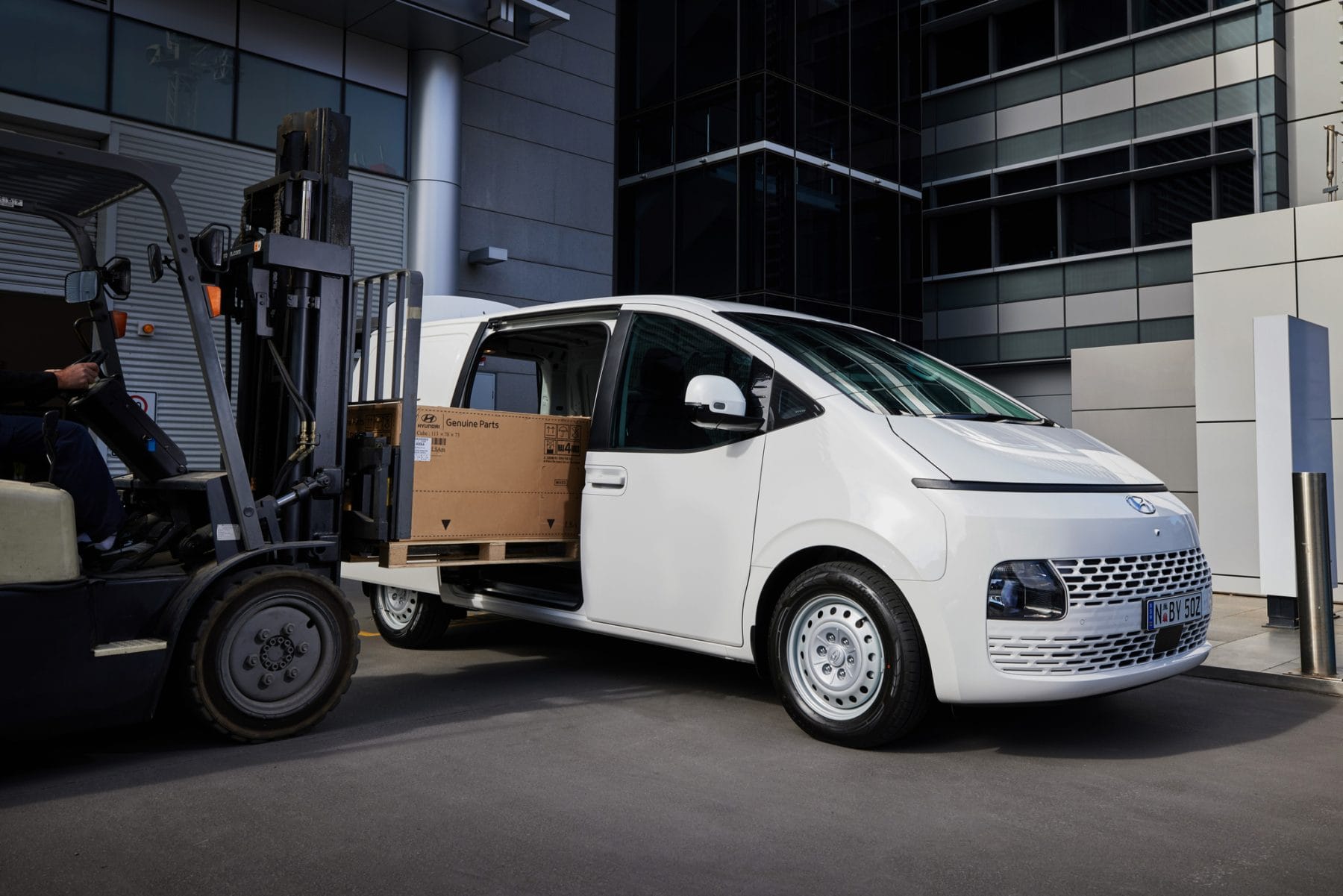 It's an egg-mobile for sure when viewed from the outside sporting a rounded off body with a sloping front and screen combined with that weird front light set-up that has links to something out of Star Wars.
But when you're behind the wheel it matters not a hoot because the drive feel is definitely better than iLoad. More comfortable, more accessible, better designed, improved ride and superior performance to say nothing of the 2.2-litre turbo diesel engine that has proven reliability unlike the old 2.5 in iLoad.
Though it looks smaller, Staria Load carries a lot more than the boxy iLoad and is more space efficient.
A 5-seat crew van variant is available in addition to the two seater standard model. A walk through facility is provided from the front seats to the rear unless a load barrier is fitted.
Though a simple beam axle is used at the rear is has leaf springs to cope with a one tonne payload.
Pricing for the two seater is $45,470 making Staria Load a strong value proposition against competitor brands some of which have extremely low crash safety ratings. It's about the same price as Toyota's 2.8-litre, rear wheel drive Hi-Ace van …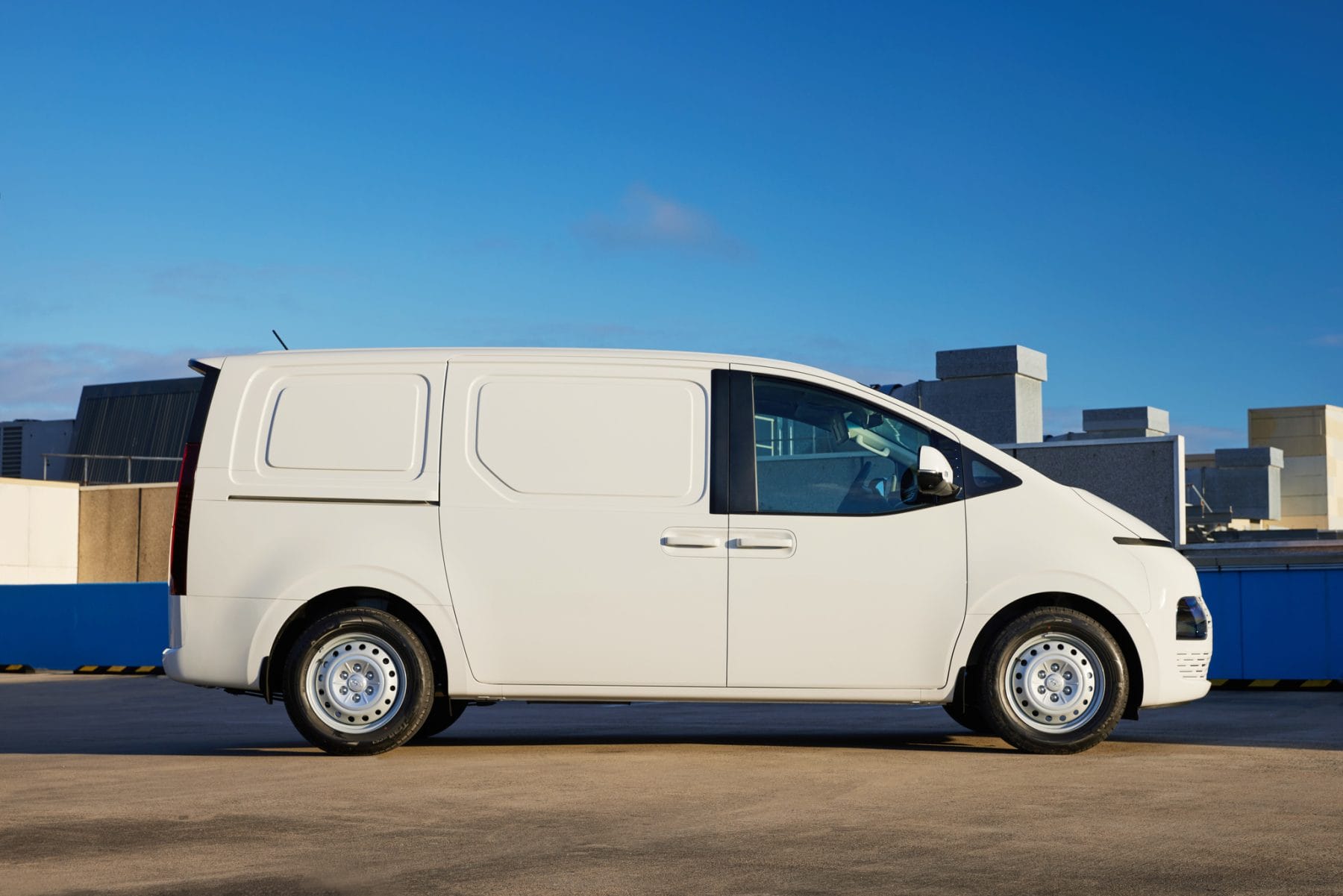 Staria Load Exterior
You get used to it, is the best way to describe Staria Load's looks. It's a striking shape owing nothing to anything else on the road and is a look heightened by the full width strip light at the front with large supplementary lights underneath at each side and expansive mesh grille.
After that, Staria is essentially just a one box van… what else can you do with such a vehicle.
The new shape pays dividends in terms of load space and load-ability with forklift use possible through the side sliders and on the twin swing, "barn" door version that is no additional cost over the lift back. Staria Load is bigger in all dimensions compared with iLoad particularly the wheelbase and has a lower floor and low front door sills with large windows on top.
Two colours are available, white and silver, and both models run 17-inch steel wheels with a full size spare. Model dependent there are 5 or 6 doors including two large side sliders.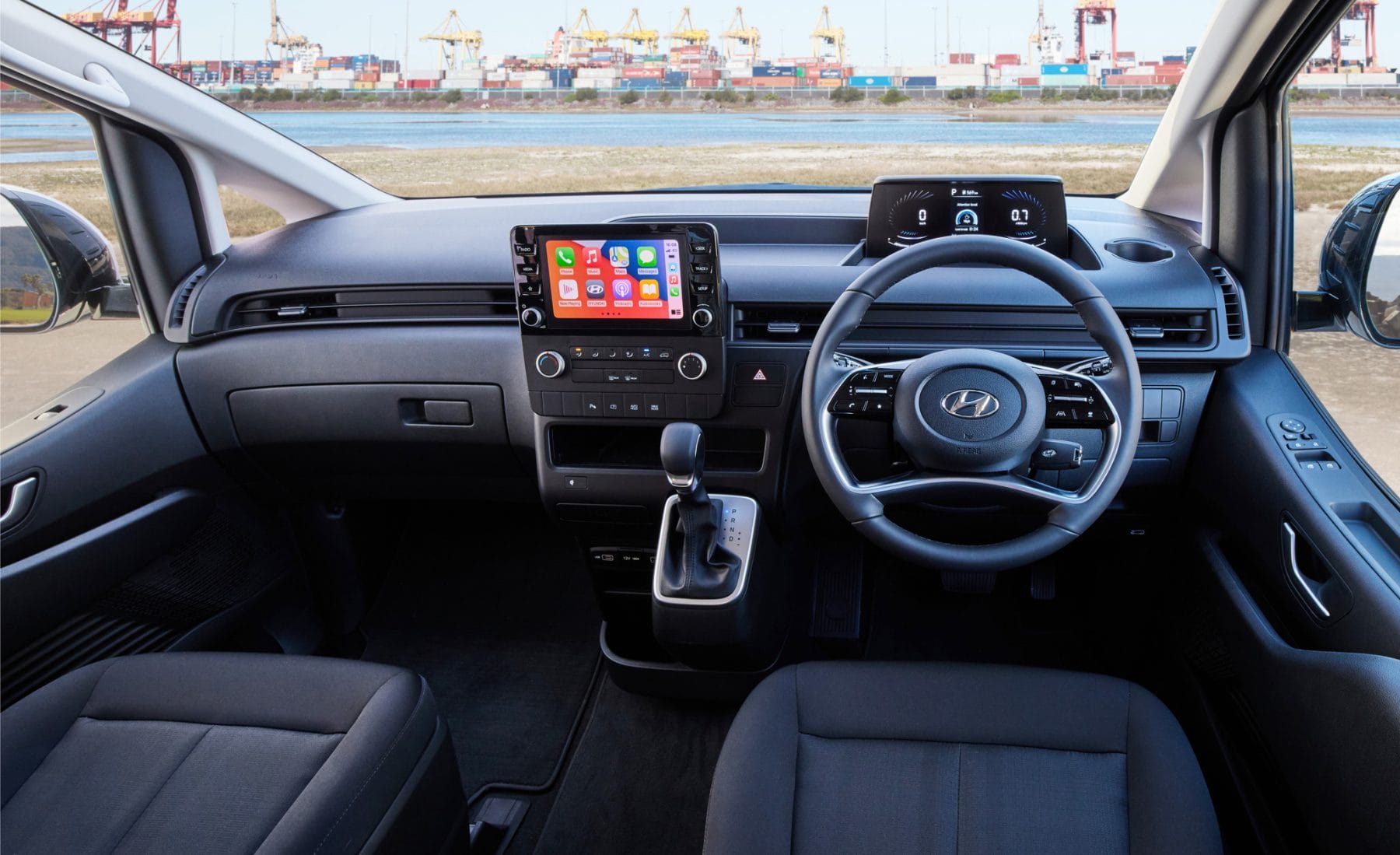 Staria Load Interior
Inside is functional and comfortable with two tablet-style screens for the driver's instruments and the infotainment system in the middle. The cleverly designed dash would allow Hyundai to produce Staria Load in left or right hand drive with minimal re-engineering.
It's a serviceable grey plastic interior with carpet in the cabin and two large, comfortable seats offering some adjustment, hampered if there's a load barrier installed.
The wheel has multiple functions and the auto gear selector is high mounted biased towards the driver. A number of storage compartments are provided including a cup/bottle holder on the driver's side dash top… not on the passenger side.
The load bay has a durable vinyl mat and some side protection panels along with about 8 tie down hooks.
Visibility from the front compartment is good and the exterior rear view mirrors are large.
Hyundai has obviously designed Staria Load's interior for long hauls behind the wheel which means delivery drivers could put in a full day without being pole axed at the end as is the case with some other vans.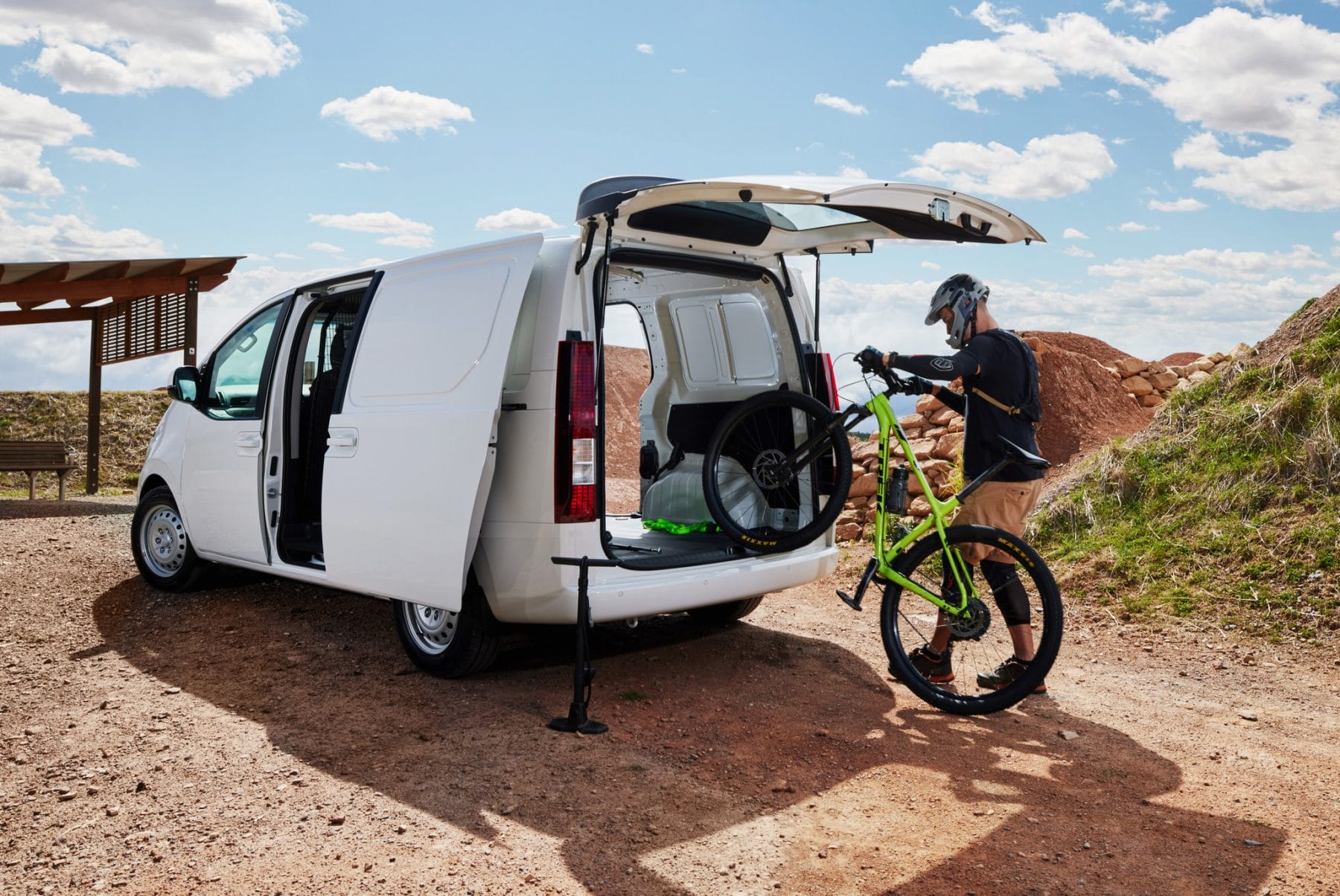 Staria Load Features
Hyundai has been generous with features in Staria Load and smart by offering only one spec. You get;
Qi charger
Heated exterior mirrors
Smart cruise control
Driver attention warning
Safe exit warning
Auto headlights and wipers
1072kg payload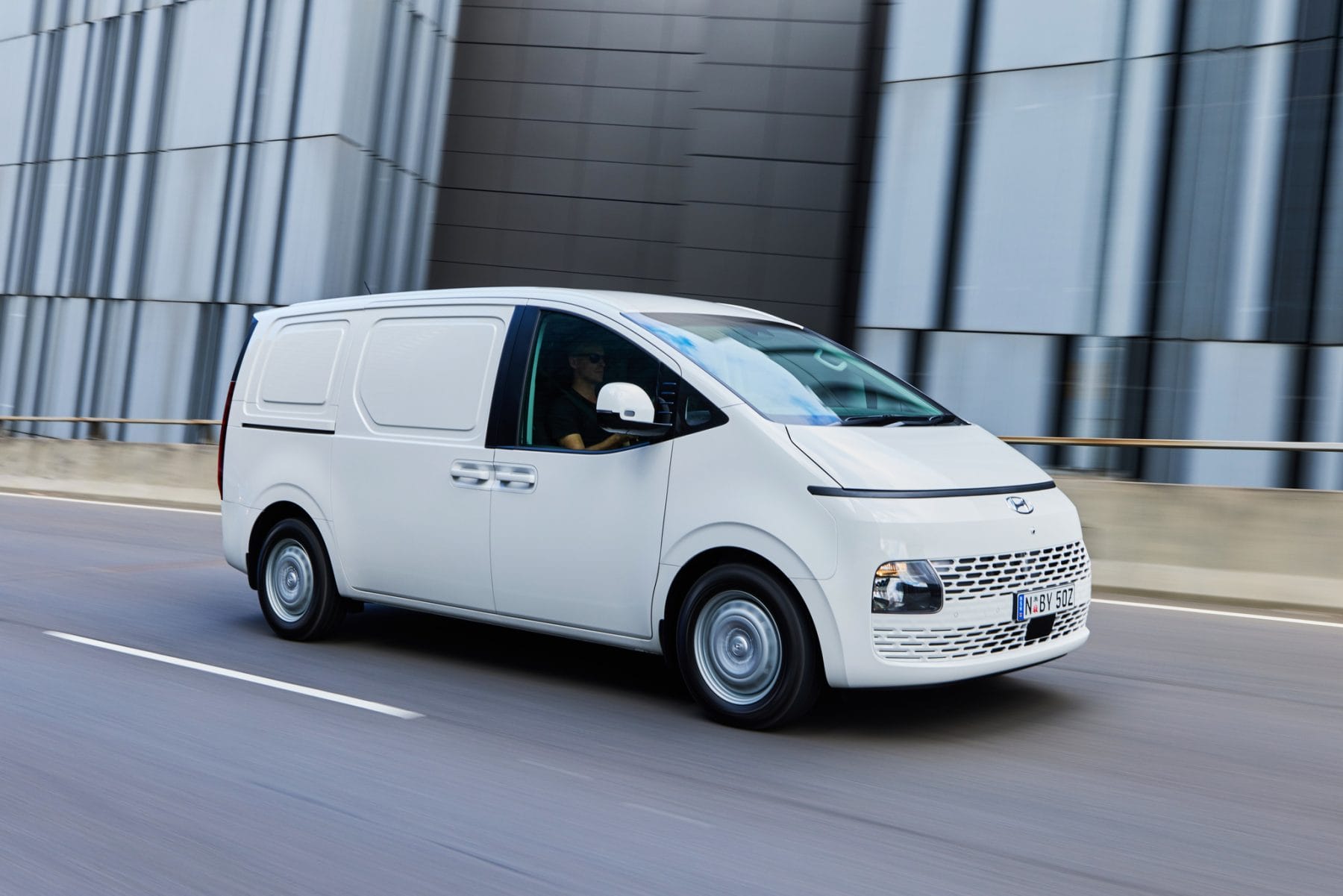 Staria Load Drive and Engine
Plenty of power and torque is delivered by the 2.2-litre, turbo diesel, four cylinder engine residing under the bonnet. It features a VGT (Variable Geometry Turbo) for optimum efficiency and is good for 130kW and 430Nm, the latter at a low 1500rpm. With a slick shifting, conventional 8-speed auto transmission, performance from Staria Load is impressive and about on par with Toyota's strong Hi-Ace 2.8-litre diesel. The big difference is the Staria Load's front wheel drive which is a limiting factor in some conditions such as wet road take offs uphill.  I seriously doubt many driver's would register Staria Load is front wheel drive most of the time.
Fuel economy is a claimed 7.0 litres/100km combined which seems do-able in general driving with minimum load.
It rides well providing both comfort and control with only some drumming evident on rough potholed roads due to the large load space amplifying noise.
It steers well has strong brakes and corners relatively flat… thanks in part to links with Santa Fe.
With a partial load on board, Staria Load sits down nicely and goes pretty much the same as it does unladen.
No complaints at all really.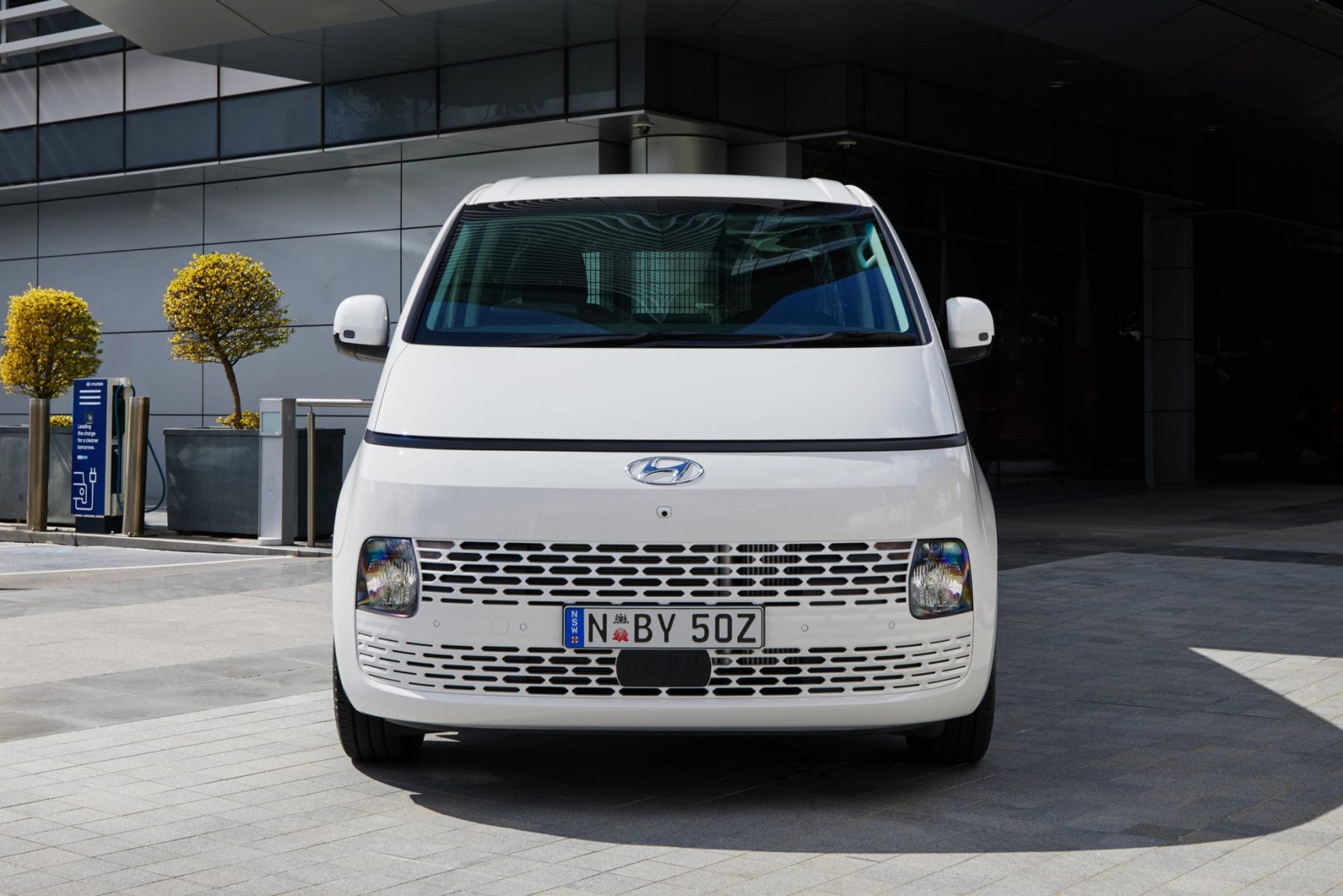 Staria Load Safety
Due to Staria Load's links with Santa Fe, it inherits extensive safety equipment and consequently scores a 5-star ANCAP rating.  Drive assist features are comprehensive focussed on avoiding a collision as much as primary passenger protection. This makes Staria Load perhaps the safest light commercial van on the market at this point in time easily outpacing competition from Mitsubishi, Renault and the Chinese brands.
Augmenting these safety features is Staria Load's competent dynamics that do impart a passenger car feel that contributes to Staria Load's relatively nimble handling, commendable turning circle and ease of control.  There's no need to wrestle the steering wheel and jiggle the gearstick with this van.
Visibility is pretty good all round and  features like heated exterior mirrors, a walk through facility, high mounted instrumentation and  360 degree view all contribute to the van's safety credentials.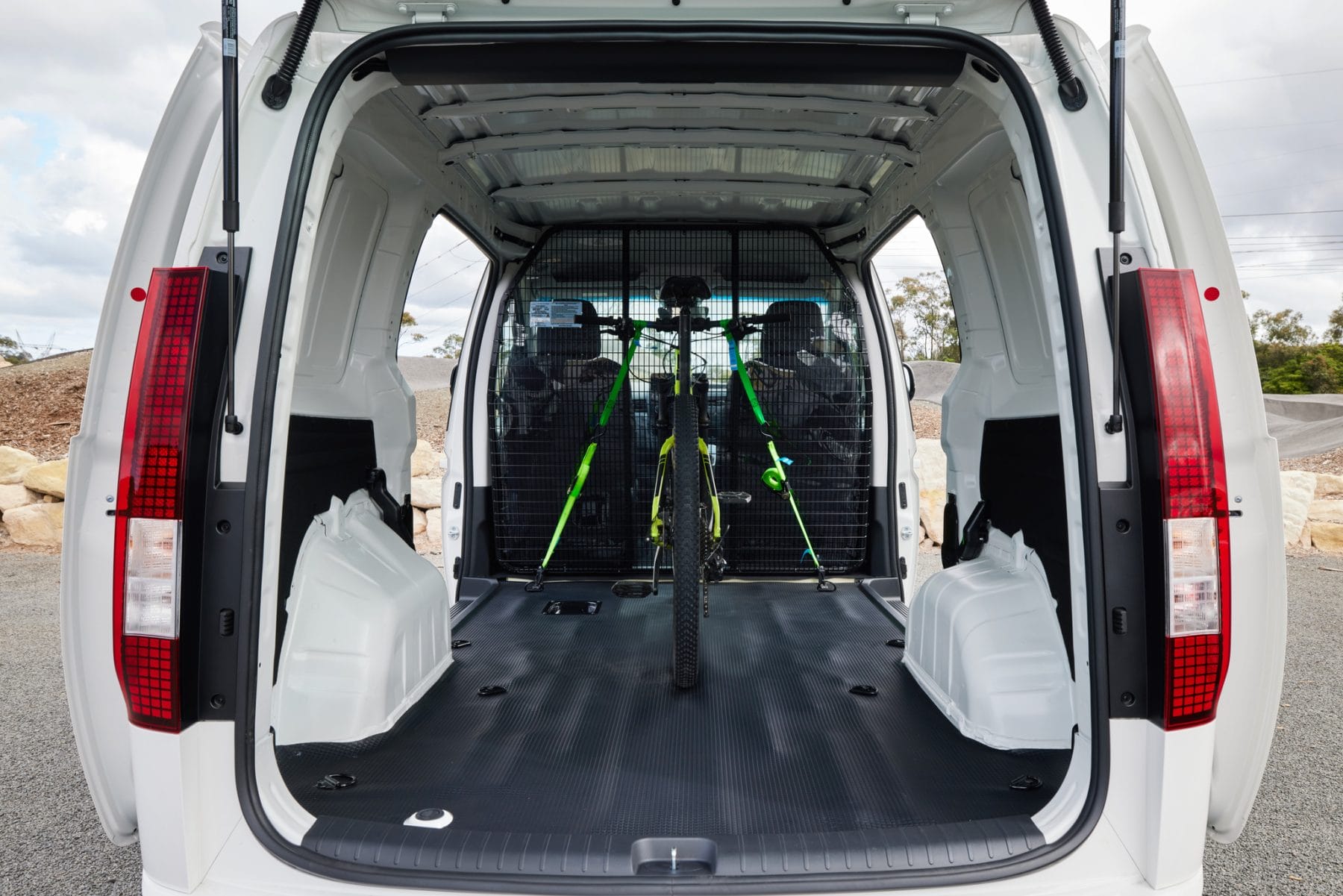 What is good?

What is not so good?

Large load capacity
Economical/strong diesel engine
Well equipped and Safe

Front wheel drive limitations
Some intrusive driver assist technology
Weighty at 1938kg

Summary
As a vehicle to spend your working week in, Hyundai's Staria Load should be right at the top of the list. It's safe, economical, comfortable and practical. From the inside you won't have to worry about the egg-mobile looks as you carry a profitable payload of three pallets or up to 1072kg.
Performance is strong and the passenger car drive feel is a vast improvement on some of the competition.
Staria Load has a full size spare, 5 year/160,000km warranty and 12 month/15,000km service intervals at a fixed price of $360 a pop. Pretty bloody good if you ask me.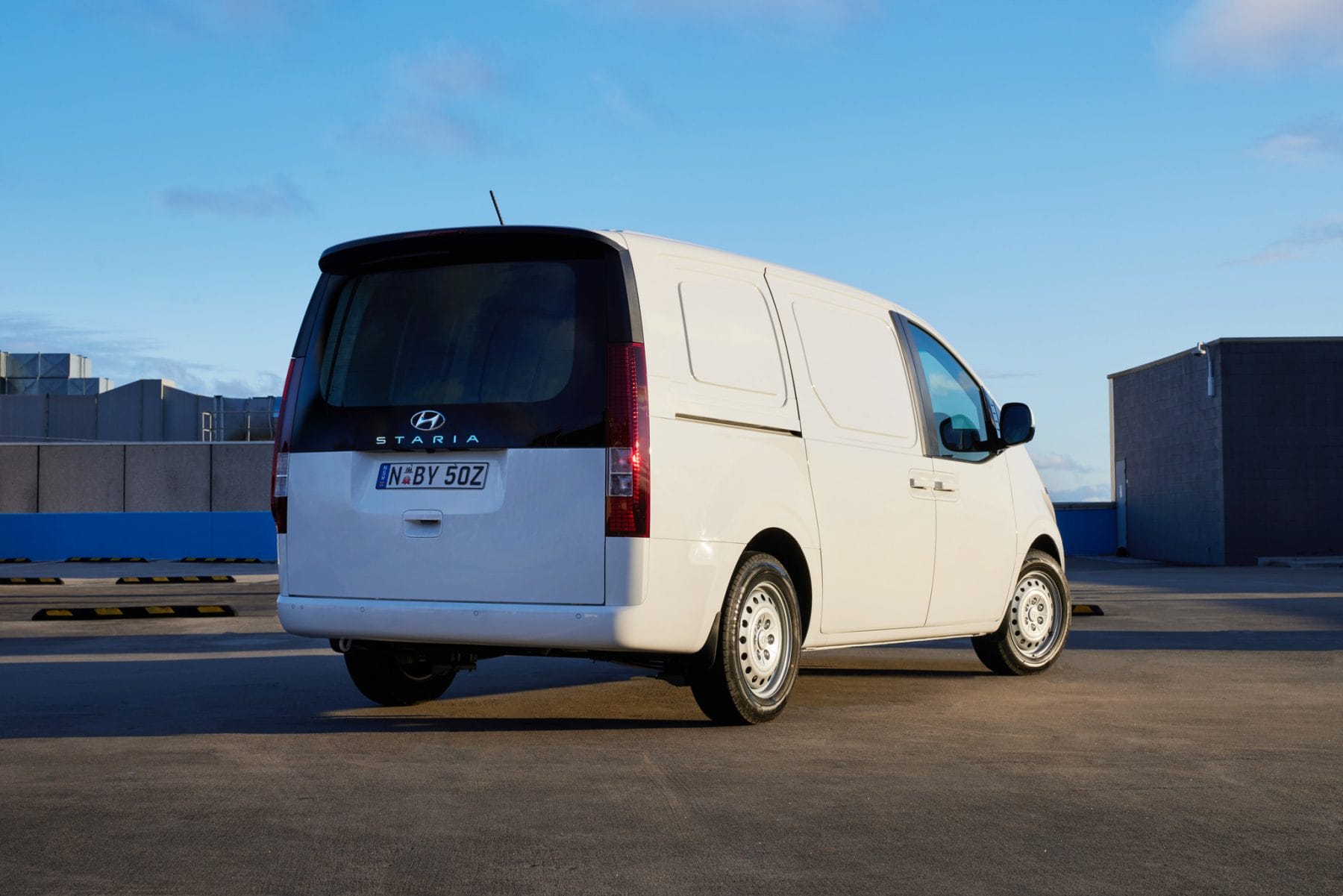 | | |
| --- | --- |
| Model | Hyundai Staria Load |
| Price | $ 45,740 MLP* |
| Engine | 2.2-litre turbo diesel, four cylinder |
| Drivetrain | 8-speed automatic, front wheel drive |
| Power | 130kW @ 3800rpm |
| Torque | 430Nm  @ 1500rpm |
| Safety | 5-star ANCAP |
| CO2 Emissions | 183g/km |
| Economy ADR/ Capacity | 7.0L/100km / 75L |
| Towing/Tow ball |  2500Kg /  100Kg |
| Servicing |  1year/ 15,000km at $360 each |
| Warranty | 5yr/160,000Km with one year roadside assist extendable |
*MLP Includes GST and LCT but excluding statutory charges, dealer costs and dealer delivery. See your dealer for RDAP. Does not include price of options. Some features mentioned in the article are options. RDAP means Recommended Drive Away Price (without options but including all other charges).
Overall Rating -

8/10
Summary
As a vehicle to spend your working week in, Hyundai's Staria Load should be right at the top of the list. It's safe, economical, comfortable and practical. From the inside you won't have to worry about the egg-mobile looks as you carry a profitable payload of three pallets or up to 1072kg.