Genesis GV80 has 4 models, a 2.5L RWD, 2.5L AWD, a 3.0L straight 6 turbo diesel AWD, and finally, a 3.5L petrol turbo V6 AWD. Seating is 5, 6, or 7 seats depending on model and option pack chosen.
GV80 Outside:
The striking GV80 has twin level lights front and back but lacks a Matrix option.
Wheels have intricate lattice to reflect the shield grille. GV80 has 22" standard rims, making the large and impressive profile even large and more impressive.
GV80 Inside:
The doors unlock as you approach, taking the easy entry a step further.
Once inside GV80, a  premium veneer wraps over a quality technological installation.
This is the first time I'd experienced a Genesis without the Luxury pack and my first question was: Will the lack of Luxury Pack leave me feel wanting.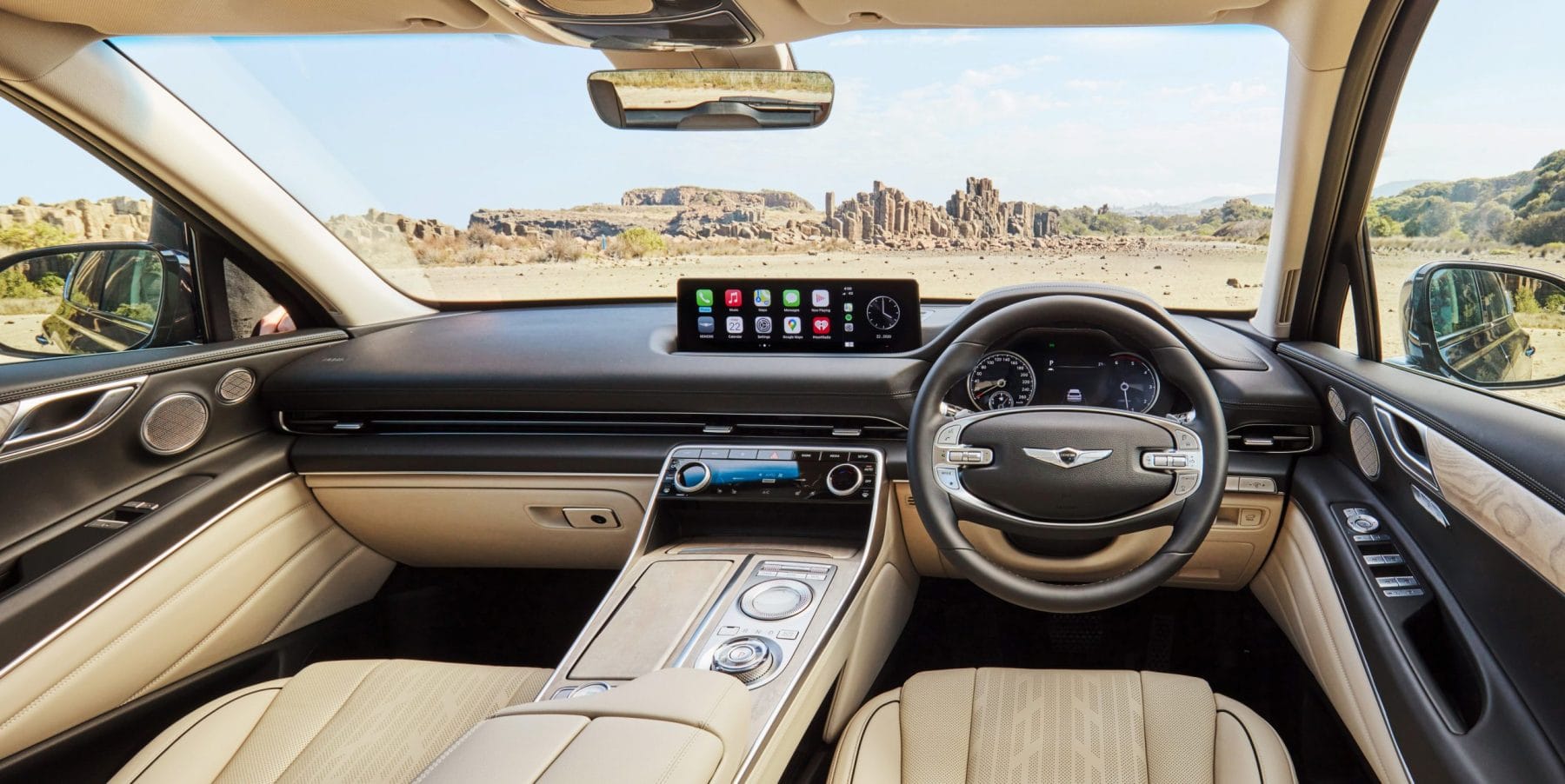 The $10,500 Luxury adds extras such as a fully digital dash, and for $13,500 individual second-row seats with a fully featured, fixed centre armrest and dual 9.2-inch HD entertainment touchscreens..
Without the luxury packs, you may think the cabin might feel lacking in some way, but not a bit of it.
The front seats have heating and cooling, and there is open-pore wood trim, a crystal gear dial and intricately faceted metal highlights
Finally, the HUD augments the digital dash.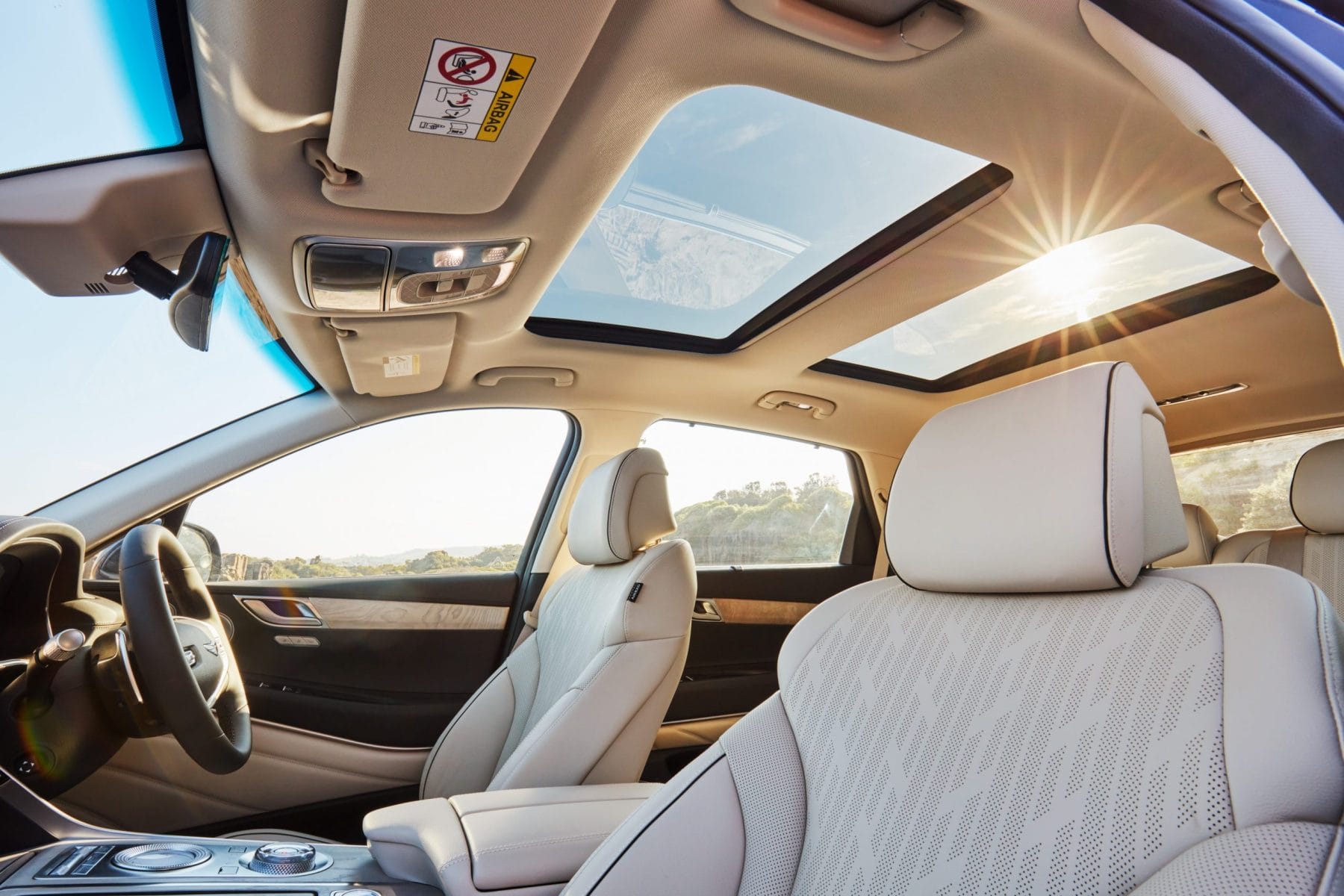 The Drive:
The V6 turbo petrol may have more power, but the grunt of a diesel trumps a petrol every time, with 6.8 seconds for the 0-100 sprint.
GV80 feels heavier than the similarly sized Hyundai Santa Fe, but it comes with a more regal ride.
Everything feels so wonderfully deluxe.
Sports mode toughens the suspension somewhat, but enthusiastic corners gather body roll with a high centre of gravity trying to pull it out of line. Steering and brakes sharp with plenty of response.
You get a 360­o camera, but still need to check around you regularly.
Highways are a joy. Auto steering, and other driver aids, assist during the journey, making GV80 a long-distance option instead of flying.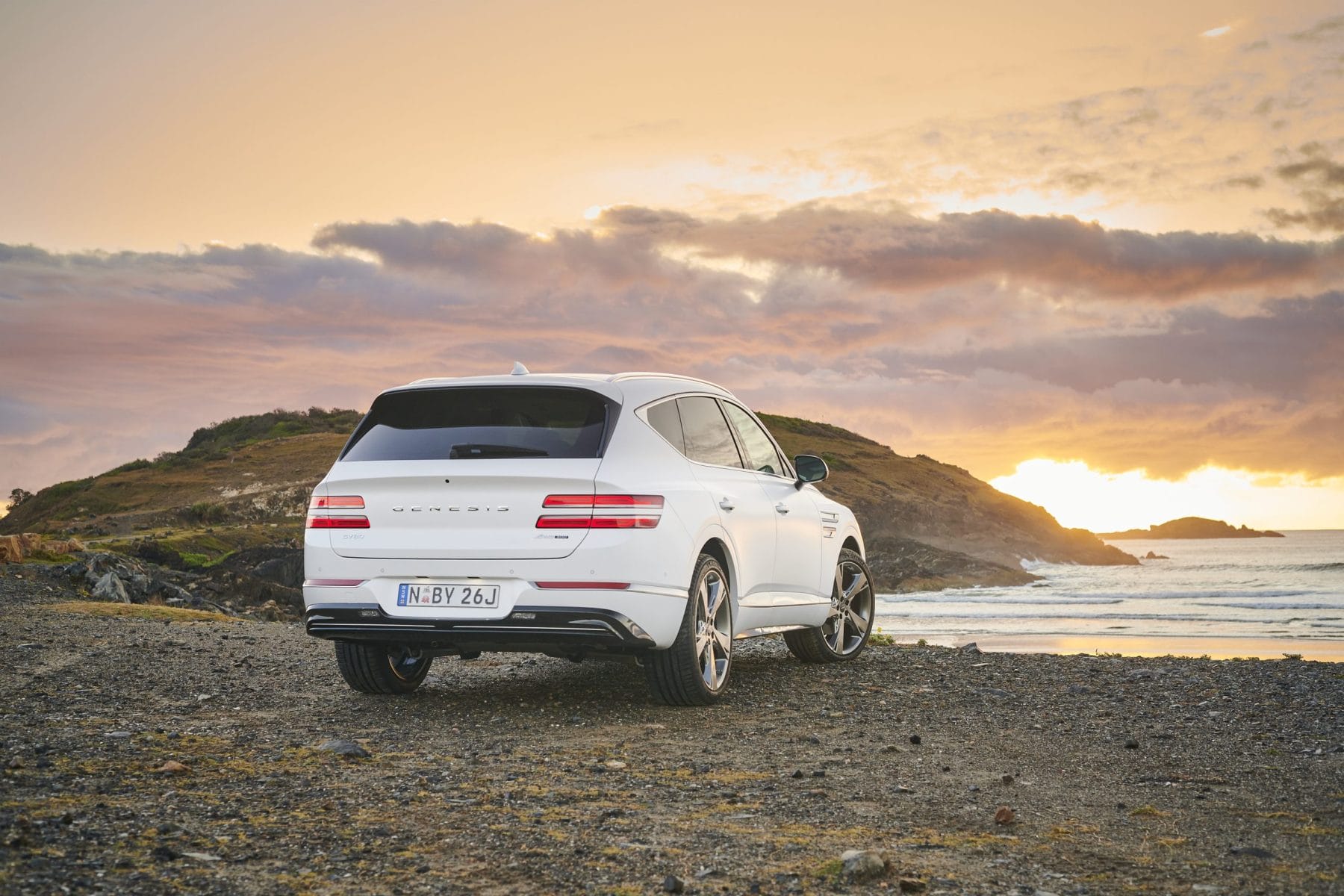 Some other Genesis GV80 Articles
Conclusion:
Genesis GV80 deserves more consideration. Whether it can win a battle of badges, only the buyer can say. From a writer's point of view, it delivers on every promise. It is frugal, well appointed, well made, and most importantly, reliable.
Price: $105,000 MLP*
Option Pack $10,500
Option Pack – 6 Seat $13,500
Engine: 3.0L in-line 6 cylinder turbo diesel
Power: 204kw/588Nm
Trans: 8-speed auto
Econ: 8.8L/100k
CO2: 232g/k
Tank: 80L
Weight: 2267
*MLP Includes GST and LCT but excluding statutory charges, dealer costs and dealer delivery. See your dealer for RDAP. Does not include price of options. Some features mentioned in the article are options. RDAP means Recommended Drive Away Price (without options but including all other charges)