Hyundai Sonata N Line – Given the high standard of the three main medium sedan contenders… Mazda 6, Toyota Camry and the Hyundai Sonata N-Line, it's a tad ironic that medium size cars are withering on the vine being replaced by SUVs.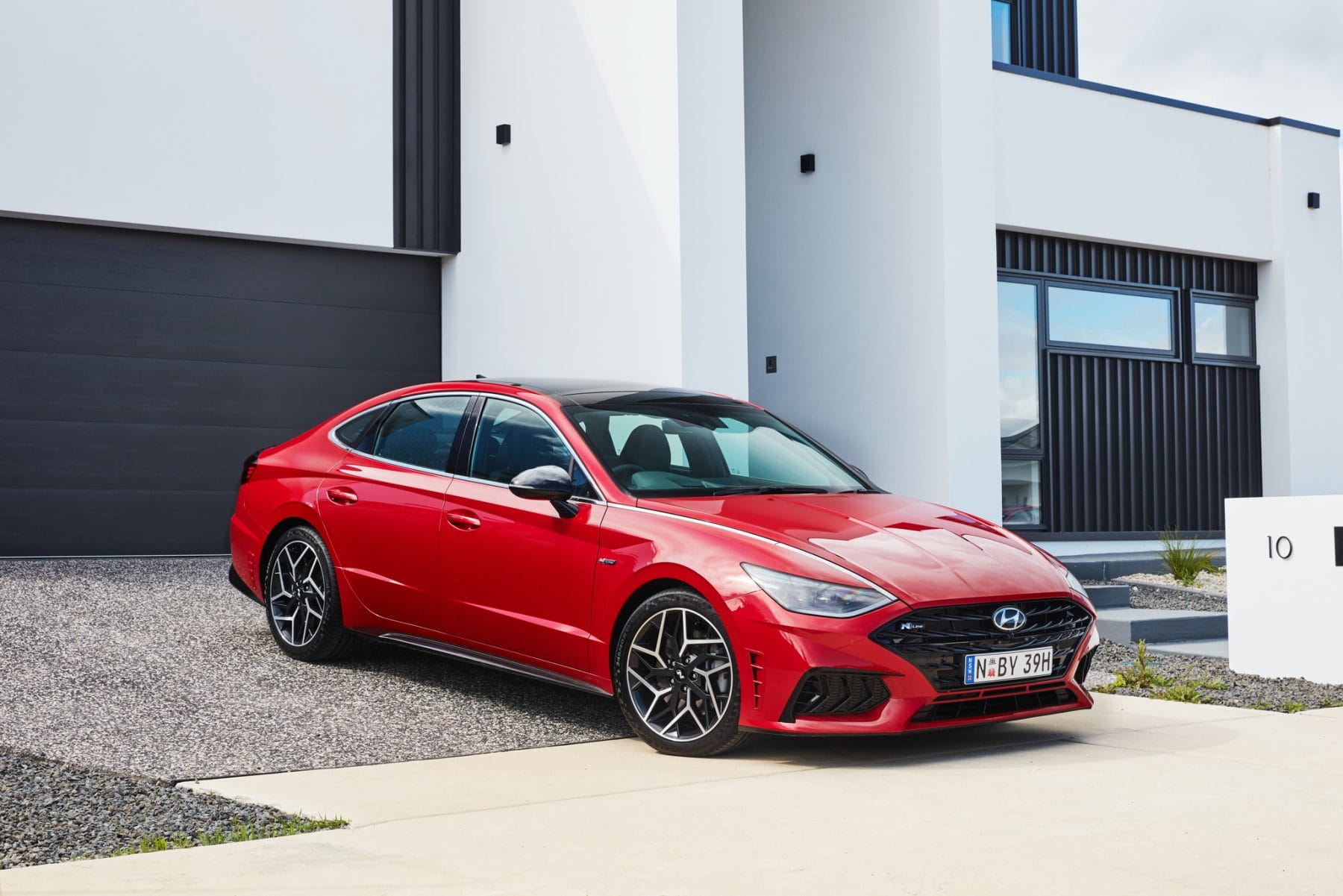 You'd be happy with any of these sedans as all offer impressive performance, safety, styling, features and driver satisfaction all rolled into one package.
Hyundai is perhaps the less committed as it offers only one variant of its Sonata, the $51,000 N-Line sedan with all the bells and whistles.
But what a car it is.
Though front wheel drive, the newly minted Sonata has a powerful 2.5-litre turbo petrol engine under the bonnet delivering superlative performance coupled with a chassis that provides sporty dynamics tailored to suit our local driving conditions. And it looks striking, particularly the bright styling line along each side of the bonnet that links with the LED driving lights.
Inside is specced-up and styled to a premium level with soft Nappa leather upholstery along with other accoutrements from the top shelf such as Bose audio and advanced driver assist technology.
Drive "feel" is firmly in a sports tourer category offering sharpish dynamics, flat cornering and a super responsive engine driving the front wheels through a limited slip differential and an 8-speed dual clutch "auto."
Though ultimately not as practical as an SUV, the Sonata is much more engaging to drive, looks like a car not a moving box and rewards the driver with performance and handling that makes you want to go for a spin.
Nothing wrong with that at all…..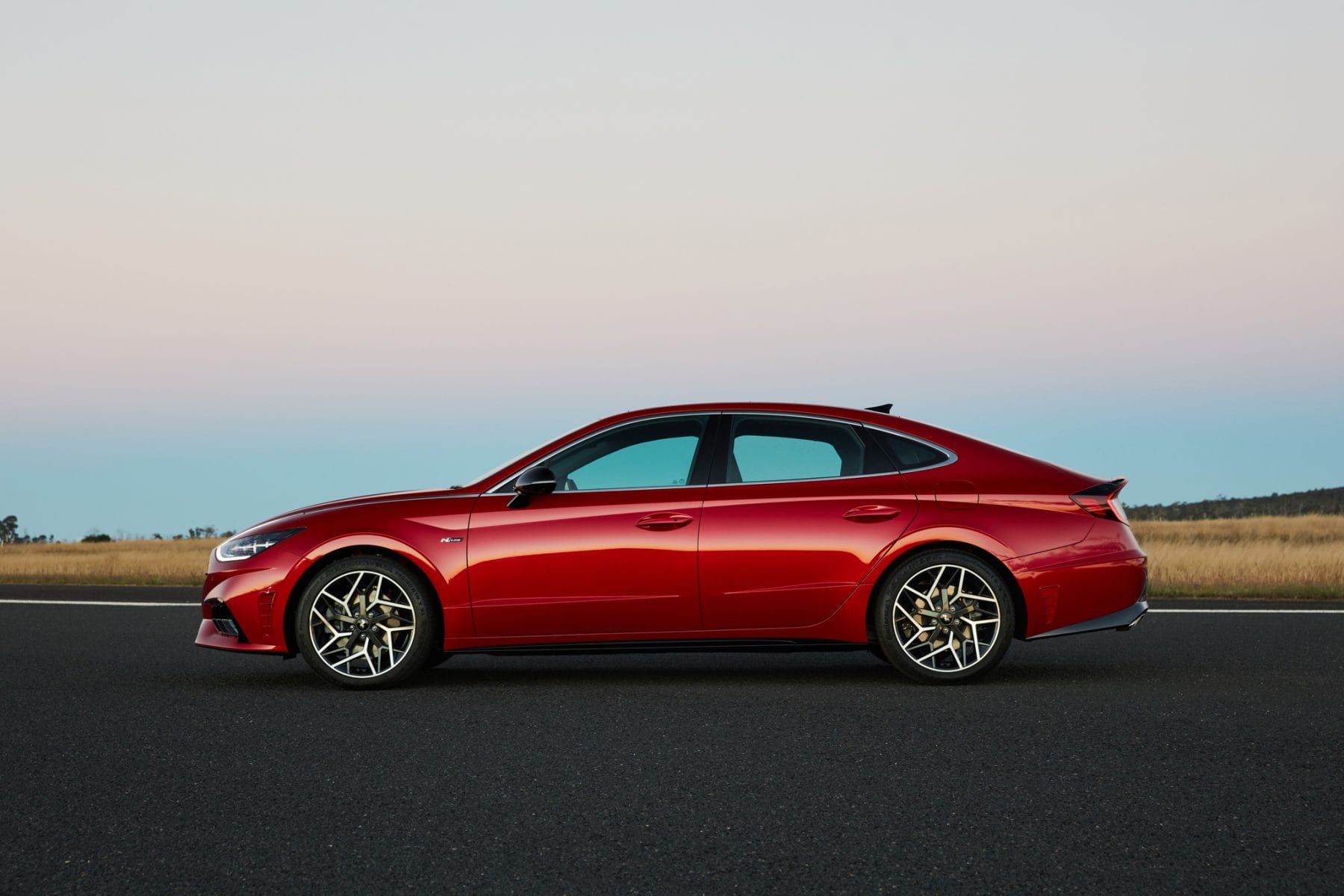 Exterior
Though Hyundai has moved on from the design language it bought in from Germany, the Sonata has a distinctive, handsome look to its flanks with some unusual design details like the chrome bonnet garnishes already mentioned. Headlight shape is unusual too and the rear styling is like nothing else on the road featuring an integrated spoiler on top of the boot and a large C shape sweep of tail light with quad exhaust tips and a slightly drooping boot line.
The profile is four door coupe all the way with a broadly arcing roof line almost in fastback style.
They punched the 19-inch wheels out to the limit of the wheel arches giving Sonata a wide stance.
It's a good looking car from all angles, distinctive and certainly owes nothing to anything else on the road apart from perhaps the grille which looks a tad like Hyundai's own i30 sedan.
There are some cool colours including the strident red of the test car and a battleship grey colour spotted at Hyundai head office…. not matte but a gloss grey.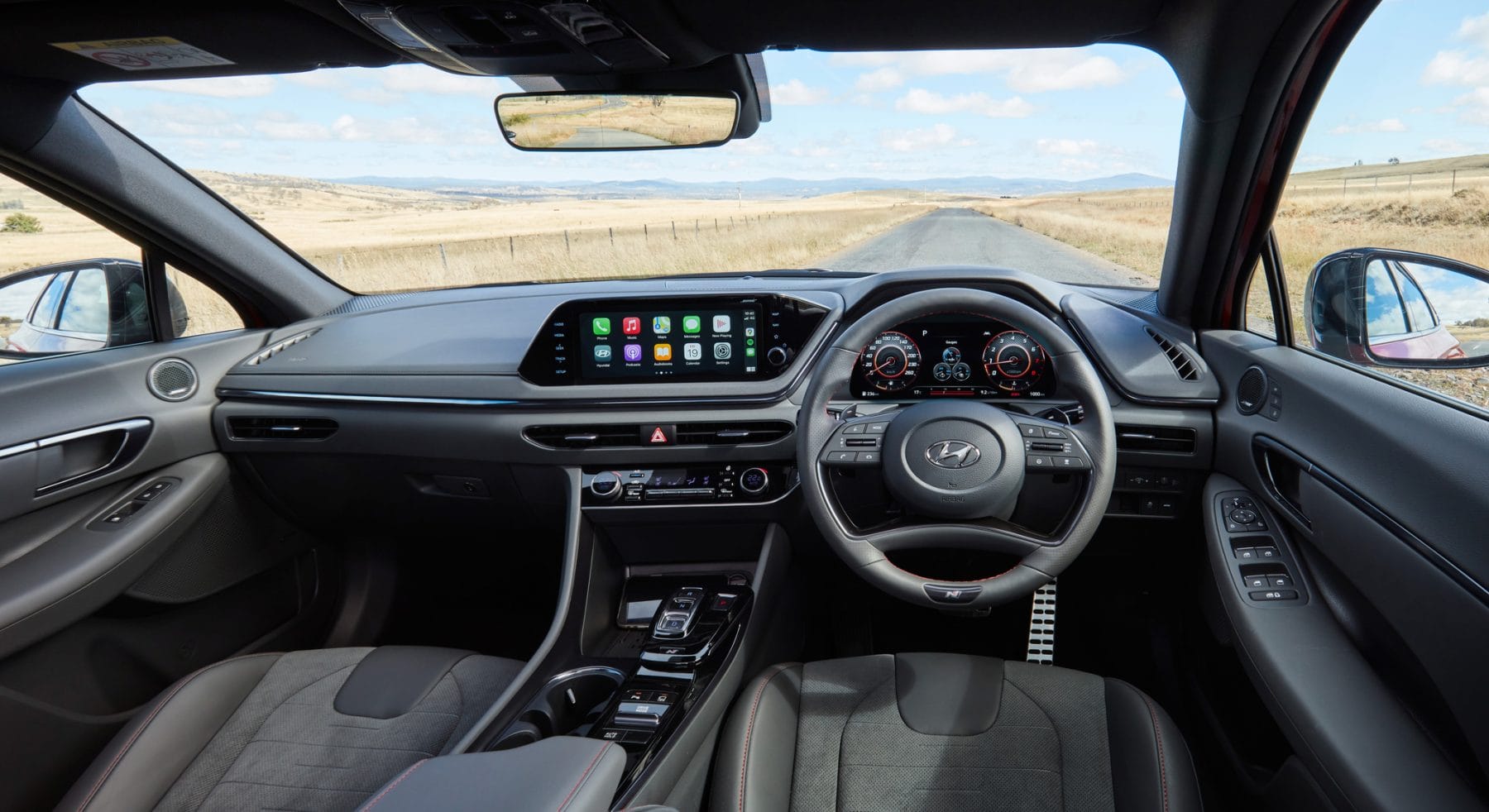 Interior
Inside has a premium look with plenty of suede/leather and metal highlight trim to the fascia complemented by virtual dials and the usual large app' driven central control screen. The dash is a fairly standard design at one level with an integrated shroud over the instrument pod and an unusual continuation of the dash to the right of that.
The perforated leather wheel is multi-function with audio, phone, info and cruise control buttons on the spokes while the centre console has Hyundai's now ubiquitous button select auto trans system nestling right next to the driver's left leg.
Comfortable seats are made even better by numerous adjustments and heating/ventilation to both fronts and heating to the outboard rears.
It's roomy inside apart from the loss of some headroom due to the large glass sunroof.
The boot is large and the rear floor is almost flat.
It's easy to get into and out of despite sporty seat side bolsters and the overall ambience is premium sporty.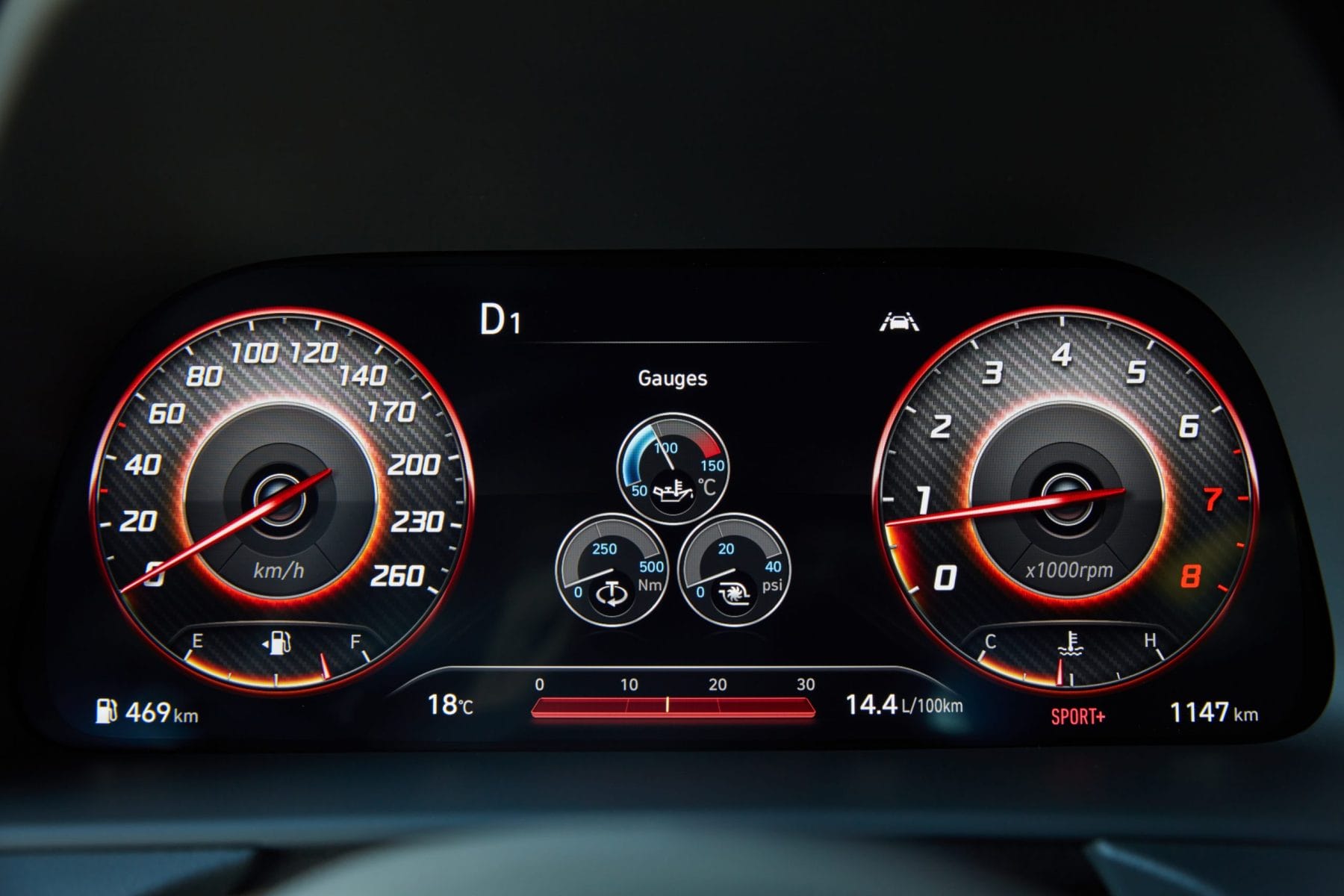 Features
Sonata N-Line misses out on very little with goodies like;
LED head and tail lights
Down change rev matching
Bose audio
Panoramic glass roof
Paddle shift
Dual zone climate control
19-inch alloys with premium Continental tyres

Drive and Engine
Nothing to complain about here at all as the Sonata shows a clean pair of rears to most other cars. That's because it has 213kW and 422Nm output from the turbocharged, direct injection, 2.5-litre petrol engine residing under the bonnet. The 1636kg Sonata is the first Hyundai here to have this engine, made the most of by having an 8-speed dual clutch auto attached then driving the front wheels through a limited slip differential to optimise traction.
At no point is there a lack of power from this set up, no lag, no peaks, just push the accelerator and away it goes. Four drive modes offer up even more performance if required or you can utilise the paddle shift that gives the driver more control and also has that handy rev matching function on downshifts.
The turbo is integrated into the engine's cylinder head for peak efficiency and Hyundai went as far as fitting the 2.5 with a variable oil pump, water to air intercooler and active air flaps at the front of the car to aid engine heat management.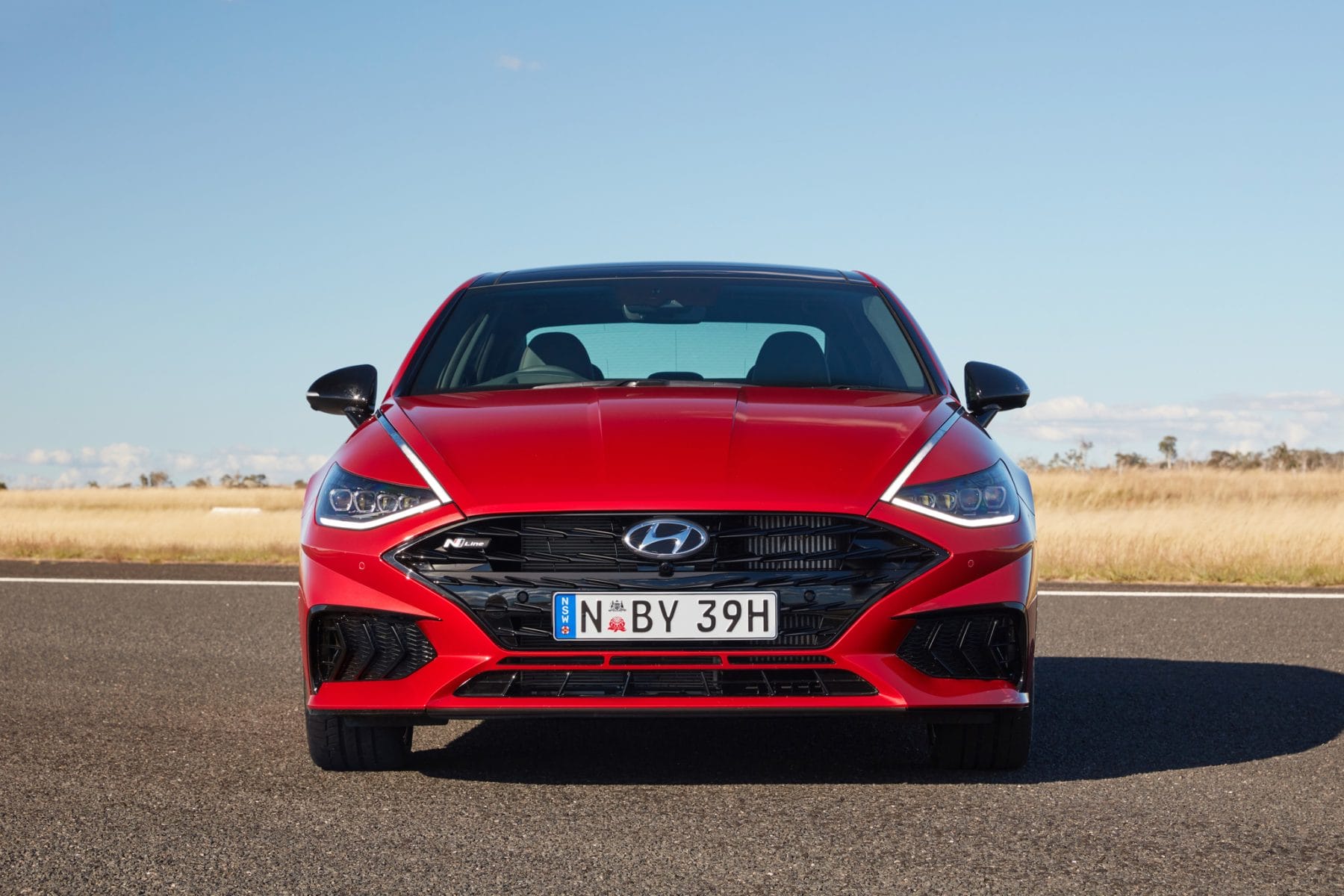 Handling is crisp and responsive with Hyundai head office taking on-board local engineering data when finalising the car's ride and handling characteristics.
The four drive modes make a profound difference according to which mode you select taking the Sonata from sharp sporty tool to smooth comfy cruiser. Has launch control too.
On test I saw 8.3 litres/100km (regular unleaded) which is just shy of Hyundai's 8.1 combined fuel claim.
The tyres offer impressive grip, the large 345/325mm brakes provide powerful consistent stopping and the chassis feels nicely balanced for the intended purpose.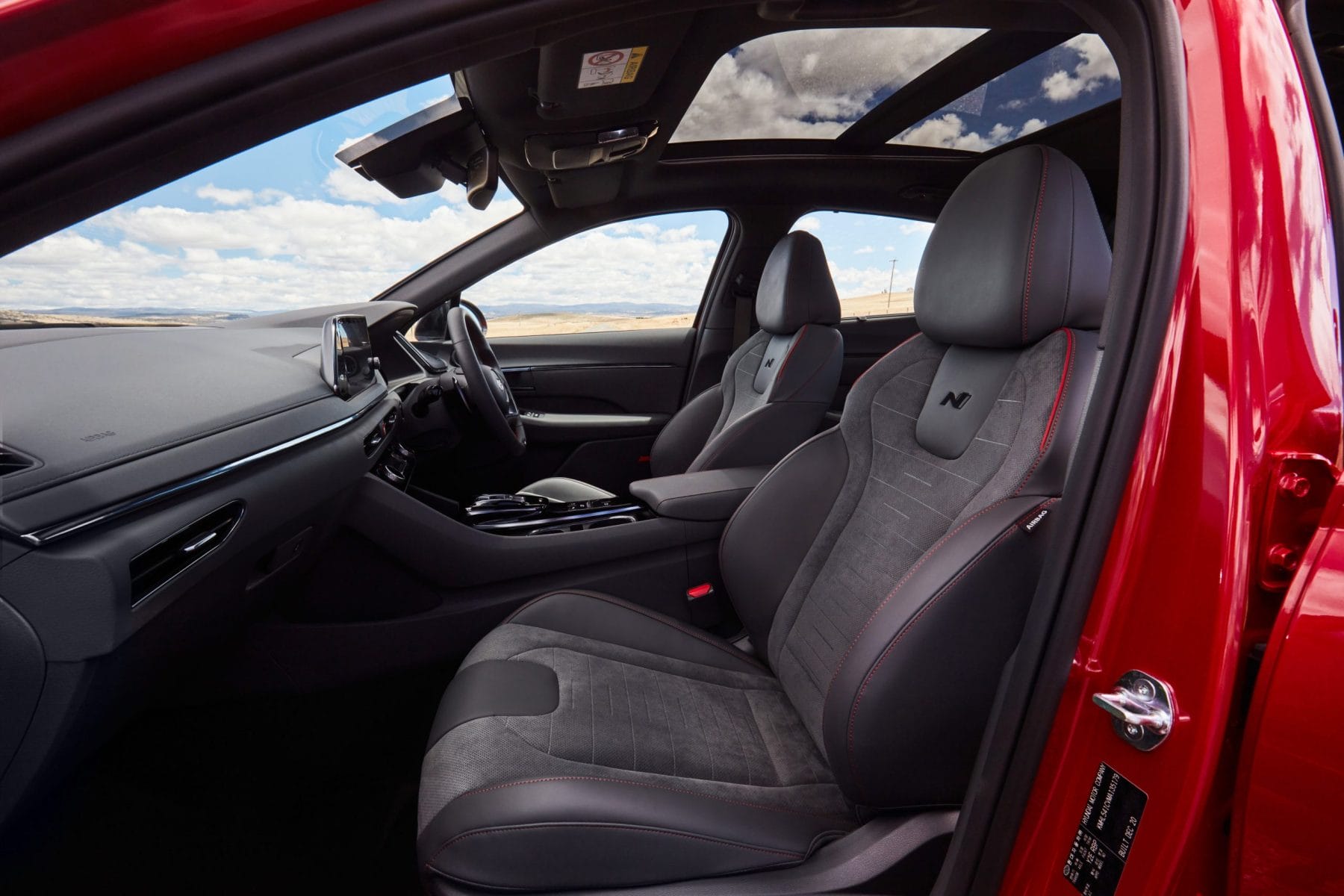 Safety
Not rated but should get five stars along with a full suite of Hyundai's SmartSense safety package of advanced driver assist technology.
This includes clever tech like "junction turn assist" that checks to see if the driver is making a safe turn and brakes if he or she isn't. Numerous other camera driven driver assist functions are provided with some switchable if you don't like them or prefer to be in full control (as much as you can be these days).
As is always the case, the Sonata N-Line's sharp responses makes it inherently safer than less well-endowed vehicles, some of which are ponderous at best.
What is good?

What is not so good?

Impressive performance
Generous level of features
Striking appearance

Can be thirsty
$55k + on the road gets you a decent SantaFe
Some intrusive driver assist features

Summary
This car took me by surprise because it's so good in many areas, not the least performance and drive feel. It's a front wheel drive with negligible limitations that usually brings to sporty driving. Then there's the styling – stands out for sure. Will it be enough to pull buyers away from SUVs? Possibly but they would have to be prepared to buck the trend. A quick spin in Sonata might do the trick…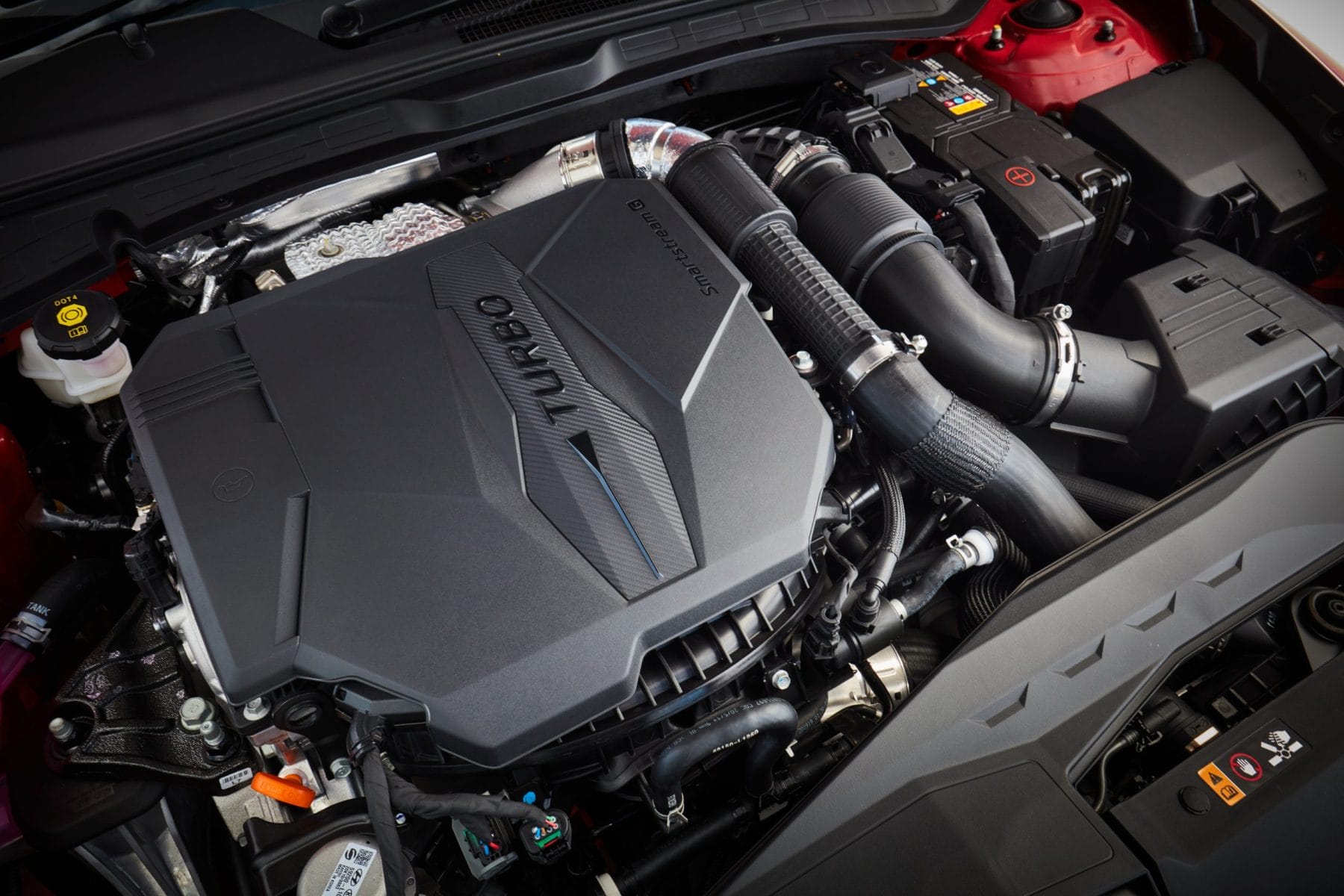 | | |
| --- | --- |
| Model | Hyundai Sonata N-Line |
| Price | $ 50,990 MLP |
| Engine | 2.5-litre, turbo petrol, 4-cylinder |
| Drivetrain | Front wheel drive with 8 speed DCT "auto" |
| Power | 213kW @ 5800 rpm |
| Torque | 422Nm  @ 1600 – 4000 rpm |
| Safety | Not rated ANCAP |
| CO2 Emissions | 188g/km |
| Economy ADR/ Capacity | 8.1L/100km /  60 L |
| Towing/Tow ball |  1400Kg /  70Kg |
| Servicing |  1year/10,000km fixed for 5 years/50,000km at $350 each |
| Warranty | 5yr/unlimited Km |
*MLP Includes GST and LCT but excluding statutory charges, dealer costs and dealer delivery. See your dealer for RDAP. Does not include price of options. Some features mentioned in the article are options. RDAP means Recommended Drive Away Price (without options but including all other charges)
Overall Rating -

8/10
Summary
Hyundai Sonata N Line – Given the high standard of the three main medium sedan contenders… Mazda 6, Toyota Camry and the Hyundai Sonata N-Line, it's a tad ironic that medium size cars are withering on the vine being replaced by SUVs.
Will it be enough to pull buyers away from SUVs? Possibly but they would have to be prepared to buck the trend. A quick spin in Sonata might do the trick…