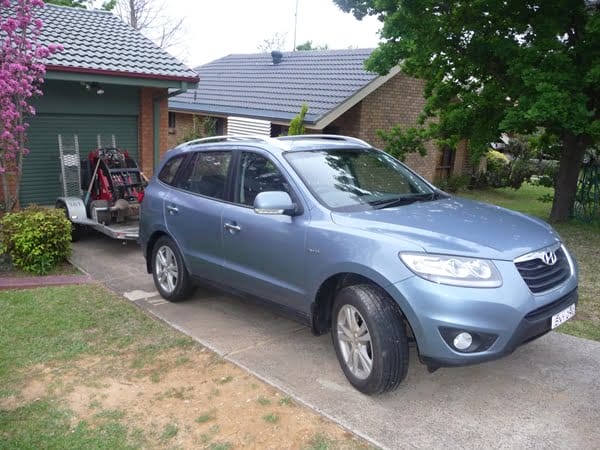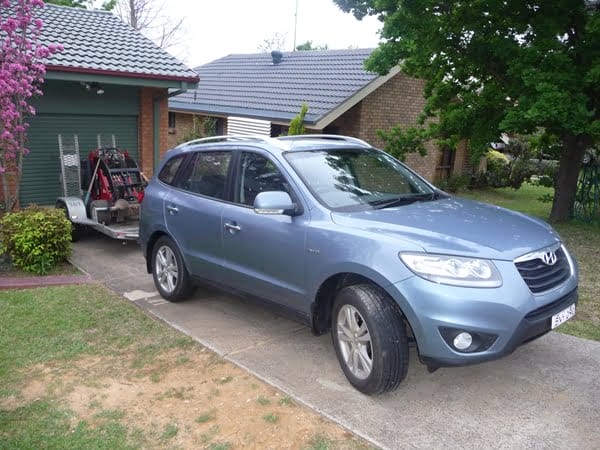 Benny our long term test Hyundai Sante Fe 2.2L R Diesel 6 Speed comes to the rescue again as it's amazing how quickly things can change.
The other Friday I was winding down and getting ready for a quiet weekend, we had most of the work finished and were just taking our time finishing off the remainder when my mum rings me up in a panic. The concreters are about to finish up and have discovered that the storm water pipe that runs under where they are going to pour the driveway is cracked and will need replacing, they need a trench dug so they can pour on Monday.
Where do you get someone on a Friday arvo to come and dig a trench? I rang all my contacts and they were all busy or had their machines booked out so I couldn't use them and mum was getting more stressed by the minute so I went to the local hire shop and got their machine overnight. It was another opportunity to see how well Benny would go hauling a trailer.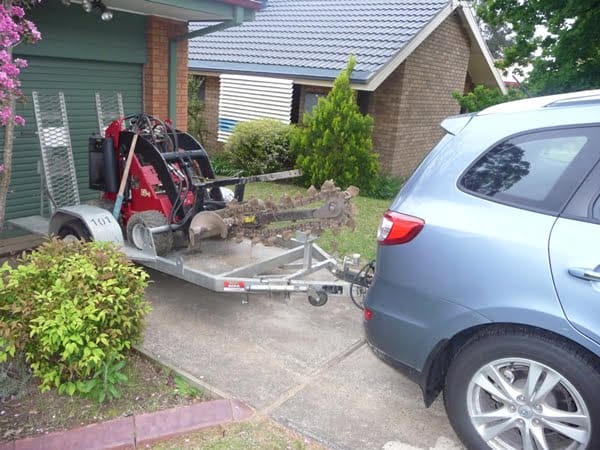 Again he proved himself well, pulling without hassle to get me there and get the job done, much to the relief of my mother. Then I thought why don't I run those trenches in my yard when I get home so I quickly packed up and we headed for home. The trip home was uneventful with Benny handling the trip with ease and getting us home with plenty of daylight left to put in a couple of drainage trenches much to my wife's disgust as I had now made a mess in the back yard.
The next morning it was up early to take the machine back and this time it was easier climbing over the range as the weight wasn't as much as when we went to the track and this also reflected in the fuel economy, staying under 10L/100km.
The rest of the week was uneventful as we were leading up to our inaugural 4X4 Ute of The Year trial and to top it off the Motor Show opened on the day before we were to leave.
The Ute of The Year trial gave me the opportunity to load Benny up as I was going to take my recovery box along to provide some weight in the trays of the various utes and also just in case the unfortunate should happen. As it was I came close to the unfortunate happening in a spectacular way witch you will be able to see when we have finalised the video. It seems that I am the one who always takes it a bit too far lately, maybe I need to calm down a little.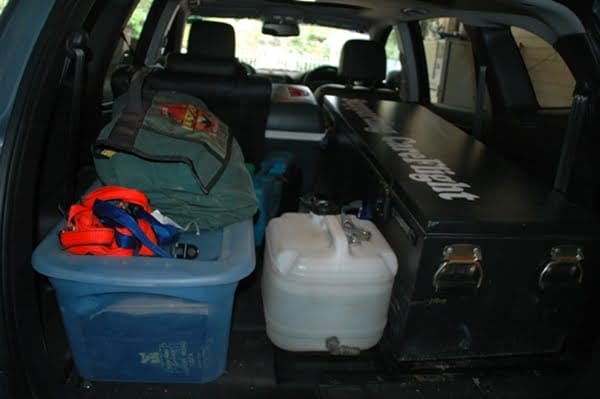 With my recovery box on board Benny's dynamics changed dramatically. The box weighs around the 200kg mark fully loaded. Performance wise there wasn't much difference, he still pulled well and fuel economy was still good hovering around the 8-9L/100km mark. The major changes were in the braking and cornering department. Pedal application for braking increased a small amount and a little bit more distance was needed to safely stop. Cornering was affected a bit more with Benny tending to wallow through the corners instead of the crisp way he normally behaves. All in all he was a good mule getting me there so we could set off on our adventure.
That's it for me and Benny as I've handed the keys back to take on another long term tester. Over the last couple of months we have had some good times and I've been surprised on a number of occasions as to how capable he is in a number of roles and environments.
Till next time safe motoring.