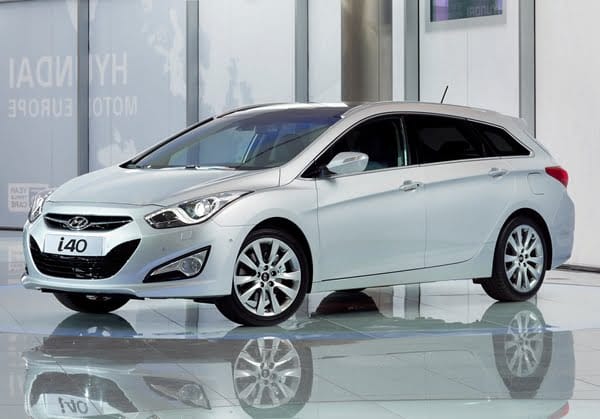 Hyundai Motor Company has revealed the first images of the all-new i40, ahead of its world premiere at the 2011 Geneva Motor Show. The debut of i40 coincides with Hyundai's launch of its new brand slogan 'New Thinking. New Possibilities.' The i40 reflects the spirit of change at Hyundai and represents the company's bold new concept of 'modern premium' – the philosophy that premium quality and characteristics should be accessible to everyone.
The i40 is the company's first mid-size vehicle to be developed specifically for the European market, with a package of powertrains, equipment and technology tailored for European tastes. The wagon will be shown in Geneva, and this will be the first i40 body style to be introduced to Europe, with a sedan variant to follow later in 2011.
Designed and engineered at Hyundai's R&D headquarters in Rüsselsheim, Germany, the i40 is the latest Hyundai model to have a European identity. Taking styling cues from Hyundai's 'fluidic sculpture' design language, i40 maintains signature features such as the hexagonal grille, which is flanked by two jewel-like headlamps. This gives a contemporary, confident look that is accentuated by the characterful lines that connect the front and rear of the vehicle, adding to the i40's eye-catching, sophisticated style.
In line with Hyundai's commitment to make premium products and features available to everyone, the i40 has a class-leading level of standard equipment. Among the specification are three segment 'firsts': heated and reclining front and rear seats; a heated steering wheel; and an active de-mist system that automatically detects and clears condensation on the windscreen.
The 'modern premium' concept is also evident in the efficient powertrain choices available to i40 buyers. Running Hyundai's 1.7-litre diesel engine, codenamed 'UII', the i40 emits just 113 g/km of CO2 emissions – a best-in-class figure that also demonstrates the advances the company is making towards global leadership in eco-technology.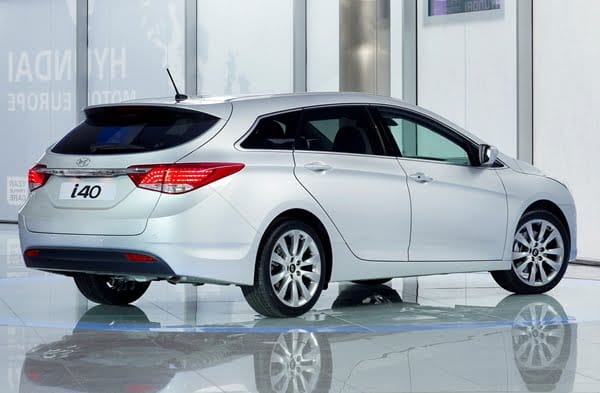 "Offering more for less has always been a fundamental principle at Hyundai, and now we are advancing this with our new brand direction under the 'New Thinking. New Possibilities.' slogan," said Allan Rushforth, Senior Vice President and COO of Hyundai Motor Europe. "The i40 is a perfect example of how we are offering the best and making it accessible to everyone. From stunning design and specification, to industry-leading technology and aftersales care – the i40 sets itself apart from its competitors."
Hyundai hopes to announce whether i40 will come to Australia in the near future.
The i40 will be joined on stage by Hyundai's ground-breaking new 1+2 door Veloster coupe, most likely set for launch in Australia later in 2011. The Curb concept will also be shown, highlighting the latest telematics technology from Hyundai in an 'urban-ready' design. Both cars received their world premieres at the North America International Auto Show last month and will be making their European debuts in Geneva.