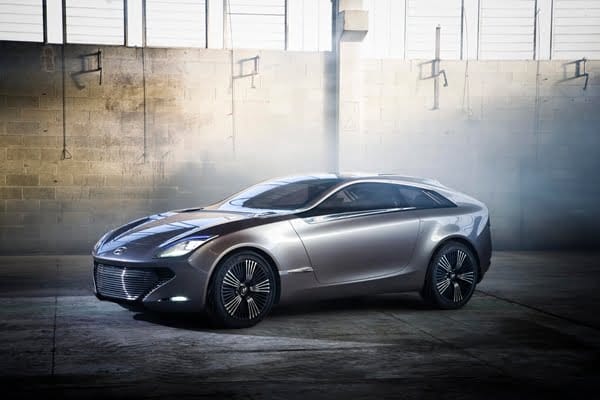 The first image of Hyundai's new i-oniq concept car has been released, showcasing new technology and design which present an impression of the company's future thinking.
The i-oniq is an electric sports hatchback with a range-extending petrol engine. Intended to convey the latest thinking from Hyundai's designers and engineers, the i-oniq evolves the company's fluidic sculpture form language and represents bold 'New Possibilities' with its futuristic powertrain.
Hyundai stylists chose dynamic proportions to create i-oniq's aesthetic and functional body shape. Its design combines gentle feature lines and muscular surface treatment, conveying both premium and sporty qualities evident in both the exterior and interior of the car. Further design elements, such as the 'penthouse roof' and LED headlights, emphasise the efficiency and advanced technology encased within i-oniq.
At 4.4 metres long, i-oniq has space for four occupants in its driver-oriented cabin. High-tech equipment in the driver interface and controls reflects contemporary and future premium consumer electronics technology. Passengers benefit from a lounge-style space designed to optimise comfort, featuring sculpted surfaces inspired by musical instruments to create a positive contrast with the sports-focused driver area.
The i-oniq concept has an innovative powertrain that demonstrates Hyundai's commitment to clean technology. A 1.0-litre, 3-cylinder petrol engine is mated, via a generator, to a lithium ion electric motor which produces 80kW. In electric-only mode, i-oniq has a range of 120 km, while with assistance from the petrol engine it can travel up to 700 km, producing just 45 g/km of CO2 in the process.
The Hyundai i-oniq concept car will be unveiled during Hyundai's press conference at the 2012 Geneva Motor Show on 6th March at 09:45am (CET).