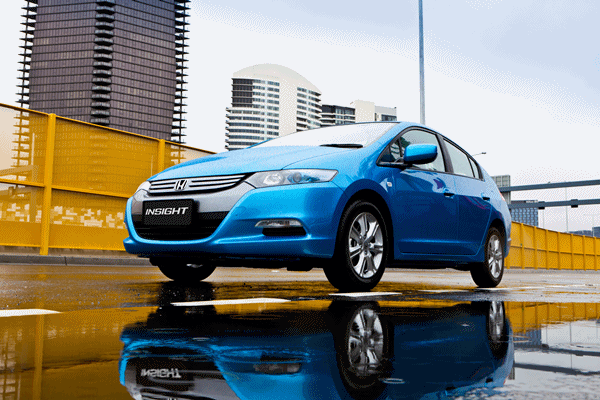 Like Honda Cars? Well maybe the Honda Insight is worth a look. Now available from just $29,990 drive-away. Not only is this hatchback fuel efficient but it is fun to drive and great value.
The Insight achieves a five-star ANCAP safety rating, the highest available and offers engineering excellence and worry-free motoring that you expect from Honda.
Honda Australia's Lindsay Smalley, said the Insight is part of Honda's global vision to implement proactive measures to help reduce emissions while also delivering cars that are fun to drive.
"The world's first car manufacturer to announce voluntary global targets to reduce carbon dioxide emissions, Honda will endeavour to reduce product-related carbon dioxide emissions by 30 per cent for automobiles, motorcycles and power products by 2020, based on year 2000 figures," said Mr. Smalley.
The Insight incorporates Honda's unique Integrated Motor Assist (IMA) system, which combines an economical 1.3 litre i-VTEC engine with an electric motor to deliver levels of torque and acceleration expected from a larger engine.
The clever IMA system uses 37 per cent less fuel than the average small car* and delivers lower emissions by adjusting power between the electric motor and i-VTEC engine, recharging the battery with regenerated brake energy and turning off the engine when it is idle.
The Insight is also practical, offering comfortable seating for five with fold-down rear seats that increase boot space.
Most importantly, the Honda Insight is fun to drive. The unique Eco Assist technology turns good driving into a game, rewarding the driver as they become more efficient behind the wheel.
Honda will soon launch the all-new CR-Z, world's first six-speed manual coupled with a with hybrid drivetrain.