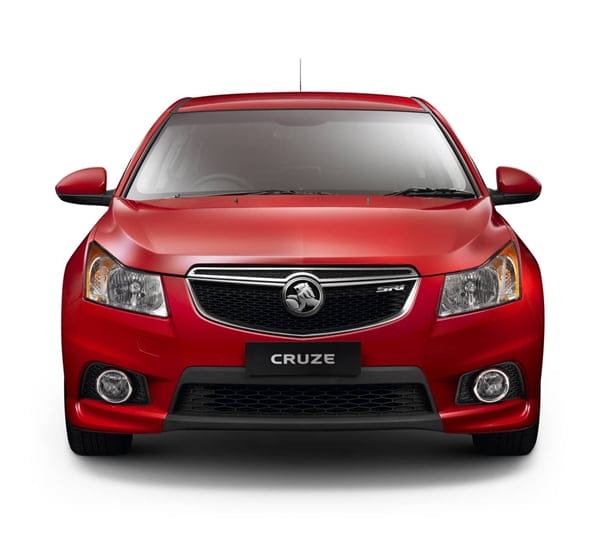 Holden has broadened the appeal of its Aussie built Series II Cruze range with the launch of the new SRi and
SRi-V models. The SRi and SRi-V come in at the top of Holden's revamped Cruze range. We are going to live with the range topping SRi-V model for a week or so. Let's check it out…..
Behind the wheel
Jump behind the wheel and you immediately feel the great job GM's designers have done in creating space; in fact Cruze is one of the roomiest "small" sedans in its class. Front and rear shoulder room are better if not comparable with, all its Japanese rivals. So it's easy to get comfortable, then your attention is drawn to a 7-inch color screen with a navigation and entertainment system that can play DVD s when stationary. It also comes with heated leather seats, a proximity key (and a start/stop button for the ignition) and rear parking sensors. Dubbed a "dual cockpit" layout for front occupants, it is slightly let down by the use of hard dark plastics with cheap chrome-look plastic highlights that's become the norm these days in trying to make inexpensive cars look more expensive. (GM should take lessons off Hyundai and KIA in the soft feel of their cabins). Another glaring omission is the lack of driver's footrest that takes away from the sporty feel of the cabin. That to the side, all in all a well-appointed and thought out cabin and dash.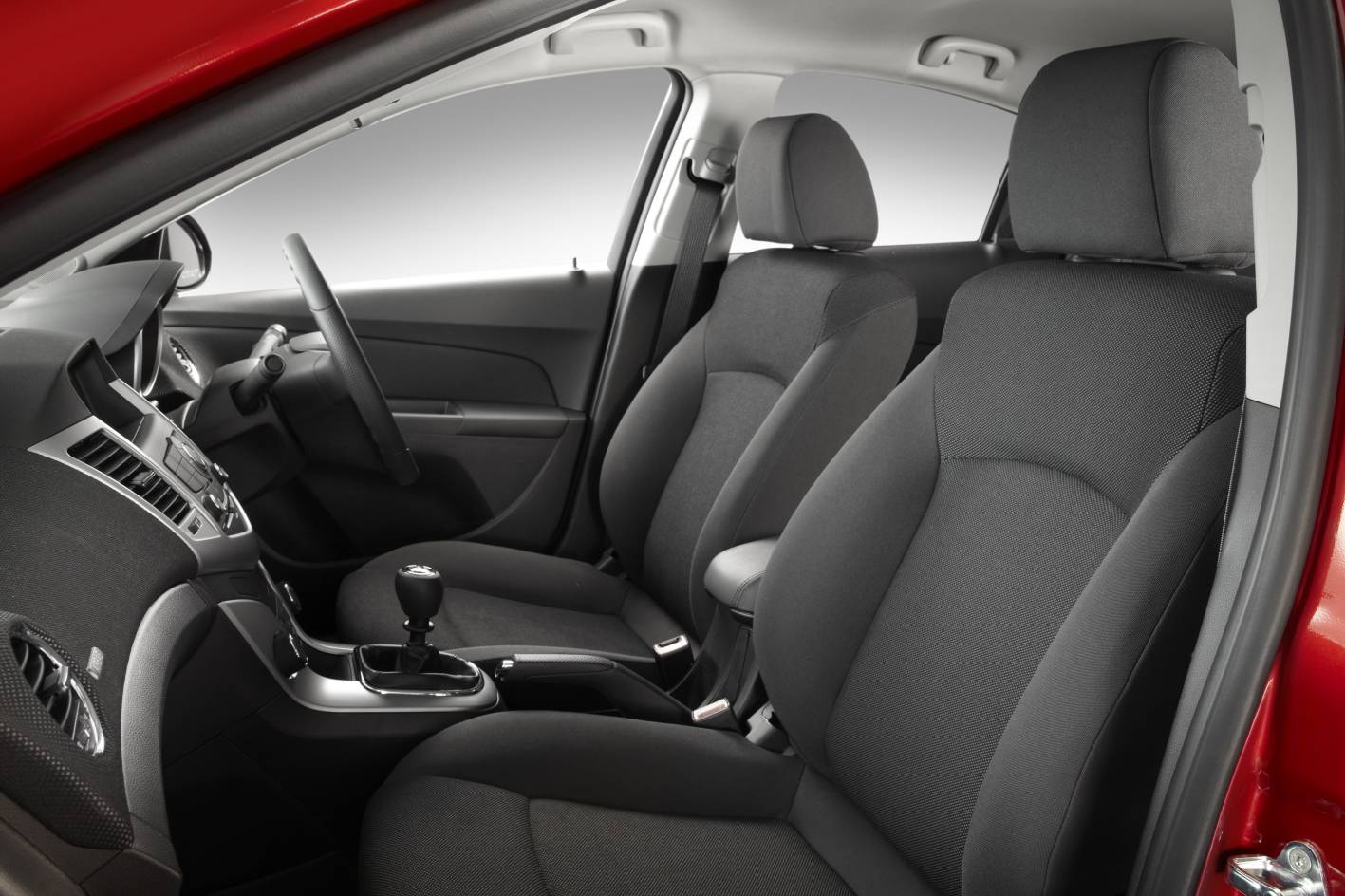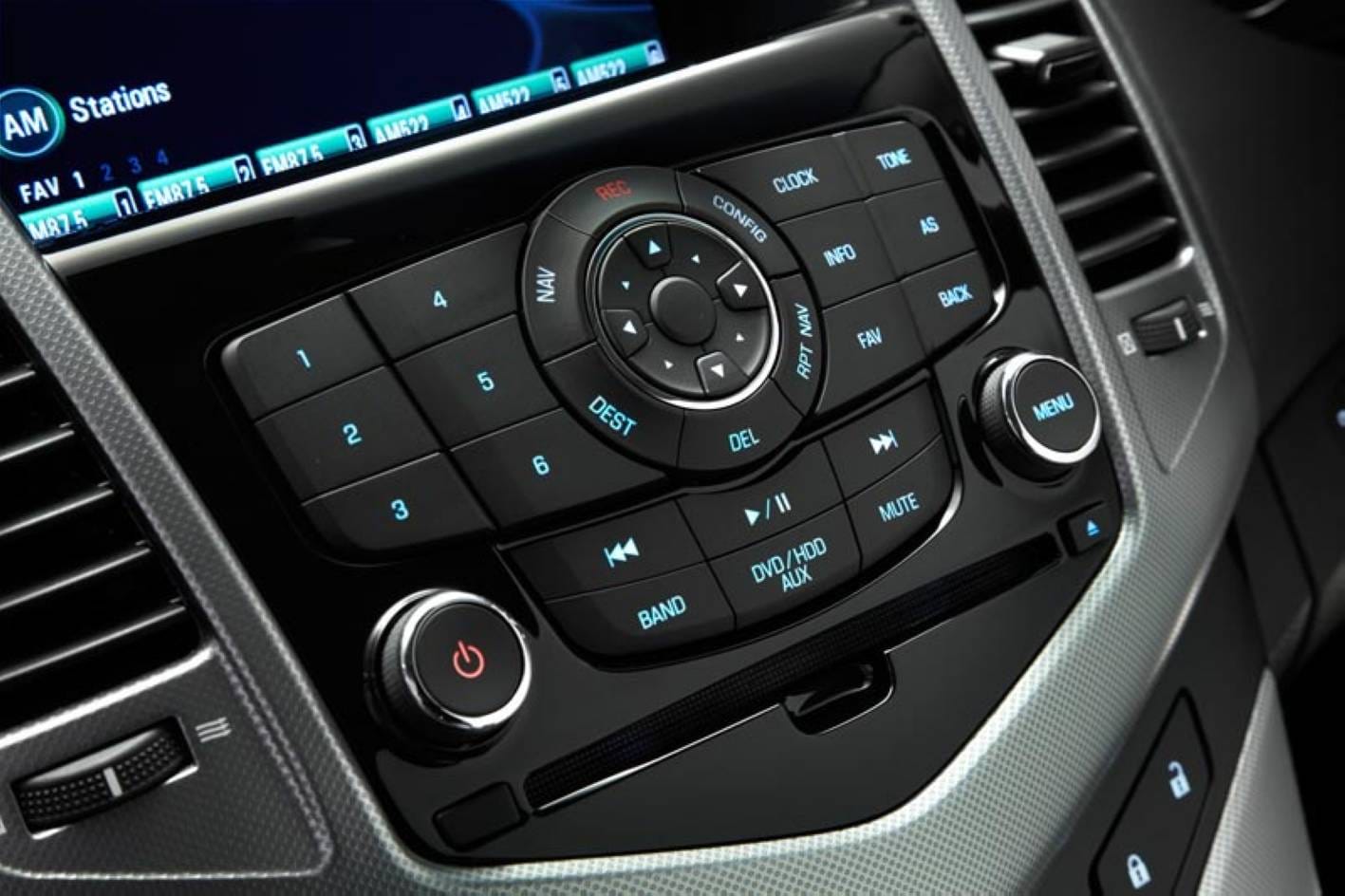 Performance
Now this was a shock, a 1.4 litre engine that performs, bullshit you say, well I thought the same until I pushed this little the Austria sourced engine from Holden's Eco-line family to red line- Wow. Despite its compact size, it uses its turbocharging to develop peak power of 103 kilowatts, and more importantly, peak torque of a 200 Newton metres from 1850 rpm right through to 4900 rpm. On my speed checks expect around 9.0 or better to 100kph and yet it feels quicker probably due to the raspy exhaust note that rings out as you work it through its six speeds. And talk about the manual six speed box, it is brilliant, brilliant, brilliant, did you get that? Brilliant in its short slick throw and perfect ratios, which you need to use often to keep the free spinning turbo on song.
Handling
All the 1.4-turbo models (whether as a CD, Seri or Seri-V) also get electric power steering (ta first on an Australian-made car) and independent Watts Link performance suspension at the rear. The 2011 Cruse is a brilliant handling car with its new rear suspension and offers the driver and passengers a very sophisticated ride quality through secure handling and an absorbent controlled ride. Very impressive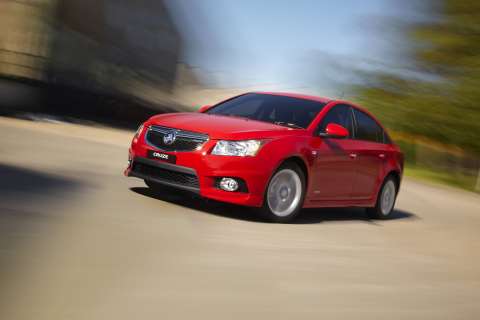 Comfort
Our test vehicle had the full leather trim and these heated front seats are shaped to hold your hips and still give you room if you have a wider frame and offers plenty of adjustment. The steering wheel tilts and telescopes, so drivers of all sizes should be able to find a satisfactory seating position. There's enough cabin width for most everyone to be comfortable, although occupants in the rear will find the seat a tad low, and three across is intimate but not impossible — particularly if one or two are children. The main problem in the back is tight legroom. It seems that rear leg and foot room have been sacrificed slightly to devote more space to the Cruzes' (445-litre) very large boot. Each door has a full-size drink holder and map pocket, and there's sufficient storage in the glove box and center console.
Practicality
Minimum luggage capacity is a substantial 445, plus it has split folding rear seat as standard, so the Cruse is up to the task of transporting most of the items associated with everyday family life around town or out on an extended country trip.
Equipment
As mentioned earlier the SRi-V package has an all-new multimedia system. The multimedia system has a 7" LCD screen that is not only capable of playing music, but also watching DVDs. The system also doubles as a satellite navigation screen and features USB connectivity, and a 10GB built-in hard drive that can store all your music needs and can also record up to 20 minutes of radio while you're out of the car, can pause live radio, but sadly no Blue-tooth. It also comes with heated leather seats, a proximity key (and a start/stop button for the ignition) and rear parking sensors, a rear lip spoiler, 17-inch alloy wheels, chrome door handles and front fog lamps.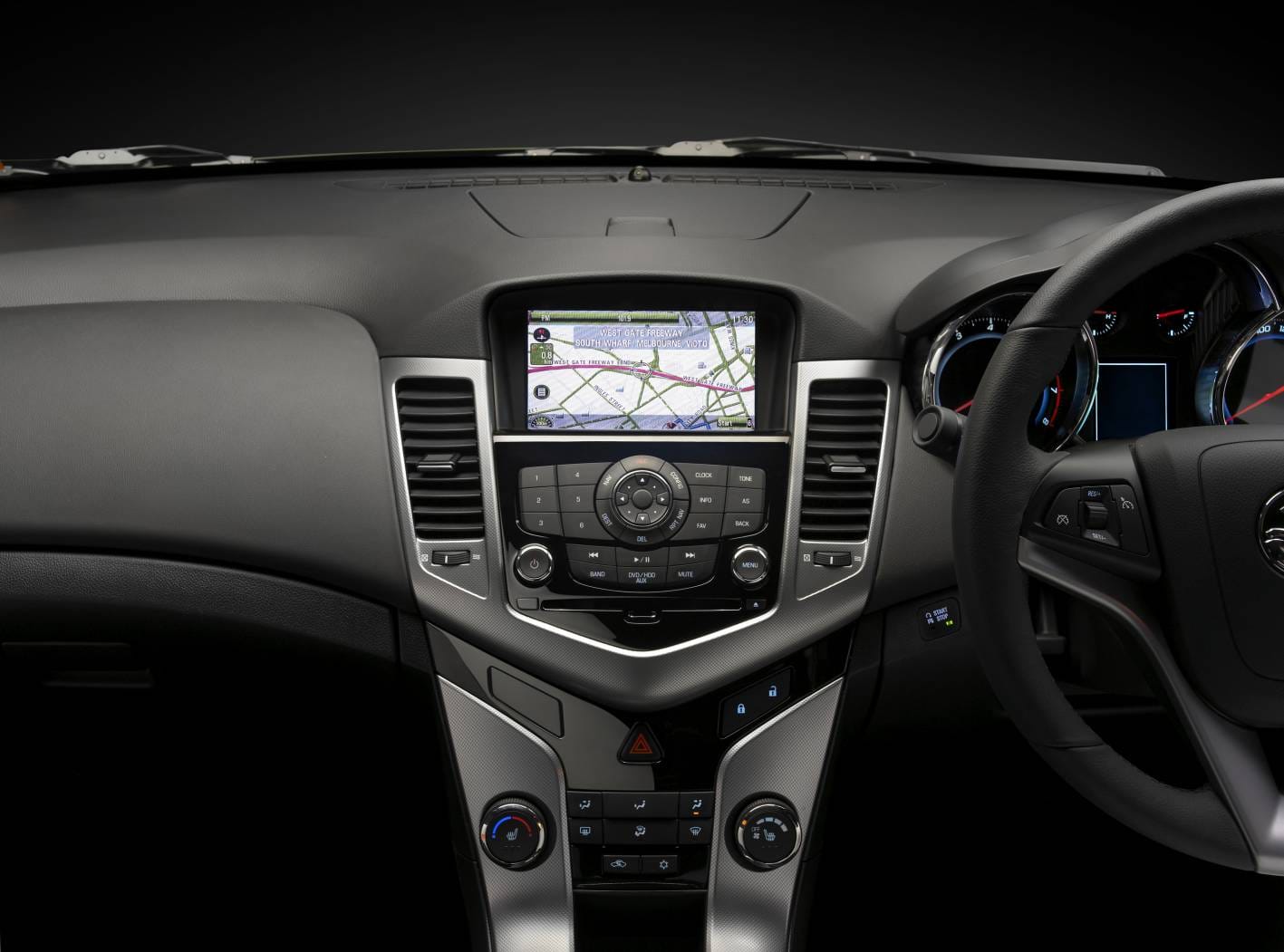 Safety
The Cruze scores a top 5 star rating, due mainly to a full suite of safety items, such as dual front, side airbags with chest and pelvis protection and head-protecting side curtains are standard equipment. Anti-lock brakes (ABS), electronic brake distribution (EBD), emergency brake assist and electronic stability control (ESC) are also standard. Dual pretensions are fitted to the front seat belts to reduce slack in the event of a crash. A three point seat belt is fitted to the centre rear seat. This provides better protection than a two point (lap) seat belt.
Summary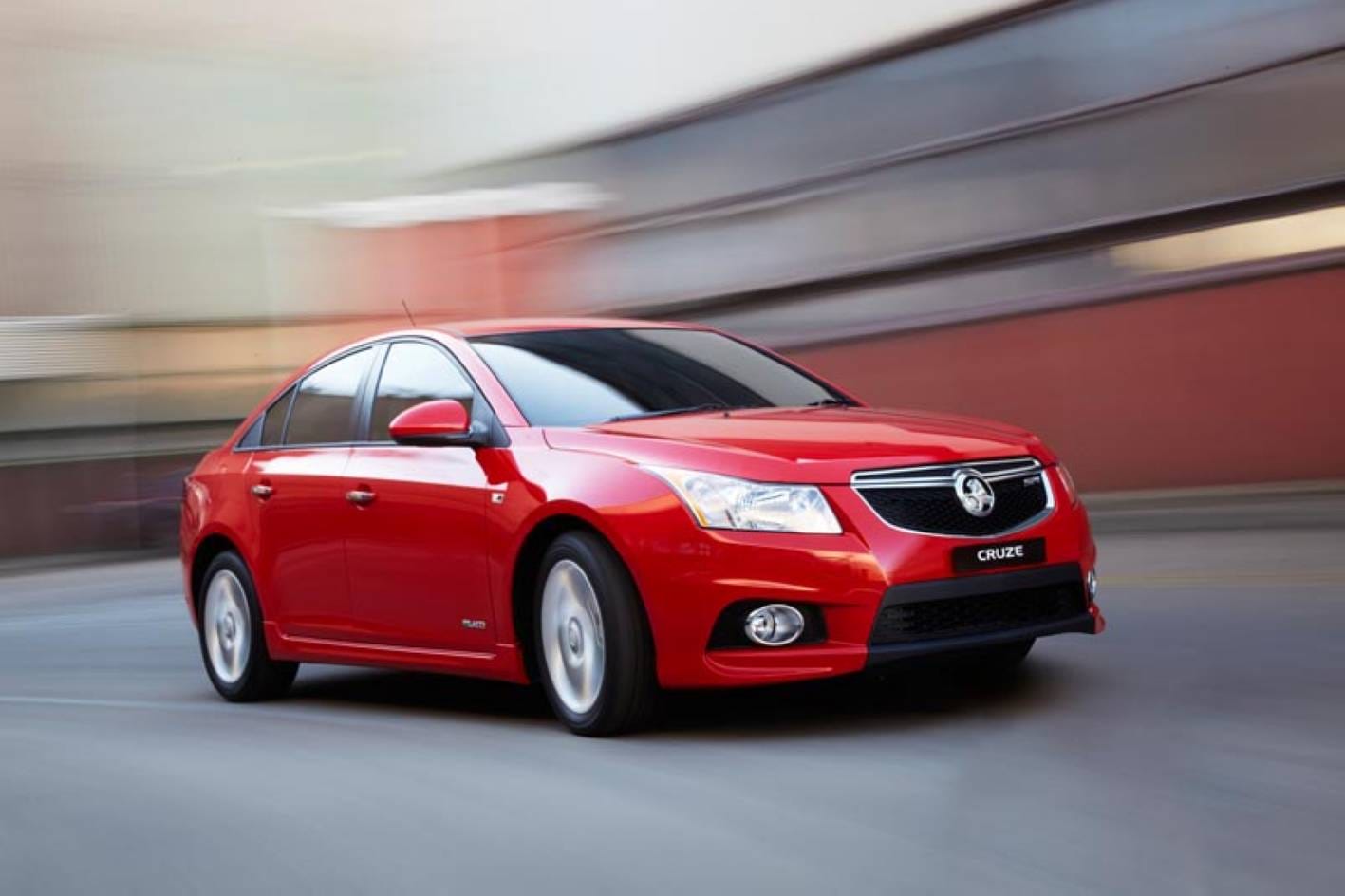 Holden need to be congratulated on the new Cruze, it represents a major leap forward for them. Bold styling and economical, due to its first class 1.4 litre turbocharged engine as well as great handling and an interior that offers class leading room. It's actually GM's new 'world' car based on its 'Delta 2′ platform and overseas it competes in WTCC Touring car races. It's available only as a four-door now, with a five-door hatch on the way. So it's got everything most people are likely to want, so it's definitely worth a long look when you're in the market. Nice one GM
What is good?
Plenty of value for the money
Style
Engine
Gearbox
Comfort
Large boot
Good shoulder room in rear
What's not so good?
Tight for legroom in rear
Interior looks good but some parts feel cheap
No drivers footrest
No Blue tooth connectivity.
Vehicle: Holden Cruze SRi-V $27,990
Drive train: 1.4-litre four-cylinder- Turbo 6 speed man
Power and Torque: 103kW @ 4900rpm -200Nm @ 1850-4900rpm
Safety: qqqqq
CO2 Emissions g/km: 153 g/km
Green Vehicle Guide Rating: qqqqq
Fuel Economy L/100km (ADR comb): 6.4 L/100km
Tow Capacity: 1200kg braked (All)
Tow Ball Rating: NA
Warranty: 3 year/100000 Km
Alternative: Toyota Corolla
Alternative: Mazda3,
Alternative: Hyundai I30,
AnyAuto Ratings 85/100
Behind the Wheel 8
Practicality 8
Comfort 8
Fit for Purpose 9
Equipment 8
Value for Money 9