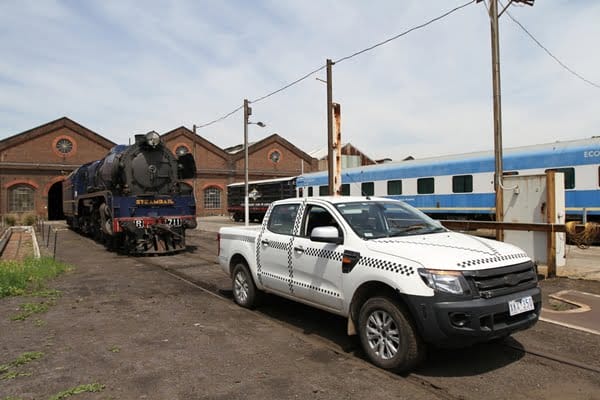 The all new 2011 Ford Ranger is coming soon. The Ford Ranger has five-cylinder diesel engine that produces 147kW of power and a train-hauling torque of 470Nm.
What can you do with 470Nm of torque? Tow a 160-tonne steam locomotive, apparently.
The all-new Ford Ranger effortlessly hauled the historic R711 out of its shed one clear summer morning recently in an impressive showcase of its exceptional capability.
Despite being fully laden and driving on an unsealed path, the 3.2-litre Double Cab pickup gave the grand old dame a smooth ride from start to finish.
The Ranger was not modified in any way for the challenge, relying on the five-cylinder diesel engine that produces 147kW of power and a train-hauling torque of 470Nm, as well as the six-speed automatic transmission to do the job.
Engaged in low-range four-wheel drive, the new Ranger simply tugged and the train started rolling along with no fuss and no hesitation – testament to the pickup's outstanding towing capacity of more than 3000kg.
More used to hauling than being hauled, the hardworking R711 was one of 70 express passenger steam locomotives built by the North British Locomotive Company in Glasgow and went into service in 1951. It was withdrawn 14 years later when it was superseded by mainline diesel-electric and electric locomotives.
In 1998, the R711 was converted to burn oil instead of coal and re-entered service on regular trains. However it was again withdrawn in 2004, passing into the care of Steamrail Victoria, a non-profit organisation in Australia dedicated to the restoration and operation of vintage steam, diesel and electric locomotives and carriages.
The R711 is only one of seven in its class to be preserved. Named Spirit of Bendigo – after the city that owns it – it now wears royal blue and gold livery and hauls special heritage trains.
On the day that the new Ranger towed the R711, there were some bystanders at the Newport Workshops who insisted that it could not be done, seeing how the locomotive towered over the pickup.
When the locomotive started rolling, at least one exclaimed the equivalent of "No way!" in slightly more colourful language while the rest watched in wide-eyed astonishment.
They crowded around the truck later to marvel at its pulling power.
"Is it a V8?" one asked. "No."
"Is it a V6 then?" he continued. "No. It's an I5."
There was awe-struck silence as the group looked at the Ranger with newfound respect.
To complement the Ranger's first-rate towing capacity, smart technologies such as Trailer Sway Mitigation and Adaptive Load Control ensure it remains sure-footed throughout.
If a trailer begins to sway, brakes are selectively applied to slow down the truck-and-trailer combination. To ensure that Ranger maintains a stable ride when carrying full loads of cargo, Adaptive Load Control determines the payload and applies the necessary measures to maintain a straight and level ride.
Putting the Ranger's locomotive-towing feat in context, Ford Australia vehicle integration supervisor Roger Lewis was quick to point out that the R711 is usually shunted by a T-class diesel-electric locomotive that weighs 70 tonnes and delivers more than 700kW of power and "heaps and heaps of torque".
"So if you don't have a T-class," quipped the avid train buff who has been a member of Steamrail Victoria since he was nine years old, "you can always use the all-new Ranger".